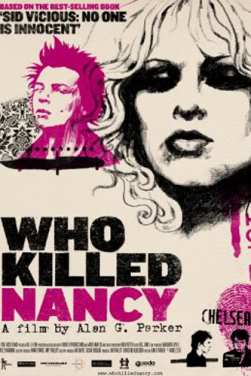 DIRECTOR: Alan G. Parker


Soda Pictures


92 mins

By Rotten
As a huge Sid Vicious fan, I tend to partially look forward to each February 2nd, to see
if any new Sid product shows up, and when i heard a year ago that this movie
was in production, I knew I had to see it.

Originally Who Killed Nancy was to be a dramatical movie, along the lines of Sid and Nancy, using members of a tribute band in the Pistols roles, (more about this later), but apparently
the funding was withdrawn so a documentary movie is what we get here.

Firstly we get clips from usa tv about Sid's death and the murder of Nancy Spungen, and one of the few plus points in this movie is you actually get to see the crime scene photographs as taken by the police, this shows so many holes in the investigation it is unreal. Another plus is we get to see the key locations as they are today, the remnants of where Room 100 of the Chelsea Hotel stood (now a stairwell), 63 Bank Street (where Sid ended his life), the house where Nancy grew up, etc, which all adds to the sense of getting the story.

Of the many people interviewed for the movie, it is interesting to see people like Steve Dior of Sid's last backing band and members of Pure Hell having a voice rather than the usual round up of faces. Although the story an old school friend of Glen Matlock's tells really SHOULD HAVE been left on the cutting room floor! (the I KILLED A CAT line from MY WAY is true......
and we DONT need to hear about it!!!)

So, after Sid's life in and out of the Pistols, the last twenty minutes is taken up by the murder of Nancy and Sid's death, which is sort of re enacted in poor lighting by yes, one of the tribute band members, and to be fair, this guy is a brilliant look a like. good luck to him. One bad point is, i cant help noticing that Alan Parker's forrays into Pistols docs seem to have been a pat on the back for all of his friends, as the same uk based people keep appearing, ie: the same tribute band, and a few more people he met when we both wrote for Pistols fanzine
Filth and The Fury.

The music for this doc is mainly provided by Steve Diggle of The Buzzcocks, along with Neon Leon (remember him??), and a cough and you'll miss it appearance with Sid singing
Born to Lose from a Max's bootleg. Shurley with Parker's contacts at EMI / Virgin and with
David Ross (executor of Sid's estate) he could have licensed Sid's three singles for use.

Overall though, the movie isnt bad, but it's not all the hype we heard about it.
If you enjoy Punk and Documentaries about it, then you'll wanna check this out.



By those who knew really him

Odeon Entertainment

By Rotten




Now here's a job well done. a Cheapy documentary that does exactly what it says on the box. Some of the people interviewed here feature in the above, but many don't, it's good to hear people like Jah Wobble and Marco Pirroni have a voice, as well as the infamous Ron Watts, promoter at the 100 Club, who recounts many tales and shows us where they exactly happened.

People like Dave Vanian, Rat Scabies, Steve Severin, Viv Albertine and Glen Matlock all share their rememberances from Sid's early life to death in a very light hearted way, many speak of him with such great affection which is refreshing to hear.

The music here comes from a free cd given away in the school pencil case style packaging that the dvd comes in, and is Sid live at Max's Kansas City........Upon hearing it, i thought to myself "I own all the gigs already, but i dont have this!!!" then came the familiar "yeah!!!!!!!!!!"- this is just sections from the concert used on Sid Sings and countless other Sid discs BUT..........Guitarist Steve Dior has augmented (or fucked with) the sound, adding a guitar part overdub to the whole gig, which is sometimes in tune, sometimes not. That said, though, Its great to have it in the doc and as a freebie, which adds to the desirablility of the product.

The footage included has a lot of stuff from Lech Kowalski's DOA movie, and much of the remainder is taken from the uk's ITN (Independant Television News) Archive. Now and again though, Youtube only footage pops up, like the Sid and Nancy cable tv phone in show, which is so hard to get hold of these days.

This is definatly the Sid doc to buy, great viewing, great packaging, free cd, booklet, and it trats us fans like we are not dumb. Go find it on Amazon today....you'll be pleased you did.