of



P Y L O N




and


S U P E R C L U S T E R



By Ginger Coyote



My Space is really a great way to re-connect with old friends..
One of the many people I have found there is the very talented Vanessa Briscoe Hay..
You may best remember her as Vanessa Briscoe from the red hot Athens, Georgia based band Pylon.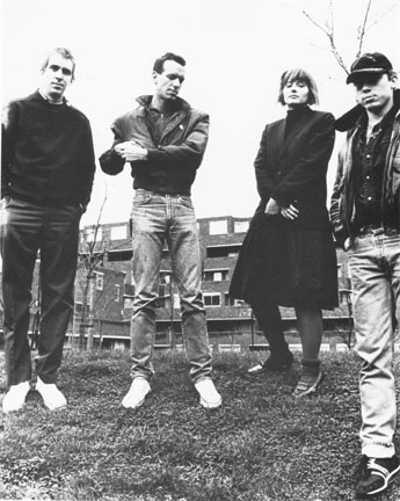 Pylon in 1980
Pylon reformed in 2005 and tour occasionally. While Supercluster her other band
is primarily a recording project. Although she admits they do play an occasional show...
When Vanessa is not involved with one of her musical endeavors - She keeps herself busy
with her Family and work as an RN.. After all - there are only so many hours in the day!
YOU GO--VANESSA--YOU HAVE IT ALL!!

------------------------------
------------------------------
----------------
Punk Globe:

Thanks so much for the Interview. We share the same Birthday- October 18 !!!!
I remember meeting you in 80's in SF through our mutual pal Leslie Michel. You were singing with Pylon
and I just remember what a powerful voice you had. Tell me about the status of Pylon? Are you still performing?
Thanks for contacting me! I think it's great that we share the same birthday along with Chuck Berry, Martina Navratilova,
Pam Dawber, Laura Nyro, Miriam Hopkins, Schubert, Little Orphan Annie and Jesse Helms. A real mixed bag!
Leslie Michel is an old friend from the early '80's in Athens, GA. She ran a place in Athens called the Coffee Club where we would all hang out . She also used to give some of the better parties. My favorites were her "Loud Family Reunions." Just like a reunion except for the cross dressers and the hunch punch in a bathtub on the porch. Thanks for the compliment about my voice. I love to sing, but I am not a trained singer. Pylon are performing occasionally again. We have broken up twice before and we swear that we won't formally break up again. DFA records have reissued our first record "Gyrate" on CD with a few extras.
It's called "Gyrate Plus." We did a mini tour in the Northeast back in November of 2007. DFA is home to LCD Soundsystem,
Hercules & Love Affair, Hot Chip and the Juan McLean among others.


Punk Globe:
We can't forget that cute Zac Effron!! Tell us the names of the other band members?
Michael Lachowski, Randy Bewley and Curtis Crowe.


Punk Globe:
In what year did Pylon start as a band?
They auditioned me on February 14, 1979, but they had been practicing for a few months before that.
We all attended art school together.


Punk Globe:

Your home base was in Athens,Georgia right?
That's right! Our practice studio was downtown at the time. There were a lot of empty spaces in 1979 which were really cheap. That's not the case anymore.


Punk Globe:
REM and the B-52's are also from Athens right? What other bands are from there?
Loads. We have a lot of diversity too. From the first wave: The Method Actors, Love Tractor, The Side Effects,
Oh-Ok. Later came bands like-in no particular order: Dreams So Real,The Squalls,
Olivia Tremor Control, The Sunshine Fix, Vic Chestnut, The Chickasaw Mudd Puppies,
Neutral Milk Hotel, Elf Power, Japanacakes, Danger Mouse (who became part of Gnarls Barkley),
The Drive-By Truckers, Widespread Panic, Of Montreal, Now It's Overhead.
More are springing up all the time like: The New Sound of Numbers, The Lolligags, Dark Meat,
Modern Skirts, Casper & the Cookies, Jackpot City, Cars Can Be Blue, 63 Crayons, The Instruments,
Tiny Sticks, Circulatory System, Christopher's Liver, American Cheezburger, A. Che Why,
Sweet Tooth Simpleton and the Simpletones, Exquisite Corpse, Tale of Two Caleys, Paper Tanks....
.I'm sure that I've forgotten many important bands here, but I'm just trying to give some examples.
Go to
flagpole.com
and see all the band listings there. It's unreal to have this many bands
in a town this size. We are known in some circles as the San Francisco of the South.
A great time to see a lot of Athens bands is during Athfest which is June 19-22 this year.
Wristbands are cheap for the club crawls and all the music on the stages outside is free.


Punk Globe:
In fact Kate and Fred were very supportive of Pylon.
I love Kate and Keith.. Tell the readers how they helped you?
They have both been big cheerleaders for Pylon all along!
The B-52's saw us early on at someones house in the country near Athens.
They said that we should play in New York City and really encouraged us to go.
Fred took our demo tape to Hurrah in NYC . Hurrah offered us several dates.
One was to open for a "hot" new wave band that no one has ever heard of again and
the other was to open for the Gang of Four. We had heard the Gang of Four's singles
and liked them a lot. We chose to open for them. On the basis of that booking
we were able to be booked into Philadelphia and Boston by our then manager Vic Varney.
Later on the B-52's asked us to open for them in Central Park in New York City
in October of 1980 when the Plastics couldn't make it through customs.
That is still the largest audience we have ever performed for.
When Pylon reformed in the late 80's, the B's asked us to open some
dates on their tour promoting "Cosmic Thing." Recently, they invited us
to perform in their honor at the Atlanta Heroes Awards where they received an award.
Coretta Scott King was at the next table and Usher was there. I got my picture taken with
Usher's grandma.Fred has played songs by Pylon many times on his show on Sirius Radio
.
Punk Globe:
Were you going to school in Athens or were you originally from there? Do you currently live there?
I am originally from a tiny town called Dacula, Georgia which is between Athens and Atlanta.
I attended the University of Georgia art school and after graduation,
I hung around waiting for my former husband, Jimmy Ellison ( the Side Effects) to graduate. I still live in Athens.


Punk Globe:
Was your first big hit "Cool"?
It wasn't a top 40 hit , but it was on all the indie charts. College radio and major city clubs played it.


Punk Globe:
What label were you with?
DB recs based in Atlanta, GA. Danny Beard was the man behind all that. His first single was "Rock Lobster" by the B-52's.


Punk Globe:
Tell the readers about your tours .. You have toured with quite a few heavy weights..
We did some tour segments with R.E.M, The Gang of Four, The B-52's and U-2. We have opened for
Talking Heads, Lene Lovich and P.I.L. among others. We have gotten to play with some great bands
like Mission of Burma, the dB's, Romeo Void and the Bongos.


Punk Globe:
How was it touring with REM?
Really nice. The band and their whole crew were very kind toward us.
We got full sound and good lights and lots of support from their whole organization.
We did the last segment of one of their Green tours. from New Mexico to Macon, GA.
This was right after the big earthquake that you had in S.F back. in October of 1989.
I remember watching news of the earthquake with my daughter in my lap on
CNN right before I left to go on this tour.


Punk Globe:
That was on October 17.. I remember that day so well..
It was our Birthday present early.. Did REM really do a cover of a Pylon song?
Yes. "Crazy" was a B side to the single that had "Driver 8" on the A side. It was also on "Dead Letter Office."


Punk Globe:
I read that when
Rolling Stone
declared REM the best band in the USA.
One of the guys said "No PYLON is the best band" How cool! I bet you were on top of the world..
I was very touched that Bill Berry said that. It was a very kind and generous thing for him to say.
Of course, we were nowhere near the stature of R.E.M. I love their new record "Accelerate."


Punk Globe:
I understand that you are now officially together as a band.
But you did stop playing at some point when was that and what did you do
after the band ended? I know you got married.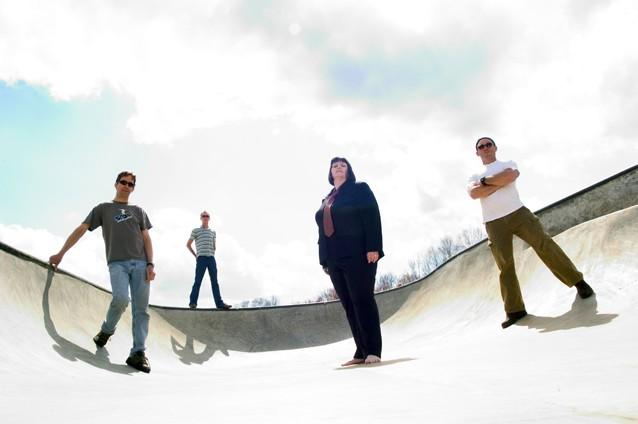 Pylon in 2005
Pylon broke up for the first time back in November of 1983. I got married to Bob Hay (the Squalls)
in 1986 and we had our first daughter Hana in 1987. After Pylon broke up the second time in 1991,
I went back to school to become an R.N. and had another daughter Victoria in 1993.
Pylon officially got back together again in 2005. I've been busy being a mom.
I've never lost my interest in music and have listened to so many interesting things over the years-
as well as watched some things come and go and come again. Sort of like the time traveler who watches
the store window in the movie "The Time Machine" where the hemlines go up and down.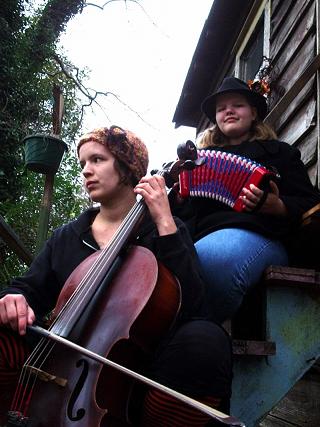 Hanna and Victoria
Punk Globe:

Tell us about how you met your husband and about your family?


I met my husband in the kitchen at one of Leslie Michel's dinner parties. It was Thanksgiving,1981 and
I had stopped by after visiting my family. Lots of people who couldn't make it home for the holidays were there.
Bob was fiddling around with a Casio VL-tone that belonged to Linda Hopper from Oh-Ok who was Leslie's
roommate at the time. I had just gotten a VL-tone and started talking to him about it. He asked me for my number,
but before I gave it to him, I asked around the party about him. I was very gun-shy of dating as I was going through
a terrible break up with someone and was suffering from terrible self esteem related to that. Everyone said he was the
nicest guy they knew. If I had know he was a musician, I might not have given my number to him-ha, ha.
Our older daughter Hana is an artist and sings/plays cello with her new project Exquisite Corpse. She works
in the kitchen of a local restaurant as a prep cook. Our daughter Victoria is in high school. She loves animals
and is a loner dreamer type. She is also a brain tumor survivor and loves to go to Camp Sunshine in the summer.
She really looks forward to it. My mom also lives with us now. We're sort of like the Beverly Hillbillies around here.


Punk Globe:

You also have a band called Supercluster.
Tell us about Supercluster and who are the other members of the band?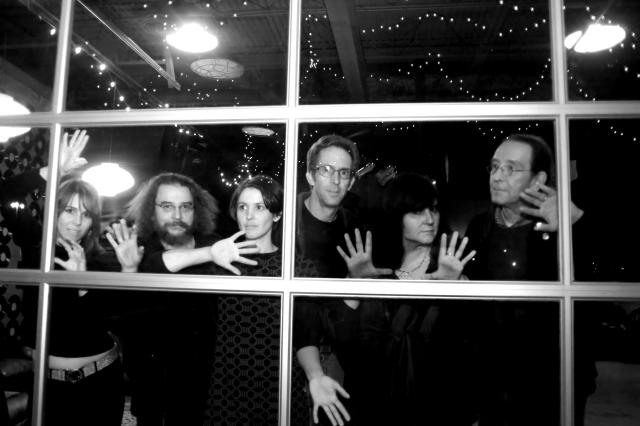 Supercluster
Supercluster is mainly a recording project, but we play out on occasion. I had some little tunes coming
into my head that were not exactly Pylon type material. Hannah Jones (The New Sound of Numbers)
agreed to come on-board and help me get it together. I wanted to mix acoustic and electric,
so I got to assemble my own dream team of musicians to help me out from some friends
in other Athens bands: Pylon, The New Sound of Numbers, Casper & the Cookies, Bob Hay & the Jolly Beggars.

Hannah Jones---drums, Kay Stanton- -bass, Randy Bewley--electric guitar,
John Fernandes--violin, clarinet, bass clarinet, Bob Hay--acoustic guitar, Bill David--mandolin.


Punk Globe:
Do you play often?
We've played live 4 times so far.


Punk Globe:
Do you have a label you are with?
No. I am shopping 5 songs that we have recorded to some Indies. .
I have only approached labels that I know of personally so far.


Punk Globe:
Can you give the readers your My Space addresses for Supercluster and Pylon.
If you have websites please give the readers links for that as well..
Punk Globe:
Of all the shows you have played tell us about some of your favorites?
Opening for the B-52's in Central Park, performing at 688 in Atlanta and at clubs in Boston, San Francisco
and New York, the 40 Watt Club in Athens, opening for R.E.M. on the Green Tour. Pylon's last show
the first time we broke up really stands out too. Some parts of that are on You Tube.


Punk Globe:
What bands were your favorites to tour with?
The B-52's and R.E.M., of course!


Punk Globe:
Who are some of your favorite bands that you listen to?
Depends on my mood: The B-52's, REM, The New Sound of Numbers, LCD Soundsystem, the Beatles,
the Beach Boys, the Who, Elton John, Atlas Sound, Olivia Tremor Control, The Lolligags, Janis, Aretha,
Leonard Cohen, Bob Hay & the Jolly Beggars, George Harrison, Joy Division, Edith Piaf,
The Apples in Stereo, James Brown...lots more...too many to list....


Punk Globe:
Do you like Amy Winehouse?
Yes I do! I'd love to see her perform live! Maybe someday.


Punk Globe:
Clinton or Obama?
Everyone should vote their own conscience. I don't like to tell anyone how to vote, but it is very
important to vote! I am just a citizen like you. I know that our forebears suffered
and died for our right to vote. I voted for Clinton in the primary.
If Obama wins the nomination, I will vote for him.
The political machine has certainly learned to prey on most of our fears
at just the right time in the election process. Watch out this year too!


Punk Globe:
I can't believe that you and Jayne County have never met.
I would have thought your paths would have crossed at some point ..
Well now that you are both in Georgia you will have to meet..
It's true. I need to meet Jayne! I don't know how I've missed running into her. It could be because
I didn't go out for a long time. I take motherhood seriously. But, now that my children are older and
one is out of the nest, I can go out again! I have even attended some shows that my older daughter is at.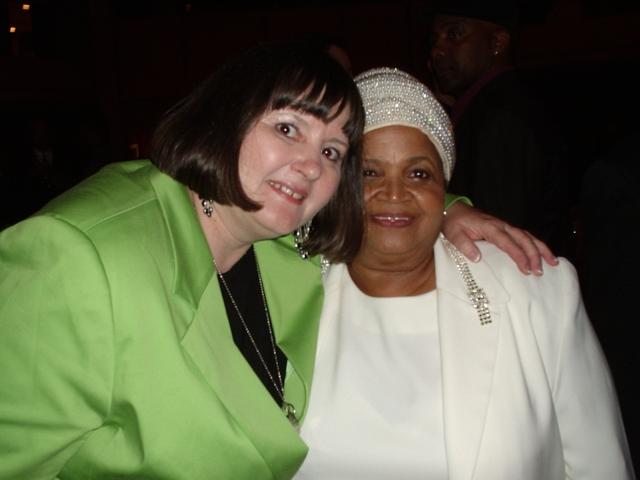 Vanessa with Usher's Grandmother
Punk Globe:
The White Trash Debutantes guitarist Pauli Gray
also knows you from Athens.. It really is a small world..
Oh my gosh, it is a small world. Say hi!


Punk Globe:
I know this interview just skirted your career but I would like to thank you so much for taking the time to answer my questions.. Thank you so much Vanessa. Any last words for our readers?
It's been very nice to talk to you.
Punk Globe:

Thank you Vanessa!