STONE GOSSARD DRESSES IN DRAG
For The UPCHUCK CD Release Party...
Show Review by D.W.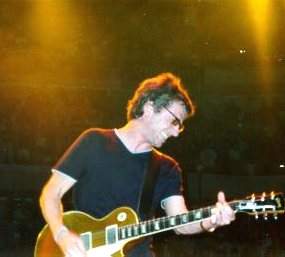 STONE GOSSARD member of PEARL JAM and GREEN RIVER made a guest appearance on Saturday Sept 23 at an event launching a career-spanning CD by legendary Seattle performer Charles "UPCHUCK" Gerra. Gerra, who died of AIDS in 1990 is cited as one of the most influential proto-grunge performers to rise out of the Northwest alternative music scene in the 1980's. The event was held at Seattle's KING CAT THEATER the newly re-opened venue that saw some of the great bands of 1990's Seattle make their debuts.
Gossard joined UPCHUCK's former band THE FAGS onstage in a tribute to the openly gay Gerra. Gossard's clothing was cut off him by Fags bass player BARBARA IRELAND who then re-dressed Gossard in high heels, lipstick and a slinky spaghetti-strap dress. All the while Gossard and The Fags played a cover of Johnny Thunders 'You Can't Wrap You're Arm Around A Memory.' Ireland is currently appearing with Stone Gossard in Timberland's DIG IT campaign; a multi-city initiative bringing together eco-minded, activists and artists for daylong re-greening efforts . Brother BEN IRELAND, also a member of The Fags is drummer for Seattle's SKY CRIES MARY. The band and Gossard
met with cheers from an audience of Seattle's influential music community and an base.
The Upchuck CD, entitled "UPCHUCK: GONE BUT NOT FORGIVEN" on the dadastic! Label is set or release Tuesday October 1. It is being distributed by the SUB POP network ,and is available through amazon.com and as a widely-released digital download.
For more information, photos, video and review copies of the Upchuck CD contact:
Also on the bill were the Fabulous WHITE TRASH DEBUTANTES fronted by GINGER COYOTE. Coyote persuaded STONE GOSSARD to introduce The White Trash Debutantes with the following monologue: "Hi I'm Sarah Palin and I can see Russia from my back window.
I'd now like to introduce The White Trash Debutantes..." Through out the set , Ginger drilled Palin a new asshole for her
lack of experience and views on Womens Rights.
Opening the show was NASTY HABITS who got the crowd ready for evening...