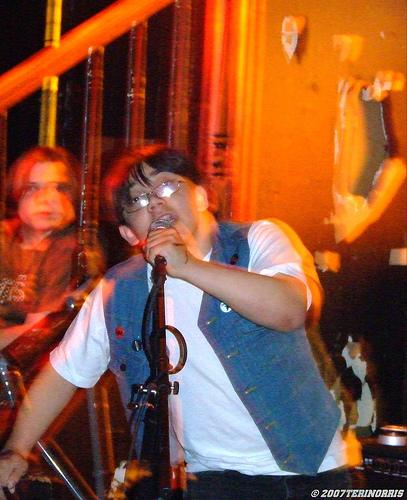 Interview with


TYLER VILE
By Ginger Coyote
I decided to that it was high time to do an interview with Tyler Vile.. He is a Freshman in High School, sings in the band The Communist Eyes and writes for Punk Globe... I am truly impressed with Tyler and hope you enjoy this interview.. He proves that there really is nothing you can't do if you put your mind to it..
Punk Globe: Thanks for doing the interview Tyler. Give the readers some background information about yourself?
Tyler Vile:
I'm a teenage frontman, poet, journalist, punk, weirdo with Cerebral Palsy. Freshman in high school and I enjoy creativity
Punk Globe: Were you born in Baltimore?
Tyler Vile:
Yes, Baltimore born and bred
Punk Globe: What got you involved with the "Punk" scene, Tyler?
Tyler Vile:
My sister, Jamie, who's 9 years my senior used to play a lot of Rage Against the Machine as a teenager
and her friend Dan Bock (very cool guy) used to constantly burn me CDs of bands like The Ramones, Rancid, and The Misfits. I got involved with the "scene" when I went to a show where Cheap Sex I think, was the headliner and bands like Blondsai and Fishnet Stalkers (then featuring Shane Scum) were supporting my friend and I quickly realized how good these local bands were and thus we started The Media Pigs the rest is history..or not.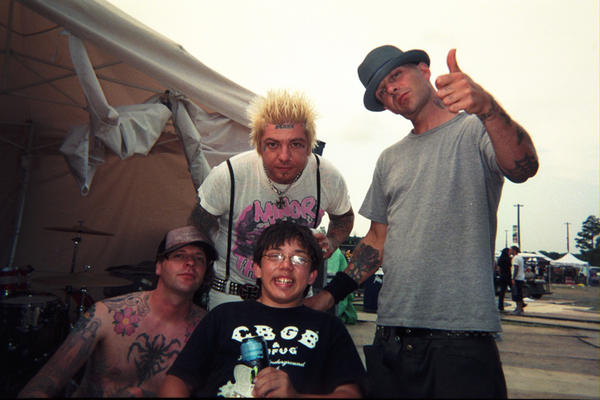 Tyler with Brett, Lars and Tim from Rancid
Punk Globe: Was The Media Pigs your first band?
Tyler Vile:
In the traditional sense of the word, yes. I'd been playing music and writing lyrics for about a year before that with some friends
Punk Globe: Were you playing with the Media Pigs at last years Freaker's Ball?
Tyler Vile:
No I was not, I'd been kicked out by that point. I didn't do anything wrong, they just thought at the time it would help the advancement of the group musically as they thought my timing was terrible. They did fall apart to a certain degree after my departure, but it's cool because we've patched things up and there are two former members in The Communist Eyes.
">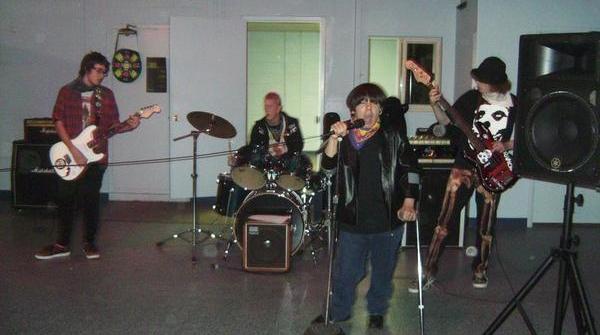 Communist Eyes
Punk Globe: Most all the younger bands that I spoke with all were talking about how Operation Ivy changed their life. They were all excited to hear I knew Lint, Jesse and Matt from Gilman Street and the East Bay scene.
Tyler Vile:
Operation Ivy has been a tremendous influence on me in a way that I really can't convey. My lyrical and vocal styles have been compaired to the great Jesse Michaels. I can often be seen at shows and in school with an Op Ivy shirt on. I'm a Jawbreaker fan as well. Crimpshrine is a severely underrated band from the East Bay. Charm City Artspace in Baltimore is modeled after 924 Gilman in that it's an independently run, all-ages punk venue.
Punk Globe: Conley turned me on to The Prostitutes and it was so funny they wrote me a fan comment telling me that it was an honor for me to take an interest in them.. Maybe they should be your next interview?
Tyler Vile:
Oh yeah, I'd absolutely love to do that!
Punk Globe: Is there a group of teen bands that all play shows in the Baltimore area?
Tyler Vile:
Yeah, but we're not networked as well as we should be. There's ZebraCake, The Side Affects, The Skanarchists, and a bunch more as well as new kids forming bands so hopefully we can get everything organized.
Punk Globe: Was it hard putting together a new band after parting with Media Pigs? Tell us about The Communist Eyes?
Tyler Vile:
Emotionally, kind of. Bands and lovers are very similar, you don't want to rush into something new right after you're done the last one.The musicians I already had semi-lined up, Keith, the Media Pigs' drummer's twin brother and MP's former biggest fan was a good friend and bass player, so he and I formed the band.
Punk Globe: I remember that the name you originally were going to use was Cause For Alarm...
Tyler Vile:
Yes it was, we also tried The Ultra Violents, Sons of Medusa and The Commies. Nobody really liked those
Punk Globe: Did you get any flack from Cause For Alarm for using the name?
Tyler Vile:
No, but that's exactly what we were afraid of. We like those NYHC bands and didn't want to anger them
Punk Globe: Now that you have the band name straightened out.. Tell us about the shows you have been playing. Where did The Communist Eyes play their first show at?
Tyler Vile:
We played at Michell David Teen Center, a venue run by a Jewish youth group. I'd invited kids from school but they called me a fag, fuck them. We brought about 20 punk kids total and we moshed all night and sang "Sex and Violence" while the people who ran it
stared on in bewilderment. That was a fun night!
Punk Globe: I Know that you have a big show coming up at The Sidebar with The Living Wrecks and the final show for one of your favorite bands Chelsea Graveyard..
Tyler Vile:
I booked that one by the way
Punk Globe: What bands are The Communist Eyes are influenced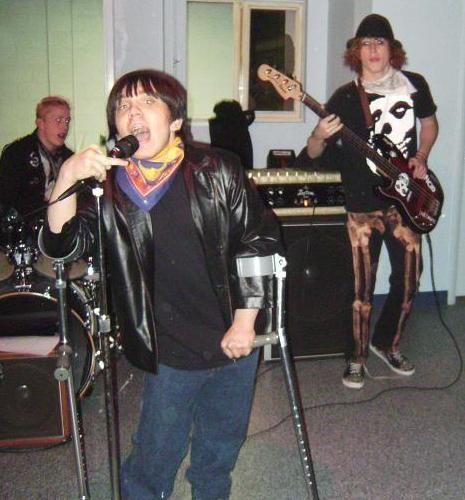 Another Shot of Communist Eyes
Tyler Vile:
Ready! Set! Namedrop!! Circle Jerks, Adolescents, Operation Ivy, The Germs, Choking Victim, Dead Kennedys, The Stooges, David Bowie, New York Dolls, Misfits, T. Rex, The Damned, Jayne County, The Prostitutes and Raped/Cuddly Toys
Punk Globe: Who writes material for the band?
Tyler Vile:
I write all of the lyrics, the boys read them, we take direction from eachother and it comes out sounding pretty.
Punk Globe: Tell us who is in the band besides yourself?
Tyler Vile:
Keith plays Bass, Gunnar plays Guitar and Aaron plays Drums. Nate, Keith's brother, will sit behind the kit on occasion when Aaron is unable to.

Punk Globe: Are you aware of The Insaints from The East Bay?
Tyler Vile:
Not really, but I'll look into them. I like obscure bands because I feel they need exposure for the hard work and good sounds they produced.
Punk Globe: The late great Marion Anderson the lead singer of The Insaints was somewhat like a Female GG Allin. ...Doing interviews and writing reviews is another one of your many talents. What got you involved with journalism?


Tyler Vile:
You did, Ginger. You offered me that position and I just took to it. I read
Cometbus
a lot and thought wouldn't it be cool to do that. But I didn't really have the means until you came along.
Punk Globe: I remember asking Kevin from The Living Wrecks to interview The Night Time Dealers and he immediately said get Tyler Vile to do it.. So you are getting recognition from your peers..
">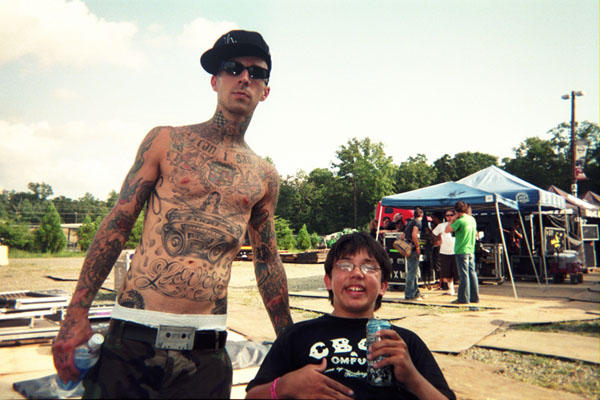 Tyler
with Travis from The Transplants
Tyler Vile:
I'm truly flattered, I'd love to do that too. Fat Dave Preno is one of the coolest people I've met -- real sweet guy like a punk rock teddybear.
Punk Globe: Tell us some people you have on your wish list to interview?
Tyler Vile:
Jesse Michaels, Lars Fredriksen, Iggy Pop, Shane West among others
Punk Globe: I did tell Shane West you wanted to interview him. He was psyched to do it.. but has been very busy with E.R... Remember to ask him about the Movie he did with my pal Colleen Fitzpatrick who played Amber Von Tussle in the original "Hairspray" Debbie Harry and Sonny Bono were her parents.. Colleen later became Vitamin C.. And that all happened in Baltimore!
Punk Globe: What is your favorite club to play in Baltimore and have you toured with any of the bands that you have played with?
Tyler Vile:
No, I've never toured but I want to. The Sidebar is my favorite venue, it's like a second home to me They've been wonderful to me since I started going there. Much love to Curt, Matty and Richard
Punk Globe: Anything else you want to accomplish before you hit 18?


Tyler Vile:
Believe it or not, I'm not that much of an ambitious person. With MP we said, "Hey, let's start our own band." With Punk Globe I thought, "Cool, I'm a published writer now."
I really like writing poetry and short stories so I would like to have maybe a novel published in the future (likely after 18) and oh, definitely world domination, or at least a US tour.
Punk Globe: Can you give us your My Space Profile addresses?
Tyler Vile:
http://myspace.com/rancidriot
is my personal profile, and this is the bands
http://myspace.com/thecommunisteyes
Punk Globe: One last thing - HAPPY BIRTHDAY TYLER !!!! Any last words for Punk Globe readers?
Tyler Vile:
Yeah, support your local punk scene. If there isn't one, get cracking. Never belittle a kid with heart, and my birthday was great, I share it with Dave Z of Chelsea Graveyard, Saddam Hussein, and the author of
To Kill a Mockingbird.
Peace to all
I hope you enjoyed the interview with Tyler Vile.. We need more youth like Tyler who Rawks.......
---