By Kim Friederich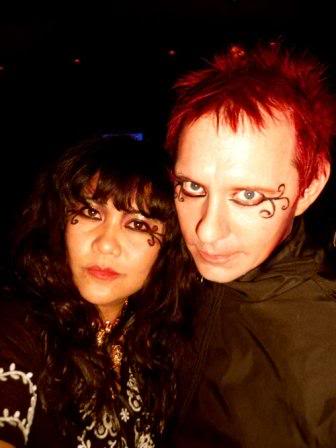 Band Members..
Buko Pan Guerra ...Guitar/vocals
Nickei Scott......Drums
Punk Globe: How did the band get together?
Buko: After Lily and the Ladies broke up, I got lonely on stage solo with a banjo in hand. I, then figured out how to tune a guitar to a banjo and thought to myself, what drummer would be crazy enough and fast enough to do a million rolls. Of course, Nicki was the man for the job.
He's my drummer boy who beats to the heart of my soul.

Nickei: Well, that might be her side of the story! I remember some talk of her starting a band with me and one day she just handed me a CD and told me to check it out and see what I thought. I put it on like a day or so later and was like, "WHAT IN THE HELL IS THIS?!" I told her there was no way I could play drums to that insanity, that I was just a lowly punk rock drummer and that I had no idea what I could play that would be that fast or even fit with it at all. She wasn't taking no for an answer, though, and made me get together with her at a studio [The Sweat Shop, where the first CD was recorded] and try and "jam." I couldn''t figure out what to do for like an hour. All of a sudden it dawned on me that disco beats are pretty much double time, so I started doing one of those to one of the faster songs. That did it. She loved that, didn't't you?
Punk Globe: Buko sounds as though she has twelve hands when she plays.
Is it hard to keep up with her?
Nickei: Actually she just has four arms. Like Shiva. She tries to kill me almost every night. I look at the set list and go "Do we have to do ALL of these fast ones?". One day I'm going off stage in a box.

Buko: Ha! So you hear six instruments other than drums? That's so rad.
Punk Globe: Buko,Is one of your main sponsors Red Bull?
Buko: I wish my sponsor was Jameson. My usual is Jameson and soda, club soda that is . . . I've gotten in some trouble when I drank Jamo and Red Bull. Good times but you won't remember and people tell you what you did the next few weeks after.
Punk Globe: Nick do you switch her to decaf prior to playing?
Nickei: I don't do anything to her, she's like that all the time! She. . .
Buko: Hey, I don't even drink coffee or any caffeine products. I'm all natural these days!
Punk Globe: Please tell us about your latest CD "Two Days, Two swords…Walk Alone At Midnight".
Buko: Uh, it's our debut album, actually the only album I've ever made in my twenty-two years of playing. "Two Days, Two Swords . . . Walk Alone at Midnight" was recorded in two eight-hour sessions (April 11 and 12, 2008). In March 2008, we learned
that their landlord was finally selling the building.
Nickei: Yeah, some rich hipster drove up in a convertible with his dad. The dad said, "Do you like it?" The next thing we knew it was a medical marijuana shop.
(Rolling their eyes…gasping, making howling noises)
Buko: Yup, so Nickei decided it was important to record and put out one last album before the end of the The Sweatshop. Our wonderful and amazing friend, Scott Taylor, recorded and produced the album. Scott is a well-known L.A. producer & musician from dream pop bands Velouria and The Black Watch. We got Mark Chalecki of Little Red Book Mastering to master the album. He's done everybody! Worked at Capitol for years.
Nickei: It's kind of like an document of what we were at that point as a band, although we were adding vocals to the songs even then, Buko wasn't really singing live yet so we opted for an instrumental CD that kind of captured what we were way back then. Way back a year ago!
Punk Globe: Have you already started on your next CD?
Buko: Yup. We have six new songs and a 100 ideas. three songs from the first album we will re-record, this time with vocals. The album will be called, "Eeka Eeka Boom Boom! "

Nickei: She's pretty much right there, except for there's probably 1000 new ideas, we just forget about 900 of 'em. The thing is already writing itself,
I swear, sometimes we just sort of show up and it just happens.
Punk Globe: How will that differ from your latest?
Buko: It's a faster disco version of the latest. More punkier like the Southeast Asian
version of X-Ray Spex with a dash of country swang.
Nickei: It's gonna be super slow and sound like Asia, Kansas, and Journey [Buko elbows Nickei and they both laugh]. No, there's some truth to that X-Ray Spex thing. Sometimes I wonder if I'm gonna look over and see Poly Styrene in the room. Or Siouxsie.
Buko: When people say Siouxsie I am astonished. I think people are trying to relate a band to us but we're still so off on left field. But I think it's cool being told I remind them of Siouxsie!
Punk Globe: What are your main influences when creating your music?
Buko: Paco Pena, old punk and hardcore, Beethoven, Arabian and Indian music, George Abdo and John Biberian. My mom and grandmother. 60s psychedelia especially from Turkey or other Asian cultures. Main influence is nature or films. "Mircocosmos." "Baraka." "Derzu Uzala." "The Stalker." "The Story of the Weeping Camel." "The Cry of the Snow Lion." "Kundun."
"Amandala." Just to name a few that I actually wrote songs about.
Nickei: That's her right there [points at Buko], when it comes to this band. As far as me playing drums in general… uh… who knows? I love Bill Rieflin from The Blackouts and find myself doing Blackouts-like things in my drumming. I think I steal from everybody, though.
I'm a blender. I just put it back together again in weird way.
My friend Kevin says I'm an architect. He drinks.
Punk Globe: Nick would you say the roller derby is a place you find your inspiration?
Nickei: My inspiration for WHAT? Watching really tough, hot chicks beat the crap out of each other can inspire… lot's of things…
stares off into distance
.
Punk Globe: Do you ever go down to the beach and just play while others are surfing?
Buko: I've always wanted to surf but my real passion is snorkeling and building sand castles.
Nickei: I'm with her, I fly right off those boards immediately! Snorkeling way more to my liking. I sure did love it in Maui, that's for sure. That place rules.
Punk Globe: You have been getting a lot of play on college radio. How did that come about?
Buko: All thanks to Ethan from Savage Republic. He booked us for his HOW TO DESTROY THE UNIVERSE 6 festival at NIMBY. He promoted us on the college radio stations in SF. They still play us which is very gracious of them. And WFMU just contacted us requesting CDs because they heard us on
their sister station, KFJC! But they are independent radio
rather than college radio! It's so awesome!

Nickei: Well hopefully even MORE of 'em will play us if we ever mail out these damned CDs. I guess at least we got the mailers, so that's a start. So far it's all Ethan and word of mouth. What a great guy. That NIMBY show rocked, Ethan
I don't care what any stuck-up SF bands thought!
Punk Globe: How would you describe the band and its music
to someone who didn't know anything about it?
Buko: Southeast Asian Disco Surf Punk with a belly dance shimmy.
Nickei: Uh… Bollywood Disco Punk Surf?
Buko: UH! Bollywood Flamenco Surf Disco Punk Metal Pop?
Nickei: Uh! Bollywood Flamenco Surf Punk Disco Belly dance Metal Pop
Buko: and don't forget Classic Rock, too! Like my Cream reference
in Mo-Rock-o, Morocco with a cream filling!
Nickei: That's just wrong. But true!
Punk Globe: I hear your music is the inspiration for an upcoming film. Tell the readers about it?
Buko: Huh? First I heard of that. Nicki, do you wanna elaborate?
Nickei: I hope it is! I know there's a wild card over there at Ransom Pictures
who has some wildly delusional ideas. Not that I'm AGAINST any of his wildly
delusional ideas, mind you. I have 'em myself!
Punk Globe: What's next for the band?
Buko: We hope to finish our website and put a new record out by next summer. Hopefully, we can do a CD with a full orchestra which is my dream to have a band of 13 members, including dancers.
Nickei: Pretty much the sky's the limit. The Swords of Fatima can do whatever it wants. I want to finish the new CD and then go on tour with The Ravonettes. Did I mention I have wildly delusional ideas?
Punk Globe: Where can people find out more on The Swords of Fatima?
back to home page