Interview By Rotten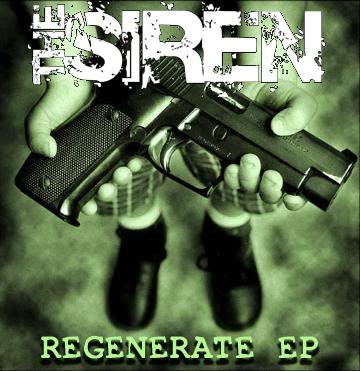 Hailing from South Florida, Punk metallers The Siren are a continuation from their previous band, On Watership Down, Utelising Heavy Riffs, Speedy drums , songs like LIGHT EYES CANT LIE and THE RECLUSE certainly will please Headbangers of old and Nu-Metal fans alike. Sub JAMES HETFIELD vocals and music reminiscent of today's current crop of Thrash Metal bands makes for an original combination that will not dissapoint people who give it a listen. With songs like The Risk is What We Live For, you can tell this is a band to watch out for, vocally making good use of melodies, both screamed and sang. Fans of gutteral vocals will love it. Trillion Cut makes great use of blastbeats, making the band perfect for the fans of Trivium and Metallica alike.

The Siren's live show is not one to be missed, using stage props, costumes and lots of interaction with their audience, this is a band who see every fan as important, and want every fan to leave their shows with a smile and a feeling of euphoria.

Their debut EP " REGENERATE" is out now, and should be picked up by all, a great excursion into powerful, embittered music.
Punk Globe: How did the band originally form?
Roger Pearson: I formed the band in 2008 out of select members of other local bands and remaining members of original band and Eulogy Recordings artist On Watership Down.
Punk Globe: How does The Siren differ from your previous band?
Roger Pearson: It differs from the previous band because the songs are structured better, and have much more catchy hooks. It's overall more put-together.


Punk Globe: Your E.P. "REGENERATE" is out now, Tell us about the writing and recording?
Roger Pearson: We spent a grueling six months in a warehouse writing the EP and as far as recording we recorded, produced, mixed and mastered the album ourselves and we will probably be doing this for a lot of our upcoming albums. Being in the studio and being part of the record ing and production is one of the best things about being in a band.
Punk Globe: Who are your biggest influences in music, and if you could play with anyone, Who would it be?
Roger Pearson: Man… there are so many influences for us all of us but I would have to say bands like Bullet for my Valentine, Trivium, and Black Tide are bands that have influenced us. But there are several other bands not of the metal genre that also influence our music. There are so many bands we would love to play with, really there isn't one I can narrow it down too but it would be cool to go back in time and play with the original Guns N Roses lineup or Motley Crue or Skid Row.

Roy Moore: I have so many influences (Metallica, Megadeth,Misfits,) to name a few there's way too many to mention as well as the other guys in the band, A.J is very punk influenced, Eddie is Hip Hop mee ts Metal influenced. I know Metallica is definately a huge influence to both Kyle and Me...but It would be cool to go back in time and play with all those bands previously mentioned ... who knows one day some bands may say the same about us too ...
Punk Globe: Tell us about a typical THE SIREN live show, as I have heard its a real experience.
Roger Pearson: Starting off with an intro with thundering booms and air raid sirens that let you know the SIREN will soon be gracing the stage. Coming out of the intro the SIREN hits you straight up in the face with nothing but power and energy, constantly hitting you with blows and never letting up the entire time until the set is over. You never really know what you may get out of the SIREN. You may get a fully-planned theatrical show or you may just get the boys as themselves, raw and ready to tear it up.
Punk Globe: Whats next for the band?
Roger Pearson: We are currently writing the full length album and will be hitting the studio to record that. From there we will be setting up a couple tours to promote the album.

Roy Moore: Theres' going to be many great shows ahead so catch us in a city near you ...you can also go online for more info its updated regulary
Punk Globe: Where can interested people find out more about THE SIREN and where can they purchase the excellent "REGENERATE" ?
Punk Globe: Do you have any message for your fans?
Roger Pearson: When things fall apart just pick up the pieces and keep pushing the bull, don't let the bull push you. BURN IT DOWN!

Roy Moore: ...BURN IT DOWN
back to home page