The Duel
On arrival all seemed quiet, just a few people drinking at the bar. This was 9pm. The Duel came on stage soon after. They seemed nervous due to a small crowd. Tara Rez the lead singer shuffled to the front of the stage and announced the first song, "Victory." They tear into it then quickly followed by "Future Revolution."
Audience are warming to them , then a hiccup. The sound seemed to go out of sync. This is quickly sorted though and the band play on. They are more confident and play a ripping set. Tara has warmed up making use of the stage space. She interacts more with us in the crowd, which has grown in size.The band play tight, hard and loud. Blistering guitar sound, rasping yet smooth vocals and all the punk poses and gestures. Highlight for me was a great cover of "Pet Semetary" by the Ramones. They really punked it up, louder and faster. Not an easy task but it worked. Only too soon they are finished but we want more. An awesome set by a great punk rock band of the future.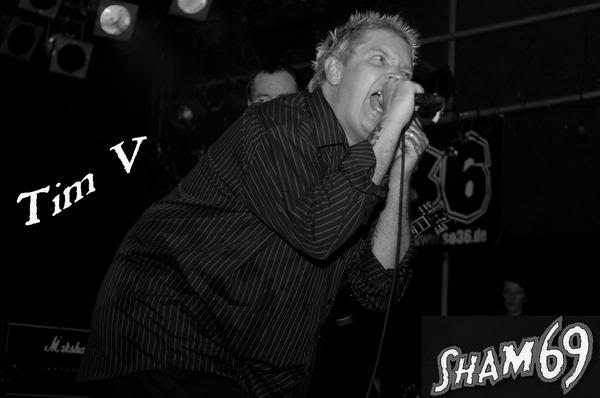 Sham 69
Next up, Sham69. The audience has doubled and the beer was flowing well. Can't remember what they opened with but the people are dancing from the word go. We thought it might not be so good with no Jimmy Pursey. No need, the new singer is awesome. loud, confident and in your face. The band too are tight. Halfway through the set the singer says we need some exercise and they fly into Hurry up Harry. The crowd has gone nuts, arms and legs being flung in all directions. A really rough mosh pit. The band play hard and the mic is in the crowd for all to sing the chorus. Bodies seem to fly in all directions to this very English, football terrace type band. They play all the classic Sham songs then are gone. Back for the encore they launch into Borstal Breakout. This was in the day one of the most popular songs. It still is. Its very loud, fast and aggressive. The Weston Skins of yesterday loved it. Anyone was allowed to join the group on stage and have their five minutes. All in all a great night out to two great bands. At a typical English holiday resort. And, at £9 a ticket you can't beat it.