By Kim Friederich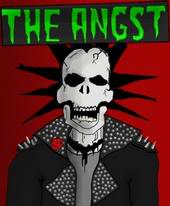 Band Members:
luis-vox
neil-lead guitar
jamie-guitar
scott-bass
juan-drums
Hailing from Orlando, Florida, Punk Rockers The Angst have a sound bringing a mix of UK82 hardcore and a Germs - esque vocal, a perfect antidote to the sugar coated Green Day / Rancid watered down punk coming from the USA today. One listen to their music makes you envision a hall full of punks pogoing and slamming like their life depended on it.

Currently causing Chaos in Florida, their new tour has them teamming up with Scottish punks 4PAST MIDNIGHT, so definatly a bill to catch when it comes to town. These boys from Florida will NOT dissapoint. Check them out on myspace, but first, here they give us an exclusive interview.......thanks guys!
---
Punk Globe: Tell me how you came up with your name the Angst?
The Angst: Luis came up with it, he was writing music and saw this political magazine with Bush'€™s face on it that said '€œBush takes on the new angst of the 21st century'€ so he was like "oh shit The Angst sounds pretty tight".
Punk Globe: How did you originally get involved in the Punk Scene?
The Angst:We started in late 2004, around that time, central Florida was full of Ska/punk bands and 90'€™s punk influenced bands. Therefore, we decided to go against what was hip and cool at that time and start a full on punk band with no signs of Ska on their music and that would bring the 80'€™s punk mentality. We mean not to hate on Ska or Green Day fans but at the time, we felt compelled to start new things around our town. We started playing in friends'€™ houses and birthdays until we felt that we had songs and a solid lineup to play on a venue. So early in 2005, we started emailing venues and local established punk bands in Orlando and we were rejected; nobody would call us back or help us out with a show. Therefore, we decided to pave our own way and starting booking our own shows and by that making new friends with bands that just like us, went through the same thing. Since then, we apply a DIY approach and help as many kids and bands as much as we can. We have played all over Florida and played with several bands from different states that way spreading the word of our music and message.
Punk Globe: How long has The Angst been together and how did you meet?
The Angst:We started in late 2004. We all met through different friends, saw that we had the same influences in music and decided to start The Angst.
Punk Globe: How have you changed musically from when you started?
The Angst:Oh yeah. We have clearly changed musically. We still play our old songs though; we are much more solid now due to experience, practice and lineup changes. We always spice things up.
Punk Globe: You just finished recording "The Split with RESILIENCE". How did the record come about? Who produced it?
The Angst:We played with Resilience three times in the past and we became good friends and discovered that we shared same influences and beliefs, so we decided to put a record together. The record its called '€œUnited not Divided'€. Roger from Grizzly Recording in Petaluma, California produced Resilience'€™s tracks and, Kyle Trailes from WST Recording Studios in Orlando Fl produced our tracks. And, Charlie from Get Outta Town studios mastered it.
Punk Globe: You have shared the stage with so many Punk Legends. Who has most influenced you to date?
The Angst:All of them influenced us. They were all nice to us and the kids in Orlando. Although, we must admit that it was very surreal to share stage with bands that we grew up listening to but they made us feel that there is no opening band or national act status, in the end we are all part of the punk subculture.
Punk Globe: What'€™s been your best show so far?
The Angst:All of our shows have been awesome. Nevertheless, the one will we always remember is when we shared stage with GBH. They are one our main influences and they are awesome people. It was fun to drink brews with Colin and the guys.
Punk Globe: Tell us about your last CD'€Take A Look Around'€ where can we get it?
The Angst:"Take A Look Around" was released in 2008 but the recordings of that year were fucked since we did it all ourselves, So this year we decided to re-release '€œTake A Look Around'€ to bring a better sounding release on this tour. You can get the record off Interpunk, Angry Young and Poor, and Punkutopia. We are working on releasing the record in South America and Europe soon as well.
Punk Globe: Who writes the songs and where do you find your inspiration from?
The Angst:For '€œTake A Look Around'€ and this split with Resilience, it has been Luis and Scott. But for the next full length, we are all collaborating in the writing process. Juan is writing some songs, same with Neil, Scott and Luis. Our inspiration its things we go through in life and what surrounds us. Some of it could be politics or sometimes we just talk about our life. We are not a political band but our name is The Angst so we are pretty pissed off, haha.
Punk Globe: You have been signed to STRESS ATTACK RECORDS for a couple of years. Tell us how it has been to be signed with them?
The Angst:Stress Attack Records its a DIY label; they do a lot for us like recording wise working in partnership with WST recording studios in Orlando Fl. Moreover, they help us out with tour and distribution of our records. They help us out a lot and we are very thankful.
Punk Globe: You will be on tour with 4 Past Midnight soon. Tell us about your friendship with them?
The Angst:Luis met Peter from 4PM, back in 2003 when Peter came to Orlando for a family vacation, they became good friends and stayed in touch until their label brought up the idea to put both of us on a summer tour. In a blink of an eye, we said yes, since 4PM is legendary in the UK, the music is fucking awesome and we were already good friends with them so it was something that was meant to happen eventually.
Punk Globe: What else is coming up for The Angst?
The Angst:What is coming up for The Angst is our East Coast tour with 4 Past Midnight, then we have the release of '€œUnited Not Divided'€ 12 inch with Resilience and right now we are working on new songs for an upcoming full length due to be out early next year. Hopefully after that we will hit the west coast and see our peeps.
Punk Globe: Where can we find out more about your band?