Punk Globe:
Thanks for the Interview.. How did you come up with the Band Name? Now is it "The B Cups" or just "B Cups?"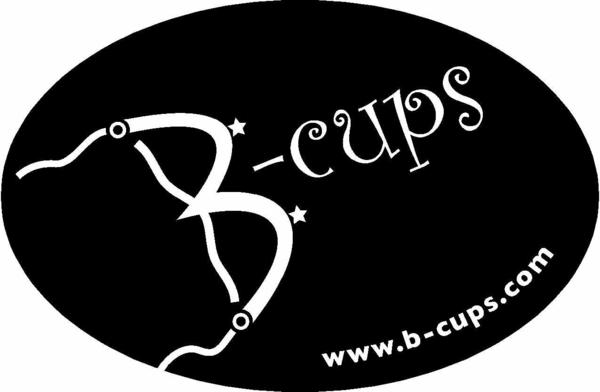 Tawdry:
Thank you Ginger. It's a huge honor to be interviewed by Punk Globe. The band is called the B-cups but the "the" is silent. No, seriously, we just don't use the in our promo pieces because, well, b-cups stand alone. So we were at the Metro Bar in the Castro for what would be our first band meeting back in the fall of 2004. Our original bass player, the Red Hot Kellinator, and our drummer D'angerious came up with the idea of calling the band the B-cups--for the obvious reason that we all had them on our chests. They tossed the idea out and it was the easiest decision ever made no dissent, no alternate suggestions. We all just looked at each other, said, "yeah that's it" and ordered lunch.
Punk Globe:
How long has the band been together and tell the readers about who is all in the band?
Tawdry:
We've been together four and half years. Our first show was Dec. 20, 2003 at the Beale Street Bar in San Francisco. It was great because Tony (the owner/booker) gave us our first show before we even had a guitar player lined up and told us we could use his place like our garage to experiment and hone our live skills, which we did. Our current lineup consists of Tawdry on vox, D'angerious on drums, Hard Knox on guitar and Judalicious on bass.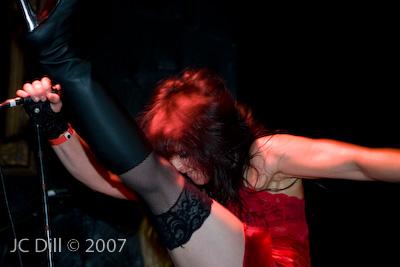 Tawdry shows us some leg
When you join the B-cups posse you get a B-cups name. It's kind of like getting a tranny name, only not quite as fabulous. It still comes with glitter lashes, though.
Punk Globe:
This is pretty much a new line up ! Am I right? Can you tell us about past members?
Tawdry:
Tawdry and D'angerious are founding band members. Jud and Hard Knox are new. Knoxy's been rockin' with the Cups for a year now and we've had Jud on board for about six months. It's a smokin' lineup and a huge privilege to play with babes of this caliber.
Punk Globe:
Do you remember the bands first show and how did it go?
Tawdry:
The place was packed and we sucked ass. It was amazing! We were all really new players at that time. This was the first real rock band any of the original members had played in. We met each other at the Blue Bear School of American Music, where we were all taking classes. We played all covers and every person we knew in the Bay was at that show. It was great to play songs written by some of our influences, like the Sex Pistols, Black Sabbath, Bikini Kill, Garbage, Ramones, AC/DC, Blondie and others. People fucking loved it and so did we.
Punk Globe:
Who are some of your influences?
Tawdry:
In addition to those I just named, for sound we're really inspired by the New York Dolls, Rage Against the Machine, Nirvana, Iggy Pop, Sublime, Tina Turner and Etta James. In terms of our show style we look to Alice Cooper, Motley Crue, AC/DC, Prince, Eurythmics, Jesus Christ Superstar, Tommy, Hedwig and drag queens in general. For lyrical content our inspirations include Jim Morrison, Roger Waters, Zach de la Rocha, Tom Petty, Bon Scott, Eminem, KISS and all those 3-minute pop melodramas from the 70s. A modern band we're completely MAD for right now is Brooklyn's Semi Precious Weapons. We call our style "Glam Garage" because we combine garage-style music raw, simple, riffy with a fierce glam aesthetic. We're like a punch to the face from a roller derby girl that makes glitter explode from your ears and orbit your head while naked muses lick your nipples.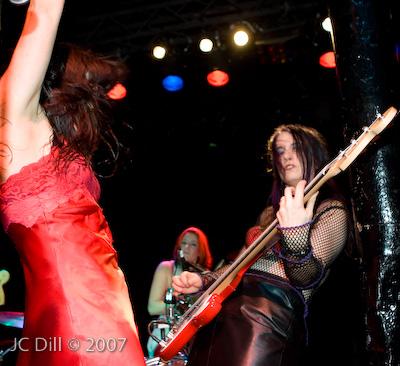 Tawdry, D'angerious and Judalious in action
Punk Globe:
Do you have any vinyl or a CD that readers can check out?
Tawdry:
Our debut CD "It Ain't Love" came out in January 2007 and is available on CD Baby (
www.cdbaby.com
). It contains nine tracks, including crowd faves Meg Ryan's Face, Chicks With Dicks and the Crack Whore Song. Look or a second CD coming out the beginning of next year. When we met Nikki Sixx at this past NAMM show he suggested we call our next disc "Bustin' Out." What do you think?
Punk Globe:
Have you toured? If so where have you played?
Tawdry:
We've played all over the San Francisco Bay Area, including SF, the North, East and South Bay and the Peninsula. This year we're planning more extensive tours, with forays into Nevada, So Cal and New York City to start.
Punk Globe:
What is your favorite venue to play?
Tawdry:
We've played so many great clubs, but we especially love Bottom of the Hill and the Red Devil Lounge in San Francisco. Both places have great sound systems and super-cool staff. Plus the clubs are a good size for us and the stage is far enough off the floor so the pervs in the front row can look up our skirts.
Punk Globe:
Tell the readers about your best show so far?
Tawdry:
It's hard to pick just one. Couple things that make shows bomb-ass for us. First, the audience. If
they're into it with us, we' re unstoppable. Best body high ever. Next, it' s who we play with. We've had the privilege of sharing the stage with amazing and legendary bands like the Dickies, White Trash Debutantes, Raw Power and others. And we've also played with local bands we adore like All Ages and the Yes Go. If we had to pick a favorite, balls-to-the-wall fun show, it has to be our four-year anniversary gig, which we played at the scene of our original sin, Beale Street Bar in San Francisco, this past December. We played with some of our favorite local musicians, some past B-cups members joined us on stage, and we had stripper cake. We love strippers and we love cake!
Punk Globe:
I know that D'angerious and Tawdry like going to the NAMM Convention. How many Conventions have you been to?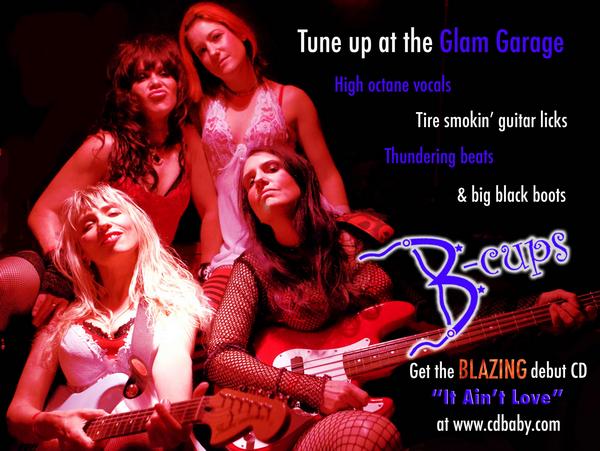 Tawdry:
D'angerious and Tawdry have been to four NAMM shows together, and D'ang has been to one additional. NAMM is a great place check out hot new gear, network and meet great musicians.
Punk Globe:
Tawdry - I know that your background is acting. Tell us about some of your background with acting?
Tawdry:
You may have seen me in such intellectually stimulating theatrical productions as "Los 7 Magnificos,a variation of Kurosawa's classic Seven Samurai," in which masked Mexican wrestlers are hired to save a filthy hippie commune from evil Quakers. Yes, Quakers. Or "The Night Lights in the Gloved Fist of Satan," which was like Scooby Doo, only different. I've also worked on classic productions like "Night of the Iguana" and "Of Mice and Men." I really love motion pictures and my favorite role was playing Dr. Julia Lee in "Ray's Day, a short horror flick that screened in SF, LA, New York City and Chicago. I've also crewed on a number of productions in various capacities and have written several short screenplays.
My goal is to write a rock opera before I'm too old to play the lead.
One of the best things about being in the B-cups for me personally is that we kick ass on stage. We're a performance-oriented band so I get my acting jones completely fixed.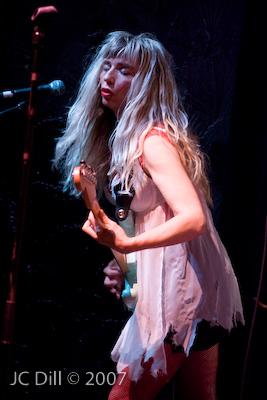 Hard Knox
Punk Globe:
Are all the band members located in San Francisco?
Tawdry:
We call ourselves a San Francisco band, but Tawdry is the only member who actually lives in the city. D'angerious and Judalicious are on the Peninsula, and Hard Knox is in the East Bay. Our beloved practice space is at Secret Studios in San Francisco.
Punk Globe:
I know you have the wonderful Groovy Judy on Guitar! Tell the readers about Judy's background?
Tawdry:
While Groovy Judy is an amazing guitar player, "Judalicious" is the smokin' bass player for the B-cups. The newest member of our femme fatale quartet, she's known for pumping and thumping on her red Fender P-Bass and for her wild purple hair. A native of the Bay Area, she's no stranger to the San Francisco music scene, and has performed in various bands since the early 90's. When she's not hitting the low notes with the B-cups, she rips on the guitar and fronts her own original psychedelic funk-rock band "Groovy Judy." She also teaches guitar professionally to up and coming rockers. Judalicious loves to rock, perform, give and receive positive energy and inspire others to do the same. She also loves being around her B-cup sistas and rockin' hard!
Punk Globe:
In fact Pauli Gray from my band White Trash Debutantes has also played with you. And we can't forget Holly Hawks.
Tawdry:
We've had some amazing people come thru, which has been great. When our original guitar player, B-rad, moved up to Seattle we were fortunate to get Holly Hawks on guitar. Holly is a very innovative guitar player with amazing tone and a New York cool stage style. Unfortunately, Holly had to leave us suddenly just as we were getting ready to record the first CD. Fortunately, we know the inimitable Pauli Gray, who recorded the CD with us and filled in on a couple of live shows until we convinced Hard Knox to join us. We also really want to shout out to Shameless Manolo, who was our temporary bass player for two years. Shameless, who's also a fantastic singer and has a great ear for arrangement, played bass on the debut CD and did countless live shows with us.
Punk Globe:
The band is planning a special show in NYC this summer. Do you care to tell us about the gig?
Tawdry:
We're not 100 percent on how it' s going to flesh out yet, but one of our fabulous friends, Miz Jane Aquilina, is debuting her one-woman show, "Bawdy and Soul" this summer in Manhattan and she's asked us to come and open for her. We may end up going in late Spring and doing a showcase. We, of course, will let you in on all the secret details as soon as we have them.
Punk Globe:
D'angerious is are also hosting a Radio Show. Give the readers some information and how they can send you music.
Tawdry:
The gorgeous and talented Michael U of Stanford's KZSU 90.1 FM offered to let the B-cups turn his studio into the Glam Garage for one night, and it went over so well that we decided to make it a regular thing. First and foremost, the B-cups are music fans, and we're huge supporters of local music, so we wanted to do a local music show where we also announce the bands' upcoming gigs. We played SO much great music and got fantastic feedback on the format, so we'll be doing that show quarterly. Look for announcements at
http://kzsu.stanford.edu/
and listen live no matter where you live at
http://kzsulive.stanford.edu/
.
You can see a full list of what we played during our first show here:
http://www.b-cups.com/kzsu /kzsu010708.html
We welcome local bands (ok, let's say Northern California bands) to send us music for the show. E-mail D'angerious at
debbie@b-cups.com
. Feel free to email tracks or links to tracks with a description of the band and a link to your Web site with upcoming gig information.
Punk Globe:
Any other tour plans or recording plans that are coming up?
Tawdry:
Oh hell yea! Since our last live show Jan. 11 we've been working on newtunes. We'll debut some of them at an awesome Easter show with the Sisters of Perpetual Indulgence March 23 in San Francisco's Dolores Park (which will probably happen before this publishes). Following that we're playing the Eagle and 12 Galaxies in SF. Then we head up to the Sacramento area for an April 25 show, and we'll do another Sac/Reno mini tour the weekend of May 9. Holy crap, then we'll likely be off to NYC, and back to play LA in June.
We'll head into the studio at the end of the year to record our second album with our favorite engineer Gabriel Shepard (
http://www.webfootaudio.com/
) who engineered and mixed "It Ain't Love."
Punk Globe:
I know you are very supportive of other bands. When we played with you I mentioned Storm Large and Tawdry went to see her at The Red Devil which is way cool.. Care to give a shout out to some of your bands..
Tawdry:
The B-cups *love* music and performance, which totally translates to supporting other bands. We believe in helping each other out whenever possible and spreading the love. Some bands we adore include the following (in no particular order - they're all awesome):
All Ages
www.myspace.com/allagesband
Groovy Judy
www.groovyjudy.com
Debra Knox
www.debraknox.com
Triple Cobra
www.myspace.com/triplecobra
Eric Friedmann and the Lucky Rubes
www.myspace.com/ericfriedmann
White Trash Debutantes
www.whitetrashdebutantes.com
www.myspace.com/whitetrashdebut antes
Semi Precious Weapons
www.semipreciousweapons.com
Yes Go's
www.theyesgos.com
Sassy
www.myspace.com/sassytheband
The Dickies
thedickiesarchives.com
Kelly and the Kelly Girls
www.myspace.com/kellyandthekell ygirls
Turn Me on Dead Man
www.myspace.com/mykillziggy
We also want to give a real big shout out to Bonnie Marsh of BonStar Designs, who made the cutest badass hats in the world for us. Check her out at
www.myspace.com/bonstardesigns
.
Punk Globe:
Any last words that you would like to leave the readers with?
Tawdry:
We want to remind Punk Globe readers that being a b-cup is really more a state of mind than an actual cup size (just ask Hard Knox). It's about being a babe, having a sense of humor and being totally fierce. So go ahead, rumble on into the Glam Garage. We'll blow your hood off with high-octane vocals, smoking guitar licks, thundering beats and big black boots. Riffy, rough and always a little greasy, the B-cups keep the needle in the red. So spray on your Armor All, strap yourself in and get ready for the ride of your life!
Punk Globe:
Tawdry - What is your favorite Thai Restaurant in Hollywood? And who is your favorite Hairdresser? (Hint: "Walk Like An Egyptian.")
Tawdry:
Listen up motherfuckers, no trip to LA would be complete without a visit to the Thai Plaza in Thai Town, where waiters sing Elton John's greatest hits, raw vegans suddenly become shrimp lovers, and hairdressers named Pharaoh style the (fallen) idols. Guided tours by Ginger Coyote available to VIPs upon request.
XOXO
The B-cups
Tawdry
myspace.com/bcups