By Kim Friederich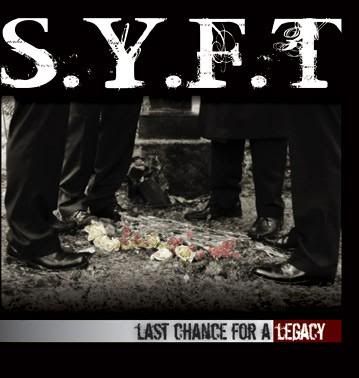 Sean Ingalls (Vocals)
Nick Switzer (Drums)
Taylor Klise (Guitar)
Eric Sorensen (Bass)

I was lucky enough to catch the Band S.Y.F.T at the Showbox Sodo Lounge in Seattle,WA.The band has just put out a amazing album,which is very diverse in both musical and lyrical tone.The album is called "LAST CHANCE FOR A LEGACY" and features the song "GOOD COP BAD COP" the video for which they premiered tonight prior to taking the stage.





Everyone who enjoys Alice in Chains to Metallica should pick up this album.


I sat down with the band before the show to get more information on all things S.Y.F.T




---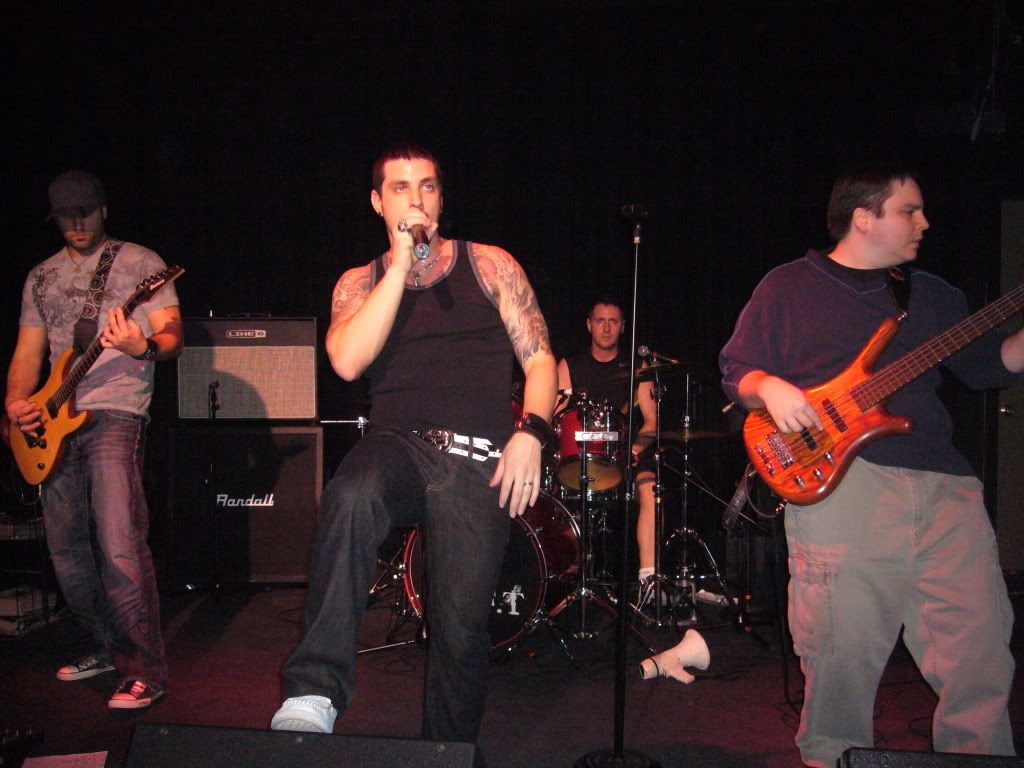 Tell me about the video you are premiering tonight? Who shot it, where was it shot at.



SEAN -

The video is for our single ?Good cop bad cop? which is on our debut album, Last chance for a Legacy. Our good friend Jeff Harshman wrote, directed, and edited the video. He had actually pitched the idea to me (Sean) in a local pub and after a couple adult beverages (maybe more than that J), we were on board. We shot the video in Portland, OR at 3 different locations. Kind of a whirlwind, but we were able to finish everything in a day of shooting. Couldn't be happier how it turned out. Jeff has an amazing eye and really nailed everything. We can?t also say enough good things about the crew/actors that Jeff put together.




You have a guest female vocalist performing with you on stage tonight. Who is she and tell me about the cover you will be doing?

SEAN -

Trina Mills is a long time friend of the band and is absolute amazing talent. Nick and Taylor have known her since grade school and we?ve really wanted to work with her for a while. She is actually featured on a song from the album, ?Becoming?, which turned out amazing and ultimately led to the cover tonight. We decided to re-work a Candlebox song, ?Arrow?, as a duet. We are big fans of them and really dug this song. Hopefully everyone else will dig as well.



NICK ?

Taylor and I saw them perform when we were 16. They opened with Arrow and it kicked ass and always stuck with us. Being that Trina is a friend of Scott Mercado we saw a great opportunity to bring that experience full circle.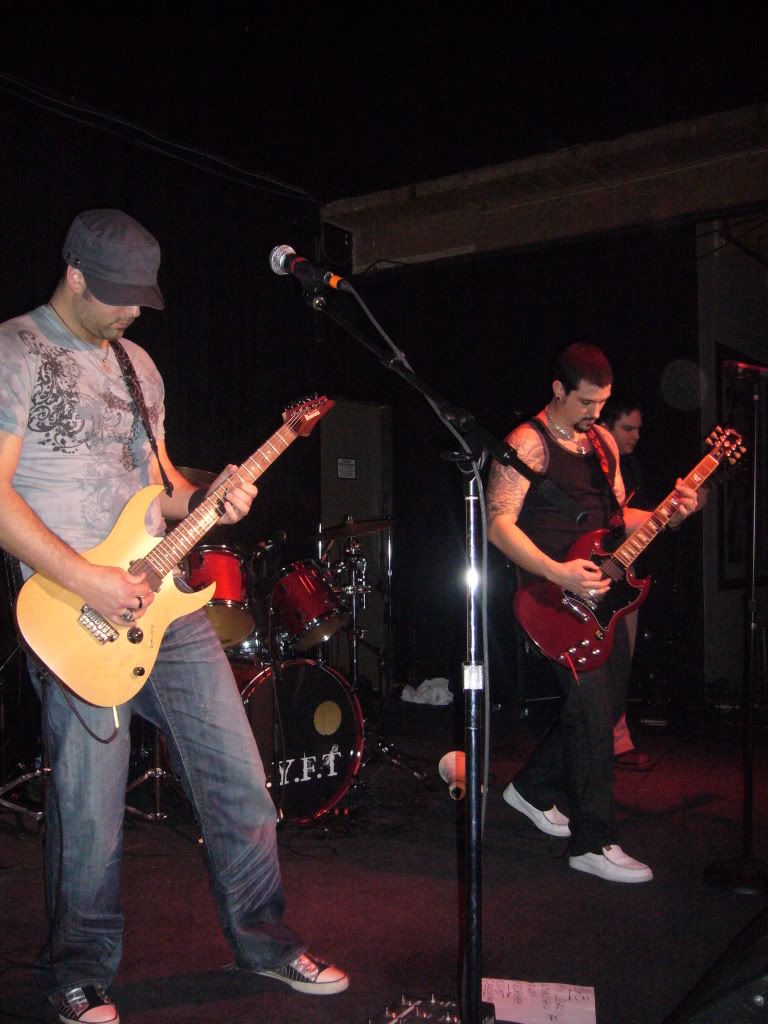 How did the band form?



SEAN -

The core of the band has been together since high school (Sean/Nick/Taylor). That version of band was known as Melange, which by the way is the name first track on the album. It?s a shout out to the old band, and it also ties into the Legacy theme of the album.



NICK -

After High School we spread out all over the country and took a 5 year hiatus to pursue college and other things. Eventually all landed back in Seattle, and decided to make a go at writing some new music, brought Eric in, and I guess the rest I history.



Tell me about finding Eric? Is it true you found him on craigslist?



SEAN -

Can?t tell you how hard it is to find bass players in Seattle. There seems to be a crop of singers, guitarists and drummers, but finding a talented bassist was super difficult. Especially one that shows up on time, has transportation, pays rent, and we get along with. So we posted an ad on Craigslist and the stranger.com. As fate would have it, Eric found us and everything clicked.




ERIC -

My last band, Circus of Shadows, had just decided to mutually break up and to concentrate on other things. I took about a month off and started looking for another band. I wanted to play in a little heavier band than my previous one and was browsing through the stranger one day. I happen to see their post which said their influences were Tool, Mudvayne, and Deftones. I think it was really Mudvayne and Deftones that caught my eye since I am a huge fan of Mudvayne, and you don?t see Deftones being an influence of many bands. I called them up and started talking to Sean. I was heading to L.A. in a few days to do some recording with a friend down there. Sean said to come on in before I headed down there, and we could just try out a few songs and see what happens. I headed on down there and played with them. When I came back from L.A. they gave me a call and asked if I was interested in playing with them. I really liked the music they had and hanging out with them. I gave it a try, and I?m still here. We always joke about the bass player that will call up and say he plays bass as long as the band has one for him to play.



Who are the bands biggest influences?

SEAN -

This is really a hard question to answer because we are influenced by a ton of genres. Being from Seattle it?s hard not to be influenced by the grunge era. Soundgarden, AIC and Grunt Truck definitely lead us down the path to where we are today.



NICK-

People often liken us to a mix of Mudvayne and the Deftones. A previous iteration of this band was very heavily influenced by Tool, but as S.Y.F.T. we?ve gone out of our way not to sound like them. Still one of our favorites, but their sound has been replicated many times. However, what we have taken from Tool is their use of dynamics and huge endings. We often strive for big impactful ending to the songs.



ERIC ?

I have so many I didn?t answer, but? if you force me? I?m into everything from Beethoven (I?m a huge fan of the odd symphonies, especially his 3rd and 9th) to Stanley Clarke and Larry Graham to Rush and Led Zeppelin to Mudvayne, Tool, Deftones and Slipknot to King Diamond and finally to the old Bay Area Thrash/metal bands like Death Angel ,Vio-lence, Anthrax, Overkill and Metallica. I listen to so many types of music I could talk for 10 minutes just on this question alone.



Tell me about recording at the London Bridge Studio.What was that like?

TAYLOR -

London Bridge was f#@ing amazing. Just walking into the place you get the nostalgia of Seattle music. Looking up on the walls and seeing all of the records that we grew up on (Alice in chains,Metallica, Pearl Jam, Candlebox, Soundgarden) you couldn?t help but be inspired.



SEAN -

Since we tracked all of the drums there in about 6 days (8-12 hrs a day), I can imagine Nick has a love/hate relationship with it as well.



Nick ?

I?ve heard for years about the brick wall and the ?live? effect it gives to the drums. It was a great experience to play there. The engineer had me thinking I was playing on the same snare drum that was used for Pearl Jam?s Ten (one of my all time favorite albums). After about the fourth session I realized it was a replica, but it still sounded great. Overall that studio has a fantastic vibe to it with so much history. It?s the kind of place you would just hang out at if you could.



How long it took to put the album together?



SEAN -

Total time, about 10 months. We started pre-production in Feb/March of 08 working with our producer/engineer/all around ass kicker - Mark Clem which took about a solid 2 months. From there we tracked over weekends through most of the summer and early fall. After the usual master/artwork/duplication, we release in Jan 09 at the Showbox Market.


We made a concerted effort to have every detail of this album work with the theme of ?Last chance for a Legacy?. This was especially apparent with our Artwork/Photography. Dawn (L. Penich), who took all the photos for the album, has an amazing eye and got what we wanted to accomplish. Again, like Jeff with the video, she really brought the visual aspect of the album to life. With the help of George Grissom who handled most of the layout portion they really amplified what this album was about.


Musically we wanted to give a good flow to the album. We wanted people to be able to pop the disk in their CD players and listen beginning to end. We wanted it to invoke feelings throughout the record. So far we?ve got a really good response on this and couldn?t be happier with how it turned out.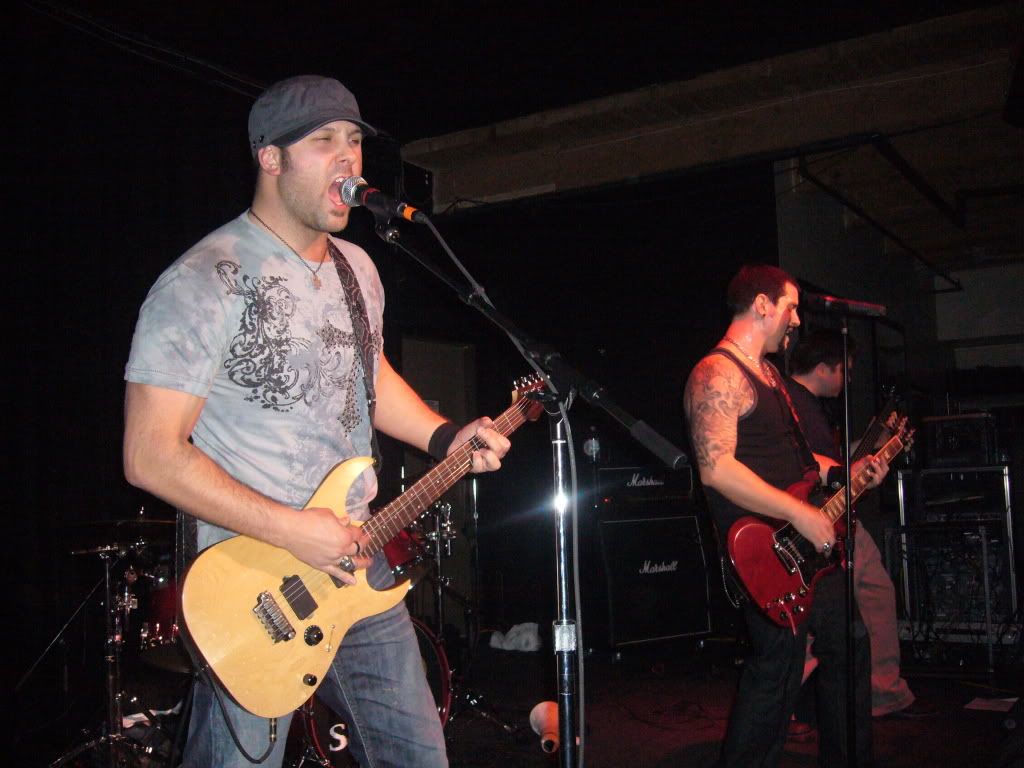 So tell me About the first time you heard yourself on the radio?



NICK -

Since the album came out we?ve been played several times here in Seattle and Portland. About a month ago was the first time that

wasn?t something that was prearranged or ?hooked up.? It was right after rehearsal and the Funky Monkey just played Good Cop Bad Cop to play it. There?s nothing like hearing a song on the radio that you were just practicing ten minutes before.



Whats coming up for S.Y.F.T?



SEAN -

Right now the sky?s the limit. We will be opening for Powerman 5000 in June and hoping to get onto a national tour for the summer. We?re working currently writing the second album and hope to start pre-production on that in the fall. We will also be dropping a second single from the record in the next couple of months.



Where can the fans can find you? Do you respond personally to each emails?



TAYLOR -

Myspace/Facebook,

www.syftmusic.com

or e-mail directly at

syft_music@hotmail.com

We check all of them very frequently and absolutely try to respond to each mail with a personal note. This is the part we definitely enjoy and make a point to get to know each person.