I recently met Soda on Facebook and decided to interview him because of his great, positive and assertive personality... I hope you enjoy
PUNK GLOBE:
Thanks for doing the interview, Soda... Can you give us some back ground about yourself?
Soda:
And thank you Ginger. Myself? Sure. I've been playing music for a long time. I write, have a cool music blog and do some art stuff here and there. I try to keep myself busy with good positive stuff.
PUNK GLOBE:
Tell us about your role in NOX CULT?
Soda:
For sure, with NOX CULT I am the Singer/Guitarist of the trio. I write the lyrics and together we bounce around ideas for music and sounds, etc.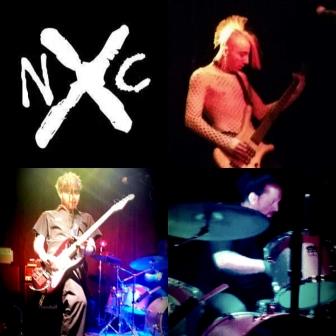 PUNK GLOBE:
Tell us about the other members of the band?
Soda:
Oh my, here we go! FOX is my bass guy and he does some cool background vocal stuff. He's super energetic on a stage and puts time and effort into his look and really cares about the overall presentation of the band on and off stage. MONKEY is my drummer and an absolute musical genius. Really smart with gear and a phenomenal drummer. Lots of big personalities in our Cult.
PUNK GLOBE:
How did you come up with the bands name. Were you fans of NOFX?
Soda:
Honestly it took forever before we were happy with a name. We wanted something different. So we referenced a list of odd or unused words which granted us NOX, which is Latin for night. And we used CULT as a way to unify ourselves with our audience, also the fact that Cult is somewhat of a taboo word if you think about it. And no, none of us listen to NOFX.
PUNK GLOBE:
How long has the band been in existence?
Soda:
We got together June of 2014.
PUNK GLOBE:
Who are some of NOX CULT's influences?
Soda:
We have a large variety of influences. Wig, Stevie Ray Vaughan, A Perfect Circle, Extreme, Blindside, Murderdolls, Ugly Kid Joe, Nirvana...it's really quite endless.
PUNK GLOBE:
NOX CULT recently released an EP called Fucking Live. Tell us about that?
Soda:
Yes, we did. Well, we really wanted and needed to get something out because we have been taking a lot of time to make our studio record (it's coming, we promise). So, we wound up getting this amazing board recording from Black Bear Bar in Brooklyn on a night that we opened for Faster Pussycat so I proposed the idea to the guys and after some back and forth we moved forward. I had the awesome Mike Rogers master it and within 3 months from the gig we had a cool EP out that people are really digging. I think it really captures the essence of the band.

PUNK GLOBE:
I must congratulate you on getting a good live sound.
Soda:
Yup, it's ALL live. Black Bear Bar in Brooklyn. And thanks, our performance was super solid that night and the sound guy did a great job too, obviously. People have been shocked at the quality. I just take that as a nod to my bands performance.
PUNK GLOBE:
Is this your first release?
Soda:
With NOX CULT, yes.
PUNK GLOBE:
Have you or will you be doing a record release party/gig?
Soda:
For this EP, we might. It's only a few weeks old. We have a number of things that we are working on, I'd say if we don't pull one together by March then no, there won't be any totally specific "EP Release Party" at that point.
PUNK GLOBE:
Give us your opinion of the live music scene in NYC?
Soda:
It's tough. I guess it depends who you ask really. Lots of venues now do the whole ticket thing in which they make bands sell before hand to get on a decent gig. Which sometimes puts you in a tough spot if you don't move all the tickets. It's not always about the bands and the music and art really anymore. I understand that every business needs to make money to survive, but at the same time not giving great underground bands a shot at a bigger night and letting their headliner pull the big numbers is kind of unfair. Truthfully, there have been times when we were in that situation and we out sold the main act and then it's been the opposite. It's a weird and confusing industry and only becoming more so.
"It's a weird and confusing industry and only becoming more so."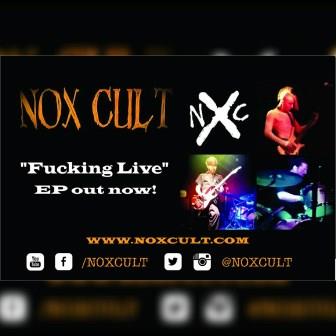 PUNK GLOBE:
Has NOX CULT toured?
Soda:
Tri-State area. Although myself and Fox were on tour in the Spring as hired guns for a Brooklyn Based band for The Punishment Tour in which we supported William Control.
PUNK GLOBE:
Favorite venue to play?
Soda:
At present I don't really think I have one. It probably wouldn't be in New York...
PUNK GLOBE:
Any bands that you play alot with and enjoy?
Soda:
We have really developed a great relationship recently with The Amatory Murder and Eyes Of Obscurity whom are both NY based bands and we absolutely love them. Demon Boy too, great dedicated people.
PUNK GLOBE:
What is in store for NOX CULT for 2016?
Soda:
More Shows, Recording and possibly a tour of some kind. And putting out our studio recording.
PUNK GLOBE:
Soda, describe yourself in three words
Soda:
Dedicated Hardworking Masochist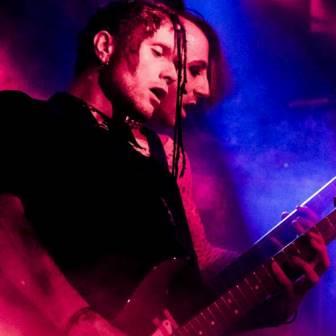 PUNK GLOBE:
Do you have any Internet Addresses you would like to share with the readers?
Soda:
Absolutely, please check out NOX CULT at www.noxcult.com and from there you can infest the social networks too. I also have a site for my other outlets at
www.officialsoda.com
PUNK GLOBE:
Any last words for Punk Globe readers?
Soda:
Just thanks for doing what you do and giving a crap about us independent artists. You and all of your readers help keep the wind in our sails.
Punk Globe Awe, sending you 90mph winds forever... Thanks for the interview.