TIM MUMFORD OF SLICK 46

By Ginger Coyote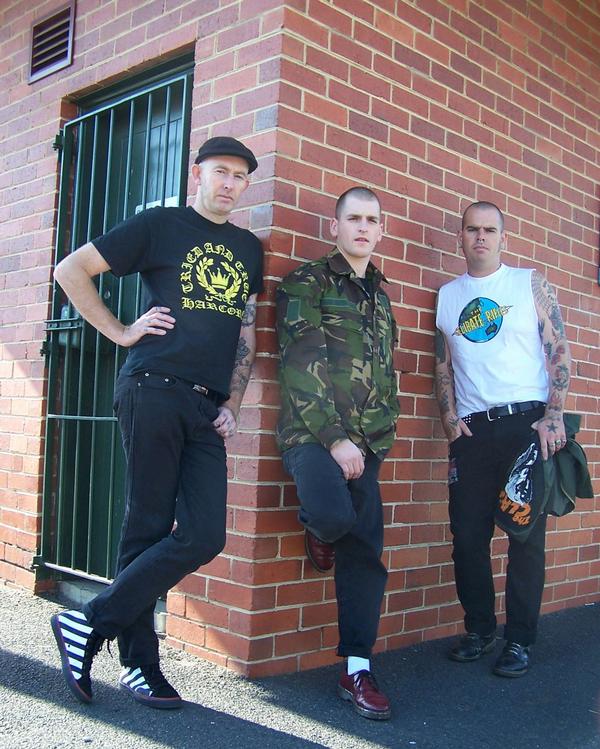 I was able to interview Slick 46 for the December
Punk Globe and we have kept in touch since...
I really like them as people and love their music...
They are planning a West Coast Tour in August
in support of their new CD "I DON'T WANNA,"
. . . I decided to do this short interview

with

Tim

Mumford, Lead Guitarist and Vocalist
of

Slick

46, to help them publicize the new CD
and upcoming tour....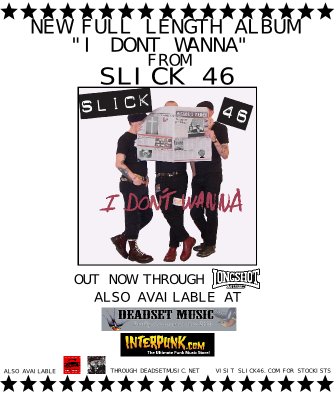 Punk Globe

: Can you give us the 411 on your new CD?



Tim

: 'I Don't Wanna' is a full length album. We're really happy with the way it turned out.
There's 13 new tracks of street punk and its out through Longshot records.



Punk Globe

: Has it been released yet?



Tim:

Yeah, it was released in Australia on June 1st and was available mid may overseas.



Punk Globe:

Have you been getting a lot of airplay in Australia?



Tim:

Fuck no. Australian radio hates old school punk rock, we get played a fair bit community radio stations around Australia.
But as far as commercial stations you don't have a chance in hell.


Punk Globe:

Is it available at Interpunk? Give the readers all the links to where they can buy it..



Tim:

Yeah the CD is available through longshot music, to buy internationally online through interpunk. In Australia it is available through Missing Link Records
and to buy online at deadsetmusic.com



Punk Globe:

I remember you mentioning that you would be coming back to play the United States in the summer. Tell us about your upcoming tour?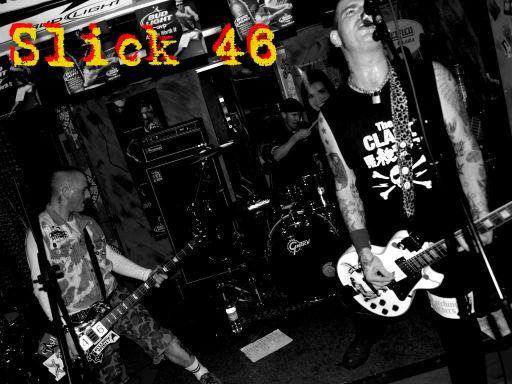 Tim:

We're really happy to be heading back, last year we played with
a band called the Harrington Saints from Oakland. We hit it off and
were on the road with them this year. We're really looking forward
to going to a few of the places we played last year
and catching up with the people we met
and drinking all your crappy American beer.


Punk Globe: Give us all the dates of the tour?

30th July- The Stork club, Oakland
31st July- Gale's Bar, Petaluma
1st August- Gilman St., Berkely
2nd August- The Doll Hut, Anaheim
3rd August-The Zombie Lounge, San Diego
4th August- Biaccis, Upland
6th August- The Vaudeville, Tuscon
7th August- The Yucca Tap Room, Phoenix
8th August- The Double Down, Las Vegas
9th August- The Old Stan, Sonora



Punk Globe:

Besides the CD, will you have any other merchandise for sale?



Tim:

Yeah we've got a 7" split with the Harrington Saints out through Longshot,
which will be available on the tour. Along with tour shirts and the usual shirts,
pins and usual paraphernalia. So boys and girls break open the piggy bank
and bring your pocket money



Punk Globe:

I have heard rumors that you will be having royalty joining
Slick 46 on a few choice shows??
I have heard that Dame Edna Everage may pop in to say 'Hello Possums' to the crowd....And wow em' with her sexy gams and glasses!
Tim:

Of course... Royalty follows Slick 46 wherever we go. We're a bunch of refined fuckers. But that is true, she may be appearing.



Punk Globe:

Tell us about your Southern California and Arizona dates as well as your shows in San Francisco..



Tim:

We're really looking forward about heading to Tucson and Phoenix. Its amazing scenery out there, you feel like you're in a cowboy movie.
We're also playing Pomona for the first time this year with a band called The Failures which we're looking forward to.
Check them out thet're cool blokes. And Gilman St we're playing for the first time this year, which will be good.



Punk Globe:

I also hear that you will be playing Las Vegas?
Any plans for a another wedding?



Tim:

Nah, probably no weddings this year, depends how drunk i get.



Punk Globe:

Do you know any of your support bands on the tour?



Tim:

Yeah there's a few that we played with last year,
but in general there's a lot of new bands that were playing with this year.
A lot more street punk bands this year, such as
Blue Collar Criminals and Yesterdays Heroes.
Yeah, we're really looking forward to watching all the
new bands we've never played with.


Punk Globe: I had really hoped that you could have gotten a show at
Safari Sam's or The Knitting Factory... Oh well, it is their loss. .



Tim:

Yeah it's their loss, fuck 'em. Maybe next year,
with Dame Edna in tow we should be able to swing a gig.



Punk Globe:

Can you give the readers your My Space Profile address
for any updates to the tour and to check the band out...





Punk Globe:

Well guys, we are all getting rested for your upcoming
kick ass tour... I hope you are also! Because we wanna fuckin' rawk
when you get to the USA! See you soon...



Tim:

No rest for the wicked. Thanks, Ginger, again for the interview,
go and support the local punk scene.
December cover