By Ginger Coyote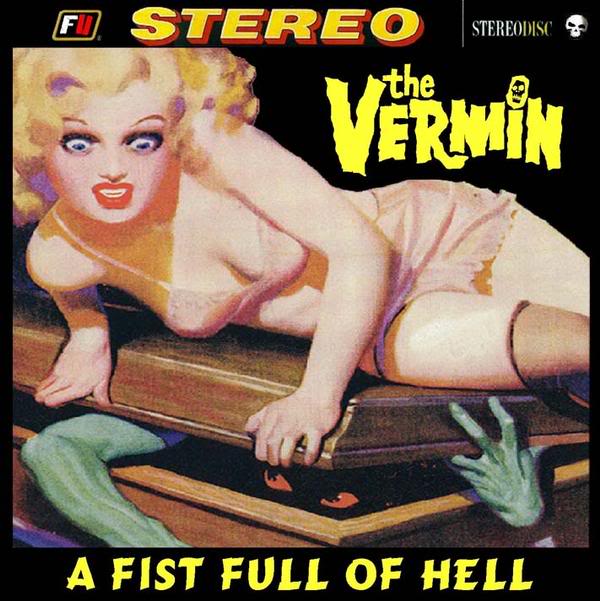 When you think about Las Vegas you of course think of Gambling Casinos, The Liberace Museum, The Drunk Convention and of course THE VERMIN.. I was lucky enough to get the following interview with the most colorful guy in the the Vermin- The one and only Ruckus...






Punk Globe: Ruckus, Thank you so much for taking the time out to do this Interview. Tell me exactly how long the Vermin have been around.

Ruckus: A treat and a pleasure Ginger. Thanks for having us. The Vermin actually started in in mid 80's as Vermin From Venus. Around 94 after I moved to Portland OR for a year to play with House of Usher, I came back to Vegas, me and Dirk started a cover band called Godboy. We mainly did old Punk covers. Vermin from Venus was changing a bit and we melded the 2 bands, cut the From Venus and became The Vermin.

Punk Globe: The main nucleus of the band is yourself and Dirk right? But you have had your current drummer for quite some time now..

Ruckus: Yeah, the 1st drummer was Anthony Hudak. Still considered the best Punk drummer in Vegas history. He played in AWOL, Self Abuse (Who I now play/Record with) Triple Ripple... We split with Anthony after he got pissed at a show we did with Battalion of Saints and beaned me in the head with a drum stick. Gerry TURBO Proctor joined THAT Nite. He's been with us about 13 years now. He also plays in Thee Swank Bastards, The Real Shames, and others.

Punk Globe: When The Vermin first started playing was The Double Down and The Huntridge having shows yet?

Ruckus: No, Neither place was going yet.

Punk Globe: Do you remember the bands first show?

Ruckus: Yeah, we played in an alley behind a rehersal studio with Tony and The ADZ, My 1st show whit the band was at Al's bar in L.A.






Punk Globe: Who were some of the other bands that were together when The Vermin first started playing and are they still around?

Ruckus: A bunch of bands called"Not The Vermin" and they all fell by the wayside. We are Las vegas longest running act. Period

Punk Globe: I know when ever I mention Las Vegas everyone knows who The Vermin and The Double Down are and they all have a wild story to tell about both The Vermin and The Double Down. Tell the readers about some of your most memorable shows?

Ruckus: Well, I'm a bartender at Double Down, so I cant say too much about what goes on there, but a few of my Favs have been The Anniversary Shows, The Confederacy of Scum Supershow, Playing to Timathy Leary, most everyshow has been memorable for one thing or another. What happens at Double Down Stays at Double Down. But TRUST ME, It is Thee Happiest place on Earth.

Punk Globe: Have you ever ridden the infamous Pony at the Double Down?

Ruckus: Oh Yeah. His name is Alanzo and he is now at The Double Down NYC Although they dont have the topless rule out there we had in Vegas. Actually, we just came back from there. They had their 3rd anniversary and we did a couple shows with The Hudson Dusters, Bobby Steele (From Undead and The Misfits) Julian Lennon was there, we did a radio interview with Devon from Morriconne Youth and Pretendo on East Village Radio and generally Wrecked the place.

Punk Globe: And how about your worst shows?

Ruckus: Dirk got really drunk and we looked like fools opening for TSOL a few years ago. That still bugs me. The last 2 times we played with them I havent let him drink till we Hit the Stage.

Punk Globe: Can you tell us about how the scene is now in Las Vegas and what venues do you enjoy playing?

Ruckus: There's some great stuff happening here. The city is still exploding. There's new places every week. But not many last. We enjoy Double Down, Bunkhouse, Icehouse (RIP), Wasted Space in The Hard rock Casino has embraced us lately, There's a new place called Boomers bookin' cool stuff, and even though I hate to say it, The Beauty Bar has had us on some really Fun shows.

Punk Globe: What bands in Vegas do you recommend that people check out.

Ruckus: Self Abuse, The Real Shames, Guilty By Association, Lethal Injection is Back, Fuck Shit Piss plays every now and then, Thee Swank Bastards, The Mapes, 1/2 Ast, The Ex Girlfriend Experiance, The Dirty Panties, The Tinglerz, The Black Jetts, The Peccadilleos, Pigasus, Hell pretty much all the bands here give it their all. This is Las Vegas. We're Born entertainers.






Punk Globe: Does The Vermin have any recent recordings out?

Ruckus: Yes!!! Our New album is called Joes Shanghai. Its out on Wood Shampoo. and can be obtained from InterPunk, CD Baby, iTunes.... If you get it from a download site, and you dont have much money just get Track 18. Its the whole disc on one track so you can download the whole thing for a buck or so if your so inclined. It really is the best thing weve ever done. Great classic Punk Rock Record Recorded by Adam Bomb formally of The Faction.

Punk Globe: Has the band ever toured?

Ruckus: Not really, we get out to La, San Diego, and New York. We're thinking of doing San Francisco and Portland Seattle later this year. Dirk ownes PussyKat Tattoos out here and we are all very busy fuckers, so Touring is not for us. Come see us in Las Vegas, its good for your soul. But not yer liver.

Punk Globe: Who are some of the bands influences?

Ruckus: All the old shit. Were old fuckers. Adolescents, TSOL, DOA, Misfits.....

Punk Globe: Can you tell us who are some of your personal favorite bands Ruckus?

Ruckus: For me personally, I'm a Joe Strummer Freak, I Love Arthur Lee and LOVE, big fan of Japanese stuff like Thee Michelle Gun Elephant/The Birthday Gito Gito Hustler. I'm really diggin the new TSOL download album too.

Punk Globe: Who are some of your favorite bands to play with?

Ruckus: TSOL, Adolescents, FEAR, 1/2 Ast, ANTiSEEN, of coarse The White Trash Debutantes, anytime we can bring out the old fuckers from Vegas is fun. I have an other band (I'm a bsandwhore) Called The Vegas Dolts where I pull guys from old Vegas bands like MIA, Self Abuse, The Swell, Subterfuge... and switch out singers thru the nite. Its a real Blast and a history lesson of sorts for the people who were'nt around in the early 80's

Punk Globe: All of the guys in the Vermin have side projects can you tell us about them?

Ruckus: Yeah, I play with Johnny Legend, The Trailer Park Casanovas, The Western Bone Cleavers (A Utah band with Pablo from MIA) Self Abuse, The Fremonts, The Showgirls, Fuck Shit Piss, The Las Vegas Nines Turbo plays in Thee Swank Bastards, The Real Shames, The Clark County Oppressors, The gunsmiths... Dirk ownes PussyKat Tattoo Patlour, Is writing a book called Boredom Was The Reason (Due out by end of the year) about the early Vegas Punk scene and has 2 beautiful daughters and more chix following him around than he knows what to do with. He just cant turn off that charm.

Punk Globe: I remember playing with one of you and Dirk's side projects that Rick (R.I.P.) booked in Vegas a few years back.. That was a wild night..

Ruckus: God we miss Rick Honacker A great guy and a True Friend to The Vermin Yeah, that was a band that started in Portland Oregon with Warren from Abeyance, Agua Fritas, Alcoholic Unanimous. and Bryson from The Galaxy Trio called BlackJack. I loved the band and we did it as a 1 off with Vermin backing him.

Punk Globe: Are you still silk screening ?

Ruckus: Yeah, but mostly just stuff for my bands, but I print free for any Las Vegas Local Band.

Punk Globe: Can you tell us about Dirk's Tattoo Shop?

Ruckus: The Pussykat is doing amazing. Miami Ink came down and did an episode from there. He has tattood some pretty big names, but we cant talk about that cuz they want their privacy.The shop is in my opinion the only place to go in Vegas, theres no Bongs, or shit like that. Just Custom Tattoos. Every artist was hand picked by Dirk. Come get Skratched at PussyKat.






Punk Globe: Can you give the readers some addresses such as My Space, Facebook and your Web address to check you out?

Ruckus: www.myspace.com/thevermin
www.myspace.com/dirkvermin
www.myspace.com/ruckusrob

Punk Globe: Ruckus, every year around my Birthday you always bring up a bag full of Dildos.. Do you have any personal favorites that you can recommend?

Ruckus: It's from when we played together at Boston once and you had a big bag of dildos. Always stuck in my head, well at least after you smacked me over the head with one.

Punk Globe: While we are on important subjects.. If you could be one of the girls on "The Facts Of Life" which one would you be? Blair, Natalie, Tootie, Mrs. Garrett, Jo, Beverly Ann ( The Fabulous Cloris Leachman) or Cousin Jeri.

Ruckus: I'd have to say cousin Jeri because then 'd have an excuse for some of my behavior. She used to play naked screaming and spitting beer, whiskey and as many profanities too right?

Punk Globe: Any plans for recording, tours or huge shows coming up that you may wanna plug?

Ruckus: Well apart from just getting back from 2 great shows in NYC we have FEAR at the Hard Rock Casino on Friday, but other than that no, just come to Vegas, check our myspace and hope like hell were playing while your here. You haven't really BEEN to Las Vegas till you've experienced us.

Punk Globe: Any final words of wisdom for the readers?

Ruckus: Its not gay till you pass the 2nd knuckle.

Punk Globe: Thanks so much for the interview and keep on rawking Ruckus!

Ruckus: Thank you Ginger and keep PUNK GLOBE ALIVE!!!! WE NEED YOU. And get your ass back here yto play with us again sometime soon. And come see me at The Double Down mention

Punk Globe

and your first Ass Juice is on ME!!!
back to homepage