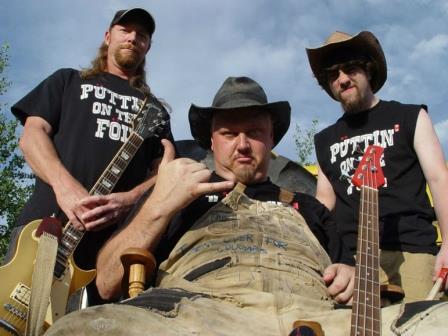 If you are looking for a great philosophical punk album to bring a smile to your face on a bleak day then look no further than 'Fire Up, Ready to Roll', the debut full length from Calgary's Hillbilly punks, 'Puttin' On The Foil'. There's no political agenda or message, just a fun, sing-a-long, drinkin' album that's uplifting and electrifying and politically incorrect to the point of being an art form, packed with kickass punk 'n roll.
Upholding that Canadian love of hockey, the band name is a homage to the film 'Slapshot' where the Hanson Brothers put foil on their fists to do more damage during fights in the hockey themed movie and the trio, consisting of Trayne Rekk on bass, vocals and stupidity, TimTim guitar vocals and Jordan Stubbs on drums, draw their influences from a broad spectrum of artists from he likes of Kiss, Slayer, Iron Maiden and Hank Willams Jr. but their sound is starts with Hank Williams as a base, add to that a hint of the Ramones, a bit of depth from with Motorhead, and a touch of Nashville Pussy just to add that good time feel and that is their sound in a nutshell!
'Fire Up, Ready To Roll' is a thirty six minute offering of ten tracks, that are mostly mid tempo all very uplifting with self explanatory titles and great snippets of narrative between tracks that are neck deep in Canadian humour, just think, 'Trailer Park Boys' and you won't go far wrong. A broad range of subjects are covered, particularly drinking ... to excess ; from the date night ditty 'Drunk and Naked ', to a song about excess and how to overdo it 'Rowdy ', the obvious and catchy chorused 'Giver To The Liver', which has a superb extended closing solo and 'Ode To Drunk' a song about the philosophical way to deal with life's problems... start drinking, with yet another great guitar segment and 'Puttin' On The Foil' even show their romantic side...well, kind of, with 'Sweet Prairie Vixen' .
But my favourite tracks from the release, and it's a difficult decision to make, are; opening track 'Shitshow ' which has a superb catchy repeat riff and addictive sing along lyrics; 'Oh no, here we go, welcome to the Shitshow, going down the same old road , welcome to the Shitshow!!' , you can't fail to join in and that everyone can relate to in some shape or form all capped off by an exhilarating latter part solo and ' Fishin' Song ' with a slower rockin' tempo and filled with words of wisdom, with advice on balancing your work/leisure lifestyle with the added bonus of a rockin' groove, the album also comes with a radio edit version for the faint hearted.
End to end 'Fire Up, Ready To Roll' is a fun and uplifting listen. The album is available direct from the band.
Puttin' On The FoiL | Facebook
https://www.facebook.com/pages/Puttin-On-The-FoiL/405041498528
Puttin On The Foil
puttinonthefoil.ca/
Puttin' On The FoiL (@potfkicksass) | Twitter
https://twitter.com/potfkicksass