A Candid Interview with
Vera Ramone-King
Interviewed by Ginger Coyote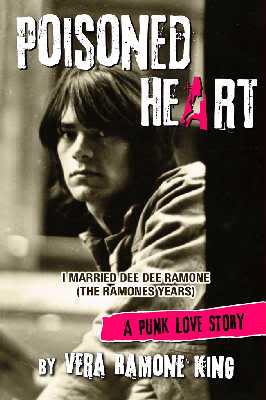 I was lucky enough to score an interview with Vera Ramone-King to discuss one of this summer's hottest books being released
Poisoned Heart
from Phoenix Books. I hope you enjoy the interview with Vera.
---
Punk Globe:
Thanks so much for the interview Vera. I can't wait for the release of your book " Poisoned Heart" can you tell us the release date? Who is publishing the book?
Vera:
It's nice to be here and I'm very happy to answer some questions for you. Yes, the book will be out in stores on June 1st and is also available on Amazon.com. My publisher is Phoenix Books from LA.
Punk Globe:
The title of the book is a perfect homage to Dee Dee. Did you have any other titles in mind?
Vera:
Actually, "Poisoned Heart" came to me imediately and was my response to his previous book and song "Poison Heart". So, it just seemed natural for me to call it that.
Punk Globe: Did you have a ghost writer working with you on the book?
Vera:
No, no ghost writer. I had kept years of notes and diaries over the many years we were together and compiled it all . Then I hired a girl I knew and she basically put everthing on the computer for me which took weeks on end. Finally my editor Alina condensed the material and made it flow. It was extremely important that the story was told in my "own words". Alina did just that and it was me telling my story and not someone else. Any other way would just not have been the same. This was something I felt very strongly about.
Punk Globe: Did you keep diaries during your marriage with Dee Dee or did you you depend on memory and pick your brain for all the details and ask friends what they remembered.. Do you have a lot of the early photo's of you and Dee Dee in the book?
Vera:
As I mentioned before , I did keep diaries, notes, etc. but still I have so many memories that it wasn't that hard to come up with the many stories I tell in book about our everyday life together. There are many early, some never before seen photos in the book that were personal. I think the fans will appreciate seeing them.
Punk Globe:
When and how did you meet Dee Dee?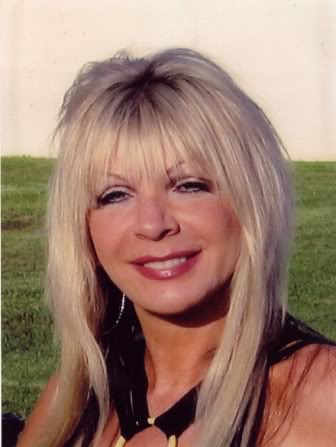 Vera Ramone-King
Photo Courtesy of Vera Ramone-King
Vera:
It was in November of 1977 and I went to Max's Kansas City with my sister Ellen and my friend Regina. I remember it was cold out that night and I had ordered a blackberry brandy on the rocks for myself to take the chill out. About five minutes later, Dee Dee had walked in and stood right next to me at the bar upstairs and by sheer coincidence had ordered the same exact drink for himself, which was kind of odd because it's not the typical drink one would order like a beer or white wine. He then proceeded to repeat to me that his name was Dee Dee. Well, Of course I knew who he was -- but chose to not act impressed by this. Then we talked for about two to three hours straight. He had told me he was leaving to go to London to play in two days and asked if he could call me when he returned to the States. I agreed and gave him my phone number.
Punk Globe:
In the early days you and Dee Dee were often compared as America's version of Sid Vicious and Nancy Spungen. Do you have any thoughts about that?
Vera:
Sid was a huge Dee Dee Ramone fan. Dee Dee liked Sid as well. They were both PUNK ROCKERS and had music in common and other things. I had met Nancy several times, and I don't know that we had all that much in common. I never got to know her on a personal level. They lived in the U.K., and we were always on the road and there wasn't much time to socialize when you're touring for months at a time. During that era, though, Dee Dee was the epitome of of what a punk rocker would look like, having the black spiky hair and me being the bleached blonde rocker chick by his side, it sort of became the typical "PUNK COUPLE" look that was emulated by many punks after that and became so popular. We were just being us, and didn't give much thought to it, really!
Punk Globe: Can you describe the early days in your relationship with Dee Dee?
Vera:
What can I say? Living with Dee Dee on a daily basis there was NEVER a BORING moment! If there had been reality shows in those days, he would have given Ozzy a run for his money! Every day was an adventure and a continuing soap opera. He thrived on that. If there was anything going on - he was in the middle of it!! Drama every day!
Punk Globe:
What year did you and Dee Dee marry?
Vera:
Dee Dee and I married on Sept. 2nd, 1978, and were legally married 'til March of 1995.
Punk Globe:
I remember Joey would tell me about Dee Dee Land. I also was told that it was because of you and your keen business sense that Dee Dee Land happened. Do you still own it?
Vera:
Dee Dee Land or so we called it, was a beautiful two story modern "A" frame log house with lots of glass and a spiral staircase and a wood burning fireplace downstairs. It was perched up this huge mountain on ten acres with the most scenic views. It was like something out of a movie. It was in upstate New York in a small town named Preston Hollow. When we saw it, we just fell in LOVE with the place! It was brand new and the person we bought it from was actually the contractor who built it. It had all the amenities and it was "our getaway retreat" where we would come as often as possible to chill out after long tours or sometimes just weekends when he was not playing gigs. It broke my heart to sell it after we separated. But, oh well......you know how that goes. I still miss it to this day and whenever I go back up to upstate New York I make sure I at least drive by the house. I have a lot of memories from that place both good and bad.
Punk Globe: Did you ever consider having children?
Vera:
Yes, I actually got pregnant a couple of times but somehow I never made it through the first trimester and miscarried. We were both devastated. That is when Dee Dee wrote the song for me "Baby Doll" that was featured on his only solo album "Standing In The Spotlight" released in 1989. It's considered a classic now and you can still listen to it on the web if you google: Dee Dee King
Punk Globe:
I have heard that you are very forthright and honest about the good times and the bad times in your days with Dee Dee? Tell us about some of your happiest memories of Dee Dee?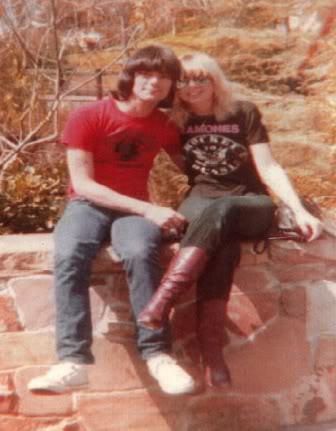 Vera and Dee Dee
Photo Courtesy of Vera Ramone-King
Vera:
There were many happy times spent with Dee Dee. We loved to frequent our favorite Indian and Mexican restaurants in New York City when we were off and get dressed up and attend openings of New Clubs. Or go to CBGB's on Saturday afternoons and check out the new punk bands that were auditioning for Hilly. We LOVED to go shopping!! Who doesn't? We'd often have clothes tailor-made for us to our specifications and they would be ONE of a kind and no one else would have them. We even would collaborate on songs sometimes. If something would happen, I'd say -- you should write a song about that! It would keep him busy and focused and keep his mind off doing drugs! He would be creating something "positive" and release his inner feelings through his music.
Punk Globe: I remember seeing you both when the Ramones played in San Francisco and you both usually seemed so happy. But I could see how Dee Dee would be a handful putting it mildly.. Do you care to go into his anger issues or bad times?
Vera:
Dee Dee had Many side to him! He had hid bad side but he also posessed a lot of wonderful qualities they very few people knew about. That was one of the reasons that I wrote this book. I didn't want his legacy to be left as just a crazy, impulsive heroin addict. After many years of therapy and psychoanalysis he was very proud of his sobriety. He still had his issues and if he was still a handful at 50 yrs. old, one can ONLY imagine what he was like in his 20's and 30's!!! What more can I say?
Punk Globe: Your marriage started to crumble right around the time that Dee Dee decided to leave The Ramones, am I right? Or were there problems prior to that?
Vera:
It's never only ONE thing that leads to something like this. He had told me several weeks earlier that he wanted to leave THE RAMONES. My response was less than favorable. How could you want to leave the band after your solo album just flopped? What are you thinking??? Then he informed me that he was also not going to take his meds anymore!!! Living with Dee Dee not on his meds would have been sheer suicide. It was not even a thought I could ponder and was TOTALLY out of the question. In one word, "Chaos" would be the end result. HE informed that his mind was made up, and either I was on board with his decision OR that was that! So in the end, the decision WAS made for me and I had no other choice but to accept it!
Punk Globe: Do you care to talk about the divorce? I had heard it was bitter?
Vera:
Divorces are rarely amicable and after we separated, he quit the RAMONES four weeks later! The band knew that without me, there would be no one that Dee Dee would listen to, and they were prepared for the worst. As it was, that IS exactly what had happened. He had left me with a beautiful house and an apartment, two cars, credit card bills and I had no real job for the last thirteen years. He was my full time job 24/7. I did everything, driving him everywhere, taking care of our investments apt. building with 65 tenants that needed constant attention, bookkeeping, paying bills, babysitting him alone was a job for ten men, cooking, cleaning, servicing our cars and homes, buying birthday and Christmas presents for everyone, keeping his medications refilled, making sure he didn't take too many drugs, I can go on an on....... going to shows and trying to keep drugs away from him backstage was a job in itself! At the end, there were so many times he wanted to come home but he wouldn't go back on his medication and that was my provision that I asked for. But he wouldn't bend and I didn't want to become just another statistic. He would call me most everyday from wherever he was just to talk to me. We still loved each other and had a bond between us that was always there but I just didn't see any future for us the way he chose to live his life. I NEVER stopped loving him and to this day he still has a Huge piece of my heart! Wherever he is, he KNOWS this!! There were many things left unsaid and unresolved and he got more bitter as the years went on, especially after I moved to Florida. I HAD to get out, and move FORWARD! I couln't stay there anymore. So I thought a new place, new friends, a new life was my only recourse. We lost contact after that. People were afraid to even mention my name around him after that. What more can I say??
Punk Globe: Joey would often say divorcing you was the biggest mistake he ever made.. I know that Joey had a deep respect for you.. What did you do after the divorce?
Vera:
Joey was a wonderful friend to me through all the years and particularly after our breakup he would call me often and we'd talk for hours. He always made sure I was alright and asked if I ever needed ANY help? THAT was Joey! He had this huge heart and was a very giving, caring person. He sympathized with me and felt my pain, as I felt his many years prior when he lost his girlfriend to another band member. We had that "special " friendship until the end. I miss him DEARLY!
Punk Globe:
As I told you in a prior email, I spoke with Dee Dee in Hollywood quite a few times. I remember him telling me how much he regretted the divorce from you. Calling himself "stupid." Were you in contact with him after the divorce?
Vera:
I'm sure we ALL have regrets about thing we've done in our past. But what is done is done and we can't change it. Hopefully we learn from our mistakes and we can choose not to make the same mistakes twice in a lifetime!! As I stated earlier, we lost contact after he moved to California. We both moved forward in our lives and left the past in NY.
Punk Globe:
He did not seem very happy the last time we chatted . The Ramones had been inducted into the Rock n Roll Hall of Fame and he was so funny on the VH1 airing of the show.. But yet he was complaining.. I lived a block away from him and saw the Ambulance in front of his place.. I had a feeling something had happened with him. How did you hear about his passing?

Vera and Dee Dee
Photo Courtesy
of Bob Gruen
Vera:
I was at work and my sister Linda showed up at my job in the middle of the day which I thought was SO Strange because she worked an hour away from me! She asked if she could see me privately outside the building. At first, I though something had happened to me dad who was ill at the time. We went out to the parking lot and she proceeded to tell me that Dee Dee had passed away the night before of an apparent overdose. I was numb with grief and she kept on talking and all I could hear was mumbled , inaudible sounds. My life with him went before me like a movie and I became inconsolable at that point. NOT MY DEE DEE, I cried!!!! It can't be true!!! But it was. I couldn't even drive myself home from work and my family had her come to my job so I wouldn't hear it on the radio going home from work.
Punk Globe:
I have heard that Dee Dee's mother really enjoyed your book and is very happy with the release.. Congratulations .. Did you send it off to her before it went to print?
Vera:
She stayed recently at my house as she has many times in the past ans I let her read the book before it was edited. She knew her son wasn't a saint and just asked me "How did you do it ALL those years"?? I answered "I loved him unconditionally" and hoped that we could make it work. We are still very close and we share a bond that will be forever. We knew the REAL Dee Dee and we LOVED him regardless.
Punk Globe:
Have you read Monte's book? If so how did you enjoy it? How about the other Ramones books?
Vera:
Yes!!!! I LOVED Monte's book. It was very truthfull and right on the money. I REALLY enjoyed it! I also LOVED Jim Bessman's book. He had a lot of factual information in his book and was researched and very well written. He did a GREAT job!
Punk Globe: Have you ever attended any of the Joey Ramone Birthday Bashes in NYC? Do you ever see Arturo, Ida, Monte, Marky and the others?
Vera:
As you know, I live in Florida now and I have NOT attended Joey Ramone's Birthday Bashes in NYC. I cannot travel alone since my illness due to vertigo which I will always have but take medicine for, and my husband has his own business and cannot just leave his customers to take me to parties out of state, but I do plan on going one year soon. I speak to Arturo fairly often as well as Monte and Ida too. I just spoke to Marky and Marian yesterday and confirmed to be on his Sirius Radio Show as a guest on Tuesday, June 9th. We are all still friends as well as Joey's brother Mickey and his wife Lene.
Punk Globe: Can you give the readers links to order your book?
Punk Globe:
Will you be doing a book signing tour to promote the book? If so do you have any dates for the book tour
Vera:
I am scheduled to do a book signing at the Barnes & Noble in New York , SOHO Tribeca store on Monday June 8th at 7:00Pm. If you are in NY, please come down so I can sign your book!
Punk Globe:
It looks like you are doing great with pre-sales of the book. Are you happy with the reviews so far?
Vera:
I'm overwhelmed with the response that the book has gotten so far! It never occurred to me that there were SO many RAMONES fans STILL out there! People I don't even know have given some awesome reviews and I'm happy they are enjoying the read. I hope Dee Dee is proud and I didn't let him down
Punk Globe:
Can you tell us about what you are doing now besides promoting "Poisned Heart?"
Vera:
Right now, I am very busy doing phone interviews with various publications around the country and they are setting up my itinerary as we speak for the book promo tour. I hope to be coming out to LA this summer and will have it posted on my sites. So keep watching !
Punk Globe:
I know that you are super busy Vera .. With your release date coming up. Do you have any words of advice for our readers?
Vera:
I say to all your readers "Keep The RAMONES Music Alive"! and buy my book "Poisoned Heart" I Married Dee Dee Ramone (the RAMONES years) by Vera Ramone-King. I PROMISE you will not be bored or disappointed!!!!! It's ALL true!!!
Thank you for letting me share my story with you!
GABBA GABBA HEY!!!!
Vera Ramone-King
xoxo
Punk Globe:
Thank you so much for the interview Vera.. I wish you all the best and hope that you will still speak with us after you have sold out your 10th re-pressing of
Poisoned Heart.
Punk Globe
would like to thank Vera for the interview and wish her much success with
"Poisoned Heart.