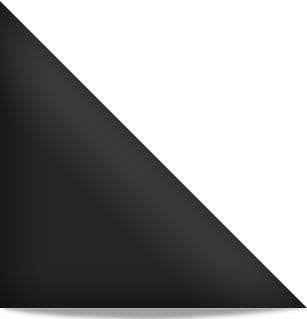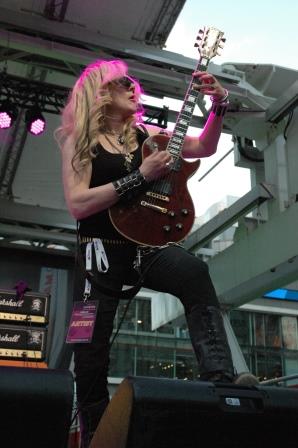 Photo by: Helene Ducharme
The Ultimate Rocker: The One and Only
Patricia Wilson
Guitarist Of Toronto's Own Crackpuppy
Interview By: Ginger Coyote
Punk Globe:
Thanks so much for the interview... Can you give the Punk Globe readers some background on yourself and the band?
Patricia Wilson:
I Grew up in Windsor Canada across from Detroit. In the 70's when crossing the border back and forth wasn't seen as a terrorist attack. Saw many shows, punk, rock, and drank many American beers in dives and concert halls all over Detroit and Michigan. The band plays rock and roll, singer and bass player, drummer and myself on guitar…..Loud…. and fun.
Punk Globe:
Tell us when and how Crackpuppy came about as a band?
Patricia Wilson:
Crackpuppy started as a "lets see if we can write songs together" between the singer Drew and myself in 2003. Then we were asked to a little festival called Cheap Queers here in Toronto and we threw together three songs and got friends to play with us. We were teaching them the songs in the basement just before we went on. Then from there we were asked to play some gigs around the city and that was it.
Punk Globe:
Are all the original members still playing with the band?
Patricia Wilson:
We always have had a bit of a revolving door for drummers and bass players….Drew and myself are the only original fuckers in the band but this line up has clicked and we have a new faster twist on the songs old and new.
Punk Globe:
Tell us who is the band and what they play?
Patricia Wilson:
Drew Rowsome singer, Mark Crossley bass, Cathy Marchese drums, and myself on guitar.
Punk Globe:
How did you come up with Crackpuppy for a band name?
Patricia Wilson:
The name came from one our bunkers four footers. When she the dog (Marlie) showed up as a rescue pup she was fucking crazy she has Jack Russell in her. One day Drew had come over to write and she was bouncing off the goddamn walls and I said she is on crack and Drew said yea she is a Crackpuppy…..I loved it so ……
Punk Globe:
How old were you when you knew that guitar was your instrument?
Patricia Wilson:
I came to guitar a little later than most, I started as a youngster taking piano lessons and then one day in my middle teens I bought an electric guitar on a whim (although now I remember my parents had bought me a cheap acoustic when I was maybe 12 or 13 and I bashed around on that but it didn't grab me.)
Punk Globe:
Do you remember the name of your very first band?
Patricia Wilson:
Shit can't say that I do remember but Jamson Project, Gut Symmetry were some bands that I co-founded and played in.
Punk Globe:
I know from playing Motorhead at Buddies that they are dear to your heart. What other bands put a smile on your face?
Patricia Wilson:
Its hard to say, funny I remembered I had this interview because I was listening to Rancid. So The Clash, GnR, currently in awe of Slash and his guitar playing and song writing, Zep, Black Sabbath, guitar based bands and a local band that tours the shit out of the world, their a punk band called the Mahones.
Punk Globe:
Oh yes The Mahones... Great band. Who would you list as personal influences of Crackpuppy?
Patricia Wilson:
Music wise see the last question, but I am influenced by the shit, the fury, and the kindness that happens around me and in the world. Whether the the wrongs done by Jesus Christs gang or the assholes that run human crushing big business or their employees the governments in the countries around the world.
Punk Globe:
Do Crackpuppy have any releases out?
Patricia Wilson:
Two, both Ep's Vintage Porn and a small release which was suppose to be a full record and a larger release (I ran out of goddamn money so it stayed small) called Jesus Mafia. It was mastered by George Marino at Sterling sound in NYC... R.I.P. George. Everything is out there on the digital highway….I tunes and whatever.
Punk Globe:
Has the band toured?
Patricia Wilson:
Some! But never enough!
Punk Globe:
Tell us about some of the bands hottest shows?
Patricia Wilson:
Horseshoe Tavern……Everything clicked we had tons of musicians, fans, friends, and lets face it the crowd makes the show we just supply the soundtrack…The Horseshoe had every walk of life in it. From motorcycle enthusiasts to drag queens, trannys, skaters, thugs, and suburban kids that wandered in because The Horseshoe is famous as a venue. And now Yonge and Dundas square in Toronto for World Pride.. 6000 people of all walks of life screaming and singing along.. Fucking awesome.
Punk Globe:
Is it true that Crackpuppy recently played with Against Me? Tell us about that show?
Patricia Wilson:
Yes, it was a fantastic show as I said 6000 people (for us, 8000 people for Against Me) in love with the moment for World Pride. It was a huge outdoor square in downtown Toronto at Yonge and Dundas Square. The two trans marches ended at the square and Against Me were headlining the gig and we were one of the openers. So many proud, happy people celebrating who there are and those around them, at time when so many people in that crowd have to struggle so hard everyday just to be true to themselves. Against Me were fantastic! And Crackpuppy's show blew twitter apart so I am told and we got the most honest fantastic review of our show from CBC radio's (Canadian National Broadcaster)blogger. It was a huge pleasure to play for these brave people.
Punk Globe:
Patricia, you recently had a milestone birthday. Tell us how you celebrated?
Patricia Wilson:
Yes I turned goddamn 60( but going on 24) how did that happen yesterday I was 24 today I am 60 fucking hell. Buddies in Bad Times theatre where I have worked for 20 years hosted a huge party of around 300 people with some drag acts, some acoustic stuff, I was overwhelmed and humbled. I survived without getting fucked up though, every time I went near the bar there were JD shots poured so I was aware of the danger that was lurking near the bar.
Punk Globe:
I saw the love all over your Facebook page. I sure wish I could have gone an helped celebrate with you.. You were also recently a cover girl.. Tell us about that.
Patricia Wilson:
I wish you were here for it too! Yes the local gay rag Xtra celebrated my birthday and my involvement in Toronto's gay, theatre and music community and whatever the hell else I have put my two cents worth in over the last 20 or so years. It was a surprise and of course an honor.
Punk Globe:
You are now living in Toronto but tell us where else you have lived?
Patricia Wilson:
I was born and lived in Windsor (automotive town/border town) Hamilton, (Steel town) Chatham, ( farm, small industry town) all Canadian Cities. And for a very short while off and on in Topanga Canyon with friends who no longer live there..
Punk Globe:
Describe yourself in three words?
Patricia Wilson:
Living my Life.
Punk Globe:
Clever! Let's play a game called the Who do you dig most. Dives or Nightclubs
Punk Globe:
Madonna or Debbie Harry
Patricia Wilson:
Ms. Harry
Punk Globe:
Lady Gaga or Cyndi Lauper
Punk Globe:
Ramones or Sex Pistols
Punk Globe:
Jack Daniels or Jameson
Punk Globe:
Analog or Digital
Punk Globe:
Gibson or Mesa Boogie
Punk Globe:
Do you have any Internet addresses you would like to share with Punk Globe readers?
Punk Globe:
Tell us whats in store for Crackpuppy for the rest of 2014?
Patricia Wilson:
We hope for a recording with the new line up with new songs we are working on. When it happens it may be vinyl which i enjoy most. And a few in CD form. Lots of shows this year and including some touring. A perfect situation, now that we are an overnight sensation after 11 years and we are starting to make waves a good manager would be good to have now.
Punk Globe:
Did you know that your interview will be in the very special 37th year anniversary issue.. Any thoughts about that?
Patricia Wilson:
Yes its a wonderful thing for us, and a bit daunting. Myself and Mark Crossley the bass player in the band are long time readers, and after all the best thing about Crackpuppy is also the best thing about Punk Globe, we are both real, take no shit, and both work towards a better Globe for all.
Punk Globe:
Any final words for Punk Globe readers?
Patricia Wilson:
Be real to yourself, choose kindness, it can change you, and make a difference to many. And keep reading Punk Globe!
Punk Globe would like to thank Patricia Wilson for the kick ass interview.. We urge you to check out Crackpuppy Now!!!