"HOLLYWOOD DIARIES"
Interview By: Ginger Coyote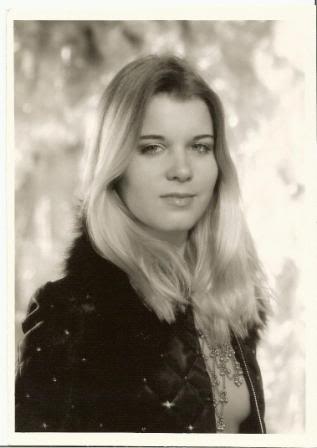 MySpace really does help connect people.. It helped me to reconnect with my pal Morgana Welch.. We had known each other in the 70's when we were both in diapers and had lost contact with one another... Since reconnecting she had told me about her plans to release her book
Hollywood Diaries
"
and I am so happy that she took some time from her very busy
schedule to do this interview......
Punk Globe: You have a new book out called
Hollywood Diaries.
When did you decide to do the book?
Ages ago, people used to tell me I should write a book back in the day. I would tell them that I would. I don't think anyone thought I would actually do it. In 2000, I became serious about putting it together when I was caring for my mom, who was dying of cancer. I had to dive into another time to save my sanity. So I began to write it and post it on the Internet. Every two weeks I put out a chapter and began to build a following. I did it this way to see if any of the people I was writing about would have issue with me writing about them. Except for one person, 'Child Star,' everyone was very positive about it. I was also very careful not to divulge too much about other people and keep
most of the dirt on myself. I don't want to be sued.
Punk Globe: When was
Hollywood Diaries
released
and who was your publisher?
It was released in October, 2008. I self published through a company called Xlibris. I had tried to get a book deal and an agent but got told too many times that the subject matter was not what they were 'looking for.' So I decided to do it myself, which I like cause I am a control freak about my creative projects.
I took the content from the web site and spent about six months editing and fine tuning, and finally got it published.
Punk Globe: Had you read Pamela DesBarres book
I'm With The Band
?
I haven't read any of her books. When I write, I don't want other peoples thoughts to enter my head, so I have stayed clear of the 'groupie' books.
One day I might read her books, when I haven't anything more to say.
Punk Globe: "Hollywood Diaries" is based on your own
personal diaries from that time, am I right?
Yes, it is completely of my life, what I can remember of it...at least what I'm willing to divulge at this point.
Punk Globe: How many diaries did you actually have from that time?
I kept journals for decades. I still keep one, but I'm not as active as I could be. Now I am doing it cause I seem to be losing my memory...damn it sucks getting older...HA! In my attic I still have boxes of my diaries. Most of them were lost to the trash when my first husband decided to throw them away. After he did that I tried over the immediate years to recall what was in them and write the memories down. Sadly, I never did write it all down and so much is lost to time.
Punk Globe: You were hanging out in the rock scene in such a cool era.. People did not have to worry about AIDS.. Can you tell us about
the early 70's in Hollywood? Do you care to elaborate about
the sex and drug activity in that time?
You are right; we did not worry about sex killing us back then. AIDS really did change everything. I used to view sex as a sport or an amusement in the 70's. Drugs were part of the sensation and experience. Hollywood was really a small world and it did not take too much to get to know the people in the music business, which is what I was attracted to. It was nothing like today with so much security and scrutiny. There was the lifestyle of the "free love" culture that was left over from the 60's. What that meant was that we were not hung up about our bodies and in sharing our bodies for sexual pleasure and exploration. Casual sex was a part of that social structure. Drugs were also a part of that lifestyle. People would connect over music and that led to sharing a joint or something and then if you were attracted you would sleep together. It was no big deal to have sex. There were not the hang ups about getting emotionally involved it was all for the moment of fun and games. We were pretty hedonistic looking for pleasure all the time. I don't advocate any of this lifestyle now; it's just too damn dangerous. I suppose when you are young there is not as much at stake either. We just lived from moment to moment, and looked for the best time. For me, by the 80's I was getting fed up with drugs and booze. Many of my friends were dying of overdoses or becoming controlled by it. The fun was changing into violence; cocaine had a lot to do with that. Instead of getting high to have fun and expand our mind into new realms, it became a need. I suppose when something becomes a need it takes away the pleasure. That whole culture morphed and became angst filled. The party was not the same; the innocence and kindness were gone.
Punk Globe: Were any of The GTO's still around then?
Miss Pamela was around sometimes, but I never knew any of the GTO's. I think I got to the scene slightly later.
Punk Globe: Tell us about Sunset Strip back then?
When I first hit the Strip there was still a street scene happening. There were head shops to hang out at and cool clothing stores. It was a haven for musicians and artists, and the people who adored them. You could just stand on the street and mingle with people day or night. There was always a party going on somewhere at any given hour. Pot could be smelled everywhere. It was alive and vibrant, like nothing I have ever seen to this day. The most fabulous men were up there, long hair and flashy clothes. It was truly the counter-culture, young people expressing themselves through music, fashion and drugs. It was like a circus. On the weekends, people drove from all over southern California to see the spectacle of giant billboards, people walking on the streets. It was fun, like a Disneyland for hippies. Then it all stopped because the police cracked down. For awhile the street scene moved to Hollywood Blvd., but that also died out pretty quickly. Everything pretty much moved into the clubs. Before I started hanging out at the clubs, I was still underage, I found out about the Continental Hyatt House which was not well known to the masses yet. I met a girl, Tyla, who lived at the top of the driveway and we became instant friends. We could walk to the Hyatt House coffee shop in about 30 seconds, so we were always scoping things out. I would ditch school and go there and sit for hours drinking coffee and smoking cigarettes. It was easy to meet musicians who were staying there. They would often sit at our table and chat with us. Most of the time we would get tickets to their shows and, or, go to their rooms and get high and have sex. That's the way it was back then.
Punk Globe: What clubs were going strong then? And which
one did you frequent the most?
The Whisky, Gazzari's, and later the Rainbow. I don't remember too many other clubs in the early 70's, that's probably my memory lapse, but for me it was always the Whisky and Rainbow. I was at the Whisky nightly. I think I went to Gazzari's once. Each club had a different vibe and crowd. The Whisky was a fabulous small venue for bands to play in LA. I saw so many great acts there. I would go each night to dance and see what musicians were hanging out. Each night was different. One night I was dancing and a girl comes up to me on the dance floor and tells me her boyfriend wanted to meet me. She introduced me to Bill Lordan and she told me she was the bookkeeper at the Whisky, so that got me in the door and backstage anytime. Life was like that back then. Then the Rainbow opened up the street and that became the place to go for dinner and drinks. I would walk several times from the Whisky to the Rainbow each night to see what was happening at each place. All rock bands went to both places and if you wanted to meet someone you went to the Rainbow or the Whisky. Later the Starwood opened and that was fun, but bouncing back and forth to clubs was much easier on the Strip.
Punk Globe: Now was The Tropicana a popular place to stay at that time? It seems that it was and that is when Dukes was next door to it?
Barney's Beanery was also a popular hang out right?
The Tropicana was also a place the rock bands stayed. I didn't spend too much time there. I did frequent Dukes, they had the best food and they would deliver to your home. So if you lived in West Hollywood you could order breakfast and have it delivered. I loved that! I didn't go to Barney's too much. I stayed pretty much at the Whisky and Rainbow and Hyatt for all my fun and games.
Punk Globe: Of course The Continental Riot House was the party hotel.
Did you attend the famous Led Zeppelin Party there?
I don't know. I went to a few partys Zeppelin had, so I'm not sure which one was the 'famous' party lol. The place always had party's going on.
Punk Globe: Of course a popular club was Rodney's English Disco.. You have photos in
Hollywood Diaries
from there? Tell the readers about it?
It's funny that the only time I went to Rodney's that photo with Led Zeppelin was taken. I used to feel kind of creepy around Rodney and the young girls that hung out there. When I first started hanging out on the Strip a girlfriend of mine knew Rodney, and he was having a going away party at a place on Sunset and Crescent Heights called Musicians Contact Service. She thought it would be fun to give me to Rodney as his going away gift. He loved it and I ended up spending the night at his apartment across the street. It was really awkward. Thank God he was not interested in sleeping with me and I crashed on his couch. After that night I was never too comfortable around Rodney. I guess I was sort of a snob, too, I found the really young girls at Rodney's annoying.
Punk Globe: I remember seeing photos of you in
Rock Scene Magazine
? I also think you may have been in another magazine called
Star
.
Are you familiar with it?
Yes, I remember those magazines. I still have a copy of
Rock Scene
with the infamous Zeppelin pic in it.
Punk Globe: At the time how did you feel about seeing yourself
in magazines like Rock Scene?
I remember when I first saw the photo with Zeppelin in Rock Scene, I was elated. It was fun to be captured in that photo which has been a trip over the years. We never carried around a camera (wish we did!) so it was nice to have that picture. Sometimes through the years people have not believe me when I told them I lived that life, so I am grateful for the few pictures I have that quell any of that.
Punk Globe: You were also quite a dresser! Where did you shop
for your "cool' clothes?
Mostly thrift shops, but also Granny Takes a Trip, which I loved because you could order satin and velvet pants and shoes custom made. I also liked many of the boutiques up on the Strip especially near Sunset Plaza. We never followed fashion but created our own styles, that is also what I loved about those times. Fashion was great, everyone was dressed in ways that expressed who they were. Style was very individual then. I'm glad that fashion is that way again.
Punk Globe: Were you born in Los Angeles originally?
No, I was born in Phoenix. My mom and I moved to Malibu in 1964, and then to Beverly Hills, where I stayed until I left home.
Punk Globe: You also did some acting can you tell us some of your credits?
No acting....
Punk Globe: I remember you moving to Lake Oswego Oregon? How long were you there for? A few years later I heard again about Lake Oswego. That is where Julie Anne Phillips (aka Bruce Springsteen's first wife) was from.


Yea, I moved to Lake Oswego after getting busted in my driveway for a half a joint. I was 17 and my mom had moved to Oregon, and I opted to stay in Hollywood, where I lived with Bill Lordan and his girlfriend Jan. That is how I met you. So when I got busted it was illegal for me to be in town without her. I remember the judge telling me I had to stay in Oregon until I turned 18, which was about 5 months. I think after 2 months I hopped on a plane when my mom was out of town and went back to Hollywood. Lake Oswego was beautiful, but I was not ready to live anywhere but Hollywood.
Punk Globe: Were there any musician that captured your heart completely?
Oh God, dozens! I suppose my first encounters were the sweetest...Randy California, John Paul Jones, and Roy Harper were probably the men who most captured my heart. But most of them also broke my heart. I mean I was very young and really naive when I think back on it all. I fell for guys pretty easy. These guys were amazing and I was not alone in being attracted to them. Many girls like me were falling for these guys. It was not an easy path to travel with a musician they had girls in almost every town.
Punk Globe: Any of the musicians from back then that
you are still close with now?
It's great living in the generation of the Internet because it has brought many of the people back in my life! I have found so many of the people I knew back then. One of my favorite encounters was finding Roy Harper on Myspace. I thought it might be a fan site so I was thrilled when Roy wrote me a note that he had published a book of photos and lyrics called 'Roy Harper, The Passions of Great Fortune, The Songs Explored' and that he would like to send me a copy. I had remembered the time when I was with him at the Hyatt House when he was with Led Zeppelin and as we were making love the band broke down the door and walked in on us. Robert Plant picked up Roy's camera and took pictures of us in bed. I had wondered for years if that photo survived. So when I opened this big beautiful book in the section with Led Zeppelin there are two pictures of us in bed. I was thrilled to see the pics. I keep in touch with Roy now, it's nice to remake those connections.

I also found Chuck Ruff, drummer for Edgar Winter. Bill Lordan, drummer for Sly and the Family Stone and Robin Trower, Keith Boyce from Savoy Brown, and many of the LA musicians I knew. MySpace is a goldmine for that.
Punk Globe: Morgana, Can you give the readers the address for your Website, MySpace, Facebook and other important web links?
Punk Globe: Can you tell us about your future plans. Is there another book coming out?
I hope to write another. I am gathering information for it, and hopefully it won't take so many years to write. I'll keep you posted. I'm also gearing up to go back to Life Coaching, which is what I did a few years back. I really love helping people find their passion and make it happen.
Punk Globe: Thank you so much for the interview, Morgana.
Do you have sage words of advice for our readers?
Thank you so much Ginger. My only thought on that is: Always follow your passion.
Thank you Morgana.. I hope you all will buy Hollywood Memories it is a great read.......