M
By: Giovanni
of Stolen Talent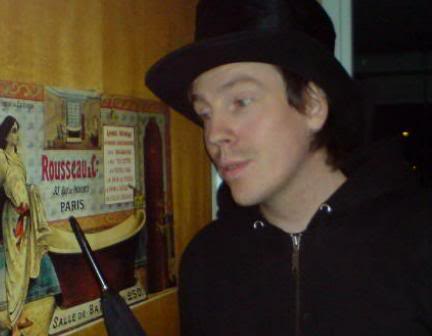 Swedish band M are a three piece indie/pop/shoegaze band consisting of Olle Windelius on drums, Henrik Karlsson on bass and Björn Löfgren on vocals and guitar -- (though a faraway living brother is often recruited on guitar at concerts). They are from a little town in Sweden called Vänersborg. They have been playing together for about four years now but have no record deal or agency backing, They do everything themselves in true d.i.y spirit. Their main influences are 60's pop, 80's goth and 90's indie music. They like to play live as much as possible, record songs on a continuous level and just got asked to be part of an independent record with some other local bands in Sweden.

Listening to their music, you can clearly hear their influences, the track "Miss Forklift" is reminiscent of Joy Division in their late '70's guise, an odd thing as many bands favor the 1980s-era Joy Division hooks.

"Trigger Happy" sounds to my ears like a very early Cure track, and we are talking before the first album here, so already Bjorn and the boys are off to a great pedigree, and something sadly lacking in other Indie bands today.

Their track "Instamatic" is so raw, that it reminds me of a live Smiths outtake, something that no other band has ever been able to capture – just check out Bjorn's very Johnny Marr guitar lead lines in the track for proof; or Ollie and Heinrick's manic rhythm section, which is pure heaven for the Indie pop fanatic, who pines for the halcyon days of the mid Eighties but with a
Nineties flavor added into the mix.

Q. How have your music interest changed from when you started?

Henrik: I pretty much listen to the same things as I used to when I was younger.
Björn: Think I've become less interested in contemporary music over the past 10 years. I tend to go back to the oldies goldies, probably because the bands discovered during the teen to early twenties often tend to be the ones that make the biggest impact on a person. Though Interpol and Sigur Ros are two great bands that have emerged over the last years
and prove to be exceptions to that rule.

Q.What is your favorite cover of a song you have ever heard? Any songs you really want to cover?

Henrik: "How soon is now" by Quicksand.
Bjorn: I definitely agree with Henrik. The Afghan Whigs version of The Supremes' "My World Is Empty Without You" also always sends a shiver down my spine. We don't usually play covers but while rehearsing we every now and then slip into some old Smiths, Bauhaus or Swans tunes.

Q.What do you write first the music or lyrics?

Henrik: Better ask Bjorn.
Bjorn: It differs but mainly the music comes first, but sometimes just a phrase or
a single word can lead to a certain chord structure or influence the direction for a song.

Q.Best concert/gig you ever had and the worst?

Henrik: Don't know.
Bjorn: One gig with some German and American grindcore bands at a closed down railroad station was really awful. The PA started to fail and released smoke after our first two songs. Later into our set a guest drummer got stuck (!) in one of the drums with his stick during a song... We kind of went out in a blaze of indignation there. Maybe not the best but a special one was our debut gig with a previous band called The Truck Drivers at a shooting range. The only one who showed up was a wild swan. He hung around for a while and didn't seem too upset with what he heard.

Q.How did everyone meet? Did you all get along right away?

Henrik: I've known Bjorn for over 15 years. I first meet him at a local punk concert.

Q.Who do you think is your number one influence?

Henrik: My emotions.
Bjorn: Hmm.. Life in general. If you mean certain musicians, I'd say Robert Smith of The Cure,
who I got into due to a sweet (and happy!) Australian exchange student girl.
But it was AC/DC and especially Angus Young who made me learn to
play guitar and start bands in the first place.

Q.Last concert you went to?

Henrik: Iron Maiden in Gothenburg.
Bjorn: The Cure in Stockholm.

Q.What was the most helpful thing you learned in music?

Henrik: Except for playing. I think it's important to have a unique style.
Bjorn: That it's soothing, speaks on many levels to people and helps us getting through rough times.

Q.How does your family like your music?

Henrik: Hard to say. I hope they like it.
Bjorn: Fairly good it seems, but sometimes my mom thinks our drummer is a little bit too bombastic in live situations.
My grandmother liked to come to gigs with our former bands when she was in her late 80's.

Q.Who helped you the most in the music business?

Henrik: We help each other in the band.
Bjorn: We've never really had that much help outside the band so far. The people at Studiefrämjandet here in Sweden
let us hire a practice spot, are easy going and lend us amps if needed, so hats off to them!

Q.Top five groups of all time?

Henrik: The Specials, Pixies, Jimi Hendrix, Pink Floyd and Blondie (not in a specific order).
Bjorn: Hard to tell and differs from day to day, but here are some that I think will always have a very special place in my heart: The Beatles, The Cure, The Afghan Whigs, Ride and The God Machine.

Q.What group would you like to see get back together?

Henrik: Probably Quicksand.
Bjorn: Ride. I saw Mark and Andy's two-piece reunion five years ago, so fingers crossed they all line up next time round.

Q.Has anyone ever pissed you off enough to write a hate song about them?

Henrik: I'm not sure..
Bjorn: Aren't all of our songs in that category...? No, I suppose some of them are a bit angst ridden and to some point filled with frustration, but perhaps not in a way that one can pinpoint what or who the source of the dissatisfaction is.

Q. First album you owned?

Henrik: Cro Mags, an old hardcore band.
Bjorn: A funky disco album called something like "Shoogy Wanna Boogie" that I won at a lottery that
my father took me to as a little kid. I was quite intrigued with the album cover presenting a bearded man
in a red velvet dress with his arms around a hippopotamus wearing round mirror glasses.

Thanks for giving us an insight to the world of M. We wish you the best in your career.

Thanks for having us....