MAGIC TRAMPS - Kickin' Up Moonlight Dust:

by Ginger Coyote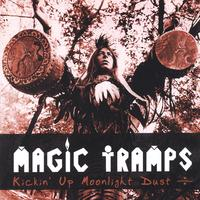 This CD provides music that has not been heard for over 35 years. Even though the sound quality varies it is as if you can close your eyes and imagine it being the early 70's and you are listening to music that helped pave the way for the New York Dolls, Jayne County, Ramones and Blondie.

Picture Lead Vocalist and Warhol Superstar Eric Emerson dressed in leather hot pants and a whip belting out the lyrics to "S&M Leather Queen" doing wild erotic Rudolph Nureyev dance moves in between vocal chores......
Bebe Buell remembers seeing the band when she was a teen at loft parties and was mesmerized by the handsome Eric Emerson's theatrics and the bands unique sound.
Sadly, Emerson was taken away before his time and the Magic Tramps were never the same. Thanks to work and effort of The Magic Tramps Drummer Sesu Coleman this music is now available to the public.

The CD contains the actual recordings from the early 70's to maintain the integrity of the time. Tracks 1-8 are the true core of The Magic Tramps with Eric Emerson on lead vocals. Tracks 9-12 have Jay Mala (Joe Perry Project) on vocals along with Sesu Coleman (Drums) and Lary Chaplan (Electric Violin) and new members of the band. If you were a fan of the 70's this CD is a keeper. Favorite tracks are "Ode To Jimmy Dean", "Trippin" and "S&M Leather Queen."