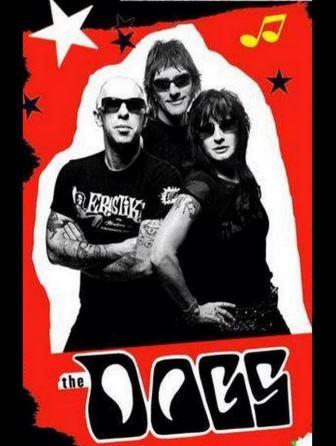 PUNK GLOBE:
Tell me about growing up in Lansing Michigan and the music scene there?
Loren Molinare:
Lansing used to a auto factory town a real working middle class city. A stop over city for touring bands playing Detroit going to Chicago. The local music scene was a lot of top 40 clubs and all the great Detroit bands like MC5-Amboy Dukes-Stooges-The Frost used play in town. The Dogs first shows were at high school dances, Keg parties at frat houses, opening slots at concerts for the Detroit bands. Punk Globe : OK Loren tell me how you got into music and your first band, and how and why the Dogs were born?
Loren Molinare:
The Ed Sullivan Show in 1964 was having the British Invasion with The Beatles, Stones, Kinks, The Animals blew my mind and I was swept away by the music and made me want to play the guitar-My first band was in 7th grade called Loren & The Lovable's named after the lead singer of the band I was just the guitarist- we played and wrote original songs because we could not figure out cover songs-I had another band with some other friends and around 1968 the drummer and my best friend Art Phelps we put a ad up and Mary Kay came over- this was the beginning of The Dogs. We did not think she would play with us-she was like a female Jack Bruce on bass and we were just kids- but she saw something in us- she brought us the 45 of i wanna be your dog by the stooges- and we were born- my mom hated the fact we called ourselfsThe Dogs- I knew we had a great name because it pissed people off.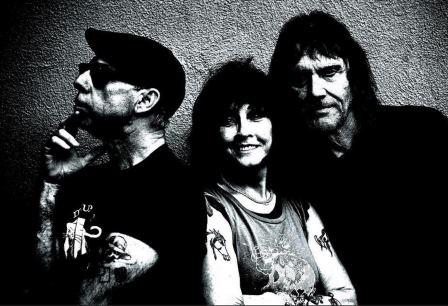 PUNK GLOBE:
OK so now, the 1970s and your move to NYC!
Loren Molinare:
Well we lived in Lansing and moved to Detroit in early 1973 to huge 14 bedroom old Victorian house in the slums near Tiger Stadium near the CASS Corridor by Wayne State. We played in the Midwest area until early late 73 then things got rough for us and we're blackballed by the agents for raising to much hell at our shows- for example opening for Bob Segar in Toledo we got charged with Felony charges for inciting a riot- so we had to go NYC- We hit the streets of NYC with $600 13 people and 4 dogs it was a great experience to meet and play with Kiss, The Dictators, Television, the Stilettos, The Fast, Magic Tramps.
PUNK GLOBE:
OK. it's the punk revolution and you guys move across the pond to the UK
Loren Molinare:
Well since we have been playing Detroit styled Hard, loud & fast rock & roll way before the term "Punk" came about-we have been lumped into the punk rock scene-it fits us fine since we really don't fit into mainstream rock-but in the late 70's things got rough for us in LA-we really did not fit into the LA punk scene and it ended up that we couldn't find many shows to play after really helping kick off the scene in 1976-so we packed up and moved to the UK 1978. We ended up releasing the famous Slash your Face EP and touring the UK and Ireland- our backing and management left and ended are we found ourselves squatting in vacant houses in the dead of winter in London- fun shows but the move to the UK ended up really hard on the band. We stayed there for about 4 months and ended up back in Lansing then ultimately moving back to LA in 1980.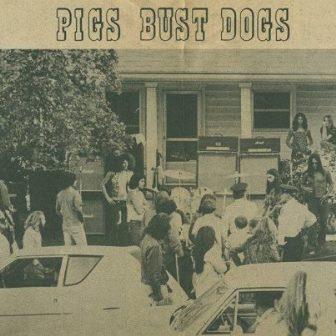 PUNK GLOBE:
LA during the 1980s, that musical phase?
Loren Molinare:
The 1980's were a dark time for us-Ron Wood our drummer quit 1981 we stopped being The Dogs for a few years- we regrouped in 1983 with our new drummer and current drummer Tony Matteucci on drums and started gigging we almost got signed to Atlantic Records 1988. In the meantime I had also had joined Little Caesar who got signed to Geffen Records. It got to the point where I decided I could not do both bands- and in 1989 I stopped The Dogs as a working band while LC was getting the deal- it was a challenging time for me and it almost killed me emotionally and physically."
"...had joined Little Caesar who got signed to Geffen Records..."
PUNK GLOBE:
A resurgence in collecting vintage vinyl,tell us about your cult status!
Loren Molinare:
In the late 80's we found out our 70's Slash Your Face ep had been bootlegged on the Killed by Death series- and the original 45 "John Rock & Roll Sinclair" and "Slash your Face" ep's were selling for hundreds of dollars in Sweden & Japan and the U.S." Thank god for bootleggers!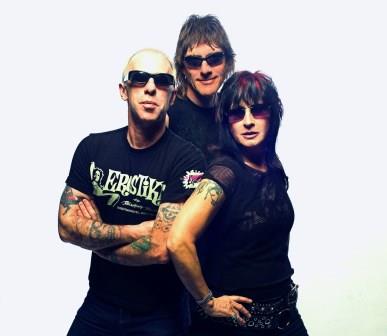 PUNK GLOBE:
1990s-2000s tell us about the Dogs entering the new millennium,Dionysus releases a classic!
Loren Molinare:
Around the year 2000 Lee at Dionysus Records approached me about doing a best of LP/CD release so the FED UP release came out and was critically accepted it had the first 45 and the EPK and all the other tracks that were recorded live at The Fab Mab in SF on it. 2002 saw the release of Suburban Jungle CD/LP on Dionysus. In 2013 we released "Hypersensitive" on our own label Detroit Records
PUNK GLOBE:
I see the Dogs live in LA at the El Rey around 2005? Playing the benefit for the Masque and Brendan,you guys really stood out and I'm an instant fan!
Loren Molinare:
That was a great show we knew Brendan from the Masque days-and where honored to play that beautiful venue.
PUNK GLOBE:
You guys are BIG in Japan tell us about the gigs and the fans! "
Loren Molinare:
Well Our whole thing in Japan was put together with Detroit Jack from Future Now Records-he is a american from Detroit who was a huge fan and inspiration to t The Dogs rock & roll history- he put out "Doggy Style" cd which was a tribute to the Dogs with all the best Tokyo punk & garage bands. There was 2 other cd"s that also came out of the trilogy. We went to play in Tokyo in 2007 and 2013. The audiences are such fans of Detroit Rock and the bands are amazing people and kick ass powerful bands. We love it there..
Loren, Tony and Mary, The Dogs in LA with
Sid and Tony Sales 1971, Lansing gig the police broke up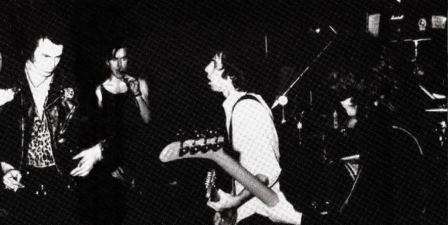 PUNK GLOBE:
Festivals are the rage and the Dogs do SXSW and others tell us about the festival scene and doing the gigs
Loren Molinare:
We were asked to play at SXSW in Austin in 2009 and 2014 it was a real great scene to meet and play with bands from all around the world. We also played NXNE Festival in Toronto in 2009 which was part of our mid-west tour we went on.
PUNK GLOBE:
OK Loren here we are in 2016,and lots is going on tell us what to expect and what 2015 lead up too!
Loren Molinare:
2016 is going to be a rocking year! Jan 29 was the release date of our new 7" EP Ain't Going NoWhere on Smellvis Records. We just released the first video from the EP Ain't Going NoWhere-Video Blank TV
We also have just released the digital version of a song I wrote with Richard Duguay and Jenna From the Detroit band Glitter Trash its a fun rock & roll song-It is going to be a split single with The Dogs & Glitter Trash coming out on the Detroit label New Fortune a Records- Digital link--
Something to Believe In! by The Dogs with Jenna Talia:
http://thedogs4.bandcamp.com/track/something-to-believe-in
We have upcoming shows going into the spring in the LA area March 5 at The Redwood Bar & Grill in LA with the new great band Dr. Boogie Then more shows in SF and the Mid-West in June & July.