LETTERS

Thursday, 7 January 2010

Casa Alianza is making this URGENT appeal on behalf of DAN ELEY & his family. Dan aged 32 is in intensive care with a severe spinal injury, in Bogota Colombia, after a terrible diving accident in Leticia on New Year's Day. It took the local insurance company three days to get him airlifted to hospital in Bogota and the decision has been made by his family to bring him home to the UK as soon as possible via air ambulance. Funds are urgently required to cover the cost of the air ambulance which is not covered by insurance. Dan worked for Casa Alianza as a volunteer in Guatemala in 2006/7 followed by further volunteer work with street children in the countries that he visited whilst travelling. Dan was an exceptional volunteer …he gave so much too so many people and now it is our turn to help support him and his family at this critical time. We pledge that 100% of donations will go direct to the HELP DAN APPEAL. Please be generous and circulate this appeal to as many people as possible: To donate: http://www.facebook.com/l/545a9;www.justgiving.com /Casa-Alianza-Emergency

LETTERS

Saturday, 26 December 2009

"Merry, Merry Christmas Dear Ginger and Punk Globe Gang !!! All the Best for the New Year and Always!!!
Much Love,
Vera Ramone xoxo's"

Thursday, October 22, 2009

Awesome, glad to hear it! Wish I could've been there. I just got some great news, I've been selected to be an editor for my school paper! the stuff that I write in there is mostly Op-ed, it's a different format than Punk Globe. If you'd like me to mail you a copy, I certainly will. I could not have gotten this position if not for you, Ginger. Thanks again for all of the experience and push you've given me these past couple years.
take care,
Tyler

Wednesday, 14 October 2009

Punk Globe: Condolences and joy - condolences on the loss of your friend Jim Carroll and expressing my joy (if bittersweet) at the wonderful tribute to Mr. Carroll in this month's Punk Globe. outdid yourself again and I salute you. Thank you for what you do

Suzee Barrett

Friday, 2 October 2009

Very cool tribute to Jim Carroll
Happy Birthday

Robert Shields xoxo

Thursday, 1 October 2009

Ginger,

I love the Josie article!! I also LOVE the way you formatted it with the colors. That's sharp.

Sincerely,

Geza

Tuesday, September 29, 2009

Dear Ginger,
Thank you so much, Ginger. Your article on Campaign For Care is thoroughly informative, beautiful, and perfectly written. I really appreciate you going to all that bother to write about and include CFC in your prestigious magazine. It is a great honor to be the October 2009 PUNK GLOBE Punk of the Month, I have been enjoying PUNK GLOBE for over 25 years, never once dreamed I would become a tiny part of the long and glorious history of PG amongst the magnificent artists and musicians you have featured throughout the years. I am forever grateful for everything you have done for Campaign For Care, the homeless, and our family.
Love,
Stacy
Campaign For Care

Wednesday, 16 September 2009

hi, this is tom the guitarist from number 9 hard. first off thank you for the review! it was fuckin rad.

Wednesday, 9 September 2009

just wanna thank you for the review and the kind words about our music! Brilliant! Appreciated! And you gave me back a word I totally fucking forgot about, though it got everything to do with why I loved punk from the first show back in '79 and will keep doing so till I die... ...the word is "anti-establishment"!!!
Thank YOU for that! Stay free and be safe! Hugs!
/Crossler, SMASH IT UP

Saturday, 8 August 2009

I'm a young painter and huge fan of Jim Carroll . When I finally met him (I'm shy) I realized how cool a dude he was. I owe him alot since he wrote this great review of a show of my mine last year and my career is really doing well now. I got a gallery, and the Whitney Museum has just bought 4 painting, all because of Jim's words and the fact people believe what he says. One time at breakfast in Chelsea someone brought up your name and Jim told us how sweet he thought you were & that your magazine was the definition of punk and what a great scene it was for a time back in the late 70s in S. F. We found you're mag on the web. Jim was digging it alot but then he got so sad about Brian Marnell. I don't do this type of thing much and may not check in for awhile, but I'd like to have you as a friend.
Billy Wolfram

Thursday, 6 August 2009

Love this months Punk Globe! The layout is awesome. Ginger, you and all your people do such an amazing job on this magazine. I can't tell you how much I enjoy reading every article and looking at every picture. Each month brings a new fun adventure. Thanks for all you do.
Love you all,
Kimberly

Tuesday, 4 August 2009

ginger yer the ginchiest.. sharla is web designer suprema!
xoxo
billy hopeless the black halo's

Tuesday, 4 August 2009

Just back from Europe.. Liv sends her love.. Had a blast!
The August issue looks fabulous the layout is great!
Fantastic cover
xoxo
Bebe

Friday 31st July 09

I am asking those of you who have history in the punk scene or other similiar music scenes over the years to contribute your input into a research project I am working on for my post graduate Archiving course. I am interested in punk archives both physical and digital archives and am looking at a digital community project, once this dissertation is finished. see link to survey: http://punkarchives.questionpro.com
Cheers,
Mish Bondage
Sado-Nation


Friday 31st July 09

Ginger thanks so much for a great interview! Please tell Sharla the layout looks great! Cant wait to see you again! Kisses! Paul Collins

Friday 31st July 09

Wow it looks fabulous! Everything is perfect. Thanks a lot, Marc

The editors of

Chiron Review

are reading submissions for an "All Punk Poetry" issue
to be guest-edited by Sarah Daugherty and published Dec. 2009.

Poetry, fiction, b/w line art, comics/cartoons, photos, nonfiction, whatever should be sent via snailmail with self-addressed, stamped envelope for reply/return to:

Chiron Review

, Attn: PUNK, 522 E. South Ave., St. John, KS 67576.

Name and complete mailing address should appear on every poem, story,

etc.



Deadline: Sept. 1, 2009. Material is copyrighted in author's/artist's name.

Payment: one contributor's copy with 50% discount on additional copies.

(E-mail submissions are welcome, but please include name and complete mailing address. No PDF files.)

Chiron Review's website:

http://chironreview.com


Dear

Punk Globe

--
The new issue looks phenomenal!
I owe you such a big gratitide of thanks, my friends!


Darron




Darron J Hemann




President/Founder




DC-Jam Records


www.dcjamrecords.com


www.myspace.com/dcjamrecords


417-496-5167



Dear Ginger..




I have been thinking so much about you...and am so Tickled Pink by your incredible honor!!




I LOVE IT!! I am posting it all over my facebook page once I figure out HOW!!




How are you feeling my friend? I hope 100 percent back on track.




Love you more than you know...and am sending you these because I feel so pink today..




If I were there..I would give you the most massive hug EVER...




So glad we have met...you have brought so much good cheer to my life..and I want you to know it..




XX





Wendy






On "Die Welle" Movie Review -- from Ron Jones





Wow..well done!!! your review is informative and captures the importance of this story. I'm going to be in Paris next week for the opening of DIE WELLE ...get to be on tv with Danielle Miterand...will be home following week and doing a Farley's March 24 Thank you for your insights and reporting of the wave. Let me know if I can ever help you with a reading or whatever... ron jones



Hi Ginger, so happy to hear from you... and that Punk Globe is online... please let me know next time you play S... I hope you like MILK, let me know your thoughts once you've seen it... xoxoxo danny nicoletti



Hi,




I sent out the email below last year and thought I would follow with an update.

The site (www.myspace.com/midnightchristmas) is still going strong and at this time of year, with a little push, seems to be picking up a lot of steam.

To throw in a little extra (for those of you are interested) I have included a link to a "Christmas" show that was performed by my old band The Cheepskates at an NYC nightclub named "The Dive" on December 7, 1941...er 1984...sorry.
The show has 21 tracks and begins with a slow surf instrumental that we titled "Midnight Mass." It takes off from there and has eleven original songs interlaced with covers ranging from The Monkees, The Who, Animals, Yardbirds, Booker T, Sly & the Family Stone, and even Marty Robbins. There is also (if I don't mind saying) a killer version of Donovan's "Hurdy Gurdy Man" towards the end of the set.

The recording quality is pretty good and you can download the entire set free of charge at this link:

http://rapidshare.com/files/170076505/12-7-84.zip

. John Fay (The Tryfles) can be heard frequently screaming "Make it stink!" which stems from a party and a stroll at dawn through Central Park, and is another story altogether.

Happy Holidaze,

David

Hi,


In the late spring of 1984, with the Cheepskates first album firmly ensconsed on the independent charts I was speaking with our record company president and casually mentioned the idea of doing a Christmas LP with some of the other acts on his label. Little did I know he had harbored this desire for quite awhile and had been waiting for the opportunity to do just that. And by the middle of that summer word had gone out to any band interested that Midnight Records was going to put out a Christmas compilation in the fall.


Shane Faubert, the tunesmith of our group penned a terrific song titled "Christmastime With You" and we were back in the recording studio by August. I had an idea for a surf tune that would capture the feeling of late Christmas shopping and titled it "Last Minute Rush." I'll never forget the picture of the band on a hot Sunday that September, standing in front of the Music Building on 8th Ave. I was ringing a bell shouting, "Merry Christmas" while the others were trying to mutter anxiety laced comments, the most classic of which comes from a stranger pushing dope (you hear it when the tune ends and a voice shouts, "Tre bags man!").


The Tryfles did an incredible number by joining the tune Gloria with In Excelsis Deo. Jordan Tarlow, the engineer on the session once told me he couldn't believe how the singer kept chain smoking cigarette after cigarette while doing the choral vocals. It can only be heard to be believed.


And speaking of Jordan, he and my old pal Michael Chandler team up for a Sonics inspired track titled "Forget It", a classic Christmas Eve "loser night" tale.


Enjoy the Holidaze. Believe it or not, there is a reason that people have celebrated the beginning of winter for centuries. The days will be getting longer once again. Father sun will return to mother earth and we should all rejoice. Chanukah, Christmas, Quanza, call it what you like, more daylight is better.

David

From Randy Jones of the Village People

Hey Ginge-y baby!
How're doin'? Thanks for the heads up on the latest PUNK GLOBE online edition. It's lookin' great

for the virtual ink and the RJ animation!
Keep it up and I hope to see you soon!
xoxo
RJ
www. RandyJonesWorld. com
www. cdbaby. com/cd/jonesrandy


Thanks for the great review of The Ashamed and the advice about the band
photo. We have two other bands with albums in the works and will be
sending them to Punk Globe for review. Be on the lookout for the
Dogsflesh CD end of this month and the debut CD from Plants Eat People end
of October. Dogsflesh is a UK82 punk band heavily influenced by The
Exploited and Discharge and Plants Eat People is best described as Death
Lounge fusing old punk, ska, surf, and with an eye of newt, toe of frog,
and the kitchen sink thrown in for good measure.

Thanks again,
Jim

Jim Whitehouse

Unrepentant Records

Thanks for the high praise for BBAC [Beer, Blood and Cornmeal].

All the best,

Count Dante

[Bob Calhoun]

Hey Ginger
I'm directing my first movie during the month of July. I will be in Hanford CA about an hour south of Fresno. We will be shooting that sunday and returning that night. I will try to rally and come to the event. But know if I don't make it that I'm totally there in spirit. Congratulations on this incredible milestone. There aren't many publications that can boast 30 years. Especially independent ones, run by the same person. I think it's like you and Randolph Hearst. And he had money.
I've been working non-stop since early March. Once the end of July rolls around I'm gonna lay on a beach somewhere and sleep for a month.
All the best,
love
jon gries

To PUNK GLOBE--

has it been 30 years?
Wow
that's a party i wish i could go to.
punk globe rocks,
sally webster /the mutants

Dear

Punk Globe:

I was recently browsing the PunkGlobe website and came across the article regarding Traci.

http://punkglobe.com/tracimichaelzjuly08.html

While this is a sad event for all of us who knew him, I still am very protective of my work and the copyrights regarding my pictures. While the Creeps used the photos on there myspace page, I own the rights to the photos. You may have also pulled it off some messege boards. Bottom line is those sites had permission to use my photos.

Unfortunately being in the photo business has its downfalls. People feel because a picture is out that they can use it for recognition or to beneift themselves. That assumption is very incorrect. My photos are my livelyhood and I consider any of my works used without my permission stealing. I would like you to remove the picture immediately or compensate me for its use. You can contact me via this email address.

I hope you understand my position and will do the right thing in this situation.

Eddie

ESW Photography

______________________________

__________________________________________
Eddie:

I got your email and want you to know that I did not lift the photo from My Space or a Message Board. The photo along with the text were sent to Punk Globe from

www.artistpr.org

, a PR firm.
With a FOR IMMEDIATE RELEASE headline: which would indicate to me that the text and photo were fine to post.

Traci and I have been friends for over 9 years, our bands have played together
and was I shocked to hear of his death..

The article was placed on the site after I received the press release to let others know of the tragic loss... It was not posted to sensationalize or out of malice.....

I can understand your concern for your work but also feel that you were fast to jump in an assumption-- as to why it was used and how it was obtained...

That is why I forwarded you the email from the PR Firm and am writing you this email
to better explain the

ACCURATE

situation.

The post will be removed in the morning.

Ms. Ginger Coyote
______________________________________________________________________


Ginger:



Don't worry, this guy is an idiot. We had permission

to use the photo he is trying to extort money.




Morey Goldstein benefit/tribute concert

May 4th + donate online

Morey Goldstein, master musician, and my musical cohort since junior high school, is in a bad way. The brain tumor he was diagnosed with earlier this year has continued to grow despite an operation and radiation treatment. He is not expected to live through the year.

We are trying to raise some funds to help pay for Morey's home care.

Here is a link for those who care to donate online:

There will be a benefit / tribute concert to celebrate Morey's music on Sunday, May 4th from 3:00PM - 8:00PM at the Bay View Boat Club in San Francisco (489 Terry Francois Blvd, aka China Basin St. 415-495-9500. See http://bayviewboatclub.org for directions.)

Morey, saxophonist extraordinaire, keyboardist, vocalist, songwriter, arranger, producer, conceptualist, is one of the best musicians I have been privileged to play with in my life. We go back to the Woodland Junior High School Concert Band in East Meadow, Long Island, New York in the late 60's (Morey on clarinet, me on trumpet); the East Meadow High School Jazz Ensemble (Morey wrote and arranged two songs for the Jazz ensemble); The Nails (basement rock 'n' roll); and once we moved to California: It's Your Own Life (mostly Morey's originals); The Readymades (our foray into punk/new wave in 1977); Zasu Pitts Memorial Orchestra (Big Band soul); The Cel-Rays (early 60's-style girl group rock 'n' roll and instrumentals); Bing's Swingin' Thing (jazz and R & B) and numerous other musical projects.

Morey was in many bands without me over the years as well, most notably Big Bang Beat and Butch Whacks & the Glass Packs. Morey also scored some disco hits as songwriter and producer for Slyvester and Modern Rocketry and conceived and produced the Karen Carpenter ChristmasSpecial Stage Show with his wife Katie Guthorn for many years.

MOREY GOLDSTEIN'S CAVALCADE OF STARS!!

The show on May 4th will feature music from many of the bands Morey has been in over the years. We've got some of the best Bay Area musicians participating so this should be one heck of a show. With any luck Morey will be able to attend. Morey is unable to speak or walk on his own at this point so we'll just have to see what his condition is like by the 4th. He still enjoys good company, good food, and good music, and there will be plenty of all three at this event.

Hope to see you at the Bay View Boat Club...

Sincerely,

Eric Lenchner, aka Ricky Sludge; Vanilla Sludge; Professor Sludge

It saddens me to inform you that friend and colleague Vampyre Mike passed away last month of hep-C, pneumonia or something else, depending on who you talk to. The autopsy results aren't quite in yet. I like to think he died of supernatural causes.

There will be a posthumous book party and open mic at Café International May 3rd celebrating his most excellent new collection Toxic Vaudeville. Loads of poets including myself will be there.

Info is at bottom. Here's the expanded version of the obit I submitted to the Chronicle.

You can see Steve Rubenstein's version (thanks Steve!) at www.sfgate.com.

Michael Alan "Vampyre Mike" Kassel – writer and musician

Born December 3, 1953 in Boston to Milton "Quinn" Kassel and Beatrice Kassel, brilliant underground poet and talented musician Vampyre Mike passed away after a long battle with hepatitis March 22, 2008 in his room at San Francisco's Marina district Bridge Motel (one of the few San Francisco SRO Hotels not located south of Market). He resided at The Bridge for over twenty years. In high school in Boston his first band was Self Winding Onion and in 1973-1974 he was in Automatic Slim with Fred Pineau (who later gained success with The Atlantics). He moved to San Francisco in 1974 and earned his sobriquet when punk fans at the Mabuhay Gardens started calling for "Vampire Mike!" when he appeared there with his band The Hellhounds. In 1980 Mike sharpened his teeth on musical theater in San Francisco, putting on Bat Soup which ran for 86 performances at Hotel Utah and combined Dracula and the Marx Brothers. In 1982 he released the 45 single "Fortune Teller/Guru Massage" under the name Mike Kassel.

Holding down a day job as a market researcher, he was loveable curmudgeon and merciless tease who on occasion could be extremely kind and generous and he always told it like it was, with outlandish humor and an uncompromising stylishness. An adherent of the Norse pagan traditions and widely read and knowledgeable on many topics, he was made thyle, or bard, of the heathen group Freya's Folk, and he partnered with one of their priestesses Pasha De Saix for many years. Together they were the folk rock duo The Familiars, a fixture at pagan gatherings in the greater Bay Area, recording original and traditional songs as "Pasha and the Pagans," a collection engineered by Lemon De George of Genghis Blues fame. Other musical groups led by Vampyre Mike included The Fabulous Dumonts, The Bones of Kryptos, blues band The Welfare Cheats and an homage to 60's garage bands, The Mysterious Ice Wyrms, which at one time featured drummer Donovan Bauer of 20 Mile.

A regular at many poetry open mics over the years, he was also known as Thor Bernstein and Elston Gunn, but it was as Vampyre Mike at Café Babar and Above Paradise in the late 80s and early 90's that he really established himself as a poetic voice and a force to be reckoned with. His take on current events was eagerly awaited by the poets and his other fans. It seemed he always had something incisive to say about a big news item and it was usually a lot of fun to hear, as his poetry owed more to W.C. Fields than to W.H. Auden. Though he performed mostly in Northern California his career also included one wild European tour with David Lerner, Dominique Lowell and other San Francisco poets. "Vamps," as he was affectionately known to some, was also a frequent collaborator, playing piano, percussion and guitar on other people's projects and joining Joie Cook, Kathleen Wood and myself to perform the one-off show Naked Language Revue one unforgettable night in 1990 at the old Kafe Komotion in San Francisco. He also helped me cast the dancers for a video, putting me in touch with a bunch of pagans he said would like to get naked if I ever made a video of my piece "White Folks Was Wild Once, Too."

Local publishers put out his books Going for the Low Blow (poems, Zeitgeist Press, 1989), I Want to Kill Everything (poems, Zeitgeist Press,1990), Just Say No to Despair (poems, Cyborg Productions, 1991), Graveyard Golf (stories, Manic D Press, 1991), Wild Kingdom (poetry and prose, Zeitgeist Press, 1992), the latter two featuring covers by renowned comic artist S. Clay Wilson, and The Worlds According to Loki (mythological novel, Valknot Publishing, 2001). His work was translated into German, Czech and Russian. He wrote numerous prose pieces for the Western Edition newspaper, the quarterly Yggdrasil and the Sunday magazine of the San Francisco Chronicle/Examiner, and was published in many poetry magazines and anthologies.

Vampyre's satire was a finely tuned attack delivered in broad strokes. Witness well loved poem "Your Love Is Like a Red, Red Nose," his Woody Guthrie parody; "This land is my land, that land is my land / That land over there, that's my land too / This land belongs to me, not you..." or his poem "SHIT": I was walking home from the bars the other night/And realized/I had to piss Now!/Before my bladder blew up/Across the street/At a construction site/I spotted a Port-O-San/I hobbled over/And yanked on the door/It was locked/I was dumbfounded/What did they think I was going to steal?/Welcome to America/Where they lock up the shit (from Just Say No To Despair! (A Cyborg Minibook, San Francisco 1991)

Here's one of his typical "rants." --NOTE SEE POETRY --

Va

mpyre Mike is survived by his sister Dr. Jane Kassel and his twin nephews (born on Halloween, his favorite holiday!) Bryce and Alexander Haver of Media, Pennsylvania. Interment was in Pennsylvania and memorial services were held there and April 13th in Sutro Park, San Francisco.

His new book just published by Ajax Press is being celebrated with a posthumous book party on Saturday, May 3 at Café International, 508 Haight Street (near Haight & Fillmore) in SF, from (415) 552-7390. Many poets will be there to commemorate his life and work and Copies of Toxic Vaudeville will be available at the event. For more info about the book see Ajax Press website www.ajaxpresssf.com.

---Whitman McGowan

Hi Ginger,
Just wanted to drop a line and say thanks so much for the awesome review of STARK's CD Put It To Your Head. You rock. Bebe Buell....cool!
Best,
Lani Ford/STARK

STARK's new CD "Put It To Your Head" is available for download at http://www.digstation.com/stark. Both of STARK's CD are also available for purchase on www.CDBaby.com/cd/laniford and at live shows.


"STARK's Lani Ford must be one of the most honest people walking the planet today. Her lyrics are penned with the intimate abandon that is usually reserved for one's diary. With STARK, she transforms these personal reveries into emotionally charged Rock'N'Roll...Somehow Lani has mustered the courage to reveal her innermost self, a rare trait within the egotistical realm of Rock'N'Roll. More power to her."--Chuck Foster - Big Takeover Magazine, Spring 2007

http://www.starknyc.com
http://www.myspace.com/stark
http://www.zoomoozik.com/stark
http://www.sonicbids.com/stark
http://www.cdbaby.com/cd/starknyc
http://www.treblenation.com/stark
http://www.mymusicstream.com/stark
http://www.reverbnation.com/stark
http://www.myspace.com/laniford
http://www.facebook.com/profile.php?id=729957789&hiq=ford%2Clani
http://www.purevolume.com/starknyc
http://www.music.com/stark
http://femalemusician.net/STARK
http://www.vmix.com/stark/
http://musicnation.com/user/starknyc/
http://www.unsignedrockzone.net/members/90/
http://www.airplaydirect.com/stark
http://www.rooms.cafesonique.com/stark
http://www.banddigs.com/stark
http://www.indie-music.com/stark
http://www.unsigned.com/stark
http://www.laniford.com
http://www.buzzplay.com/Stark
Songs from "The Curse" can be purchased on Apple itunes...to make it easy, here's the link.
http://phobos.apple.com/WebObjects/MZStore.woa/wa/viewAlbum?id=17437472&s=143441



"The best rock & roll music encapsulates a certain high energy--an
angriness...Rock & roll is only rock & roll if it's not safe."
--Mick Jagger

STARK's "The Curse" is also on sale at Womanrock.com, Bathtubmusic.com, itunes, Bleecker Bob's,
Subterranean Records, and NYC Hardcore Tatoo
---
---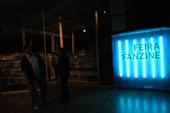 9ª Feira Internacional do Fanzine (9th International Fanzine Fair)
An International Fair that is organized in the city of Almada, Portugal,
Casa Municipal da Juventude (Youth Center)
November 7-15

Feira Internacional do Fanzine
Realizada, habitualmente, na Casa Municipal da Juventude –
Ponto de Encontro, Cacilhas, Almada, Portugal, tem como objectivos:
o apoio, a dinamização e divulgação dos fanzinistas do Concelho,
a dinamização de um espaço de encontros
e permutas em torno dos fanzines e dar visibilidade a estas publicações.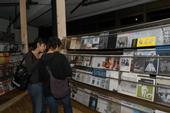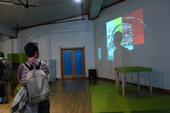 Email: fanzine2008@gmail.com
myspace:www.myspace.com/fanzine2008

Dear Ginger and Punk Globe..
Thank you so much for interview..
and thanks for put me my pic on Punk Globe Feb Edition.
i'm very very happy.
thank you my friends...

your friend,
Rabind Rawks
---
Thanks so much for Punk Globe online, especially the where are they now. I am Steven Weisburd, and played drums in Insect Idol after Adam as the band moved into its post-punk era and up til the band broke up. Though I played in a bunch of other bands in LA and SF throughout the 80s, I wound up going to Stanford Law School (1989-1992) and became a lawyer in LA. I met and married Kathy Valentine (bassist in the GoGos) and we now live in Austin TX with our 4 3/4 year old daughter Audrey, where I am practicing law and Kathy continues playing, recording and producing music. Just a quick update in case it was
notable. And in any event, thanks for the info.... Steven
Ginger-
yea i know, i'm sorry, i am ready to rawk but i'm also very scattered rite now, ots a shit going on, again i appreciate tho! you kick so much ass, but yea i'll keep you posted! Keep on rockin in the free world
- Love, Nicky Straightjacket

Ginger,
I hope you are well. I'm good. i heard from Peter moody and he went to the Dirkfest and said that you were the best of the show followed by the lovely Penelope!
When are you in Baltimore? I am thinking I may fly down and seeyou if I can work it out. It would be fun and it's only an hour flight from here!
Timm
Hey Ginger,
You were great Friday at the GAMH. Your band stole the show. I'm not going to miss your band the next time you're in the bay area. Thanks for a great show....
Johnny Patterson

Ginger, Hi Honey, I love the Paul Zahl article, he always tells it like it is and that is the truth. This is why I have always loved him. The photos are also great! I am proud to see that one of mine finally got published, THANK YOU!!!
If all goes as planned I am going to get to help Kathy today, which also makes me so very happy.....gotta get ready for my day, hope yours is great..

Ginger,
That's very kind and gracious to spotlight me!
I guess I'm still a punk but my attitude has mellowed all these years!
It is too bad that some people can't put aside their differences, come together and celebrate Dirk's life and how he touched all of us!
He was always a good friend to us!
Anyway, again, "Thanks so much for thinking of me and naming me Punk of the Month!"
I e-mailed the link to all of my friends on the east coast!
Look forward to seeing you in SF!
yo ginger.how's it going?hope you are all doing fine.it's rab pennie from n.ireland here again.well,my job is coming to an end here so i'll not be able to sneak onto the internet for much longer.just wanted to say thanks for the website.really helped me get through these past couple of months.excellent.got the 'american hardcore'dvd.saw you on the extras.not a bad film.i guess it would've been impossible to cover the entire movement.i thought henry rollins came across as a bit of a dickhead in it,especially when he talked about the l.a. punks going up to san.fran.and hitting punks.like,it was hard enough for us punks having to cope with violence from assholes in the outside world without jocks in our own scene beating on us.i bet they're still assholes to this day.fuck them.also got the screamers dvd recently.i'd heard so much about them.fucking incredible band.did they refuse to sign to a major label or were they just not signed up.went onto their website to find out a bit more about them and was saddened to see tomato du plenty had died.really hits home.i guess we're not immortal after all.anyhow,a big hello to all the real punks out there.cheers ginger.
rabpennie@hotmail.co.uk
Hi Ginger!
How are you? Things here are okay. I went to the opera for the first time in 20 years yesterday. That was interesting. I must be growing up because I didn't hate it.
Last week I was watching that Jools Holland music show on TV and he had the Joe Jackson band on.
So I did some searching and found out that you had dated him and that he had written "It's Different For Girls" about you. Is that true? If so that is sooooo coool I LOVE that song. What was he like to date?
My impression of him in my limited encounters with him is that although he is an incredible showman, he is very shy and awkward in dealing with people offstage.
Anyway, whether or not you dated Joe, I continue to bow down to your never ending coolness...!
Be Well!
xoxo
Bonnie

hey Ginger Cathy Comenas here.......here is a recent photo of me and my Harley if you want you can put it in the mag or not.......I am working on a new Myspace Music page........my new one woman band is called Butt Von Colon. Well hope you are well...and I love Punk Globe!!!! I m so glad it is alive!!!!!! Take care,Cathy Comenas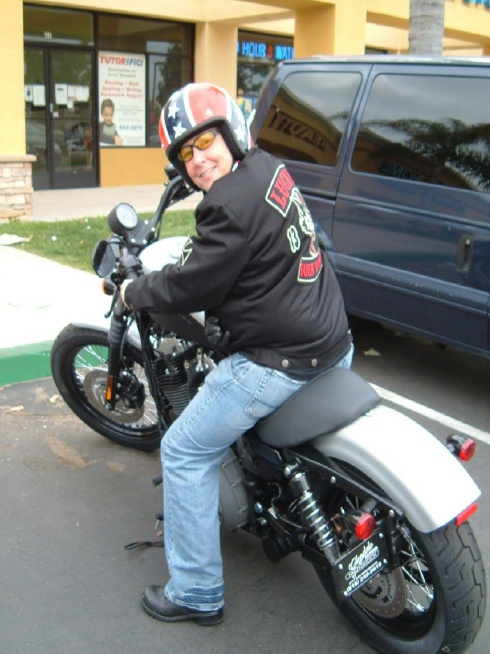 Hi,
Back in 1988, after a moderately successful single, Midnight Records had me produce a solo album. It was released in the late fall of '89 and after tepid reviews and college radio airplay, faded into obscurity by the following summer.
I had assembled rhythm section of Orin Portnoy (Outta' Place, Optic Nerve) on bass along with a drummer named Bob Baker, and the original idea was to get as many of my NYC garage/psych friends as I could to play on the album. So in that regard, I succeeded. The biggest disappointment was that outside of those friends, nobody knew they were on the disc. did a terrible job of marketing and compounded the problem by making the credits on the album cover all but unreadable.
Here is a short summary of those performances:
"Some Folks" has Elan Portnoy of the Fuzztones giving a scorching lead guitar solo.
"Frog Booth" features Jon Weiss of the Vipers turning in a great Bobby Keys-like sax solo, with Dino Sorbello of the Mad Violets doing guitar feeback and sound effects.
"Your Chance" has The Optic Nerve (along with a Swedish fellow named Christian) doing all of the guitar work on a "blusey" tune they struck up while I wrote lyrics late one night at Dubway Studios..
Because of it's novel intro, the track "Party" got the most attention. Mike Miraconda of the Raunch Hands pulled double duty by playing fiddle and steel guitar. But poor Bobby. It took him years not to bristle whenever he heard this tune. "Fucking Nazi", he would mutter.
"I Don't Want You To Go" was written by two friends (both now deceased) when we had a band back in '82 called the Horrible Flowers. There was never a cemented set of lyrics but I felt the song was to pretty to not record. Shane Faubert of the Cheepskates plays keyboards and helps out with the choral vocals.
Even though I was probably guilty of putting out a so-so product (singing never was my strong point), I always felt that my friends never got the credit they deserved. Maybe now, in some small way they will.
Feel free to download anything you might like, or if you'd rather I could send you an mp3, because in all likelyhood the album will never be re-released on CD.
David

HEY GINGER!
Great to hear from you. I still remember printing and cutting the punk globe. I really enjoyed you as a customer! Thanks for sending the note. I'm hanging in there. I will let my mom know you said hello the next time I see her. Sorry I didn't get back to you sooner but I got all distracted you know…. But your email was one of the nice surprises to come out of it.
I'm glad to see you are still carrying on in the cyber world!
Peace,
Teddy

Ginger -- I very much enjoyed American Hardcore." I don't know why they didn't interview Jello and did Brandon Cruz (though not credited as a former member of the band, if I recall--must have been a strange brew of personal politics, I think). The documentary makes a good case for Bad Brains being the best all time hardcore band, the omission of The Effigies was curious to me, you were charming way to end the film scooting away on your vespa, how chic. I loved Zander Schloss' parting words, "go home, your cages are clean," to end the doc part.
Carl

Ginger,
Thanks so much for the good words.
it is great to have you on the DVD, you are truly one of the stars of the DVD extras!!
steven blush


Thank you for the birthday mention in gossip. It makes me feel important.Going to The Cobalt for some good fun .. Gonna see my buddy Chi Pig.

thanks for e-mailing me back. yeah, last i heard of kent jolly she was working at southern records in london. as usual i'm in work, perusing your excellent site. i love the jayne county column. can't think of anything to review. here's a pic of me to be considered for punk of the month. ha. just kidding. i'm a lot nicer person than my photo inplies. ha. just ordered the 'american hardcore' dvd. i've heard it has it's faults, but the scene was so huge that it'd be hard to cover it all. can't believe they left out the dead kennedys though. i don't like the violence that was associated with some of the bands, especially the east coast ones. to be honest i preferred the west coast bands anyway. always seemed to be a lot nicer. anyhow i'll be going here
..later. take care.
how'l do ginger? how's every ol' thing? i wanted to send you a cd and some stuff. is it still cold as hell over there? i saw you in the american hardcore movie last night. i like your scooter. totally bad-ass!
well, rock on my dear.
talk to you soon
chucki xoxo

OMG!! YOU rule!!! Thanks soooo much. By the way, I"m a HUGE Jayne County fan! No joke, I was obsessed there for a bit in the mid 90's. Are you a fan of The Toilet Boys? Your music rules like theirs. Nice and trashy. Again, thanks.
Later,
Justin

HEY GINGER:
GREAT WRITE UP ON DIRK MANY OFF US HAVE MUCH TO BE GRATEFUL TO HIM FOR . MOST OF MY SHOWS WERE AT HIS PLACE. KEEP UP THE GREAT WORK , I LOVE READING YOUR WHERE ARE THEY NOW .
JUST FOR THE RECORD I AM LIVING IN LA BUT GET BACK TO SF REGULARLY MY WIFE IS BRITISH AND WAS WELL KNOWN ON THE SCENE IN LONDON SO I GET TO CHECK OUT THE OLD SCENE THERE TOO. WE GO OVER TO LONDON 2 OR 3 TIMES A YEAR AND IT BLOWS ME AWAY HOW THERE ALWAYS SOME ONE WHO KNOWS SOMEONE WHO KNOWS YOU IN ABOUT EVERY PART OF THE WORLD.
CRAIG (REGIME) MUZIO

Ginger and Tammy:
The new cover is the best Mohawk I think I've seen. The Paul Zahl Mab poem is really good. I sure identify with the partying in the punkbar in 1980 on acid bit. Those were the days "A" Ginger. It's true that old saying "youth is wasted on the young!" If only at that time if we knew what we really had, and it wasn't going to last. Alas. Kirsten describing the service to you for Dirk is very touching.
I don't know most of the scenesters in gossip, but girl. I am always watching your zine for updates. It's my favourite and can't be beat. I hope you are having a nice day. It's WET here. Oh and the Dave Negative S.F. DOA review is too funny. "Crude west coast Canadian accent on Shithead!" What accent...huh?
Pat Crowe

From: Tweek City
To: gingercoyote@hotmail.com
Subject: Tweek Hits the Streets Today!
Good Morning!
Now that the subject line has put me on the DEA's watch list...
Tweek City has hit the streets -- go ahead and find yourself a copy!
If you pre-ordered a copy, your shipment should head out today. If you haven't you can visit TweekCity.com and order one now...and those shiny new T-shirts and Trucker Hats are still available too!
Finally, I put the trailer up on YouTube last week, check it out and give it a rating!
http://www.youtube.com/watch?v=h5L7VbbHL34
I'll be posting selected scenes on YouTube soon.
Happy New Year!
Eric

how are ya Ginger !
hey ginger ! we met in 80 in sf at the mab/on broadway me and my friend barkly were hangin out a bit at a mutants show and a few dead nights on acid . RAD ! Love Punk Globe...
Take super care !
Duane Peters

Sorry to bother you again. Haven't been able to find Keith Bollinger, I know he lost his Girl Ivy, got into some legal hassles and went underground. I don't want to cause him any troubles, I want to talk to him about licensing and distributing some of the tracks amongst the collections of cool stuff he was putting together some time ago.
I've got a huge distribition network dying for Punk Music, Punk is starting a huge come-back 30 years after the fact. I've got Brittley Black & The Next, No Alternative, Panther Moderns (John Shirley) and I'm working on The Sleeperz, I spoke with Paul Draper today.
Anyway Mabuhay Records was born at Dirksen's Memorial Service and it's looking for old and new recordings from The S.F. Scene 1977-1981.
Anyone with recordings of their stuff from those days should call me and we can talk about distribution. Mabuhay Records is concentrating on Internet MP3 downloads right now because that's where the bulk of the Market is these days. More songs are sold via the .99 Cent download than are sold on CDs in Music Stores, Tower Records is going out of business nationally as a result. However I also plan on releasing albums on Vinyl because CDs are not Hi-Fi.
Any help in finding Keith Bollinger would be gratefully appreciated.
Thanks,
Ted Oliphant
Mabuhay Records
5259 Prism Place
Las Vegas, NV 89118
702.353.9482

merry christmas and a happy new year punk globe magazine!!!!! wishing everyone a great holiday season,you guys rock!!!!!
Gina Lockwood
Hiya Ginger.....I talked to Athina last night- she thought you would like to hear about the memorial for Dirk. It was really sweet- the hall was packed, with people jammed in the pews and lining the aisles, even spilling back into the entry hall. I don't know how to estimate the numbers- but there were sure a lot of people there. Ron Jones introduced, a beautiful, touching reminiscence of Dirk's life, and all the people he touched. He talked about the Mab, and also about Dirk's work with the Mission Rec center and the kids. We learned about the wild variety of videos they worked on, and Dirk's enthusiasm for his projects. Mary Kelley sang. There were a number of speakers...Dirk's partner Damon, his sister, who spoke about Dirk's childhood days in Germany, and the early loss of his father. His nieces spoke about his family life. Kathy Peck, Denise Dunne. The officer that uses the ventriloquist dummy spoke of Dirk's influence on him. A neighbor he helped out often told of his generosity to her.
Then they called for open mic- and one by one the most eclectic assortment of people got up and shared what they remember. I wish you could have been there - it brought back so many memories. One guy had a transcript of things Dirk said on stage....that got a lot of laughs. A fellow from Rec center for the handicapped said that Dirk and Damon were always helping them out, donating time. Jennifer spoke about Dirk managing the crowds at the Mab. A retired fire captain spoke about Dirk's charity work. There was s slide show on the wall behind the speakers.
I don't remember all their names, it went on for some time.
They ended with "Down in the valley" and the whole room sang along on the last verses.
They announced the Memorial show (but not a date yet)....you know all about that probably, and talked about donations to the Hear foundation and the auctions. I guess we'll see you up here for the show! Afterwards people milled around for a while, then the majority went to Carol Lennons house for a gathering. We had to head home though, so I don't have more about that.
I'm glad so many people took the time to go- Dirk was a fabulous character, and it's sad to think he is gone. He was always nice to me - sometimes gruff, but often just funny....and I was just a hang around kid! I hope that yesterday inspired some of the people there to enrich their community, like Dirk did.
Well;, that's it. I'm sure you have heard similar, or the same, from others already. There were a couple of photographers, and an "official" video.
Looking forward to the show- Athina and I will be there for sure, maybe even with our kids <g>.
Happy Holidays Ginger, see you soon.
Kirsten
San Francisco

Hi, Ginger, Linda here. . .
I am so sorry for the loss of your friend Dirk. He truly made our lives richer for having known him and for the work he did to bring punk to life in San Francisco. He gave sooooo many bands their first start and thrills and memories to last a lifetime by allowing us to play at the Mab. His encouragement to our band, AlieNation, was overwhelming, as the following will illustrate.
For years, I've been telling the story about what Dirk Dirksen offered to AlieNation, in order to show how great our band was. Actually, it's also a story of Dirk's generosity of spirit. In maybe October of 1981, our bass player, my husband Drew, called to cancel a show at the Mab. Dirk asked why we were canceling and Drew told him we were breaking up. Dirk said we were crazy and asked (demanded!) that we all come in to see him. We all trooped down to his office, Naomi Ruth Eisenberg, Peter Fogel, Drew and I, where Dirk proceeded to chastise us for our differences. He told us that he was ready to give us Saturday night headline shows and that we had to stay together because we had something unique. He volunteered to counsel us "for as long as it took" to get us to stay together.
Alas, it was too late for us as a group and as individuals to try to make a go of it, but I have always remembered Dirk's encouragement and generous offer. It made the "death" of AlieNation harder for me, and truly his death all the more harder to absorb.
I know Dirk gave all of us so much of himself, his time and expertise. We will all miss him.
Love always, Linda A. Xyz
P.S. I'll also always remember how many times you put us in the Punk Globe and asked us to play your parties at the Mab; you gave us as many opportunities as Dirk did! For my story above, I know you know our names, but I spelled things out, in case you are re-printing tributes for Punk Globe online. I hope you are able to come up for the services on Saturday, or for any of the memorial events.

hey ginger!
yes...i feel honored to have been personally insulted by dirk before he passed... :)
have a happy thanksgiving!
love
jeff penalty

Ginger:
I'm sorry to hear about your friend Dirk passing away:(
Losing old friends is like losing an important time of your life or an important part of your body.It aches deep in the heart which is the worst.
I hope everything is ok with your new computer?
Talk to you soon;)
Love,
Ozgur



Hi,
I had a punk clothing store on St. Marks Pl. in the late 70's & 80's. I did clothing for Blondie made Joey Ramones leather jacket among others. I have just resurrected my look with a new website www.natashanyc.com and I want to link up with as many punk sites that I can. I am sending you some photos, from the late 70's and my website banner. I hope you will consider this.
Natasha

OH MY GOD........
You put me in PUNK OF THE MONTH ?????
I CANT BELIEVE..............
When i open Punk Globe to see some news i'm very SHOCK and HAPPY.............
Ginger.... Thank you So Much............
from my truly Heart... i would like to thanks to YOU.
and all the Staff of Punk Globe. who choose me as a Punk of the Month............
T H A N K Y O U.......................... : )
i cant believe how many people from all over country who read Punk Globe everyday and they finds me as a Punk of the month.
i think you will get so many question because why you Choose me.
i hope Rabind Rawks always live in everybody Heart.
i just want to everybody know.. i love Punk rock and i love my scene, i love peace and equality and i'm the Biggest Fans of W.T.D
Ginger, You complete change my life. to better life.
thank you... thank you... thank you...........

Dear Ginger..........
since now I'm still happy and I cant believe I'm a Punk in The Month.
a few my friend say to me Congratulation. Ginger, thank you So much. Thank you to you and all staff of Punk Globe. I will do my best for Punk Scene, and I will bring Indonesian Punk Scene can be recognize in Punk World Someday. when I read about Turki Scene in Punk Globe is Awesome I hope Someday Indonesia Can be too. all the Spirit is very High, and I think all band's is good too.
maybe I don't have message with Songs and don't playing in a Band but I have a pride for my Country.
anyway, Thank you so Much again.
I have a question, when I write a Comment in Punk Globe myspace (in my last comment, about Jesse Op.ivy) did you find Jesse after my Comment or Before my Comment? because I read on new Punk Globe you Find Jesse. is Great !!!!!!!
So many Indonesian People think about Jesse. maybe Tim Busy with Rancid, But people always Think about Jesse, Not Tim. (Indonesian people). thanks again for find Jesse.
please write more about "Where are they now" especially for Obituary from people in our Scene who past away.
MS.Ginger THANK YOU !

I feel so bad for this beautiful young woman, as well as Bebe. I always thought the guy reeked of a gold digging schlub, and I was right! ugh!
I wish I could work as these ladies' bodyguard or something. Take this hunk of human filth (Coyote shivers) and beat the living hell of out him. Perhaps having a former domanitrix who is 6ft tall and taught the fine art of torture kicking your ass will give a proper attitude adjustment. GRRRR...this makes me so mad. And why CAN'T the police do MORE to help these women? Why don't the courts do MORE to help them? Freakin' ridiculous. It is going to take a tragedy, unfortunately, to get this man off their backs and into the one place he belongs...PRISON! Let folks in THERE dole out the only punishment due this cretin!
Sorry for the rant. This just really struck a nerve with me. Wish I could help a sister out!
hugs,
Justine

Ha, DAMN I love Jayne County ~ she doesn't know me from pond scum, but she fucking KICKS!
Love,
Janet

Ooh My God... I cant believe my real hand writing on PUNK GLOBE ! thank you so Much!!!!! I'm still Shock and Very Happy.... do you think I'm right about my writing? or I have any words all people don't like it in my hand writing? (bad words or different opinion)
Ginger thank you very very Much.... since I know you I always have a very great day... everyday!!!
I love you so much! do you think Mr.Biafra can read my writing? I hope.
thank you so much..... I don't have any words... but I want you to know.. I really happy have a friend like you..........
Thanks Again Ginger............
Dear Gene,
I just found out that your son is using Jayne/Wayne County's band's name. I know it may not be copyrighted, but she has been recording under that name for a long time, and it is rightfully hers. I respect and appreciate both of you as artists and I don't want to you at odds. I hope you will encourage your son to think of a different name for his band.

Sincerely,

Leigh Williams

Connecticut
We all love Jayne. Relax. It's a tv show and Nick is NOT using that name for his band.
Hi Ginger,
Good to hear from you. I actually did meet you once I think- at the first Eastern Front Concert in aquatic park in Berkeley for about two seconds. That was a wild day as it was one of my first shows and an awesome one; good times, a little bit scary and a mind blower for a (very) little kid. My best friend at that time was Aaron Cometbus and he fed me fanzines like vitamins, including Punk Globe which I read the hell out of. I got into it all when punk was becoming more "hardcore" but I am glad I caught a bit of the earlier phase. I think some of that early spirit of total creativity, eccentricity and just plain weirdness is coming back these days which is cool. I definitely related more to that energy in terms of my way of defining punk for myself (although I did enjoy the raw power of hardcore music, just not some of its more meatheaded fans).
My girlfriend currated Jim Jocoy recently so I have had the pleasure of hanging out a little bit with that amazing, dear guy. He always has great things to say about you and he told me of your recent exploits. I was really glad to hear you are still expressing your unique take on things and having fun with Punk Globe. I am going to check the site out as soon as I'm done blabbing at you.

Best wishes to you with everything. Thanks for dropping a line, its a real honor. And yes, Ozgur is the real deal, his enthusiasm and sincerity is totally inspiring and contagious.
Jesse Michaels


hey Ginger
I'm working on producing a GAY PRIDE COMPILATION called PROUD AND LOUD for dead puppy records and music zombie records
and basically we're gathering gay artists who want to donate a track to the compilation
would you know anyone interested in taking part
DEAD PUPPY RECORDS
c/o TERRY RICE
534 RICHARDS HOLLOW RD
COLUMBIA, KY 42728

hooray and huzzah, thank you for writing about us!
i just got off the phone with my cousin Joyce Bowden, and she says you're absolutely wonderful ~ "cooler than sliced bread" in fact, which is high praise indeed! In any case, I just wanted to say thank you, and wish you all the best - I'm off to find a place to listen to White Trash Debutantes ~
If you know anyone else who might like our little cd, we're giving it away at our website, because we're goofy, and free is more fun. hooray!
take care, and all the best,
kenyata from the majestic twelve
www.myspace.com/themajestictwelve

Jayne County should be headlining this gig all the others are just hangers on from the UK Punk movement only The Damned were about in 76/77 when it all kicked off in UK.
Regards to Jayne and tell her Glasgow Punks still love her.
Regards
DennisBoy
Hello, I got your info off BYOFL. My name is Kyle and I'm doing an internship this summer once again in Bloomington,IN. at a place called R & J Replication. They mainly make cd's for the University and
sometimes labels. I understand how much cd's can cost to make so I decided to help DIY bands/labels. I can make cd's for your band/label for cheap and will ONLY work with DIY bands/labels. I pretty much have free reign of the place at night and can buy supplies for wholesale prices. To keep the cost down I can make 600 raw cd's with up to 4 color print for $300. These are replicated cd's meaning pressed not burned, these are not cd-r's. I can't do packaging and the cd's will come back to you on two spindles. This is a great offer for a demo you want to put out a record. I have many contacts and was interviewed in last August issue of Maximum Rock N Roll for my contribution to the Punk/Diy community. I have the fastest turnaround time and the best part is 95% of the time I can use the university discount for shipping! Please pass this e-mail on to anyone you think could benefit from this.
DIY FOR LIFE!
kbaugues@gmail.com