I met Kyrsten through Musician/Poet Tom Pitts. Punk Globe was lucky enough to showcase some of her writings... I was overjoyed to hear that she had a new release dropping soon so we arranged this interview... Enjoy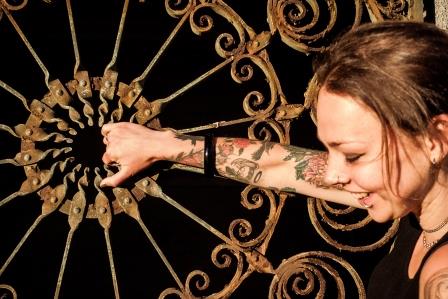 PUNK GLOBE:
Thanks for the interview Kyrsten.. Can you give the readers a little background on yourself?
Kyrsten Bean:
I started playing music when I was little, mostly because I spent a lot of time in my parent's piano shop, which was empty most of the time except for the pianos. My classical pianist dad was great at piano, but he gave up on teaching me around age 11, because I wouldn't sing and play piano at the same time (I was shy and super sensitive to criticism). Ironic, because I ended up being a singer more than anything else.
I've been writing music with guitar as my main instrument since I was 12. When I was 19, I dated an industrial rock musician, and lived in LA with him long enough to watch how he created and recorded his third album (he did all the orchestration himself with a Kurzweil). I sang harmonies on a few of his songs, before he got dropped from Electra. I was still super shy, and couldn't take criticism at all. When he offered me decent suggestions for how to make my songs better, I was stubborn and defensive. Like Magazine says, "My irritability keeps me alive and kicking..."
I got really jaded with the whole music industry after seeing it behind the scenes, and how people treated you when you were somewhat famous. We'd have all these long talks about why small and local is better. He told me I was "SO Bay Area."
I've continued to work with other musicians, and have recorded albums with three other bands aside from my own, I did lead vocals for a Brainticket (psychedelic band from the 70s) album called Past, Present & Future and vocals, guitar and keys for another band that is still touring all over the country called Hedersleben, on their first album. I also sang backup vocals on a thrash metal album for an Oakland band called Survival. It was probably the most fun I've had recording vocals.
I mostly do my own thing, and I've stayed local, in Oakland, where my Mom grew up. (My dad grew up in El Cerrito.)
PUNK GLOBE:
How cool you come from a musical background... I understand your current project is called Kyrsten Bean... Give us all the details?
Kyrsten Bean:
It's under my name, mostly because in our last incarnation we couldn't agree on any names, they were all cheesy or stupid. And then I got that whole bug up my ass of why the hell do I have to have a NAME? Why is that supposed to be the thing? So it became a rebellion. The third reason is because I sing and play for multiple projects, so its easier to just keep it consistent. That's my last excuse and I'm sticking to it.
We are a rock band more than anything else, but everyone calls us post-punk or even punk, because we play loud and fast (even when we try to slow down). The songs are more punk because they're pretty simple, I'm not orchestrating entire albums. To be honest, I don't even know if I'm that good at writing songs, I just love doing it. I expect to only get better and better, and I'm happy when someone likes my voice or style. We play locally, in Oakland and San Francisco, and have been for a couple of years now.
"And then I got that whole bug up my ass of why the hell do I have to have a NAME?."
PUNK GLOBE:
How many people are in Kyrsten Bean?
Kyrsten Bean:
I have a bass player and a drummer. I think I'm finally at the point where I can trust another person to play guitar. I've been doing guitar and vox for so long, I want to get out from behind the guitar and go crazy on stage. But it's so hard to find a guitarist, in my opinion, who doesn't have too much of a certain genre flair. Maybe I should try harder. Know anyone?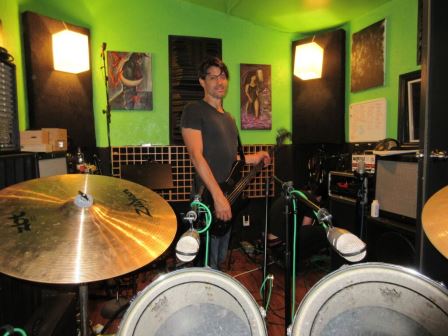 PUNK GLOBE:
Tell us who else is playing with you?
Kyrsten Bean:
We have Ed Tarantino on bass. Ed grew up in Hawaii and the Bay Area, was here during the '80s hardcore scene, going to shows at Elite Club and The Farm and Tool and Die, before Gilman came around. He played in a number of bands, one was a Peace Punk band called Cringer. His brother Richard and him used to sell records out of the back of their car in Hawaii, where they were seminal part of the Hawaii punk scene in the '80s as well. When Ed moved to LA with Cringer, his mom, Mardiyah Tarantino, flew out and followed the band for her dissertation for her Masters, which studied the punk movement. Ed and I started playing together a few years ago, with Rob Cribley on drums.
We have Biko Nigara now on drums. He joined up with us about eight months ago, and recorded on our second EP. He and I met when I was working with his other band, Machine Zero, on vocals. I ended up not working with them because I wanted to focus on my own project, (I was in three bands at the time) but they're all talented musicians. Another strange fact: Ed and Biko both grew up in Indonesia. Ed lived there for the first 7 years of his life, before his folks moved to Hawaii, though he was born in San Francisco (old San Francisco Italian).
PUNK GLOBE:
I also understand that you have a new release dropping soon. Tell us about that?
Kyrsten Bean:
Our second EP is coming out any day now! It was supposed to be done around October, but we have had a series of things slowing the progress down. It's being mastered currently, after recording with our good friend Sammy Fielding--who totally got what we were trying to do and then some--wwe sent it over to a referral who could do the mastering during the holidays. We played our first show out since finishing the EP in October and are planning a CD release show/party for January or February, likely at an Oakland venue.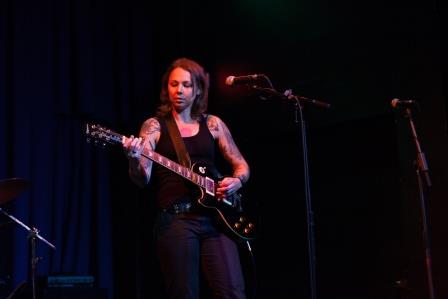 PUNK GLOBE:
Are you with a label?
Kyrsten Bean:
Not with this project. I work a day job so I can have full creative liberties and foot the bill for all my music. The new DIY. Or the new musician... Or just living in the Bay Area, which is ridiculously expensive. We beat Manhattan a while ago. What the living...
PUNK GLOBE:
Who are some of your influences?
Kyrsten Bean:
I hate to pigeonhole myself by saying who my influences are because they are broad. The earliest musician I fell in love with was Kate Bush. I listened to your typical punk, rock and grunge growing up, loved Ozzy and Black Sabbath, even Nirvana. I dug the Sex Pistols and Blondie, and later on found Rudimentary Peni through a friend I grew up with. I was totally obsessed with The Cure musically in my teens (though not the costume), due to the impeccable songwriting that is so easily translated to many styles. I also love a lot of industrial/dance music, from Skinny Puppy to David Bowie to IAMX (cheesy over-the-top synth pop).
I mostly like musicians that aren't stuck in some predetermined box. I get bored easily the older I get and the more music I listen to, because there's a lot of formula out there. Iggy Pop is an influence, for sure. Blondie... Debbie Harry, omg. Who doesn't love her? She's a total inspiration to me. She has a manner of singing that remains light and danceable without getting you down, but she commands the stage. Johnny Thunders, Joan Jett for her badass DIY attitude, New York Dolls, Subhumans, Neurosis, Magazine, Wire, The Chameleons...
PUNK GLOBE:
Are you still working as a writer?
Kyrsten Bean:
I do write and am still getting published in various outlets, on a broad variety of topics. I read sometimes at literary events, usually creative nonfiction, sometimes poetry. But what's been happening more and more over the years it the lit folk want me to play music while they read. I would do it more, but acoustic solo gigs are not very rewarding for me. I did that for years before I started my own band. That one person who would say "You have an amazing voice," at every show was what kept me going for so long.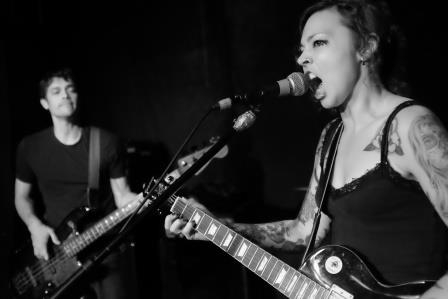 PUNK GLOBE:
Tell us about the scene in the East Bay?
Kyrsten Bean:
It's... hard to encapsulate. There's still a huge punk scene. It's a lot of fashion punks and hardcore punks and old school punks, maybe even thrash punks, goth punks, emo punks, indie punks, hippie punks-choose your flavor, we got it. A lot of DIY going on. A lot of people have been moving to LA, but maybe the new rich kids are deciding to be punks too, because I see more than ever near my neighborhood. Punk has become such a broad term.
Gilman is still going strong. Recent shows I've been to there seem more packed then the ones I went to in the 90s. A lot of bands keep circling through, doing reunion shows. Seems every year someone you'd never expect comes back through, from Killing Joke to Death in June to The Chameleons, who just did their whole Script of the Bridge album in its entirety. There's a lot of doom and a LOT of goth. Hardcore. Electronic. Noise... everything. You name it. I see a lot more doom and punk and hardcore than anything else. Maybe that's just my Facebook and Twitter feeds... could be.
"It's... hard to encapsulate. There's still a huge punk scene."
PUNK GLOBE:
What are some of your favorite venues?
Kyrsten Bean:
I am bummed the Uptown closed down. There was no reason for that. Oakland is booming. It's literally going nuts. I dug Eli's under the old ownership; we played there quite a few times. Haven't tried it under new ownership, but it looks about the same. Definitely a great dive bar for punk shows. I love the Nightlight. It's super homey and a great show for a record release party. I'd like to play the Golden Bull. Also haven't played XOXO, which opened relatively recently. I played there solo when it was Vitus, right down in Jack London Square. Weird stage, but cool setup inside. I absolutely loved playing the New Parish. Especially because we got the smoke machines. In the city, I dig Elbo Room, but haven't played there. Neck of the Woods was a trip. The Metro is alright. Haven't played there either.
Recently we played at a place called Satya Yuga, which really feels like the heart of Oakland's artistic culture and spirit. It was like playing in a pirate ship. We hauled our gear up rickety, steep stairs in an East Oakland warehouse to get to the "stage," where there were all sorts of Indonesian day beds and benches set up across the floor. Satya Yuga is "a collective of musicians, painters, woodworkers, hot dog vendors, scrappers, boutique designers and lingerie models." There were quite a few punks living there, and they loved our set. It's a work/live space. They plan on doing many more shows in the future. They describe themselves as "An unprecedented fusion of earth home bomb bunker helter skelter spelunker shelters and Indonesian straw huts rolling into valleys and down alleys." We heart Satya Yuga!
PUNK GLOBE:
I am sorry to hear about the Uptown. White Trash Debutantes played there with DI.. I hear The Elbo Room is also closing... If you could put together your dream show. Who would you have play and where?
Kyrsten Bean:
Actually, good news! Elbo Room just signed a lease through 2018, last I heard through their booking guy Matt Shapiro. There have been so many artists I have admired over the years and fantasized playing with. I would probably commandeer the Fox, and I would play with Neurosis (though they've been playing Regency lately...) But nobody who came for Neurosis would want to hear my set because it's not like Neurosis at all, haha. So my second idea would be opening for Nick Cave or PJ Harvey. So maybe I'd do a two-night thing, for the different folks who like each band.
But really, I should be playing with Iggy Pop and Blondie, they're two musicians who I feel capture the spirit of what I'm about. I'd be happy to hop on stage with Debbie Harry or Iggy any day, just for a song.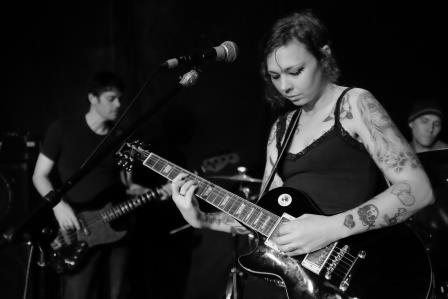 PUNK GLOBE:
Do you have any Internet addresses you would like to share with the readers?
Kyrsten Bean:
My twitter. Follow me!
@kyrstenbean
My first EP:
https://kyrstenbean.bandcamp.com/releases
I will be linking the new EP there soon as well (hopefully by the time you see this it will be up) If you want to hear any of the other projects I've been on, check out Hedersleben I
https://hedersleben.bandcamp.com/album/upgoer
Brainticket Past, Present & Future
http://brainticketband.com/press/news-2/new-album-past-present-future-available-february-17th/
and Survival: Shayda
https://survival1.bandcamp.com/album/shayda
Also, a poem. Still kind sums it up for me.
http://www.guttereloquence.com/issue21/kbean21.html
PUNK GLOBE:
Describe yourself in three words?
Kyrsten Bean:
existential gemini missile.
PUNK GLOBE:
Any final words for the Punk Globe readers?
Kyrsten Bean:
GINGER IS THE BEST. BUY THE BEST OF PUNK GLOBE BOOK . So supportive of punk everything with some amazing stories to tell... Keep reading! Punk's not dead. It's not about the costume. It's attitude and tenacity and sticking to your guns. MAKE SOME DANCE MUSIC!