JESSICA DICKSON
"INTERNATIONAL MASSAGE THERAPIST"
By Kim Acrylic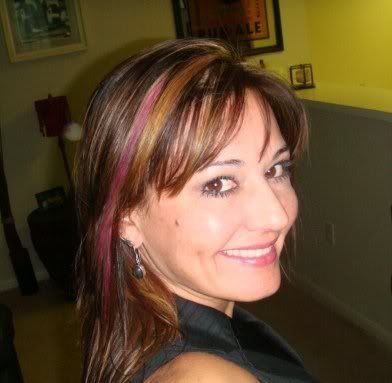 Punk Globe: Hi Jessica! so glad I could interview you!

Jessica Dickson: Hello Kim, nice to meet you and thanks for having me.

Punk Globe: So you are a professional massage therapist?

Jessica Dickson: Yes, I own my own company called www.massagebyjessi.com. I am an International Massage Therapist stationed in Houston, TX and I work on everyone from disabled children to rock stars worldwide.

Punk Globe: And how long have you been doing that?

Jessica Dickson: I have been a massage therapist since January of '05.

Punk Globe: You specialize in Ashiatsu Massage, Deep Tissue, Therapeutic Healing and Musicians Massage. Can you describe that a bit more?

Jessica Dickson: All of my massage methods are focused on deeper pressures and relieving the cause and not just the symptom. I am not a one hour session therapist. Most of my clients are on the table for one-and-a-half to two hours as they like to get to the deeper levels ridding them of the everyday pain and discomfort they are experiencing for lasting results.
At gigs I only have twenty minutes backstage sometimes; and if they are lucky, a whole hour to get the same results as I would in a regular client session. This is very taxing physically for me but extremely rewarding. I have a unique and special Musicians Massage that I have developed that is focused and fast. Most of the rockers say they have never experienced the depth of my massage, or the detail of my hand/arm massage and lower back techniques -- saying I am the best massage they have had. I was told I need to teach my special techniques to others...maybe someday I will have the opportunity to let the secret out. I do believe in the greater good of all and would love to share what works with my peers.

Punk Globe: When did you know this was your calling?

Jessica Dickson: Well, I was always the little girl giving massages to my relatives and the wee one walking on the backs... and I always pet my animals for hours without getting tired hands. You've heard these kinds of stories I know. But the real catalyst is my mentor, M.K. Stalder. She placed me in all my corporate positions in the past and one day she looked at me in '98 and said, "You need to be a massage therapist." I thought she had totally given up on me. But instead, she bought me a two hour sports massage, and when I got up from the table I knew I wanted to make people feel that same way. It was amazing! I was able to follow-up on her advice six years later, and now here I am. I am meant to heal people, it is my life's work and I was born to do Ashiatsu massage. My mentor called it and now I am forever grateful to her for that. Weird, wild stuff.

Punk Globe: How is Ashiatsu different from the other massages you get at a regular parlor?

Jessica Dickson: LOL you said parlor. Ashiatsu Fusion is a massage that is like no other. It is considered the deepest most luxurious pressured massage on the planet. First of all, the majority of the massage is done by the feet. There are actually bars attached to the ceiling and I glide on the back and legs while my arms are located overhead in a constant pull-up position. I interact a lot during the massage regarding the levels of pressure that are comfortable for the client. This massage improves circulation and immediately removes lower back and leg pain in a comfortable compression style method. Lack of circulation is one of the root causes for most symptoms of health deficiencies. Deep pressure lovers usually do not go back to regular deep tissue massage after experiencing this delightful depth of even pressure. It is "The Deepest Most Luxurious Massage on the Planet." You've got to try one.

Punk Globe: Well, I saw A LOT of foot action on the video of you

Jessica Dickson: Yes, I'm like a ballerina in the air just like my grandma, Celeste, said I would be. 85% of the massage is done with my eyes closed and I intuitively feel the same things with my feet as I do my hands. I am totally into my craft and it shows. I find it so fascinating that the ankle is made perfectly for the scapula. When I am up on the bars and into it; the flow is like a dance with energy pouring through me into the person, while they get the deepest massage relief they can receive. I hope you post my video so your readers can see how amazing this massage really is. They can also see it on my website at www.massagebyjessi.com.

Punk Globe: If you went doing massage, what would you be doing?

Jessica Dickson: I am a sales and marketing professional by nature, but if I could do anything...I would travel the world and write about it. Writing is another passion of mine and I would love to blend it with my passion for travel. I would also finish writing my story...BettiBlu and Her Adventures in the Majestic Mystik. Of course, I am the BettiBlu and it's about my adventures. Lots of colors in this painting I tell ya!

Punk Globe: Tell me a bit about your life growing up, your aunt was Kathy Peck of the Contractions and your uncle was David Denny, formerly of the Steve Miller Band. That must have been interesting, right?

Jessica Dickson: Oh yes, very interesting. I am a little fairy girl spreading grooviness and love all around the planet and I always have been. I lived with my aunt, my mom's identical twin, in San Francisco, in the late 70's. It was such a cool experience I will never forget. Halloween on Castro Street in 1978 was a psychedelically delicious circus for a young girl in a gypsy princess costume (those 'So Fine' see through butt window leather pants with roller skates on and black leather hats were sooooo fine all up and down the sidewalks!). Aunt Kathy took me to all kinds of funky music shows, festivals, art galleries and all over eclectic San Francisco; getting a real taste of the post-Woodstock civilization in California. She really opened up my creative side and allowed me to develop as an artistic being. My baby sitter in San Francosco was Karma Moffit the Tibetan Bell & Chakra Master and there is where my knowledge of the metaphysical world came into play. I actually met uncle David at a Steve Miller show! He left me front row tickets at Will Call with a pass and I met him for the first time ever backstage with the band. What a story! Lol! We are all so close and they are such a big influence on me in music and also professionally. I am the luckiest girl to have such rad relatives.






Punk Globe: What kind of music do you like?

Jessica Dickson: I like it all, but...I'm a metal girl at heart. I could do without the slow crap wrap and regaeton...I will leave a party if they are playing regaeton for more than one song lol; and that's the truth... I experienced all genres of music growing up from ringing Tibetan bells & Punk Rock to Classic Country & Rock and even became a B-Girl with the rappers. I'm an MTV kid that later punked it up with wigs, unitards, go-go boots and face paint and rocked it out with stilettos, bobby socks and miniskirts with my girl Joco. And I went to a Lollapalooza show or two. I was a concert queen growing up thanks to Aunt Kathy. She turned me into a concert diva and I love her for it! My first concert ever was the Allman Brothers, hence my favorite all time song 'Melissa'. My favorite voice to hear is my son Joey's...he plays bass and sings in 2 bands (just like Aunt Kathy!). It's like hearing my heart sing to me. I really think it's cool that both my boys Tres and Joey enjoy the same music as me. It makes our time together a lot of fun.

Punk Globe: Did you ever want to be a musician?

Jessica Dickson: Ha! No. I played the drums in junior high, and I've written a few songs over the years, but 'nevergonnabearockstar,' as I always say. When I was a child (like five and up!) my uncle Rockett would quiz me on every song we heard...first note. I would have to know all the band members' names and what instrument they played, all the words and I would not get away until I knew something personal about each one. Back then. I had to know the side of the album and the record cut. It was intense! I'm more of a fan and I've found that I wither away if I'm not connected to creative people like myself. So the music industry is my perfect fit in massage. I have met so many dear friends through music and I am grateful for this creative journey.

Punk Globe: You have massaged a lot of great bands and musicians who did you have a better experience with?

Jessica Dickson: Motorhead's Phil Campbell is one of the nicest guys I have worked on, but my all time favorite is Andy Ferris from INXS, he is one of the most truly interesting people I have ever met, and a great person in the world spreading love through music.

Punk Globe: I heard if you give deep muscle tissue massages that some people actually vomit from the toxins released is this true?

Jessica Dickson: I suppose it does happen for some. It really depends on the individual and how well they have taken care of their bodies before they receive the massage. A few of my clients will claim to be a bit dizzy when they get up from the deep tissue massage, but those are the ones who have waited too long to get a massage since the last time. Most deep tissue clients are very in tune with their bodies and they know when they are overdue for a treatment. It is part of their health routine and is worth the side effects of the toxins to them.

Punk Globe: What music do you listen to when you do your work?

Jessica Dickson: My clients all know I am high maintenance about my music. I am all across the board. It was all Buddha Bar, but now I like late night mix styles. The majority of my clients like the fact that I let them pick what they want during their sessions. So I've had from Beethoven & Pavarotti to Metallica & Jane's Addiction (as well as soothing massage music). Some even listen to the game on T.V. But for the most part it's usually whatever I'm feeling I play, and the clients tune it out anyway and get lost in massageville with me. I just start the session by saying, "let me take you to my little world"...hehehe.

Punk Globe: What was it like massaging Mr. Rod Stewart and Eric Clapton?

Jessica Dickson: Are big camps and an honor to work on such big name tours. As all tours go, if I can work on the people who need it most, than I am truly satisfied. It's an honor to be a part of the show after you've worked on a spectrum of the tour members. To see everyone feeling better, being more productive and putting on a great show...I am left smiling knowing I healed them and made their lives easier that night. My favorite was when I worked on Harry Connick Jr. and then during the show he threw his leg up on his piano while still playing it and was very limber and having an athletic blast. His lighting guy leaned over to me and said "Wow, I haven't seen him do that the whole tour!" That was a cool feeling. That's what does it for me.

Punk Globe: Do you ever travel to do massage?

Jessica Dickson: Well, Kim, that is honestly one of the main visions I had for my massage career once I mapped out the opportunities I could create. Massage has given me so many experiences and taken me all over the world since I became an official healer four years ago. My Euro Family, who crowned me, "GstarJessi," met me through massage and music and I travel to see them two and yhree times a year now. This is just the beginning for me. I am creating my life like a painting...tap tap...now that's art.






Punk Globe: You work with disabled children, tell us a bit about that, I think its wonderful!

Jessica Dickson: My best friend from 3rd grade, Carrie Conn, and I never lost touch. She started a non-profit organization called Carrie's Heart (www.carriesheart.org) a few years ago that helps disabled children in Houston, Texas, and in Mexico. We collect supplies and monetary donations in the states and then distribute them to severely disabled children in both the US and Mexico. Most of these families in Mexico live in huts in the Mayan villages and are suffering the poorest living conditions you can imagine. The government has forgotten them and most of them have lost hope. Our mission is to bring these children joy, love and hope and to change their lives...one child at a time. I mirror with our organization's physical therapist Luis and massage the children and their mother's to improve their mental and physical health while I am there. This is my life's work, improving the quality of life of those who can't help themselves.

Punk Globe: How was it coming from being a sales and marketing professional to a kick ass massage chick?

Jessica Dickson: I fell right into it. My career took off immediately. My skill set and business experience were in place so I planned out each step. I had decided I was going to be one of the best internationally. After 2 years in the industry I attained my goal of international status. Like anything else it's all about having a good product and marketing it smart. So I guess being true to myself helped me to realize my dreams and realizing my dreams helped me be true to myself. Now it's sooooooooo good.

Punk Globe: Any advice for people trying to get into the field?

Jessica Dickson: Number one piece of advice...You've got to be good inside, before you can make anyone else feel good. A clear mind and a high level skill set will get you everywhere. Take pride in your craft. Additionally you have to be able to market yourself and find your niche and gimmick. You can take your career wherever your passion lies. I'm proof of this...you can do it if you just listen to yourself.

Punk Globe: Are you into aroma therapies at all?

Jessica Dickson: Yes aromatherapy is a part of every massage, it's a must. Usually my oils are lightly scented, but for specific cases I use a blend of oils to fit the needs of the client.

Punk Globe: Do you have a special diet you stick to?

Jessica Dickson: Well...I happen to be on the ever so popular FOOD diet! I usually order the left side of the menu, ha! As you know I work out for a living since you saw the Ashiatsu video. It's like a two hour uphill pull-up each session. So I usually have to consume massive amounts of water and a lot of protein and carbs along with a good multivitamin to keep my energy levels up. I'm not a big sweets person, but I will never pass up raspberry cheesecake. And I love the fact that I do not have to work out. I get off work..and walla...it's done. The keys to youth, in my opinion, are stretching and water...you can't get enough of these two things in your health life.

Punk Globe: You really rock Jessica, got any message for

Punk Globe

readers?

Jessica Dickson: All around the world, when two like souls meet...they already know one another. Know your soul. ~jessi_d

Jessica Dickson: Also I want to give a shout out to my homey D*Astro*Not...keep on rockin'!

Punk Globe: Thanks so much for this chat...hope I can score one of your massages some day!!!!

back to homepage