This interview is a chance of a lifetime and I am eager and excited to have brought it forward. Jayne County is a legend in her own right and with her amazing attitude she has brought forth a magic in music, entertainment and everything in between! Here is the sparkling interview that set my heart ablaze!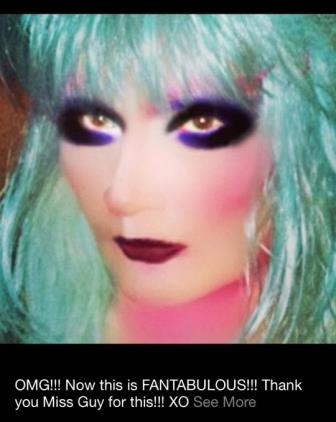 PUNK GLOBE:
As a legendary performer, what is one performance you always enjoyed doing?
Jayne County:
I think the one performance that I really loved doing was appearing in the RAMONES musical in Berlin about 7 years or so back. It was great getting to go back to Berlin after the Wall came down plus having so much fun appearing as a trashy character in the play. I played a punk rock junky hooker who shoots up speed on stage and hangs out in a dive bar on the Bowery, called The Pink Pussy. I put a happy pill in this punk rockers drink and chased him around the stage as he sang 'Somebody Put Something In My Drink!' It was hysterical. I also sang 'I Wanna Be Your Boyfriend' changing the boyfriend to girlfriend ! I spoke German in the play as well! I can't remember what the play was called! I'm getting senile! I think it was 'Hey Ho Lets Go !' It was an Australian production and they tried to get it to come to NYC but they ran in to a lot of problems with Johnny's estate. The rumor was that Johnny's wife was asking for an outlandish amount of money and that she was making all sorts of crazy demands. I don't really know! Anyway it's a shame the musical never made it to NYC! It was really a fantastic experience! I also really enjoyed doing my gig at the Roxy club in London in 1976. X Ray Spec were also on the bill. Jesus, what a asshole Poly Styrofoam was! Shitty attitude! Good band though! I also really loved the party I did with Kiss years ago before anyone knew they were. It was a fun night. Everyone got so fucked up! I remember walking in on Gene as he was humping these three really weird looking girls. I think they were girls. One looked like Godzilla in bad drag! And as I was shutting the door I heard one girl scream in a very low gravelly voice,"I can't find it! Where is it ?" I was on a lot of Quaaludes and I almost I tripped over some passed out guy, who was on the floor dressed in a maid's outfit! I only got payed 300 dollars for that gig. I don't think Kiss got paid at all ! I think that was their first gig. The Village Voice gave the gig a rave review and they didn't even mention Kiss!!! They had on all this make up that the Max's band, The Fast had been wearing for years. I couldn't believe it! I told a friend that there was this band called Kiss who were dressed like The Fast playing these songs that all sounded like The Rolling Stones, 'Jumping Jack Flash !' The big ending for my last song was when I sprayed whip cream on members of the audience then got down on my knees and started licking it off ! Some of the guys in the audience got really freaked out but the girls all loved it! Jobriath was at that party as well! I also loved the gig I did with Nina Hagen in 1978! Oh that was a gas ! That show has just been released on DVD and CD! You can order it on Amazon and loads of other places! It's on ITunes as well. It's called, 'Wayne County And The Electric Chairs Live At Rock Palast" It was broadcast live on German TV and it went all over Europe! Palast is German for Palace. Rock Palace! Oh there were so many other shows and gigs! I was thrilled to play Israel and got to visit Jerusalem. I am really in to ancient history and archaeology. I love old buildings and ancient cultures. We visited an old Roman village and a Druiz village as well! Also I got to visit The Valley Of Megiddo, where ARMAGEDDON is supposed to take place ! That was exciting! There's an old Christian monastery at the top of a hill overlooking the entire valley! It was very eerie and quite spooky! All that 'End Of The World' vibe and all! Another gig that really stands out is a festival I did in England that also had Yoko Ono on the bill. She was a scream. Literally!!! Lol !!! Her son Shaun got really fucked up and picked a fight with my bass player! He was a real ass and it made the daily papers there! The headline was really funny. Something really stupid like "John Lennon's Drunken Son Picks Fight With Psycho Punk Rock Transexuals Bass Player!!!' LOL! So many more. I could go on for ever on this question! So many great gigs, shows and parties !!!
"John Lennon's Drunken Son Picks Fight With Psycho Punk Rock Transexuals Bass Player!!!' LOL!"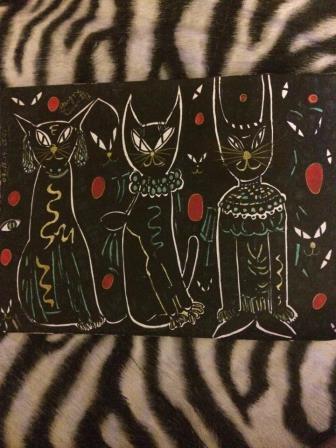 PUNK GLOBE:
It's been said that you have influenced many people over the years. How does that make you feel?
Jayne County:
Yes I think that I have had an influence on many artists but I also think that some of them are reluctant to admit it! Some have attempted to sort of copy me or offer a more watered down version of what I do but I'm proud to say that I am the original and I would venture to say that no one can do it quite like me! LOL! The whole 'gender bending' trip and the merging together of the male and female into the GODDESS OF FRANKENSTEIN !!! I was doing this and doing it with Rock And Roll since the late 60's when it was still a taboo and thought of as something scandalous! Drag Rock before there was Drag Rock! What you see people doing now in the guise let's say of HEDWIG for instance, I was doing in the late sixties when no one else was doing it. Well doing it in full view and getting noticed for it and making the magazines and papers. And touring the whole world! The whole 'freak rock' thing NOT disco as in Amanda Lear in 1977! That's a whole different trip. And I started doing this shit way back! It steadily grew from the freaky not bothering to look 'real' shock rock thing to the more 'transgender' Rock And Roll trip. Almost exactly what the fictitious character of Hedwig is known for doing! In fact the similarities are amazing! And my Rock And Roll Trans character has existed years before Bowie's Ziggy Stardust. Needless to say that if there had never been a cast of Andy Warhol's PORK, I doubt that there would have even been a Bowie as we all knew or know him. David's a great artist and an amazing man. But he didn't just make that all up on his own. David took from everyone around him and made it all his. He did it good and made it a huge success! The British are great at doing that and that's why I love the British so much. Along the way I think a lot of people 'borrowed' from Wayne/Jayne County, it's just too bad that none of them have seen fit to return anything. But that's life! What can we do? I think a lot of my work was pioneering. Like a covered wagon going across a desert with a 20 mule team! I was shot at, chased out of down, escorted over the state line by the police and had the power purposely cut off in the middle of my performance but somehow I managed to muster up enough strength to keep going on! It's a constant fight to pull out any credit for my work in a historical content from the mainstream and the powers that be within the current media. I'm still constantly over looked or ignored in some circles. As in a certain mega live drag show on TV recently where they presented a Trans/drag history section, where all these people who came way after me were mentioned but not one mention on my name !!! So SCREW THEM!!!! But it has gotten better. Anyway I know I won't get my full recognition until I'm DEAD!!!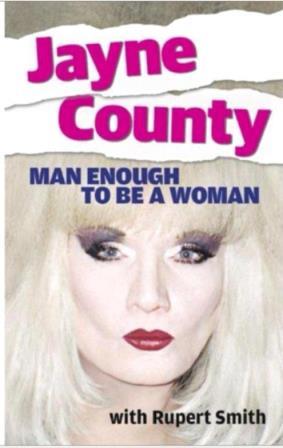 PUNK GLOBE:
What are some of the new things you're doing now?
Jayne County:
Some of the things that I am doing now are mostly concerning my art and my cats! I've always been quite an artist and I have always drawn and painted since I was a little kid ! I keep working on a few things at once! Some get finished and some don't! I have always liked the idea of 'unfinished work !' There's just something really cool about it! Imagine if the Mona Lisa was unfinished! Like if she had only half a lip or was missing an eye! Or if that painting of George Washington crossing the Delaware was only half finished and George had only one leg or was floating on the top of the river instead of being in a boat! So I work on several things at once. Sometimes I stick them in a drawer and forget about them. Then ages later I'm looking for something like a pen or a rubber band or an old tab of LSD then wham there it is! An unfinished work of art! Sometimes I will even take it out and finish it or maybe do a bit more work on it . At the moment I'm also helping the cat population by getting wild or abandoned cats spayed or neutered. I run a little CATHOUSE and I take care of cats and try to find them homes. Some were strays and some were just left behind when their dipshit owners raptured their sorry possum turd asses off to a new address. I hate people that do that. I think they should be arrested and forbidden from having any kind of pets at all! Can you imagine? Just up and moving and leaving your poor pets behind ! Lowlife bottom of the ladder ass eaters! ! I hope they get cancer and their legs slowly rot off. I hope they get leprosy and their ears and noses slide down their pathetic faces and get flushed down a toilet! Anyway you can donate to my CATHOUSE ! Contact me on Facebook under Jayne Rogers or on Twitter as JayneCounty or on Instagram under sweetjayne666! There's also a donation page on Facebook ran by the wonderful MROZINSKI ! It's called Auntie Jayne's Cathouse. There's another Auntie Jayne's Cathouse on Facebook but its inactive because I can't think of the password! Also people can buy my art work and the money to that also goes to my Cathouse! I do really nice Cat Drawings ! I'm retired from the stage now and I will only do a show if its a really special occasion or event. I'm still writing songs as well but just don't get the chance to record much anymore. My last recordings were with The Electrick Queers, my Atlanta band! A great bunch of guys ! We got a great song up on I Tunes called 'Are You Ready To Fight Hate And Bigotry?' The other song we recorded called, 'Imma Gonna Go To Hell When I Die' will be up soon. Also my manager and I, The Fabulous Jim LaLumia, are looking for a film deal for my book "Man Enough To Be A Woman.' The book has been released on E Books and you can now download it! It's also on Amazon. You can also still find copies of the book on the internet. I think they are pretty expensive and I hope we can get another book pressing of it out one day! Also you can find me ranting and raving about all sorts of things on Facebook! No I haven't dropped off the face of the earth yet!!!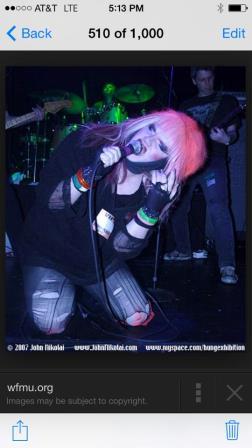 PUNK GLOBE:
I consider you probably the most liberating human being. I love your guts, attitude and mojo. You've done wonders in your career and what strikes me is you acted in Andy Warhol's The Factory. What was that experience like? (This is Gypsy You're talking to, and Andy Warhol tugs at my heartstrings!)
Jayne County:
(Part A.) Well I appeared in Andy Warhol's PORK in 1971 at La Mama then at The Roundhouse in London. The play was basically a bunch of phone messages and conversations that had been collected by Warhol where he baited people into saying the most awful things about each other. Andy loved trouble and where there was trouble he would stir the pot until it boiled over ! And if there wasn't any trouble anywhere he would be sure to create some so he could sit back and watch the fun! Andy came to see my play, 'World The Castration Of Man' and was impressed by my acting antics and Tony Ingrassia's directing. PORK was a sensation in London and started Wayne County, Gerry Miller (Flesh and Trash ) and Cherry Vanilla. At the opening night party in London Andy spent all night in the men's toilet interviewing young men with his tape recorder, as they peed! A lot of famous people came to see PORK including Rod Stewart and David Bowie who came multiple times. David was seen in the audience several times with a notebook and pen taking notes!!! What a Vampire!!!
Pt B. Andy was a great guy in many ways but a lot of people have the impression from the way he has been portrayed in films, that he is this ice cold, heartless monster that took advantage of all the downtown freaks! That he used them to draw attention to himself and chewed them up like rabbit tobacco and spit them out on heaps of cow dung like they were last years shitty baby diapers!!! But that would be a misconception! You are talking about Bowie ! (LOL!!!) Sure Andy, used people for certain things but all those people offered themselves to him to be used! Most of them didn't have the talent or know how to make it mainstream so they became underground disposable superstars ! They got fucked up on drugs and went off like poor souls with their tails tucked under their legs complaining, "Oh that mean old queen used me and took advantage of me and BOO HOO HOO !!!" Well I say BULLSHIT MISS THING! You had the luck and pleasure to work with one of the most amazing and intriguing artists of all modern times and all you can do is go off and complain like a whiney old possum turd stuck in a beavers dam!? I say to those people, SCREW YOU DUMBASS! Are you stupid or just a plain old asshole? When you work with the incredible Andy Warhol and you aren't intelligent enough to use that amazing fact to your own advantage, then it's your own fucking fault that you do nothing else with your life! What you do is, you USE the name ANDY WARHOL to promote and elevate yourself to another level and if you fail to do that then it is no ones fault but yours! To a lesser extent that can also be said about David, but the difference is that David hated when people did that but Andy loved it! David has always been a stick in the mud, about others he has worked or been associated with, running off and using his name, but not Andy! He was like a 'colonizer' full accepting the fact that his former artists or stars would go off and spread the ideas and fabulousness of that WARHOL MAGIC ! This was Andy's gift! And too bad that some of his former stars didn't recognize that! And they blamed all their pain and suffering on Andy! What a pile of CRAP! Andy was not a Doctor or a nurse or a DAD! He was an artist ! And that has been my attitude as well! Adding some unique underground New York magic to everything I do!! How lucky am I to be able to say that I worked with the fabulous ANDY WARHOL!!' Andy was not a monster ! He was a gift giver! He gave his name and aura! If some of his former stars became fucked up junkies and embarrassing pale images of themselves, that wasn't Andy's fault ! Andy knew what he wanted and he went after it and if you got in his way and became a problem then you were put aside! And that was not his fault ! It was the fucked up X stars fault ! They let the needle take over their lives and that had nothing to to with Andy! He was on the way up and his ART was taking off like a nuclear rocket to Russia ! Get out of the way because he was about to CHANGE our entire perception of art, and the modern world we all live in!!! Too bad David never realized that the people he had worked with OR had worked with him had a lot to offer the world and that they could spread the name of DAVID BOWIE, around in a fabulous way and actually elevate the name of BOWIE, in so many ways ! David deeply resented anyone using his name to help themselves spread their unique demented versions of Rock And Roll across the globe! He was paranoid that someone may actually get some attention for themselves by using the fabulous name of BOWIE! A name that did not make it on its own! David was over possessive of his name and influence! Not like Andy at all ! (When David played Andy the song David had written about him, Andy was horrified!) David should have learned from Andy that you don't get all nuts and defensive when someone brings your name up ! You should be thrilled that someone actually thinks enough of you to want to be associated with your name!! And the reason that David would get so nuts when someone dared to 'use' his name was that David was terrified and resentful that people might learn that all those fabulous ideas of his, didn't actually originate from out of HIS mind! He had ALOT of help! And there is nothing wrong with that!!! I feel that Andy Warhol and David Bowie are both great artists but in different ways. I feel so honored that I knew them both at one time in my life. I carry a piece of them each in my heart. I loved Andy so! And I feel so bad that David hates me now! It really hurts. David will never know just how much I loved and respected him. Oh well, that's life!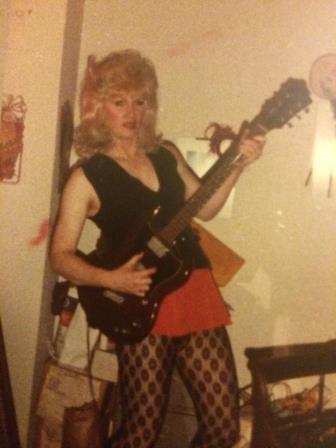 PUNK GLOBE:
Is there an element in music that you love working with, such as writing, recording or live acts or anything other element? If so, what is it? Why?
Jayne County:
There are lots of elements in my music that I enjoy working with ! I just love the idea that I can take an idea that originated in the dark recesses of my morbid, crazy, zany brain and translate that idea into music that someone else can listen too and maybe even be influenced by! It's an amazing and interesting process that requires a lot of energy and artistic creativity! The magic word is CREATE!!! The artist actually creates a piece of art or work of music that can bring joy and amusement to the listener! That is a magical and highly poetic instance of giving others a part of yourself! Something that you feel from your heart and soul ! You are giving them a part of yourself in a musical fashion! It can sometimes even be a very personal experience ! It's not like a lot of so called 'artists' today that have everything done for them! Their songs are written for them ! Their production comes from a 'team.' Their lyrics are pre written and in a lot of instances they are even told what to wear and how to even walk and talk and how to sing the song! Well where is the artist? All covered up by everyone else's egos and dreams!! And often the so called 'artist' is only a vessel of other people's ideas and talent! They become an empty shell of a zombie or puppet, worked by other peoples 'strings !' Just a mouthpiece. Even their moves and dance steps on stage come from someone else ! They become a commodity to be sold and auctioned off like slaves! Slaves to the recording INDUSTRY!!! Where is the SOUL? Where is the HEART? Where is the LOVE? Where? Well here it is! Right here! It's called A BIG FAT CHECK! Gobs of money that go in, to the greedy pockets of the record company moguls!!!! The Puppet Masters of the soul destroying recording industry! All the real and true artists become pushed out and shunned because they aren't 'commercial' enough to make MONEY for those over stuffed, over payed, BOSSES! Music just becomes another commercial enterprise in our harsh, uncaring, capitalistic system that reduces everything and everybody into a PRODUCT, to be sold, used, and then tossed aside like last years old crow's nest! That's right! Last years model! Last years talk of the town! Last years pretty young things and money making products! Sale date past due! Throw it out, into the garbage, of broken hearts and disappointed flesh for sale music industry pimps and whores!!! WHERE IS THE ART??? Where is the basic respect for human creativity and artistic empowerment? WHERE? Thrown out into the trash with everything else! And THAT my friends is where you will find the real artists! In the TRASH!!! And that's why I love trash !!! That's where you will find the real person! The real art! Take a single person, put them on a stage and say, "OK you got it. Do it !!" A real artist will take that instance and turn it in to something original and magic. Put a bunch of people that can sing (Or not !) and play instruments into a garage or studio and say, "OK make some music !" Chances are you will get something great! But commercial? Or 'mainstream?' Or something that can make tons of money for a bunch of jerks ? Maybe not. Maybe so! I myself am very old school. Get together with a bunch of great guys, write some great songs, go do a gig, go record the songs! Simple huh ? Well NOPE! Because unfortunately it's the 'Jerks' who control all the outlets for your music to be heard. And if they don't think you can make them money then you basically don't get promoted or heard. It can all be summed up in one word. MONEY! Even if your music stinks it will sell if its promoted and made available by 'the right people!' Why do you think it's called the Recording INDUSTRY? You can be making some of the most incredible, the most amazing music ever, BUT if you don't have the 'right' people behind you, sadly you will go NOWHERE FAST! But it's not all bad news! If you just want to make music and do your songs from the heart then just go ahead and do it! Do it for yourself! Do it for your friends ! Do it for your DOG OR CAT!! Who knows? Maybe some smart person somewhere will figure out how to make you a couple of bucks? In the meantime just do what you want! And if you want to decide to make music for the masses or mainstream, then by all means do that as well ! Who knows, you may be the next Lady Gaga !!! Or the next.......who?????!!!!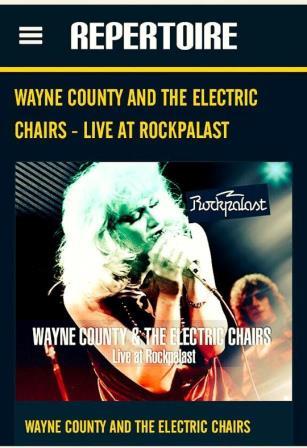 PUNK GLOBE:
Who has been an influence in your life to make you the fiery impact that you are today?
Jayne County:
Oh I've had a lot of influences. Probably too many actually!!! My taste in music is so varied! I was raised around early Rock And Roll and Country. Old Country. Not that boring, mundane tripe that they mistakenly label 'Country' nowadays!!! A lot of that stuff called Country today is just over electrified 70's Rock ! I'm talkin The Carter Family, Jimmie Rodgers, and Hank Williams and Johnny Cash ! Now THATS Country ! And Tammy Wynette and Loretta Lynn! And I was exposed to Rock And Roll as a small child. Jerry Lee Louis, Chuck Berry, Little Richard, Screaming Jay Hawkins, Hank Ballard, all the greats really. I remember as a small kid, I would wrap a T Shirt around my head and pretend it was girls hair, put on a pair of Mamas hi heels, tie my jump rope around the front door knob and dance up a storm to American Bandstand!!! Boy that door could swing! And Mama bought me a little pink record player and I would beg her to buy me Rock And Roll records! Lord I loved Rock And Roll! I would grab one of my Granny Yulas hair brushes or one of my Aunt Shirley Dales old combs and sing in to it like I was singing in to a microphone on Ted Macks Amateur Hour!!! I remember seeing Brenda Lee on Ted Mack's singing "Let's Jump The Broomstick' and it forever made an impression on my mind ! When I got in to my teens I became an Anglophile and worshipped anything British. A big influence on my hair style was of course the fab, gear, dolly, rave Dusty Springfield! Those teased up dos are still a huge thing for me even now! For me the teased up Dusty, I Dream Of Jeanie hair dos are just the best in la world! They have always been my style and even though I gave them up for a short spell to experiment with other styles they still to this day remain a style that has been identified with the Wayne/Jayne County image. Other people have tried to borrow the style away but we all know who it really belongs to!!! I guess some artists can't come up with an image of their own so it's quite easy just to copy others! Musically I was influenced by so many artists and people that they are a just too numerous to mention. By I was a big fan of The Beatles, Rolling Stones, Kinks, Pretty Things, Yardbirds to name a few. Then when I became a 'hippy' I loved the usuals, like The Doors, Hendrix, Joplin and The Byrds as well as Jackie De Shannon, The Supremes and Dylan and Donovan. Oh and The Searchers and all the Phil Spector stuff like The Ronettes and The Shangri Las. The Psychedelic Garrage Bands of the 60's had a huge influence on me. They influenced quite a few of the Punk Rock bands of the 70's. Bands like The Seeds, Count Five and The Castaways. The Standells, Thirteenth Floor Elevators and The Sonics ! The Tumbling Weeds, Blue Cheer and The Remains! One of my fave CDs is that Ramones cover cd called 'Acid Eaters!' That's my fave Ramones album. And another influence is that LP of Lotte Lenya singing Berlin Theatre Songs German. They are early recordings and the organ sounds incredible ! The songs are by Bertolt Brecht! On it are the original versions of 'Mack The Knife' and 'Alabama Song.' (Moon Of Alabama) Or also known as 'Whiskey Bar .' "The Ballad of Mack the Knife", originally "Die Moritat von Mackie Messer" Bobby Darin's version of course was a big hit!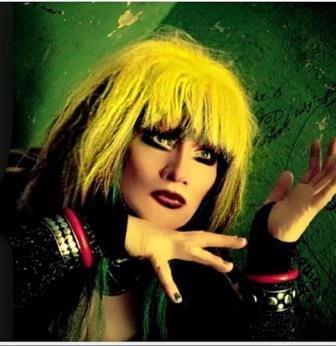 PUNK GLOBE:
How do you feel the entertainment industry has changed for the world of LGBT's. And have you been told you're an impact for those changes?
Jayne County:
I think the LGBT Community has a really good chance of coming in to the mainstream now in many ways but I don't know yet if it's going to have a positive effect. I mean it's all about equality and that's all good but how bland and boring is it going to make the Community? Will the edge that many Gay artists have, be blunted? I mean to go mainstream you have to whitewash and bland yourself out ! But I don't know because I never really considered myself a LGBT artist to tell you the truth. When I first fronted a band I never played 'Gay' places. I went out as a Rock band and played regular Rock venues! The Gay places wouldn't have hired me anyway ! They had no clue in understanding what I was trying to do! Most were horrified and even very belligerent toward me! At my first ever gig at NYU the head of the Gay Liberation Front at the University pulled the electricity plug on us! I was performing with my band Queen Elizabeth featuring Tommy and Jimmy Marcus from The Miamis! Two of the greatest song writers on the NYC scene! There I was one of the original people who was in the Stonewall riots and this narrow minded little fascist queen had the nerve to judge me and censor my music! I will never forget or forgive that! The more 'Straighter' elements and anti Trans feelings of some of the 'Gay' rights activists have always and still do have a problem with me! It's like all the 'Members' of the LGBTCommunity have to be the same, and if you don't fit in then you are shunned. I don't fit in any where really! LOL ! I'm my own individual creation. I consider myself a true artist. All I do, I do myself! No one owns me, not even The Devil!!! I will kick both Jesus and The Devils asses!!! I listen to what everyone has to say, I watch what they do, then I make up my own mind! It comes from an unknown place that exits somewhere in some SECRET PLACE! And it's mine! I hear it in my head. It comes from out of nowhere or from out of somewhere! A good guitar player can translate what I hear in my head into chords! I can sing all the changes, verses, breaks, beginnings and endings because its a band in my head. My brain is a music chamber and there's always a song or idea in there ! Same with my art. I draw and paint in my head. And I taught myself. I developed my own technique. It's not Gay or Trans or Straight. It's ME! Conservative Organizations like GLAAD will never accept someone like me because I don't fit in to their narrow definitions of what is Gay or Trans. And I'm glad! I don't want to be a part of some movement to be accepted by so called straight mainstream society! I don't have to be equal with anyone because I am above all those made up rules and regulations! They are the busy little ants and bees and I am the HIVE! Those little humans all scurrying too and fro with their charted out outlines and maps of their already made up sour minds from Planet Boremetoshits!!! I don't even consider myself HUMAN! If anything I'm a CAT with thumbs! A CAT trapped in a humans body!!! I'm adverse to humanity with all their petty little laws. I fit in to no one else's mold ! They broke the mold when I was baked!!! LOL !!! HA! And I'm not male and I'm not female. I am NO GENDER ! Or Gender Variant ! No one can put me in to any particular category. I let certain people try, only to placate their nerves because I make them uncomfortable. I am not one of them! I am not one of you! I am one of ME!!! I am my own Private Oyster! My own created individual ! I am The Goddess Of Frankenstein ! And I made MYSELF !!!
"I am not one of them! I am not one of you! I am one of ME!!! I am my own Private Oyster! My own created individual ! I am The Goddess Of Frankenstein ! And I made MYSELF !!!"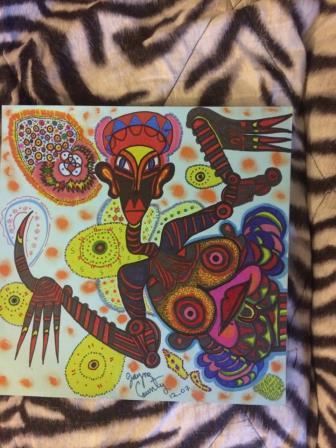 PUNK GLOBE:
On a personal note, you paint and art seems to be something that centers you. Is there a favorite element in art you enjoy using? Such as Acrylics, or oils or other media?
Jayne County:
As an artist of free will, I use everything and anything to get the colour or texture of the effect that I see in my mind. I've been known to use make up, ink or even food! But I admit that I especially like using Acrylics! And water colours can be nice as they are easy to use and mix with strange unusual liquids such as kerosene! But you got to be careful not to create a dangerous piece of art that could be flammable! I have a very large piece of art I created on a large canvas called 'Jesus In Purgatory.' I'm non religious and do not support organized religion but I love religious imagery! I'm a big fan of William Blake and my LP 'Storm The Gates Of Heaven' is full of William Blake imagery! Some of my paintings are also influenced by the art of ancient cultures particularly Ancient Egypt! One of my paintings is called 'The Birth Of Osiris' and shows his spirit inside of an egg and I used real crumbled up egg shells in the painting! It's FOR SALE by the way ! Kitty Babies need food!!!! And I got one showing Throth receiving a flute from ISIS ! The Goddess not the terrorist assholes! That makes me so pissed off. I used to use the expression, "Oh my ISIS" all the time ! Now I can't! Shitheads!!! I also love to put a canvas out in the yard or driveway and throw paint ball at it! I love an unusual mixture and coming together of coloures! I developed a technique I call "Drip." I even call them 'Drip Paintings. ' I won't devulge how I do them because someone will steal the idea! Believe me, it happens all the time! Lately I've been doing some CAT DRAWINGS and they sell pretty good and the money goes directly to my CATHOUSE!!! I also do another form of art I thought of all on my own, called 'Coffee Drawings.' It actually does involve real coffee but once again I shan't reveal my secret as there are thieves hiding everywhere!!! If someone wants to learn some of my secret techniques I will give art lessons on Sundays between 1 and 5 !!!
PUNK GLOBE:
You also are a total history buff, especially when it comes down to Ancient Greece. May I ask when did that begin? Why does it strike such a strong chord for you?
Jayne County:
Yes I am a real history buff especially ancient history. My faves are Greek, Roman and Egyptian but I am also interested in a lot of others especially the history of nations that have a 'Biblical' connection. When I was younger at one time I fantasized about becoming a Biblical Archaeologist and getting a job at the British Museum! I couldn't wait for the next Steve Reeves film! I got hooked on 'Hercules' and saw all the others as well! 'Hercules Unchained' and 'The Last Days Of Pompeii' and 'The Giant Of Marathon' and more. I loved 'Jason And The Argonauts' as well and all the other Greek and Roman themed films that didn't have Steve Reeves. All the Biblical epics as well . 'Solomon And Sheba' and 'Samson And Delilah!' And 'The Story Of Ruth.' Oh I ate them all up! I've studied many ancient cultures and religions. That's why I'm so knowledgeable about the history of The Middle East including Palestine and Israel going back THOUSANDS of years. And since I know the history I can tell when someone is full of shit. If they really know their history and what they are talking about it will show. And if they are only shooting off their mouths and are only repeating propaganda or falsities that they have only heard others repeating, I can also detect that! I know the history and who the certain peoples are and where they came from. Everything from their religious roots to their migrations and who they mixed with and who they became. So no one can fool me that they know what they are talking about by trying to turn a falsity in to some kind of truth just to suit their political leanings. Won't work with me! And when someone just absolutely INSISTS on pushing what I know is a falsity on me, I simply BLOCK them because then it simply gets down to a prejudice and I'm good at detecting that as well. People can be passionate about a certain belief but that still doesn't make that belief true! So I have a huge CORNFIELD and I don't have any qualm whatsoever about banishing some good little corn shucker to la cornfield! You're a bad man! You're a VERY BAD MAN! I have studied, besides Greece, Rome and Egypt, The Hittites, The Elamites, The Babylonians and The Assyrians. The Assyrians aren't the same as the Syrians. The Chaldeans, The Moabites and Ammonites, Israel, Judah, all the Tribes Of Israel, The Nubians, The Philistines/Palestine (The name The Romans gave The Land Of Canaan.) I've studied the descendants of Esau, Ishmael and The Queen Of Sheba. And all The Canaanite Tribes. And the Greeks including the Danaans. All the Achaeans actually. And The Minoans in Crete! And The Etruscans of Italy! And the Spartans, and....... Oh I could go on and on. Oh and The Trojan War! I'm a real nut for ancient TROY!!! I still read and study all about the ancient cultures. You can learn a lot about today by reading ancient history. I read it like other people read the paper or a magazine!!! And so of course some of my art is influenced by the ancients! And who could not like those beautiful Greek statues? Did you know that those statues were all painted bright coloures? All the Roman, Egyptian, and Babylonian and Assyrian statues as well! And it's influenced my music as well. 'Rock And Roll Cleopatra' and 'On The Crest' the B. side of 'Fuck Off.' And 'Plain Of Nazca.' Other tracks influenced by history are 'Storm The Gates Of a Heaven,' 'Speed Demon' and 'Wall City Girl' and 'Berlin.' Yep! Me is a big history buff!!!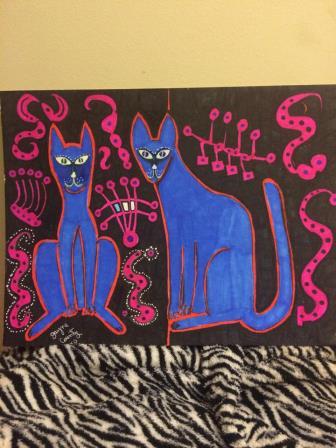 PUNK GLOBE:
Do you have a particular regimen before you begin doing a live show? If so, what is it/or they?
Jayne County:
Before a live show, I actually get quite nervous. You would never know it because by the time I hit the stage I am THE MONSTER!!! I usually eat very lightly that day which is very difficult for me because I love to stuff my face! FOOD! I LOVE FOOD!!! But sometimes i keep a a MacDonalds cheeseburger hidden in the bass drum so I can put my head in there and eat it real quick if I get hungry on stage or want to eat something that will make me vomit which the audience loves! I usually do a light make up job before I get to the gig then in the dressing room I pile it on nice and thick for the stage. The lights can be really harsh sometimes so I do a lot of shading only face and that can take a lot of pounds off! I put on my trimming girdle last thing and sometimes it may become too tight or uncomfortable on stage do I will take it off in front of the audience and make it all a part of the performance ! Back in the day I used to partake of a little happy powder but I got over all that ! I don't do that shit no more because I'm just too old and it ruins my health. I've got to stay clean for my babies! Doing happy powder can be a one way street to nowhere and one must struggle to avoid the bad habit of getting too fucked up before a show. I do however have a few drinks to get loose and I do make being a little erratic and crazy a part of the 'act !' The audience loves it when the performer gets loose especially a super cool Punk Rock audience. The secret is moderation and to make it appear that I am a mess when I'm actually just acting out a fantasy for my audience! Sometimes I will actually really throw up on stage! People love it when I vomit at the end of a song usually 'Fuck Off' or 'The Last Time !' Vomiting on stage can be really fun but sometimes I wish I had my old toilet bowl with me on stage so I could barf in the bowl! Putting my head down a toilet bowl can be a very humbling experience!
PUNK GLOBE:
You've traveled around the world and one place that got my attention is England, the epitome pf the punk scene. Is there a great memory you have from being there, that you'd like to share?
Jayne County:
Oh too many memories from England to put in one interview but making the film for Derek Jarman called 'Jubilee' was a fun endeavor! Although the long, boring, drawn out film was like watching paint dry, my scene stood out and has been called the best part of the film. Another highlight of the film was the scene with The Slits! They were amazing and what a great band! The rest of the wasted celluloid was just babel! Some people liked it I guess but I was sort of embarrassed by it really. At the opening everyone was of course in black so I showed up all in white just to piss people off. I was a square peg anyway so why even try to fit in! I sat in the back with my manager Peter Crowley and we escaped out the back door when no one was watching. Punks were in the audience screaming and throwing things at the screen ! Screaming things like THIS AINT PUNK and WHAT A LOAD OF BOLLOCKS and SHIT !!! They hated it and weren't afraid to show their disgust !! Years later the film has become a cult classic. Oh well, that's show biz! I love the fish and chips there! They used to wrap your chips up in news paper and people would laugh when they got their greasy chips wrapped in The Sun, a trashy daily paper that had naked topless women with huge knockers on page three ! Those page three girls were famous everywhere. Samantha Fox got her start on page three. London has some of the best Indian restaurants. I love Indian food ! Korma is my fave. And those onion budgies! Yum!!! When my band and I were recording at Marquee Studios, The Clash were recording in the next studio. It was fun hanging out with Joe Strummer for awhile. He was a really sweet guy! Another time we were rehearsing and Elvis Costello was rehearsing right next door. We didn't like them because I overheard them saying really horrible things about me at a gig where we shared billing! Also we were rehearsing a song with a great riff and we took a break and when we came back they were playing our riff !!! I wanted to go on and punch the shit out of them but the band stopped me! Everyone on the London scene HATED them! They were snobby little TURDS with attitudes. They thought they were better than everyone else. Siouxsie had a fight with one of them one night at the 100 Club. She put her cigarette out on the face of one of them! I can't remember which one it was. They were all assholes!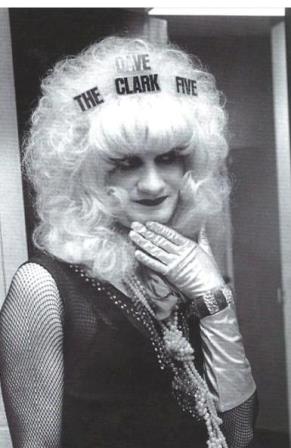 PUNK GLOBE:
What are you looking forward to 2015?
Jayne County:
Well I'm really looking forward to doing some more recording soon. The ideas are oozing out of my pores! I have some really radical ideas that I want to try out in the studio! And I'm gearing up to having another art show in NYC as well. I will just keep on being me ! I've got no choice !!! LOL!
PUNK GLOBE:
Is there anything you want to say to Punk Globe Readers?
Jayne County:
I hope all the Punk Globers enjoy this interview ! Also please get my DVD, CD of Wayne County And The Electric Chairs Live At Rock Palast ! And if you want ART please contact me on Facebook ! All the money goes to Auntie Jayne's CATHOUSE !! Punk Globe FOREVER !!! XO
Thank you so much for talking to The Gypsy Poet of Punk Globe! May you have a blast this year, as you have brought this Southern Gal some serious smiles!
Photos:
Paintings by Jayne County
Retouched by Miss Guy
B&W Group photo Courtesy of
FrockMagazine.com