Summer will soon be gone... Fall will be here soon.... MS. LIGAYA had an accident hurting her ankle making it hard to fly so MARC and her had to delay their return to Vancouver... Which may cause a delay on PUNK GLOBE posting..... Hurricane Harvey was coming to shore on the Gulf Coast...Causing major damage to most of Texas... It is right up there with Hurricane Sandy ...Houston, Spider Pot Hill Farm, Austin, San Antonio with help from Los Angeles Orange County expert Firefighters in Swift water rescue, Hazardous Materials rain slashing outer band hitting Austin with 10-21 inches, Houston 20 inches to 3 feet. One-third oil refineries shut down, Three tornadoes, 300,000 plus without electricity, winds in this Cat 1/ tropical storm. But it has NOTHING on that force of manhood WILLIAM LEVY....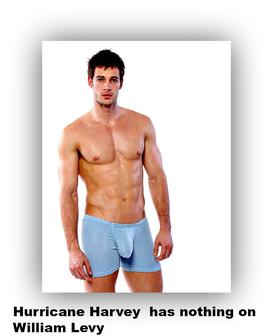 I would like to thank my long time friend PHIL CAMPBELL who payed guitar with MOTORHEAD and now THE BASTARD SONS for having this wonderful video filmed for the upcoming documentary about GINGER COYOTE....
(Phil Campbell Video)
MARC FLOYD aka THE FLOYDIAN DEVICE and MS. LIGAYA from ONE FINGER FILMS were in town from Vancouver to film interviews with more bitchin' folks such as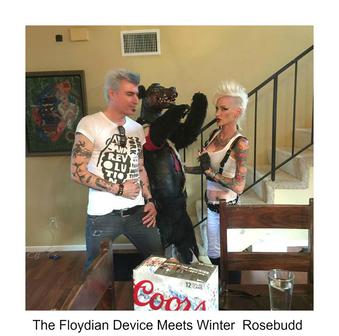 SHARON NEEDLES, BLAIRE N' BITCH, JOHN MEYER, BRANDON CRUZ, ALICE BAG, FRANCOIS from MOTORCYCLE BOY. SUSAN SURFTONE, JOE ESCALANTE, CHELSEA ROSE, JACK GRISHAM, WINTER ROSEBUDD, DAVE KLEIN, LIZ MCGRATH and RIK COLLINS.... Everyone that we interviewed added to the documentary.... WINTER opened up her home with a great spread all any drink that you could wish for... We got there around 6 PM where we were soon joined by LIZ MCGRATH and the fun began.... THE FLOYDIAN DEVICE got his early Birthday present when he met a huge stuffed bear got to see RIK COLLINS handcuffed to the bed begging like a good slave would.... We got to see LIZ MCGRATH'S fabulous artwork.... JACK GRISHAM also proved to be a wild and wonderful host... Saying that PUNK GLOBE is lots of fun and much like the NATIONAL ENQUIRER minus the tangerine terrorist propaganda... We got to see and film in DAVE KLEIN's rad studio in Highland Park.... And FRANCOIS opened up his treasure trove pad filled with cool clothes, records, SEX PISTOL dolls and an identical make up bag that MS. LIGAYA thought was a one of the kind with the one she had on her.... But else where in the world it seems Hate lives on.... In Barcelona, Spain A terror attack: One of the alleged Barcelona assailants has admitted in court that a bigger attack was planned, say judicial sources. Mohamed Houli Chemlal was testifying in the Madrid high court, where the four surviving suspects are appearing. He was injured in an explosion that reduced a house to rubble in the town of Alcanar last Wednesday. Fifteen people were killed and more than 100 injured in a series of attacks in and around Barcelona. Eight members of the alleged cell are dead - two were killed in the Alcanar explosion, and six were later shot by police.The last suspect was killed in a vineyard west of Barcelona. The surviving suspects were moved, under high security, from Barcelona to Madrid for a hearing. Oddly enough Isis is also taking responsibility for Charlottesville, Virginia which would imply that orange Hitler supports Isis.... After years of saying PRESIDENT OBAMA and HILARY CLINTON were Isis founders....The Moroccan teenager accused of carrying out Finland's first jihadist terrorist attack had been flagged months ago for extremist views, around the time he was denied asylum, the authorities said on Monday. The teenager, Abderrahman Mechkah, 18, stabbed two women to death and injured eight other people on Friday afternoon in the center of Turku, a city of about 180,000, according to the police. Officers shot and injured him. The authorities are treating the case as an act of terrorism targeting women......... Police Officer's killed in Orlando, Florida...Two officers were shot in Kissimmee around 9:30 p.m., just south of the theme park hub of Orlando, central Florida. They both later died from their wounds...... White supremacist leaders emboldened by Trump's presidency are trying to increase their power. They see the tangerine terrorist era as their time, and orange Hitler has done absolutely nothing to discourage them. The Southern Poverty Law Center called the white supremacist's action in Charlottesville the "largest hate-gathering of its kind in decades in the United States" with some media estimating that 500 white supremacists descended on the town. Americans across the nation are showing that white supremacy, violent hatred, sexism,and racism have no place in this country. And for every one of them, there are hundreds or thousands of us. In fact at a press conference for infrastructure the idiot starting defending the people who were there spewing their hate and blaming the people who wanted all the statue's honoring people from civil war removed as monuments removed. A young woman lost her life and many were injured for standing up for what they felt was right which was an end to hate and violence. orange Hitler has shown no remorse and stands by his words... Businesses that were involved with the White House started resigning until the president had to dismantle the project...America has not been pretty..... Here is some food for thought from THE CLASH..."I'm So Bored with the U.S.A.", like "Washington Bullets" after it, takes the United States to task for its support of violent tyrannical activities around the world, as well as then-recent US politics (e.g. Watergate). Talking about "yankee soldiers" getting addicted to "skag" during Vietnam with no help back home and "yankee dollar talk" giving orders to "dictators of the world" is a hell of a way to shake an American teen out of his or her stupor.
Had the NSA been pulling punches as they do now, I'm sure THE CLASH would've been high on a narc hit list.The Only Lyric That Matters: "Never mind the stars and stripes/ Let's print the Watergate Tapes/ I'll salute the New Wave/ And I hope nobody escapes". Here is what JAYNE COUNTY and GINGER COYOTE have to say about all the turmoil that is happening in the world.....
https://deadpuppyrecords.bandcamp.com/track/jayne-county-ginger-coyote-rock-and-roll-republikkkan
A special thank you out to JIM ROSE for the really rad film clip you sent to use in the GINGER COYOTE Rock Documentary...Drummer /Activist CHRIS CONTOS has some interesting thoughts about what is happening...I have to say this, I want to give props to everyone that has been commenting in the threads I have been posting about Nazis and Nationalism and the problems they continue to be causing in our country and around the world. Other than myself blasting a few people I have always had problems with over the years...and a few hot and passionate comments between others back and fourth. I'm really glad to see it not dissolving into hardcore personal attacks and threats. It is the (semi) passive exchange of information that will make us all stronger, more intelligent and able to deal with our differences and conflict. I'm guilty of going hard on people sometimes I own that. I'm trying to work on that. But, at the same time...I can't soften my standards or commitment to resist hate and oppression when I can. This is not a new subject that has been brought to my attention the past three years. This is how my Mother and Grandparents raised me. Strong Family lineage of abolitionists, WWll, Korea, Vietnam War veterans. I am NOT part of any movement or organization dedicated to fighting Racism. I don't need a membership to be part of resistance in the face of hate. I have much respect for the people's input even if i completely disagree, even if say you are wrong... So let's keep the dialog going and I commend you all.Producer JACK DOUGLAS let me know about another issue ..... Boycott all products that sponsor the news broadcast on Sinclair Stations. They are coming to your area since trump revoked a law PRESIDENT OBAMA was enforcing that denied the purchase of so much media by any one company. They mandate ultra right wing news be read by your local news people. I will have a total list of stations soon but in the NYC area it's WPIX channel 11. Please spread the word!!!!!! GERE FENNELLY and STEVE CRANE have returned from their Honeymoon in England... Before they lest they threw a big shindig to celebrate their wedding and GERE'S Birthday.... I went with IVAN COMAS and his friend JASPER from Amsterdam.. Our entrance turned a few heads at the party....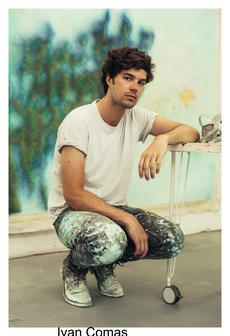 We saw SUGARPIE, COURTNEY, STEVE from Trader Joe's, LAURA MILLIGAN, EVAN, JEFF MCDONALD, CHARLOTTE CAFFEY and loads more people it was quite the soiree... Catered with great taco's along with water and alcohol.. Not to mention a shuttle service... ERIK CORE BAND has returned from a very successful tour of Europe and is releasing a new CD on CD BABY..... They plan on playing Southern California in the near future......Hope everyone heard SYTERIA on The Indie Scene Radio on August 15th..... Speaking of SYTERIA the Uitra Fabulous JACKIE CHAMBERS joined THE DICKIES in a rousing version of "You Drive Me Ape" Here is a link to watch it
A special shout out to BEATLE BOB for his kind message to PUNK GLOBE and the entire staff........
"Congratulations on your 40th year anniversary of your fab Punk Globe publication. I've been a fervent reader for these past four decades and gave your recent anniversary a big plug on my community radio show as well as my musical spot on a local St. Louis cable TV show I work for. I can't thank you and your boss staff for all of the hard work you put into making this one of the best pop culture publications in the world..." ~ Beatle Bob ....Here is a bit about BEATLE BOB...
AL CHAMPAGNE is doing a documentary on the New Orleans punk scene he is an article about his film....http://www.theadvocate.com/new_orleans/entertainment_life/keith_spera/article_36c5b98e-7ec2-11e7-a67d-fb3e60c99334.html... Please take a moment to listen the new THE WORST single "Backwash" and remember to FOLLOW! Album drops end of September!! https://open.spotify.com/artist/2eTaVdGyOGaVUFxrT90icX... THE VIBRATORS will be making their final tour of the USA.... KNOX is a top of the line guy who is it it for the music and not for the money... He penned one of my favorite songs BABY BABY in which the fabulous BEBE BUELL does an excellent cover of.... THE B 52'S played to a full crowd at Pershing Square.... I met a cool band called THE SH-BOOMS who have a rad CD out... They are out of Florida....THE FLOYDIAN DEVICE and MS. LIGAYA had their annual party at THE SADDLE RANCH after an exciting interview with JACK GRISHAM of TSOL .... A ride that they expected to be an hour turned into 4 hours.. Much like GILLIGAN'S ISLAND... But JACK who was dressed in a lounge jacket was very cool and they got a great interview...... Later that evening they were joined by CHELSEA ROSE, TIMM CARNEY, PETER CLUFF, DOG, KIM, RODDY and SUE NOVOTNY, LIBERTY BRADFORD and her husband BARRY CALDWELL, GINGER COYOTE, JON GRIES, NICOLE HENARES and THE RIVERSIDE CREW.... Sadly WINTER ROSEBUDD, LIZ MCGRATH, RIC COLLINS, NIKKI PALOMINO amd CARLOS RAMIREZ were unable to make it....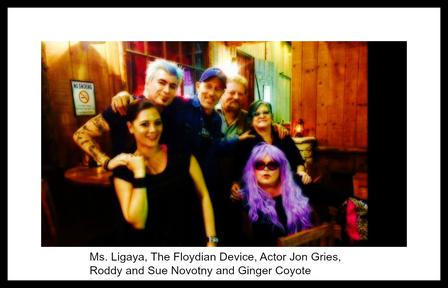 I barely saw anyone that I recognized at THE SADDLE RANCH from the old days besides LEVI FAULKNER... But it was alot of fun.... We got seated outside on the patio near what seemed to be an Amish Family who were so scared of us.... Just watching their faces twitch in fear and curious awe was so funny.... Please make sure to buy JIMI LALUMIA and JAYNE COUNTY'S hit song "LEAVE MY PUSSY ALONE" please check out JIMI'S article about how the project came about.... Here is an YOU TUBE Link for it...
MIKE and YVONNE FRANKO are headed to Hollywood to see BILLY IDOL and MORRISEY at The Hollywood Bowl in November''' DAZED the film heading to Miami Florida....PUNK GLOBE will keep you posted. https://www.dazedthestory.com
Miami has constant screenings of new filmmakers and not so new filmmakers. Thanks to cast and crew of DAZED based on the DAZED novels series by NIKKI PALOMINO .. THE FILM is getting all sorts of critical acclaim and it may be used in anti drug programs shown in schools...
CRIS DELAFE is working hard to connect Latin Punk bands into the world in general mainstream.....
A huge Birthday Shout out to MS. LIGAYA!!!! ICONS OF FILTH may be taking a break at the moment.... But will return soon to the stage....Author CURT WEISS will be speaking, reading, and signing books for "STRANDED IN THE JUNGLE: JERRY NOLAN'S WILD RIDE" in the following cities on the following dates. I'd love to see you there.
10/18 - San Diego, CA @ THE GIRL CAN'T HELP IT vintage clothing shop, 3806 Grim Ave San Diego, CA 92104
10/19 – Los Angeles, CA @ Book Soup, 8818 Sunset Blvd. West Hollywood, CA 90069
10/23 – Berkeley, CA, Books Inc. in Berkeley, 1491 Shattuck Ave, Berkeley, CA 94710
10/25 – San Francisco, CA @ Ameoba Music, 1855 Haight St, San Francisco, CA 94117
10/28 – Seattle, WA @ Elliott Bay Book Company, 1521 10th Ave, Seattle, WA 98122
11/6 – Philadelphia, PA @ Brewery ARS (co-hosted by Sit & Spin Records), 1927-29 W Passyunk Ave, Philadelphia, PA 19145
11/9 – NYC, NY @ The Delancey, 168 Delancey St, New York, NY 10002
11/10 – Jersey City, NJ @ Iris Records, 114 Brunswick St, Jersey City, NJ 07302
11/16 – Portland, OR @ Powell's Books on Hawthorne, 3723 SE Hawthorne Blvd, Portland, OR 97214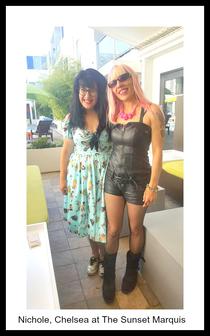 DAMN BROADS, are an all female 3 piece punk band from CT. They are releasing their latest album on Sept 1st, 2017. We are hoping to get a review. Below is their latest single off the album. https://damnbroads.bandcamp.com/track/monsters
CHELSEA ROSE recently flew to Hollywood to film the GINGER COYOTE Rock Documentary... She stayed at The Sunset Marquis with her pal NICOLE HERNARES... After filming her interview we went over to the Sunset Marquis and right when we reached the door I people saying Ginger and thought it was THE FLOYDIAN DEVICE and to my surprise it was ZOE R.G. KING with WILLIAM DUNCAN, CATHARINE KEENA and PAUL CURTIN who were also staying at the Hotel.... It had been years..... CHELSEA and I checked out all the cool MICK ROCK photo's of IGGY, THE RAMONES, DEBBIE HARRY, THE STONES and more on the walls... We met NICOLE to get a bite to eat by the pool where we met JOE FLETCHER the son of ANDY FLETCHER the keyboard player for DEPECHE MODE.... He was talking alot about DAVID BOWIE so I suggested he check out MOTORHEADS' cover of HEROE'S...I was off to do the interview with FRANCOIS and the girls were off to Burbank to meet ELVIRA... Well the interview rocked while the trip to Burbank for NICOLE and CHELSEA was a bust... The Mistress Of The Dark bailed out after 20 minutes of being there and they were waiting in a long line only to get told much later she had left... They got a Lyft into Hollywood only to have a horrific accident leaving them sore and in shock...They left back to San Francisco hours after the accident.. I would like to thank CHELSEA for the new BITE CD out on Die Laughing Records which is a greatest hits CD with some live bonus tracks... Buy it kiddies.... BRIAN KROLL of MY SON THE BUM has been collecting some vintage guitars that look really rad......If you're looking for a musical fusion experience unlike anything this world has ever seen, electronic country artist PANSKI will be performing a free Show at Whiskey Blue in Atlanta, GA on Friday, 9/15! Attendees will receive a free download of the EP. Sometimes it takes one fresh voice to start a movement. With his passion for music, skills with production and ear for taking completely different sounds and making them work, MICHAEL "PANSKI" KOPANSKI may very well be that person. PANSKI has opened up a whole new genre, a hybrid of EDM and country music, and is creating quite a buzz. With his EP, A Road Less Traveled, out on September 15, PANSKI is an innovative musician you will definitely be hearing more about...... GINGER COYOTE will be recording THE UNDERTONES hit "TEENAGE KICKS" this next month in North Hollywood with RIK COLLINS (TONGUE, THE SEEDS) and a band of old skool vets. Including the original drummer for BLACK FLAG.. LIZ MCGRATH killed a BLACK SABBATH song she recorded for the project.... Be sure to check out our sponsors links that have banners on the index page:
Dazed and Still Dazed
http://www.amazon.com/Still-Dazed-Through-Grunge-Rockers-ebook/dp/B00YHOVS4W/ref=sr_1_1?ie=UTF8&qid=1445645361&sr=8-1&keywords=Still+Dazed+Nikki+Palomino
MY SON THE BUM
http://www.mysonthebum.com/fr_home.cfm
TICKET TO WRITE
http://www.tickettowritethemovie.com/
H.E.A.R.
THE LAST GENTLEMEN SMUGGLER
-https://www.facebook.com/groups/1100845919933061/
DC - JAM RECORDS
-http://www.dcjamrecords.com/home.cfm
MUSIC LIFE RADIO
-http://www.musicliferadio.com/
Much Sadness in August...... Always funny Comedian, Actor JAY THOMAS lost his battle to cancer at the age of 69...
Actor SONNY LANDHAM who was in 48 Hours died of heart failure... Actor TOM SHEPOOD who was in Lassie passed away... Martial Artist RHONDEL CLARK died at 26 years old....Stunt Woman SJ HARRIS died in a fatal crash during the filming of Dead Pool.... ROBERT YANCY who played drums with NATALIE COLE died.... JOSEPH BOLOGNA who was married to RENEE TAYLOR passed away..... Journalist KIM WALL left this world.... Country Icon GLENN CAMPBELL passed away from Alzheimer disease .....
Cabaret Singe and actress BARBARA COOK passed away.....Actor TY HARDIN bid us goodbye.... Jazz Guitarist CHUCK LOEB said adios... PUNK GLOBE extends much sympathy to the fans, friends and families of all the fore-mentioned people who left us....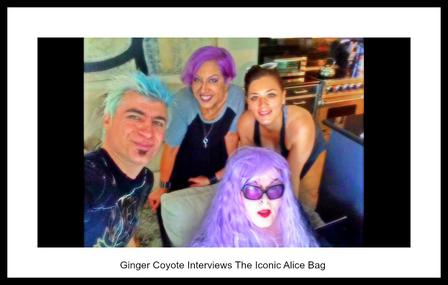 The September Punk Globe is filled with exciting fun..... THE FLOYDIAN DEVICE did the wicked cover and MATT COLEMAN did all the coding and page layouts........GINGER COYOTE Interviewed the inspirational and talented ALICE BAG.... She also chats up KEIRA KENWORTHY bass player for SYTERIA..... She also does a repeat interview with JIM ROSE and gets deep with RAUL SANDELIN and ED TURNER the men behind TICKET TO WRITE....She reviews DOUBLE NAUGHT SPY CAR..... JAMES CARLSON does in detail reviews on CHOIR VANDALS, NO USE FOR A NAME and CITY COP... JAIME PINA reviews MILO OF THE DESCENDENTS, ALAN VEGA, THE SLAYER and THE DEVILS by KEN RUSSELL.... MARY LEARY is back with THE LEARY FILES.... IVAN COMAS from Argentina showcases his paintings....
LACIE GRAYSON is back with ASTROSLUT....JIMI LALUMIA gives us the details behind LEAVE MY PUSSY ALONE with JAYNE COUNTY.... DAZED THE FILM gives us all the latest..... PUNK OF THE MONTH equals THE MOOCH and ED TURNER..... Find out about THE LAST GENTLEMEN SMUGGLER.... JANET HAMMER pays homage to WOMEN IN THE MOVIES.... DAZED and STILL DAZED..... BEN GAZEY tells us about the WACKEN OPEN AIR paying to tribute to the late LEMMY KILMISTER.. CRIS DELAFE gives his monthly spotlight on Latin Bands with LEVIATHAN..... LISA/PUNKRPRINCESS interviews COLLEEN CAFFEINE and SPICE PISTOLS.... THE FLOYDIAN DEVICE interviews his favorite JACK GRISHAM..... SHAWN STEVENSON interviews THE METZ from Canada....He speaks with SHANNON SHAW front woman for SHANNON AND THE CLAMS and gets the dirt on THE KOFFIN KATS....Please remember that you are reading all this in HOT GOSSIP.......
HAPPY BIRTHDAY'S late and early to: SEB KINDER, NICK HAWK, DIRK VERMIN, IRIS BERRY, MARC FLOYD, GINGER COYOTE, DAVID A GREGORY, SHARLA CARTNER, RANDY JONES, KIM DALLESANDRO, CHERRY VANILLA, IAN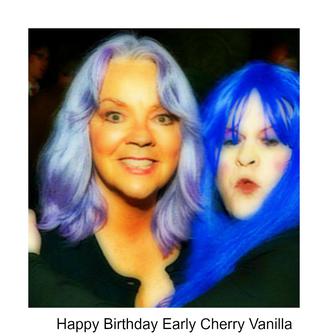 WALLING, IVAN COMAS, LILY TOMLIN, RANDY HAECKER, KEITH COLLINS, PETER CLUFF, JEAN TREICHEL BRIDGES, LAURA MILLIGAN, MARY BETH COLEMAN, TOM IRVINE (R.I.P.), WENDY THIRTEEN, ADAM CADONE, ALEX SOTO, GRAHAM MABY, EVE DAVIES, SHELLY MAYS,TIM GIBSON, MATTHEW ASNER, ANI DIFRANCO, MIKE FRANKO, JOANNE McCGIRR, JASON LUCERO, NIPPER SEATURTLE, MARK BEGO, STEVE CONTE, GARY BURNS, ANDI SNAP-HER, JOHNNY SATANSEED, STEVE MACKAY (R.I.P.}, JANET CHARLTON, TOM PITTS, GERI JEWELL, SUE CRANE, MARTINA BUTLER, LINDA BOUCHER, SELENA LUNA, JOHN G REES, RICHARD HELL, STARK RAVING BRAD, KEITH MORRIS, RAQUEL WELCH, BRAIN CONWAY, JAMES PAUL MARSDEN, LOLA KELLY, MARCUS LEATHERDALE, LITA FORD, NILE RODGERS, FRAN DRESCHER, CLAIRE WIRT, CLAUDIA FALZARANO, KATHY GRAY, AL SCHULTZ, JIMMY PERRITO, PINK, ZIPPY PINHEAD, DOWNTOWN DONNA, SAM ATAKRA, BOBBY LEE, CORY RIVARD, DAVID HERMANN, KELLY KAOS, AL HERNANDEZ, DICK DALE, COLE PALME, RANDY RALSTON, TED FALCONI, THOMAS DUGGAN, GIDDLE PARTRIDGE, MARC TIME, JEREMY DAVIDSON, DREW BLOOD, BRAD B, STONEAGE RECORDS, JAY FALCONER, ANGIE PINTER, CAMERON NICO, GEORGE MACLEAN, IAN FLEMMING, JONETTE NAPOLITANO, NICK SCOTT, RUDIE WAR, JOHN HAWKINS, RANDY MURPHY, DANIELE DONATO, DALE ARMSTRONG, BREW KERR, SEAN O' BRIEN, DAN SAUTER, RON FINDLAY, JEFF BOXHAM, OLIVER TWIST, DAVE COULIER, MATTHEW MATHESON, THE FLOATING CORPSES, BOB JUDD, JOHN ARMSTRONG, JESS KELLY, PYNO MAN, PATRICIA RUSSELL, STACEY DEE, CHRISTINA GREENE, TAYLOR LITTLE, KURT DIRT, MARK LEIGH, MARK TORTI, RANDY BARBATO, TERRY DURBIN, JOE MENDOZA, TOM STEVENS, VINCE CONRAD, PAUL ROSIN, MARY RAT, PERRY HOFFMAN, CLINT PHILLIPS, WILLY JOHNS, BRIAN BREHMER, DAVID ARNSON, TOM STEVENS, WILLY JOHNS, THOM POLLAND, SACHA SCOTT, NEAL LAIL, SEAN WHEELER, WILL MATTER, CHRIS DOWD, DAVID FLEXER, RENTON PREFECT, JEFF FOGERTY, CLINT PHILLIPS, WILLY JOHNS, CHRIS WILDER, JACK PIERSON, ANDY GILLETTE, TIM MARTINEZ, TERRY TAYLOR, JUNE OLSON, BEN ROSE, DON FLEMING, PATRICK MULDOON, KEANU REEVES, GEOFF BANKS, CARRIE ANN SELAPACK, TIM ANTHONY, JERI LOMAN, CAROL LORING, EVAN DAVIES, PATRICO DIAZ, CLINT WEILER, MARK WEILER, JONNIE WEBB, BEN ROSE, MIKE SOLDIER, MICHAEL GOLDSTEIN, KATE BECK, KENNY CAMPBELL, NIGEL MOSS, NIKKI MCKIBBEN, GARY LEE SILVER, MIKE HOLT, BARRY WILLIAMS, ROBIN REICHERT, RON TURNER, RACHEL KLAUSNER BEANNE, MORENA MOON, RICHARD EDSON, RICHARD BARONE, CHARLES JONES, SHARIF DUMANI, J. CHRISTOPHER JAMES, DON COOPER, LIGHTNING WOODCOCK, STEVE SKINNER, JESSICA KRAMER, DOMINICK JOSEPH, PETER KOEPKE, GLORIA BALSAM, BEV DAVIES, DALE POSNER, JONATHAN CORBETT, MR. NANCY, MILES COPELAND, STEVE VICTOR, JANE WEEMS, COLIN COLE, JEFF SILVERMAN, ROSIE FLORES, JULIANN HALL, JONATHAN SCHAECH, LEILA KORAL, CHUN WONG, MODI FRANK, RACHEL MCCLURE, JOHN MINER, ROXY ROLLER, SHAWN GUERRA, KRISTY MCNICHOL, JASON BLUM, TIM NAPALM, MARIA MULDAUR, JACK RIVERA, TIM "RED" GALLAHER, ALISON LEWIS, JASON SMITH, ROBERTA HUFFMAN, PETER DAVIS, RAGER aka TERRI LYNN WEST , JOE SINK, THELMA THUMP, ACE BACKWORDS, RENEE SUMMERFIELD and anyone else who we may have forgotten on this list... We will end this column with these sage words of advice... YOU HAD BETTER BE CAREFUL ABOUT JUST WHOSE TOE'S YOU STEP ON TODAY. AS THEY JUST MAY BE ATTACHED TO THE ASS YOU WILL BE KISSING TOMORROW !!!!