Happy 4th of July!!! Please celebrate the freedom this country has to offer.. Or what is left of it....For people who are not celebrating independence day may love and happiness be with you all.... Happy Birthday shout outs to RODDY BOTTUM, JAYNE COUNTY, LIV TYLER, KITTY KOWALSKI, DEBBIE HARRY, LESLIE MICHEL, BEBE BUELL, RUDOLF MARDEN, AMY CARLSON,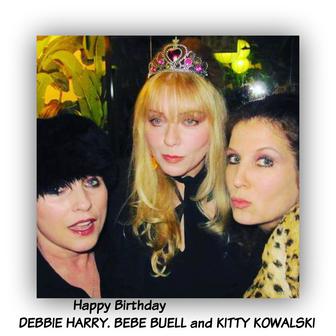 COURTNEY LOVE, LISA BOOTH, LESLEY MICHEL, LAMAR ST. JOHN ... Can you believe it.... NEXT MONTH PUNK GLOBE will be 40 years old!!!!! We hope to have lotz of surprises for you.... Now some fucked up news...Just after 7am,on June,13,2017 a lone gunman, 66-year-old JAMES HODGKINSON, appeared with a rifle and a handgun and began firing. Eyewitnesses recalled 50-100 rounds being fired before the he was shot by US Capitol police. Louisiana congressman STEVE SCALISES;(who remains in critical condition) ZACHARY BARTH, a congressional aide; and lobbyist MATT MIKA were taken to hospital with gunshot wounds. Capitol police officers KRYSTAL GRINER and DAVID BAILEY were also injured.
The FBI is in control of the investigation with assistance from the ATF and local and state police. Officials would not comment on whether the incident is being considered an act of terrorism.
HODGKINSON appears to have been a leftwing activist who frequently penned screeds against donald trump and Republikkkans
The charity game the legislators were preparing for against congressional Democrats, scheduled for Thursday, will go on as planned...... PAUL RYAN and NANCY PELOSI urged Congress to join together in unity over the ordeal... Twelve people have died in a west London tower block fire and the number of deaths is expected to rise, police have said.
Firefighters rescued 65 people from Grenfell Tower in north Kensington, after they were called.
Witnesses said people were trapped in the tower block, and that some jumped from windows in an effort to escape. Theresa May said there would be an investigation and "if there are any lessons to be learned they will be". It is understood that "several hundred" people would have been in the block when the fire broke out, most of them sleeping. The tower had around 120 flats. The cause of the fire remains unknown....... TURN IT AROUND.... THE STORY OF EAST BAY PUNK is getting rave reviews and will be nationally released in late July..... Here is a review in Variety http://variety.com/2017/film/reviews/turn-it-around-the-story-of-east-bay-punk-review-1202451514/ PUNK GLOBE BOWLING was a blast.... Meeting new people and running into people I had not seen for ages....Got into Las Vegas on Friday May 26, 2017 the ride was pretty smooth with no delays...Got to the Hotel and spoke with ERIC BORST, he and KEITH MUELLER were in town playing with HEWHOCANNOTBE NAMED... ERIC was excited they were playing a few shows during two days.... Sadly, KEITH had been involved in a car accident days before the show in San Francisco... He was at a light when a car rammed into his car.. It seems the driver was texting and was not paying any attention... KEITH was in pain and sleeping alot ... I got the war paint on and went to THE FREMONT COUNTRY CLUB to see THE VANDALS and THE STREET DOGS where I ran into GARRON GASH who later brought LINA LECARO and JOSI KAT to the VIP section ...... BIG DADDY CARLOS and AVA BERMAN ruled thru out the weekend.... We ventured next door to THE BACKSTAGE BAR and saw ME FIRST AND THE GIMME GIMME'S who were really tight and alot of fun... I was happy to see KRACKAMYA
WELCH.... I also ran into JOE ESCALANTE the bass player for THE VANDALS and introduced him to LINA and JOSI... LINA, JOE and I made plans to all join forces on his radio show that is on am radio and very regulated by the FCC.....I have known Joe forever and the last time we saw each other is when I went to Hollywood Forever with KIM and JOE DALLESANDRO for the JOHN WATERS/ CRY BABY/ JOHNNY RAMONE event.... Later on in the evening I ran into GERE FENNELLY and her husband STEVE CRANE who were TIM FERRIS aka SUGAR PIE who played with THE CRAMPS and CELEBRITY SKIN and his gal pal... They had been at The Bunkhouse to see TELEVISION, ALICE BAG and THE AVENGERS.. GERE did send me a text about the show but I was hanging with LINA and JOSI... Sadly the number of Women playing at this event was very sparse....There were no females playing the on the large stage over the course of three days... It also seems they keep repeating all the same bands every year.... I ended up seeing ELISE HORTOBAGI at a pizza joint where HEWHOSHALLNOTBENAMED had played... We ended up running into RANDY MACBASTARD and LAUREN AMY who plays in an all woman band from Vancouver called BB AND THE STABBERS... The next night I watched IGGY POP from my hotel window and then ventured down to The Fremont Country Club.. I was really bummed to find that PIT BULL was off on a Biker run but his replacement was really cool.. While finding out about PIT BULL, who should appear up out of the blue... but TERRY aka BONES who played drums with PORNSTORE JANITOR from Portland that The WHITE TRASH DEBUTANTES had toured with ... He was working as the tour manager for THE FORNICATERS a street punk band from Sweden who were playing that night with THE POTATO PIRATES, A GLOBAL THREAT and THE CASUALTIES...TERRY proved to come in very handy as The Fremont Country Club needed someone with a Social Security number to get paid... I personally spent alot of time in the dressing room chatting with the bands... The night before, I told the STREET DOGS I had seen them play in Long Beach at the HI-FI festival that D-C JAM RECORDS put together with THE SONICS and DEAD KENNEDYS.. Ended up hanging out until almost 6 am....I was bummed that I missed BIG DADDY CARLOS play with THE CHICKEN HAWKS on Thursday.. But people said they kicked major ass. I slept most of Sunday... That night ELISE and I went to see COCKSPARRER at The Backstage Bar...But prior to that, we made a stop at Hennessy's where we ran into some of THE REAL MCKENZIES, and the TURBOJUGEND Crew who all seemed to know KATHERINE ROCKER, ANDY MCCULLOUGH and STEPHEN LAFFERTY from the U.K..... It was fun catching up with JONO MCGEE who rocked it with THE MCKENZIES on the big stage that night... JONO said that the MCKENZIES were staying on the strip rather than being downtown.. Which bummed them out.. ELISE had a ticket to The Fremont Country Club but she said it was so packed... I had tried getting in through the backstage entrance but was told that both venues were at capacity.. Fire Marshall capacity... While standing in the back area I spoke with a guy about the show being so crowded and he mentioned that I reminded him of someone he had not seen for 20+ years. Long story short his name was DAMON and he had moved to Austin after living in Oakland for years.. Turned out that we knew each other from MIKE MONTANO who played bass with FILTH and WHITE TRASH DEBUTANTES and that we all used to hang out.. He informed me that MIKE had passed away from cancer at STEVE from THE LIST' home in Richmond, California in 2015.... His friend IAN seemed a bit shy but came alive when we soon discovered that we had met in Hamilton, Canada in 2006 when he was then playing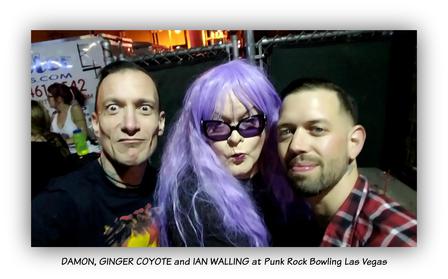 drums with THE INDEPENDENTS.. They had played a show with my pals PANTI CHRIS Tin Hamilton... so you just know it was a wild night... The owner of the venue was way cool... Keeping us supplied with shots.... His name was IAN WALLING and we took photo's and chatted a bit with AVA BERMAN who told us that we were in the best spot... I found out that IAN was playing drums for THE DRAKULAS who were playing support for COCK SPARRER that night, he confirmed that it was wall to wall people....I told him I had caught his show the night before when he drummed with THE RIVERBOAT GAMBLERS played but it was so crowded... Soon ELISE who also could not stand the hot sweaty wall to wall mass of people came out... So we went over to The El Cortez for drink... We ended up running into people and finally made it back to our hotel... We then went into Magnolia's for some early breakfast.. We were seated next to some of The SLOPE RECORDS crew.. We chatted about TOM REARDON, JIMMY DON BOLLES and LINDA RONSDADT.... A friend of ELISE'S from Canada joined us and soon they decided to go hang at his hotel room while I opted for bed...It was Monday night our final night and I had yet to see NATASHA HAMBLIN and JENNIFER DODDS and wanted to meet JENNIFER'S partner CHRIS WALTER.. I finally got in contact with NATASHA and went to see her, CHRIS, JENNIFER and the British Columbia crew at THE NUGGET... Wow is all I can say about the suite that CHRIS and JENN were staying in is wow! It was so big and so nice... We had a few drinks and since it was the first time that CHRIS and I had met so we chatted alot. He told me that RANDY RAMPAGE had broke his leg right before they flew out from Vancouver... Everyone had to get up so the soiree was coming to an end..CHRIS, JENN and I went downstairs where we played a round of 21... And ran into more friends so I decided that I had go back to the room..What a class act CHRIS and JENNIFER are...I did not sleep well but in the morning I made contact with GERE FENNELLY and STEVE CRANE and we loaded up their Hot Pink car and we were off to Los Angeles.... Around Barstow we hit stand still traffic luckily STEVE was able to get us north then westbound taking black tops to get back on the 15 to Hollywood....Had we stayed on the 15 going west it would have taken us at least 10 hours... We made it back in under 6 hours and that was with detours on some rural country roads... Thank you GERE and STEVE!!!! All in all PUNK ROCK BOWLING was lotza fun....... BIG BROTHER is back on television this summer.....Thanks for the shout out to Author CORNELIA BENAVIDEZ who has been doing the interview circuit promoting her books.... BEBE BUELL and her band THE REBEL SOULS will be playing a late Birthday Bash in Portland, Maine on July 26th at The Portland House Of Music and Events here is a link for tickets http://www.portlandhouseofmusic.com/event/bebe-buells-birthday-bash/ BEBE is also planning a return to THE BLUE BIRD CAFE in Nashville soon... Look for RICKIE LEE JONES to play a free outside Lincoln Center in New York City in early July.... After being let go from the Los Angeles Fox news LISA BRECKENRIDGE has resurfaced on the CBS Los Angeles news....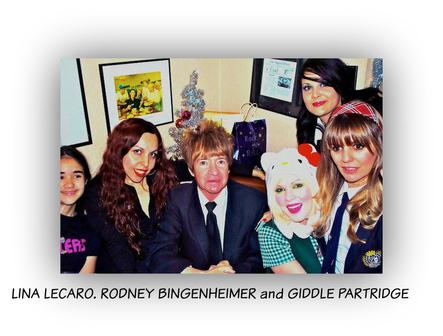 The legendary RODNEY BINGENHEIMER recently ended his long running show on KROQ... After a record breaking 40 years.... It indeed was a very sad day....Here is a story from the LA Times http://www.latimes.com/entertainment/la-et-entertainment-news-updates-may-rodney-bingenheimer-will-end-his-kroq-1495815186-htmlstory.html PAULEY PERRETTE is excited that NCIS was named the number 1 most watched show worldwide....... Quite a feat indeed... PAULEY mentions GINGER COYOTE in her diary in reference to the shootings at The Pulse Night Club a year ago while she was in Canada filming the acclaimed film 'WHEN WE RISE'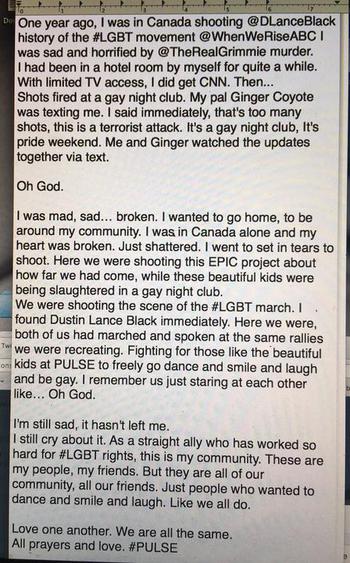 Director, Producer SADIE DUARTE is using music from WILL SID SMITH in her new film 'BLOWN AWAY' filming in Spain..... AISHA TYLER is leaving her job as a co-host on THE TALK..... Artist ROBERT VARGAS unveiled his mural of SUICIDAL TENDENCIES own MIKE MUIR in downtown Los Angeles but sadly the show was shut down..TARA REZ is back playing dates with THE DUEL and hosting a radio show.....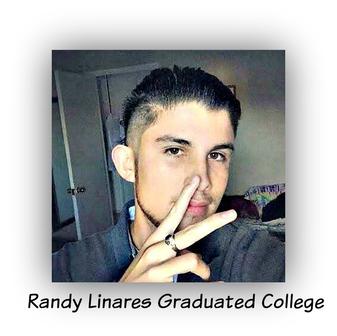 WILL SID SMITH and RANDY LINARES both graduated from college with honors....WILL SID was in England while RANDY graduated in Pomona, California... Both guys are great people!!! THE B 52's are playing Pershing Square in downtown Los Angeles for free on August 12th at 8 PM..........(Cindy Wilson Summer Dates Photo)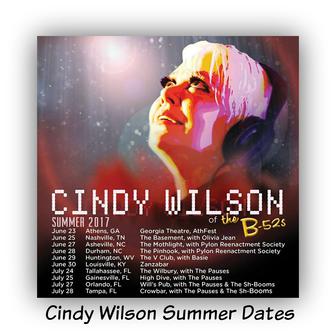 THE CINDY WILSON BAND will also be out hitting the road playing shows with PYLON REENACTMENT SOCIETY and other bands in between dates with THE B 52'S.......I know that my cosmic twin VANESSA BRISCOE HAY (along with ZAC EFRON) , DAMON DENTON, JASON NESMITH and KAY STANTON are super excited about the shows..... The Asian-American punk group, THE SLANTS, are free and clear to trademark their name after a Supreme Court ruling in their favor. PUNK GLOBE has ran previous articles and updates on this court battle ....... It has been a long running battle for the band..... TREVOR NOAH of THE DAILY SHOW ran an interview with THE SLANTS, profiling the band and their trademark fight, which can be viewed at: http://www.cc.com/video-clips/vefrhm/the-daily-show-with-trevor-noah-the-right-to-discriminate-against-yourself MATTHEW and HEATHER COLEMAN are looking to move into a small farm away from city. After living in a college town for so many years. the farm will be a welcome relief... HEATHER may soon have an exciting announcement of a new business direction that she may venturing into.... Iconic Actress ANN MAGNUSON is in Vancouver doing a project for Netflix..... What is the #ResistMarch
Tens of thousands gathered on Hollywood Bl. by Highland Ave. and then march to West Hollywood. The #ResistMarch will took the place of the traditional Pride Parade this year
#ResistMarch was inspired by the 1970's first LGBTQ+ Pride and the recent Women's March. The mission was to march in unity with those who believe that America's strength is its diversity. Not just LGBTQ+ people but all Americans and dreamers will be wrapped in the Rainbow Flag with unique, diverse, intersectional voices gathering together. We are lesbian, gay, bisexual, transgender, and queer. We are people of color. We are people of different faiths. We are people of all genders and no gender. We are immigrants. We are dreamers. We are people with disabilities. We are parents. We are allies..... One year ago, The world woke up to a heartbreaking reminder that our values are not shared by everyone. As details unfolded about the tragedy at the PULSE NIGHT CLUB in Orlando, Florida, we were painfully reminded not only of senseless gun violence in our country, but the countless hate crimes that have targeted LGBTQ people for generations. What happened in Orlando was an attempt to make people afraid and ashamed of who they are. This should not happen anywhere, or for any reason. Every one of us has the right to live openly, safely, and with dignity.Former FBI Director James Comey testified before the Senate Intelligence Committee. with over 20 million people tuning in on television So far, Comey has detailed clear abuses of power and likely illegal actions taken by donald trump in an attempt to shut down the Russia investigation.The hearing has already produced some big news. Comey implicated Jeff Sessions, saying that he can't talk in an open setting but that there were facts that made Sessions' involvement in the investigation "problematic." The pathway to impeaching Trump has never been more clear. Even without knowing exactly what dealings donald trump and his campaign had with Russia, Comey's testimony is enough to show us that Trump has been actively obstructing justice -- an impeachable offense. Of course trumps seems to think because Comey told him that he was not under investigation at the time that he is clear of any charges.... During the course of their conversation did trump ask about the Russians and the hacking... As long as he thinks he is safe he could care less about the safety of the USA and the people who live here....... BITTER GROUNDS have released a new video for their song "Life Of Violence" check it out here
DUTCH MICHAELS favorite band SYTERIA was busy touring all over the United Kingdom pushing their new release RANT O BOT this past month... THE CAT AND FIDDLE is back in action as many may remember the English Pub lost it's lease and had to close its doors on its long time Sunset Boulevard address... However they now have found a new home at HIGHLAND GROUNDS.... I remember going to a birthday party for actor JOHN HAWKES there.... RICH and LESLIE BRENNER who own the building are so happy to have THE CAT AND FIDDLE back... ED TURNER Director/Producer of the sensational film TICKET TO WRITE is elated that the 70s band called ARTFUL DODGER,who a power pop band that have been compared to THE RASPBERRIES are using a retrospective that he wrote about the band. Here is a link http://www.furious.com/perfect/artfuldodger.html
Houston, Texas band THE SMASHED IDOLS are looking for a bass player with vocals. If interested look for them on Facebook..... HEAVY MUSIC ARTWORK releases Portraits Book. This year we are celebrating five years in operation and we decided to release a book on heavy metal portrait photography. All photos have been taken by our photographers over the last five years. To accompany the book we have also included critiques and insights by The National Portrait Gallery of Canada The Swedish National Portrait Gallery and The Scottish National Portrait Gallery exclusively to accompany the book. Plus high profile guests... Check out eBay there is a copy of JACKIE CURTIS'S play "FEMME FATALE" starring PATTI SMITH, JAYNE COUNTY and JACKIE CURTIS.... This is a must have item......A big punk/oi festival was held in Glasgow Scotland on June 19th ... What goes around comes around.... Journalist RON HART used to read all of JIM LALUMIA'S articles in Good Times Magazine and he now is writer for Rolling Stone and has done a feature on JIMI LALUMIA and JAYNE COUNTY...CHOKING SUSAN featuring the fabulous COLLEEN CAFFEINE have a new release out called "I Was a Teenage Tranny" will be in the United Kingdom for a few shows in July/August and we have them at The Star and Garter in Manchester on Sunday July 30th alongside SPUNK VOLCANO, THE ERUPTION and SVETLANAS from Russia. ROCKET FROM THE CRYPT will be joining us this year at The 2nd Annual So-Cal Hoedown along with THE STRAY CAT LEE ROCKER, JELLO BIAFRA and the GUANTANAMO SCHOOL OF MEDICINE, ZEKE, BIG SANDY AND HIS FLY-RITE BOYS, DEKE DICKERSON, CASH'D, GUANO BATZ and many many more taking place on August 5th in the streets of Downtown Santa Ana! We hope you all had a grand time the MAX'S KANSAS CITY show......Look for JIMI LALUMIA'S review......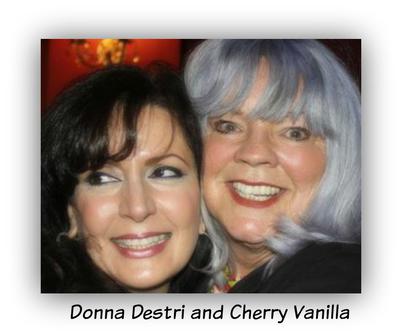 CHERRY VANILLA was in New York City and was a guest of DONNA DESTRI'S and her son DYLAN for a lovely dinner... Of course she looked fabulous and decided everyone should meet in Greece in the summer of 2018.... Meanwhile she was off to Paris with RUFUS WAINWRIGHT... RICKY LONGO BURROWS is doing great in New York City and recently celebrated 6 months sober..... PUNK GLOBE hopes that everyone enjoyed the final season of THE LEFTOVERS on HBO......It was crazy seeing all these faces appear in Australia... VEEP also had their Season Finale on HBO..... RACHEL MADDOW still amazes us all...... MARK BODE thank you so much for kind gift for next month's PUNK GLOBE......KATHY GRIFFIN admitted she may have went to far with The Tangerine Terrorist and his head But look at all the other artists who posted similar photo's but yet none of them got the attention of MS. GRIFFIN...You will be fine girl... Just give it time... KATHY GRIFFIN is really funny and makes us laugh....... Senate Republicans re-wrote the GOP health care plan in secret without any women or Democrats in the room. They had no plans to schedule open hearings or even give us the chance to read the bill before it comes to the floor. This process is undemocratic and just plain wrong.It seems that the Public also agree that the bill is horrible alomg with 9 republikkkans who were voting no... So at the moment it is on hold.... KAMALA HARRIS has been showing great insight in Senate.... Here is what she said about Health Care... Her sister in the Senate, CLAIRE MCCASKILL, has had enough. Here's what she said to the GOP chairman of the Senate Finance Committee last week: "We have no idea what's being proposed [in the GOP's health care bill]...There's a group of guys in a back room somewhere that are making decisions."....... DEBBIE HARRY and CHRIS STEIN have been chosen to lead The Annual Mermaid Parade at Coney Island in New York, to celebrate the summer season........ http://www.janetcharltonshollywood.com/the-tide-is-high-for-debbie-harry-and-chris-stein/ ... Mark July 23rd down n your calendar go to the 10th Annual Li Punk Rock BBQ @ Sinclairs Pub 419 Great East Neck Rd, West Babylon, New York 11704 with MURPHY'S LAW, DON'T SLEEP (featuring Dave Smalley), WIMPY RUTHERFORD&THE CRYPTICS (original singer the Queers, doing a full Queers set!), THE NIHILISTICS, ULTRA VIOLENCE, BENDING OVER BACKWARDS,THE AVOIDERS, SOME KIND OF NIGHTMARE
MEAT DEPRESSED, JONES CRUSHER IN CIRCLES... Noon Start Time $20 Advance $25 Day Of Show...... MELINDA TYLER had a fabulous birthday in upper Maine eating all sorts of seafood and relaxing.. Getting all sorts of birthday gifts...... She was so happy to see SHAMAMA while she was on the East Coast...... But she is now back in her new home in San Francisco...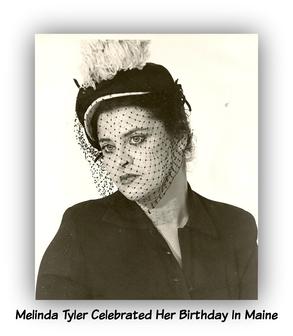 DANIEL DAY LEWIS has officially retired from acting....
Many people left us in June including actor STEPHEN FURST best known for his role in Animal House.... Singer SHEILA RAYE CHARLES from cancer.... Feminist ANNE GILLIGAN... North Korean hostage OTTO WARMBIER has passed away at the age of 22 from the torture he has endured while being held captive...... HENRY 'HANK' DEUTSCHENDORF who played the role of the baby along with his twin brother, William killed himself at his home in Escondido, CA. According to law enforcement he died after a long battle with schizoaffective disorder....
British American Producer JOHN HEYMAN left us... Australian actress TESSA MALLOS bid us goodbye...Actor ADAM WEST who portrayed Batman on TV has left the building.. California Musician STEVE CORONA'S Step Mom dated ADAM in the early 60's......
Actress/ Model ANITA PALLENBERG best remembered for dating both BRIAN JONES and KEITH RICHARDS left us....
Actress GLENNE HEADLEY (Dick Tracey, Dirty Rotten Scoundrels) passed away from pulmonary embolism....... Actor playwright SEAN MICHAEL RICE and country singer songwriter NORRO WILSON left us... The inventor of Hawaiian Pizza SAM PONOPOULOS cooked his last pizza....Trivia expert DAVE STRAUSS checked out... ALAN BONNER a motorcycle racer died in an accident.....Actress DORIS CAREY left us...Rapper PRODIGY from MOBB DEEP has passed on in Las Vegas...... Actor/ Comedian BILL DANA left us at the age of 92...........Football player JAMES HARDY transcended... British folk singer VIN GARBUTT left us...Dutch singer SANDRA REEMER passed away from breast cancer...JIMMY THOMAS former football player for the San Francisco 49er's left us...Actor ROGER SMITH who also was married to Swedish Singer, Actress and Dancer Ann Margaret. Along with being her manager died from complications to Parkinson's disease at the age of 84...
Fashion Designer Benjamin Cho left us... PUNK GLOBE extends much sympathy to the families, friends and fans of the fore mentioned...... Everyone who is reading HOT GOSSIP in PUNK GLOBE MAGAZINE should be sure to check out our sponsors links that have banners on the index page:
THE LAST GENTLEMEN SMUGGLER
https://www.facebook.com/groups/1100845919933061/
DC - JAM RECORDS
-http://www.dcjamrecords.com/home.cfm
MUSIC LIFE RADIO
-http://www.musicliferadio.com/
DAZED THE FILM
https://ww.facebook.com/Dazed-The-Film-898991600172454/?fref=ts
WHATEVER68 RADIO
http://www.whatever68radio.com/
Dazed and Still Dazed The Books
http://www.amazon.com/Still-Dazed-Through-Grunge-Rockers-ebook/dp/B00YHOVS4W/ref=sr_1_1?ie=UTF8&qid=1445645361&sr=8-1&keywords=Still+Dazed+Nikki+Palomino
TICKET TO WRITE
http://www.tickettowritethemovie.com/
H.E.A.R.
MY SON THE BUM
-http://www.mysonthebum.com/fr_home.cfm
This month's cover was designed by THE FLOYDIAN DEVICE and all the coding and layout was done by MATTHEW COLEMAN.... In this issue...... GINGER COYOTE interviews ex INDEPENDENTS drummer IAN WALLING about all his new projects at the moment including THE RIVERBOAT GAMBLERS and DRAKULAS among a few others... She also gets up to date with MIKAEL RICHARD aka SEXY RABBIT from Tours, France... She introduces you to a new band called SKLUBBY who are from Long Island... She reviews SKLUBBY'S freshman release as well as a release from MOLLY AND THE KRELLS from Sydney, Australia..... She reviews the latest acoustic 3 song Ep from MICHAEL STRAND... And from Austin,Texas she reviews THE GHOST WOLVES.. CRIS DELAE does his monthly spotlight on Latin Bands, This month the spotlight is on NAPOLEON GUITAR from the band DELITO PROLETARIO.... JAIME PINA does reviews of THE BIRD WITH THE CRYSTAL PLUMAGE, THE HOWL, WOLF BOY Dvds and a review of PAT PAT TODD AND THE RANKOUTSIDERS new Cd........ LISA PUNKRPRINCESS is back with LET'S TALK PUNK interviewing the owner of HEAD HUNTER FOOD SERVICES ...... JIMI LALUMIA is back with reviews of THE MAX'S KANSAS CITY reunion in which he hosted... And a release from 'diane and the gentle men'....We do PUNK ROCK BOWLING (VEGAS) in photo's....... SADIE DUARTE is back with a fantastic interview with NEIL FRANCIS..... DAZED an STILL DAZED are a must read... ASTROSLUT is back.... Find out all about the Winner for Best Experimental Film DAZED THE FILM from Los Angeles Movie Awards...PUNK OF THE MONTH with KAMALA HARRIS and AL FRANKEN........ JANET E. HAMMER is back with BAD HINTS FROM HAMMER, a tribute to CHRIS CORNELL and an article about Film Maker GAKURYU "SHOGO" ISHII.... The latest updates on THE LAST GENTLEMAN SMUGGLER.... SAMANTHA BYRNE LEYTE tells us all about Cousin SERENA from BEWITCHED.....Please do remember that you are reading all this in HOT GOSSIP..........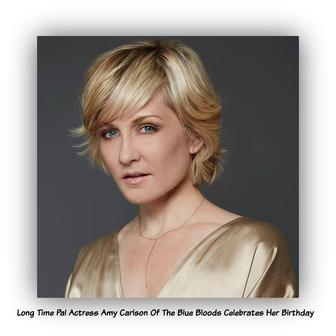 HAPPY BIRTHDAYS late and early to BEBE BUELL, LIV TYLER, AMY CARLSON, MIGNON BAER, STACE KIRKWOOD, RODDY BOTTUM, DEBBIE HARRY, LISA BOOTH, JAYNE COUNTY, JOHNNY THUNDERS (R.I.P.), CASSI PATTERSON, REBEKAH ROSALIND, BONNIE DATT, JULIANNE HOUGH. LESLIE MICHEL, LAMAR ST.JOHN, RODNEY EASTMAN, ANDREW GRANT, ANDREA THE SHREDDER, COURTNEY LOVE, ELIZABETH WARREN, ROB RUCKUS, BRAD DAVIS, FERN MITCHELL, MAUREEN JENNINGS, AMY LAWLESS, GREG OROPEZA, KITTY KOWALSKI, ERIN MCKINNEY, SMUTTY SMIFF, MADAME PAMITA, SHREDMISTRESS RYNATA, JAY SCOTT, MARK LANGTON, ERIC JOHNSON, ILENE KIRSTEN, RUDOLF MARTIN, MARIO ZOTH, CHRISTINE NATHANAEL, LISA KEKAULA, PHOEBE LEGIERE, GENE TAYLOR, BARRY BARBOUR DUNCAN, RATSO, JEFF DAHL, AUDRY FAINE, KATHY GUELLICH, KAREN BLACK, DON BOLLES, ANTHONY GARCIA, SHAUNNA HALL, JOHN THE BAKER, BARBARA KANE, ALEXIS SCOTT, JON EDEN, SABRINA SAXON, MARIA FUCHS, FREDDY MOORE DANIEL ASH, T.C. CONROY, CHRIS HIND, PHILLIPPE MOGANE, PHILLY ABE, PAMELA ANDERSON, JEFF FLEMMING, KC KRULL, ALICE BAG, MO COLLINS, LEIGH CROW, ANNIE SPRINKLE, JAMES WILSEY, EDDIE SMITH, LADY DI (R.I.P.), GREG WERCKMAN, JULIE NEWMAR, KRISTIAN HOFFMAN, JACK GRISHAM, KIM FOWLEY, JAMES COPPOLA, JENN O CIDE, STRANE DE JIM, PAMELA FONTANA, DAVID LONG, D.H. PELIGRO, ANJE VELA, DAVE MANSFIELD, GARY X INDIANA, CHRISTA DIBAISE, ANNA WARNOKER, BILLY LEE, MIA X, LANI FORD, JULA BELL, CHARLIE MARS, SUZANNE VEGA, JIM FREEK, JEFF TROTT, DONOVON DRUMMOND, RED PETERS JASON DRUMMOND, KAROLYNE OAK, JASON BELLINI, ROLANDA WATTS, REX EMERSON, DOUG HAC, TONY MANN, ACE MORGAN, MIKE JAK, MARNI GRIFFIN, HARRY NORDSKOG, MICKEY LEIGH, TOM GULAGER, FRED BALL, JESSICA GRACE, ANGELA KITES, ARIANA HUFFINGTON, RIKKI ROCKET,MATTHEW FOX, REX EMERSON, PIPPA LONG, ALLEN CREED, DEVIN QUICK, GRIM DYLAN, LAURIE KAYE, JOHN CURTIN, RICHARD WALLS, MICHAEL KLEIN, JEFF PENDER, GARY BELSON, MIKE DAMONE, ALEX CANTU, JIM SMITH, CHRIS STUART, JEFF FLEMMING, JOE FRANKE, PAT LUDEN, GARY SHAPIRO, RON HARDY, DENNIS SIN, DAVID NEWMAN, SUSAN HADLEY, HEATHER INGRAM, JEFF HALL, SARAH WALTER, PAUL SPENCER, CHRISTIAN MILLER, DOUG DURRANT, RAT SCABBIES, LISA RIDER, ERIC LIVELY, CHRISTINE YOUNG, RACHELE MECHEM. PAIGE MARLOWE, ROSEANNA RIOS, MATT HICKS, RICK CRIDEN and anyone else who we may have forgotten on this list..... We will end this column with these sage words of advice... YOU HAD BETTER BE CAREFUL ABOUT JUST WHOSE TOE'S YOU STEP ON TODAY........... AS THEY JUST MAY BE ATTACHED TO THE ASS YOU WILL BE KISSING TOMORROW!!!