Guinness Beer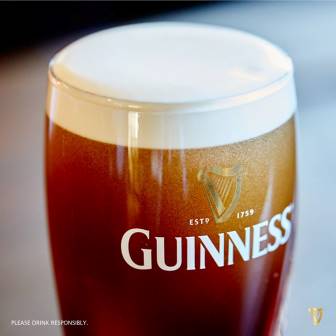 Happy Saint Patrick's Day.... Wear green and drink some green Guinness..
CHE TREICHEL MASCOLINO
found some interesting facts on Facebook regarding some health advantages of beer and it helping with good cholesterol, bone density, diabetes and your heart in moderation.. Our favorite British
SKABILLY ROCK STAR... MR. RODDY RADIATION
formerly of
THE SPECIALS
is playing over the UK and who knows if he might come back to play America....There was a memorial in Oxnard, California hosted by
ILL REPUTE
and other Nardcore bands for
JONI MACKIN
who we lost last month in a horrible crash in Las Vegas..... What a shocker happened on
NASHVILLE
one of the core characters
RAYNA JAMES
played to perfection by
CONNIE BRITTON
died surrounded by all her characters who loved her the most...As many know the show was cancelled on ABC but by popular demand from the viewers returned on the CMT Network... During thia years election there was a bathroom law regarding Transgender right happening in North Carolina and the entire cast of the show were opposed to the law and
CONNIE BRITTON
who supported
HILARY CLINTON
was happy the show was cancelled because Orange Hitler won presidency and the bathroom law was being instilled in the state of Tennessee and
BRITTON
was dismayed... This was one of the many factors for her reason to leave the show that she helped create...So they producers decided to send RAYNA out in this tear jerking way... Rather than have her move away from Nashville with
RAYNA
still be alive... This episode had some of the best acting ever witnessed.... The show will continue with all the other characters helping fill the void that the wonderful
CONNIE BRITTON
left..... We all love her very much for the support she has given to the LBGTQ community...
Dances With Steph Is on Face Book Now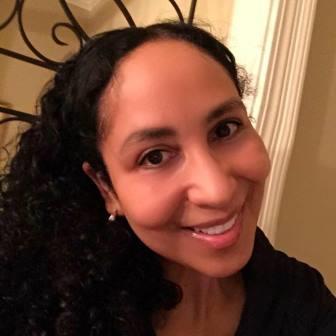 DANCES WITH STEPH
also known as
STEPHANIE KENNEDY
has made her mark on Facebook.. Winning over
TARA REZ, WILL SID SMITH, GINGER COYOTE, MARC FLOYD, IRIS BERRY, FLO THE PROGRESSIVE GIRL, CNYDI FORD, LIBERTY BRADFORD, KNOX CHANDLER, DONNA DESTRI, JACK DEADMEN, ARIKA KAOSA, RANDY LINARES, PATRCIA RODRIGUEZ, RODDY BYERS, SADIE DUARTE
and
ERIC KERN
as her new partners in crime... Some of us knew her from Twitter... We here at
PUNK GLOBE
love
RACHEL MADDOW
!! Hope you all caught
THE 48 HRS
Special on stalking where
PAULEY PERRETTE
and
LENORA CLAIRE
spoke about their horrible ordeals with having an obsessed stalker...... Here is a message that
PAULEY
released to her family and friends...
A Message From Pauley Perrette
THIS SATURDAY
, Feb. 25th, starting at 9pm and continuing at 10 pm, I am finally speaking out about the horror of being a stalking victim. @48Hours The CBS news show, is doing a Two hour special on
STALKING VICTIMS
I'm all over the show. I am working with Congress to get the laws changed. I don't think I've ever asked anyone for anything but prayers... (which I still need)
BUT THIS TIME I'M ASKING
... If me and my fellow victims are brave enough to do this,
AND WE ARE SCARED
, Can you
PLEASE
be brave enough to email all you know, Post to
EVERY
social networking site you're on,
TO PLEASE JUST WATCH
on Saturday. Feb. 25 at 9&10 pm CBS @48Hours You have to DVR both times, 9 &10 to see full show. It will move you, disturb you, and we need
EVERYONE
to watch this program. We need this program to go viral to
SAVE LIVES
. Anyone (Including you and your loved ones) can become a stalking victim in an
INSTANT
. We do
NOT
have the stalking laws to protect you or us. We are trying, with Congressman Schiff, to change this.
Happy Birthday Pauley Perrette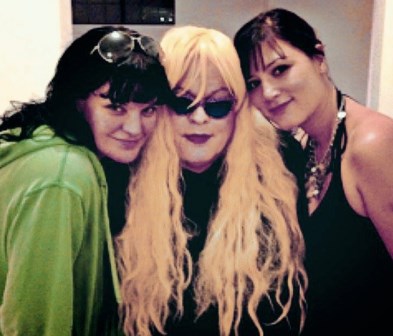 CINDY WILSON
and
WARHOL BOY
are suffering from bad jet lag from their tour to Australia and New Zealand...
TOMMY STINSON'S BASH AND POP
tour's first leg was a huge success, selling out in every town and resumes this month for a second run of shows beginning in Seattle on February 28th. Tommy is joined on the road by a few of his friends who helped make much of the new BASH & POP record – lead guitarist
STEVE "THE SLEEVE" SELVIDGE
(The Hold Steady),
JOE "THE KID" SIROIS (MIGHTY MIGHTY BOSSTONES)
on drums and
JUSTIN "CARL PERKINS (SCREECHING WEASEL)
on bass guitar. The band recently performed on The Late Show With Stephen Colbert and things got a little out of hand when the band played past their scheduled time.... Hope you all caught the annual Valentines Burlesque show in London this year. It was a spectacular event...
Susan Surftone at a Grammy Party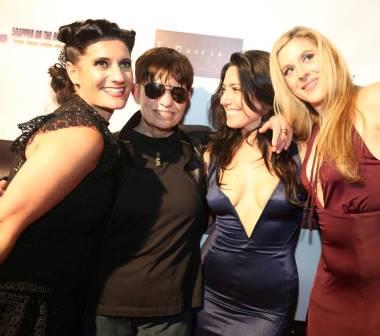 The Fabulous
SUSAN SURFTONE
was in Los Angeles to attend
THE GRAMMYS
...
SUSAN
who is now writing for The Advocate and The Huffington Post met up with
GINGER COYOTE
to chat for an article in The Huffington Post... Here is a link for you all to read the wonderful article
http://www.huffingtonpost.com/entry/58aa06e2e4b026a89a7a2ceb
SUSAN
is great person and a very talented guitarist.... We shared many tour tales and our mutual disdain of the Tangerine Terror....
LAVERNE COX
was on the Late Late Show With
JAMES CORDEN
with
LUKE WILSON
and
TREVOR NORTH
....
GHOST WOLVES
from Texas have a new release called Texa$ Platinum out on Hound Gawd Records....... Many of you know by now that
DAVE HUNTER
is battling that beast known as brain cancer. He was diagnosed in October 2016 and was instantly caught up in the whirlwind of surgery, radiation and repeated rounds of chemotherapy.
DAVE
is a devoted single father and is strong and determined to beat this terrible thing so he can be around for years to see his daughter grow into adulthood. While so many of you beautiful people have already reached out with your time and resources, others have asked how the best way to donate money is, so we decided to set this up on
DAVE'S
behalf. All funds will go towards
DAVE'S
medical, living and mounting legal expenses so that he can focus on healing his brain and getting back to his creative center. Here is a link to make a donatation to
DAVE
https://www.youcaring.com/dave-756299
THUMPER PUNK RECORDS
is pleased to announce the release of
KILL THE ILL
, a Benefit Compilation for
SHAWN BROWNING
. This compilation features songs donated by 80 bands to raise money for medical expenses for the owner of Rottweiler Records and lead singer for the band Grave Robber.
SHAWN
has only asked for prayers, but this fundraiser reflects an outpouring of love and support for a person who has done so much to support the Christian hard music scenes. Coming together in less than two weeks, all proceeds from the release of this multi-genre, multi-language release go directly to Shawn for medical expenses. $10 (or more at your discretion) for 80 tracks with more than 4 hours of music plus a special guest appearance by Pastor
BOB BEEMAN
. This release is available exclusively through Bandcamp:
https://shawnbrowningfundraiser.bandcamp.com/album/kill-the-ill-a-benefit-compilation-for-shawn-browning
Participating bands include
GRAVE ROBBER, TRUE LIBERTY, THE FESTAL SHOUT, PLEADING GUILTY, UNISEF, REFORMA PROTESTANTS, BAND GRANO, CROSS- CHECK, CPR, INFIRMITIES, SOLDADO DE DEUS, UNDEFINED, PLATOON 1107, JOSIAH, DISMISSED, SPIRIT AND BRIDE, TO LIVE AS SONS,KINGS AND DAUGHTERS, 2 MINUTE MINOR, DANGEROUS MINDS, DOOMSDAY HYMN, SKLAD IN VEUM, FORFEIT, THEE UNTRUE, ELEOS, AGGELO, THE AUTUMN LEAGUE, PANKTOKRATOR, O WRETCHED MAN, ANSCHLUSS AMOR, DEATH REQUISITE, IMMORTAL SOULS, SOUL EMBRACED, JOHNNY BOY, SELF IDLE, ABBY NICOLE, THE POOR GEEZERS, JUDGEMENT DAY, ABBY NICOLE, LIGHTS TO LIGHTS, KNEEL, ROB LANTERMAN, DOUG JUTRAS, CROSSING FIRE, LIGHT THE WAY, KEPT ON HOLD, VAMOOSEY, PETER 118, NO LOST CAUSE, A BROKEN LINE, FAITH OFFENDS REASON,THE BRICKS, LIVING FIRE, THE B- LISTERS,AMBASSADORS OF SHALOM, CHRISTI'S SAKE, THE WAY, FEAR GOD, SENSELESS, FALSE IDLES, OCTOBER BIRD OF DEATH, CRUSH, ABSOLVED, A COMMON GOAL, THE KINGS KIDS, UNSHACKLED, ANTI-WORLD SYSTEM, THE HOAX, THE OLD- TIMERS, LUST CONTROL,DESIRING DEAD FLESH, INTRODOS BAND, THE PLANK EYED SAINTS, BROKEN, THE BEN ALDRICH PROJECT, SUPLICA HC, OSPREYSSHIRE, SKREE ALLEEN, BLINDFOLD EXECUTION, TAKING THE HEAD OF GOLIATH AND THEIR THROATS ARE OPEN TOMBS
...... Please help
LUZ HERRERA
who hasn't been feeling well for months. She'd been to the doctors so many times and they said it was a sinus infection, upper respiratory infection, bronchitis, a ton of antibiotic were given to her but nothing was working. She went to the ER once again for the severe headaches and they proceeded to do x-rays. They saw something abnormal and decided to admit her for more testing. Bloodwork, MRI, CT Scans, and the most painful, a biopsy from her lung. On January 27, 2017 she was told she had stage 4 lung cancer. Luz is a fighter, but she can't fight this one alone. And as her army, her family and friends, we are asking for your prayers and especially your help and generosity to raise vital funds for medical expenses, transportation, housing support and living expenses as she begins a huge regime of cancer therapies including chemotherapy. She needs our help to make this very difficult time easier for her. Luz has always been a strong vibrant soul, but this illness has really taken its toll on her. Let's help lift her up. The goal is to raise $20,000. We don't want her to worry about anything, just getting well and getting back to slinging those drinks again! Please know that our most sincere thank you goes to each and every one of you for your donation, no matter how big or small, as any donation is much appreciated Here is a link for her Go Fund Me Account
https://www.gofundme.com/help-luz-battle-this-monste
.
Shamama giving a shout out to Floyd at her daughters wedding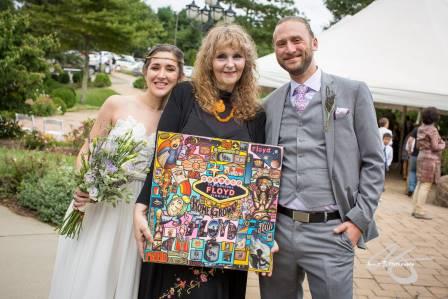 SHAMAMA
is happy and well in Floyd, Virginia even with agent orange in office... Readers please check out the our wonderful and talented writer
JIMI LALUMIA'S PUNK GLOBE
features on Face Book
https://www.facebook.com/Punk-Globe-Features-by-Jimi-LaLumia-1867669543522503/
Thank you
JIMI
!!!
JIMI
has some alerts for #DavidBowie #RollingStone #GlamRock Young Americans was
NOT BOWIE'S
first top 40 U.S. Hit: Space Oddity had gone Top 20 nationally thanks to some very special help from
BOWIE'S
aide de camp
CHERRY VANILLA
! Rolling Stone ,get it right!!!I do love that they credit
WAYNE/ JAYNE COUNTY
as an influence for 'Rebel Rebel' a point that I started in the 90's which took on a life of its own!!!
Kilyan MaGuire getting ready for Mel's Diner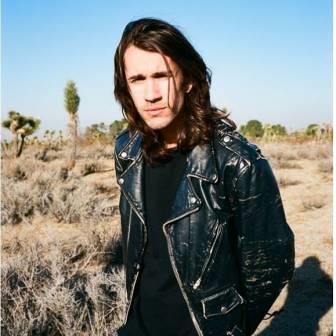 FERNANDO SOLTERO
is getting a good crowd for the comedy shows that he hosts every Monday night at
MEL'S DINER
on Highland near Hollywood Blvd in Hollywood, California.. I first discovered the night when
KILYAN MAGUIRE (THE CHARMING LIARS)
and I ventured in one night to get drinks ... That area of town has been so hectic with The Oscars happening...Detours, Roadblocks, Bullshit....
I'M AFRAID OF AMERICANS
, is the brand new cover song by
A FALLEN MIND
is now available for free download. Check this show out March 10th D.I. with Walking Toxins and 16 Again plus More at Diego's Bar in Santa Ana,CA...
MDC
had a blast on their tour of Asia...
DAVE DICTOR
posted so many photo's on Face Book including a few of him and an Elephant swimming together.. The band loved playing in China and Japan....
DAVE
loved meeting
RABIND RAWKS
in Jakarta... It was a very special Country with all the cool people and their culture...Speaking about traveling to the Far East...
MS. LIGAYA
of
ONE FINGER FILMS
was also recently visiting family in the Philippines... She said it was so hot there compared to Vancouver weather... The CMTV Network is airing a series about
SUN RECORD
right after
NASHVILLE
on Thursdays.... The actor playing
ELVIS
is really cute and the actress playing
ELVIS'
mother is a dead ringer for
GLADYS
......
BILL MAHER
had a great message recently about the power of the now famous Pussy Hats and how under each one is a human being who took to the streets in protest to the new administration... Bringing back the revolution of the 60's that
BERNIE SANDERS
inspired.... The time is now that we all must band together in solidarity during this insane time of dictatorship ruling and fight for justice.... Follow the lead of
BERNIE SANDERS, BILL MAHER, RACHEL MADDOW, ROBERT REICH, ELIZABETH WARREN, KAMALA HARRIS, TAMMY DUCKWORTH, JOY REID, JOY BEHAR, WHOOPI GOLDBERG, DIANNE FEINSTEIN, JERRY BROWN, GAVIN NEWSOM, CHRIS MATTHEWS, SATURDAY NIGHT LIVE, ALEC BALDWIN, AL FRANKEN, MELISSA MCCARTHY, SHERROD BROWN, KATE MCKINNON, TINA FEY, ROSIE O' DONNELL, CHUCK SCHUMER, KEITH ELLISON
and the numerous others who are pushing for justice and equality for all..... Rejected by all but those who would sink to the lowest levels of humanity, four brave men sought to do God's work-to save Rock & Roll from certain death. With heavy pagan drum beats, poorly tuned guitars and the ear splitting force of a thousand exploding suns,
THE DIRTY PRIESTS
have come to fulfill their holy obligation to all of mankind. Teenage angst, fear of communicable diseases and the tragedy of unrequited love are all the motivation that these traveling minstrels of mayhem need to spurn them on. Lock up your Liquor Cabinets,
THE DIRTY PRIESTS
have come to town. We thought
TURN IT AROUND
.....
THE STORY OF THE EAST BAY PUNK SCENE
was going to be released in February but post production has delayed the opening....But it will be released soon we promise!!! San Francisco's
THE VKTMS
recently played at 924 Gilman Street....
HEATHER YUN COLEMAN
is doing some really cool Web Design...
JANOS PETER
let us know that
FIRKIN
has a brand new single out with 3 kick ass songs on it....
RAVENGER
from Brazil are causing quite a stir with their new release.... On April 1st, 2017
MICHALE GRAVES
former
MISFITS
lead singer performs a special Acoustic set live at Diego's Rock-N-Roll Bar And Eats in Santa Ana .....This event is 21 and over // Full Bar // Kitchen....
NIKKI PALOMINO
is using the song Syringes by
MY SON THE BUM
for her film
DAZED THE MOVIE
check it out here
https://soundcloud.com/pluggin-baby/my-son-the-bum-syringes-dazed-version
.... Meanwhile
NIKKI
is taking a break in Texsas doing some research for
THE LAST GENTLEMAN SMUGGLER
.....
KILLBITE
from Germany are gearing up for a tour... The next
KILLBITE
shows are 3-17 GENT - Cafe Molotow 3-17 BIRMINGHAM Wagon & Horses 3-18 MANCHESTER DIY Fest 7-4 BREMEN G18 "record release Party " 7-15 HAMBURG....
THE OSCAR'S
are happening this year at Hollywood and Highland at The Dolby Theater... All sorts of traffic jams detours, sidewalks closed.. Not to mention the helicopters, bomb threats and stupid tourist and the heavy police patrol that accompany the event yearly... I can't wait until the event moves downtown.... I do hope
EMMA STONE
wins this year for
LALA LAND
... And also
MERYL STREEP
to let loose on the tangerine terror... On Sunday February 19th the
LACHETTA
Family have lost everything in their home do to a devastating house fire. While insurance will be helping, it by no means will cover everything they've lost, and will likely take awhile for their home to come together. They need to replace theirs and their children's personal Items, clothes, toys, books etc, and major household items inc furniture to get their lives back on track. Jennifer and Mario are overwhelmed by love and support from friends and family, so any donation, big or small, will be incredibly appreciated as their family is coping with this To donate click here
https://www.gofundme.com/iachetta-family-fire-fund
.... NY Senator
CHUCK SCHUMER
was on
THE VIEW
talking about the status in Washington DC and he made a few funny comments and they posted a picture of him and his cousin
AMY SCHUMER
.....
Whatever68 Radio Anniversary Show

PP PROMO RECORDS
and
WHATEVER68 RADIO
in vite every to help celebrate 5 year anniversary... Saturday April 1st, 2017 at
THE BANCROFT
located at 9140 Campo in Spring Valley, California 91977 There will catering by Salt N Lime food services there with also be yummy food for purchase we will also have
STEVE DAVIS
(Glass Heros),
GREG
and
RANDY
(Los Gattos) there selling their art we also have Organic Punk with Handmade goods for the rebellious. We will have our famous dessert buffet,the prize wheel with lot's of band merch,gift cards and more,door prizes,photo area with props Live on air broadcast whatever68.com Local celebrity guest- Scott Sellers- Drummer (Meat Wagon,NOFX), Kriss Sellers of Revolt-Chix Lando Martinez of Hocus, Sppike Mike-Bassist with True Stories, Elements, League Of Liars and Spice Pistols! Owner Laughing Tiki Garage. Opening and closing the show with acoustic sounds by our MC for the event Endele Wilson/Sky of a Bleeding Sky Bands@4:00 & include Sculpins-San Diego, Los Gattos-Arizona, Horsefly-San Diego , Piss Poor (previous MLE/Megans Law Enforcement)-San Diego. Steeltoe-San Diego, Timm Saxton-On tour-Orange County ,Spice Pistols, San Diego-Debut Show , The Rockaways-Corona, CA, Twitching Fingers-Orange County , Sticky Doll-Los Angeles , Stage Manager Max Cook Official Photographer-Slim Shoots Bands, FREE Event-21+ up only Tune in to this show live on the internet by using the links below Chat Link:
http://www.whatever68radio.com/we68-live-chat-room.html
Tune in App for IOS:
http://tunein.com/radio/Whatever68-Radio-s164207
Radio Forest App for Android:
http://www.radioforest.net/radio/whatever68-worldwide/651584
, Radio.net
http://whatever68.radio.net/
or visit our Blog
http://whatever68radio.blogspot.com/
you can also listen on Cx Radios
http://www.cxradios.com/radio/whatever68-radio
ED TURNER
and
RAUL SANDELIN
are elated with happiness over the reception that
TICKET TO WRITE
got at the
NOISE POP FESTIVAL
in San Francisco.....A special Happy Birthday shout outs to
DONNA DESTRI, MICHAEL ENGLE, ROSIE O DONNELL, PAULEY PERRETTE, NICK MARDEN, JUSTIN CAMPAGNOLA, CHELSEA ROSE, DAME EDNA, WHATEVER68 RADIO, JOE MASCOLINO, DUCKY
and
MORGANA WELCH
...
Nick Hawk leaving Gigolo's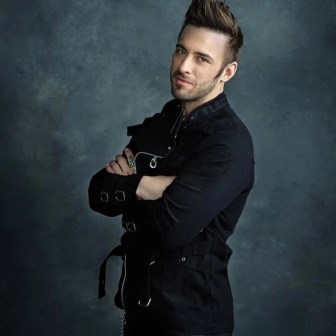 Rumor has it that
NICK HAWK
has left the Showtime hit Gigolo's...February we lost some great people...... Back in 1981 people were introduced to a new format of television and that was Court TV. The ground breaking show was called
THE PEOPLE'S COURT
and the original judge was the now legendary
JOSEPH WAPNER
...... Sadly,
JUDGE WAPNER
has left us at the age of 97...
ACTOR BILL PAXTON
best known for his roles in Twister, The Titanic and Aliens has died from complications from heart surgery... Game Of Thrones star
NEIL FINGLETON
died at 38 from heart failure......
BRENDA BUTTNER
lost her battle to cancer.... Jazz Guitarist
LARRY CORYELL
left us...Canadian Wrestler
IVAN KOLOFF
checked out...American Disability Activist
NICK DUPREE
died...
NORMA MCCORVEY
the woman behind the historic Roe Vs. Wade case has left us... Journalist
CHARLES BARTLETT
has left this world...Body Builder
NICOLE BASS
has passed away....
BRUCE LANSBURY
who produced Murder She Wrote died... Australian singer
CAROL LOYD
died from a lung disease... Iconic Musician
AL JARREAU
passed away from respiratory failure...Japanese Pop singer
RINA MATSUNA
left us at 18.... British Comedy writer
ALAN SIMPSON
had acute lung disease... British poet
TOM RAWORTH
died at 78....Streets Of San Francisco Battle Star Galactica amd best remembered as being Phil Brent on All My Children
RICHARD HATCH
has died from cancer.. The storyline of the love affair of Phil and Tara is part of the Soaps Histoory.... The wonderful
SONNY GERACI
who sang
"PRECIOUS AND FEW"
with the band Climax and was the singer in the legendary Cleveland band The Outsiders has left us.... Here is video of him
Canadian band April Wine bass player
STEVE LANG
has died...
ROBERT DAHLQVIST
singer and guitarist for Swedish band
THE HELLACOPTERS
has passed away at 40...
DEKE LEONARD
of
MANFRED MAN
died...
PUNK GLOBE
extends much sympathy and condolences to the family, friends and Families of all the fore mentioned...... Everyone who is reading
HOT GOSSIP
in
PUNK GLOBE MAGAZINE
should be sure to check out our sponsors links that have banners on the index page:
DAZED THE FILM
https://www.facebook.com/Dazed-The-Film-898991600172454/?fref=ts
DAZED RADIO
http://whatever68radio.com/
WHAT EVER 68 RADIO
http://whatever68radio.com/
Dazed and Still Dazed The Books
http://www.amazon.com/Still-Dazed-Through-Grunge-Rockers-ebook/dp/B00YHOVS4W/ref=sr_1_1?ie=UTF8&qid=1445645361&sr=8-1&keywords=Still+Dazed+Nikki+Palomino
MY SON THE BUM
http://www.mysonthebum.com/fr_home.cfm
TICKET TO WRITE
http://www.tickettowritethemovie.com/
H.E.A.R.
http://www.hearnet.com/
DC - JAM RECORDS
http://www.dcjamrecords.com/home.cfm
MUSIC LIFE RADIO
http://www.musicliferadio.com/
This month's
PUNK GLOBE
is smoking hot.....
THE FLOYDIAN DEVICE
did the brilliant cover and the talented
MATTHEW COLEMAN
along with the fab
SHARLA CARTNER
did the all the coding and layout you are reading......
CYNDI FORD
did a great update interview with the fab
VANESSA BRISCOE HAY
singer for
PYLON
..
GINGER COYOTE
interviews
GRAND MANNER
about their new release
"THIS PERFECT DAY"
.... She gets the 411 from
ACIDEZ
from Guadalajara, Mexico....Arist Activist
ROXANNE ZIDELL
tells us about the Women's March in Washington DC....
Randy Linares future Advertising Executive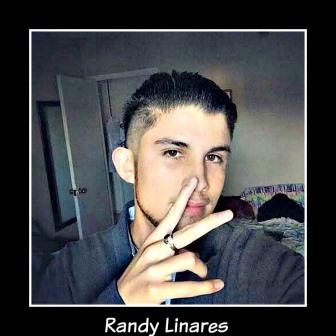 Upcoming Advertising magnet
RANDY LINARES
tells
GINGER
about all his goals....
GINGER
also reviews
PUNK AVENUE
by
PHIL MARCADE
and Music from
SMASH INTO PIECES,
and
PLEADING GUILTY
...
LISA PUNKR PRINCESS
Talks Punk With
RON RANCID
and
THE SAWED OFFS
....
CORNELIA BENAVIDEZ
is back with
SAN FRANCISCO XII
... Updates on
THE LAST GENTLEMAN SMUGGLER
and
DAZED THE FILM
..... Find out about how to get
DAZED: THE STORY OF A GRUNGE ROCKER
...
DONNA DESTRI
gives a fantastic review of
"JOI LANSING: A BODY TO DIE FOR"
by
ALEXIS HUNTER
... ....
LACIE GRAYSON
and
ASTRO SLUT
is back...
ALEC BALDWIN
and
MELISSA MCCARTHY
rule as
PUNK OF THE MONTH
and
RUNNER UP PUNK OF THE MONTH
......
JIMI LALUMIA
tells all about
MAX'S
KANSAS CITY
....
JAIME PINA
reviews
TSOL, THE DEADBEATS, ROZZ WILLIAMS, DADDY WHERE DOES 420 COME FROM?
and
PSYCHOMANIA
...
CARL MACKI
reviews
JAN KEROUAC'S "A MOURNERS TALE"
......
LISA LUNNEY
has been busy with reviews of
ROGER WATERS, THE PRINCESS DIARIST
by
CARRIE FISHER, WAYLON JENNINGS, THE OLD TIMERS
and
BROTHER PAUL
....
JAMES CARLSON
reviews music from
DYING WHALE, THE BOMPPOPS, LYNX LYNX
and
THELMA
...
EUROPE
reviews music from
SONS OF REVOLUTION
...
VALERIE L
tells all about
DAX
and
ROXANNE
.... A special shout out to
GRAND MANNER
for the Special Thanks on their new release
THIS SPECIAL DAY
......
PLEASE
remember that you are reading this all in
HOT GOSSIP
!!!!!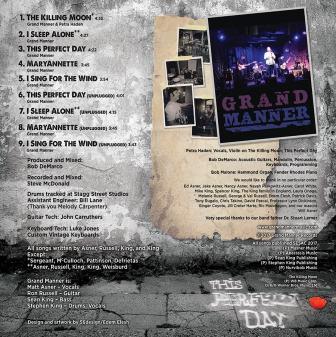 Happy Birthday Donna Destri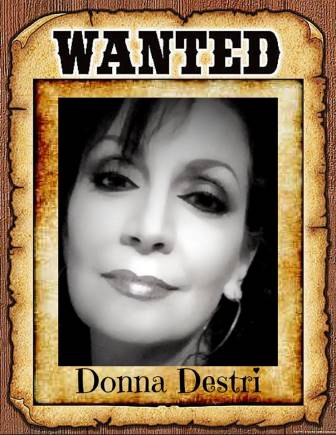 HAPPY BIRTHDAY'S
late and early to:
PAULEY PERRETTE, MARK LINDSAY, MORGANA WELCH, NICK MARDEN, DONNA DESTRI, RANDY RAMPAGE, ROSIE O' DONNELL, DAME EDNA, DEBBIE HORN, MAGGIE BENNETT, VALERIE RABOIN, GILLIAN LARSON, LYDIA ROSE, CORNELIA REED, STEFFAN CHIRAZI, JOE PERV, DOMINIQUE DE BRUYNE, CHELSEA ROSE, MAGGIE EHRIG, KASSIE DEPAVIA, SAM NEWTON, GEORGE RAMSEY, KRISTIN MERTZ, JEREMY ALLEN WHITE, LARVA X, IGNACIO GARCIA, GARY COMENAS, JANET CUNNINGHAM, KATHLEEN LEAHY, GREG GOULD, DALE BOZZIO, GINGER BRODERICK, DUCKY SLAUGHTER, JIMMY "ZSA ZSA" STAUFER, CHRISTINA TERZES, PLEASANT GEHMAN, AYSE X-RAY FILIX, JUSTIN CAMPAGNOLA, DONNA DESTRI, BRYAN RABIN, DAVID W. ANDERSON, PETER DUNNE, FLEUR NEWMAN, DEE POP, MARLO PAGE, ROB LOWE, MIKE LAUGHLIN. JONO HERNANDEZ, JASON HONEA, JIMMY DESTROYERS, GREG ROSSELL, LOU GWERDER, BARBARA IRELAND, KAT VON D, HEATHER HALEY, SCHRADER THOMAS, NUBS GUTMACHER, MICHALE GRAVES, SHARE ROSS, JASON BAIN, CHUCK E WEISS, RON QUINTANA, KEITH LANGERMAN, JACK RABID, SANDY GLAZE, SAM SALMAN, TAMERLANE PHILLIPS, COURTNEY DOLL, KEITH KARLOFF, XEN LANG, TOM SHEEHAN, MIKE WILHELM, PETER MURR, KEVIN SECONDS, SABRINA KALETA, JUSTIN SCARRED, CHRIS CARTER, JOHN STOCKWELL, ROBERT SHIELDS, ALEX SARAIN, JON DOE, EDGAR DAVIDS, MITCHELL FRANK, TOMAS BRICKHILL, EVAN SMITH, BRIAN YOUNG, EVAN DANDO, VANESSA WILLIAMS, MATT HECKERT, ED BODE, GEORGE ROSSI, JOHN REICHLE, DALE DABONE, RAB PENNIE, FREDDIE KATZ, PAUL FAHEY, IRA BLACK, BILLY DESMOND, JIMMY VALENTINE, DUSTY TETON, TERESA WYATT, TINA WILSON, CISSIE COBB, LUCY ROBBINS, SYLVIA MASSEY, ROBBIE ALCOCK, ANTHONGY BENGAL, JED STONE, TOM MITCHELL, MILT LOWE, JUSTIN CASE, JENNY WRIGHT, PAT DOYLE, DONNA BLANK, SIMON WHITEHEAD, KATY BRIER, BRIAN STRICKLAND, VINA APSARA, FRANK HOWSON, BARBARA RAMONE, BILL KATSIK, PETER JONES, PAUL REED, HUGO BURNHAM, RON MOSS, TOM MITCHELL, JAMES DOOLEY, EWAN MCGREGOR, JONATHAN POSTAL, BRUCE GEDULDIG, ROBERTO SANTANA, MICHAEL NEAL, JAVI COLON, GLENN ROLLINO, JENNY HAWKINS, CHRIS LEROY, KURT THOMAS, JONATHAN BASH, RICHARD PEARSON, BOB GERM, DAVID FAUSTINO, DRUE DILLINGER, TODD NEWMAN, JASON DOUGLAS, MARK DIPIAZZA, KELLY MITCHELL, GIGS BOLTON, LISA FLOWER, SANDY MILL, MIKE HARRINGTON, ERNIE POP, PAT DOYLE
and anyone else who we may have forgotten on this list...
We will end this column with these sage words of advice...
YOU HAD BETTER BE CAREFUL ABOUT JUST WHOSE TOE'S YOU STEP ON TODAY
...
AS THEY JUST MAY BE ATTACHED TO THE ASS YOU WILL BE KISSING TOMORROW
!!!