Happy Valentines Day to all Punk Globe readers ..... I would like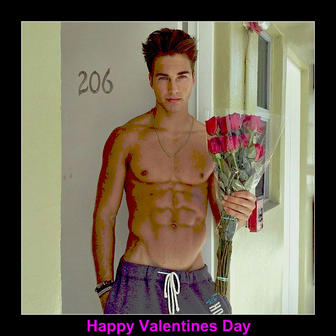 to thank all my friends, family who sent their well wishes and kind loving words on the recent death of my sister MARILYN ROSE. She suffered bad fall and passed... About two months prior I had fallen while cleaning the bathtub and hurt myself really bad.. Then my friend the multi talented musician RALPH CARNEY fell on his front steps and killed himself... Then finding out my brother RICHARD has cancer was a added bummer...A big Thank You to JOE DOHERTY for understanding the loss during the time for the show at Los Globos... The Federal Government is open until February 8th until The Daca Agreement is shot down by Congress..... Nearly a year ago, hundreds of thousands of people took the streets one day after the tangerine terrorist's inauguration for Women's Marches in cities across the globe. People came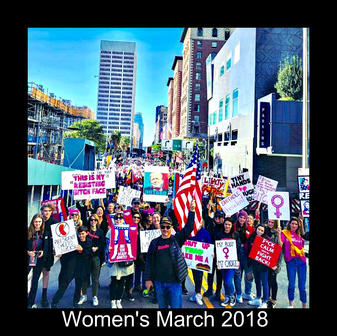 together for gender justice, reproductive justice, ending sexual violence, and more. This was much bigger than agent orange's inauguration... Since then we've seen fierce federal attacks on reproductive health, transgender rights, health care access, voting rights, our Muslim communities, and our climate. At the same time, with the explosion of the #MeToo and #TimesUp movements, we've seen how organizing builds power for gender justice. We marched in big time numbers on January 20th..... Everyone's favorite band SYTERIA are confirming dates for a tour of Asia....THE B 52'S were in LA to play a free show for Broadway nights.... The weather is horrible in Georgia and poor CINDY WILSON and WARHOL BOY had a hell of a time getting to the airport with all the black ice on the roads....It took their driver forever driving at 10-15 minutes per hour... Both CINDY and KATE were honored at the SHE ROCKS Awards Show at The House Of Blues in Anaheim, California.. RODDY BOTTUM let me know that his neighbor in New York City is the fabulous RACHEL MADDOW and that she is as cool as she seems..... Sadly the complex had a fire and both RODDY and RACHEL have had to relocate temporarily.......The ' tangerine terrorist is a racist. It was clear on when he made his shithole remarks about Haiti, and it was clear last month, when he made his comments about Nigeria. It was clear when he went on his "birther" crusade against BARACK OBAMA. It's been clear for as long as he's been in the public eye, from when he was investigated by the Department of Justice for housing discrimination in the 1970s to when he demanded execution for five black and Latino teenagers who had been accused, falsely, of attacking and a raping a white woman in New York City in the 1980s.There is no reason for Democrats to participate in a tradition that will provide agent orange with polite political cover that helps normalize his abhorrent regime.From his racism to his misogyny, from his xenophobia to his anti-LGBTQ bigotry, from his disrespect for the press to his blatant corruption, chief cheeto disrespects the institution of the presidency and the very foundations of our democracy. His State of the Union may turn out to be more polished and vetted than his unhinged tweets and racist comments, but it will still promote the same dangerous, racist agenda of his authoritarian regime...... Democratic Sen. DICK DURBIN had the guts to stare the vile comments of a sitting shit hole pr*sident in the face and go on the record with them because they were simply too revealing to keep hidden from the American people. RepubliKKKans, on the other hand, have made a studied practice of whispering about tangerine terrorist mental lapses, overt bigotry, and overall unfitness for office behind closed doors, far far away from the public eye, where Americans might get a better picture of just who exactly is running our government. Now, faced with someone actually taking a principled stand for which he knew he would be vilified, RepubliKKKans are sending a message: You should have just kept your trap shut, like we do.
trey gowdy resigns from House Ethics Committee.....
A Senate bill that would overrule the FCC and save net neutrality gained enough cosponsors to force a vote on the Senate floor. And yesterday, Senator SUSAN COLLINS became the first Republican member of Congress to pledge to vote to overturn the FCC's decision. The bill is called The Congressional Review Act (CRA) and would give elected officials 60 legislative days to overturn the FCC's repeal of net neutrality with a simple majority vote in the Senate and House. Now that a vote in the Senate is guaranteed, your senators need to hear from constituents to show them how important keeping the internet open and free from censorship is to you. A disturbing pattern of a three-way quid pro quo involving Sinclair, the Trump administration and Chairman Ajit Pai. That's what a letter from 15 senators called FCC Chairman Ajit Pai's behavior regarding the Sinclair-Tribune merger. The clock is ticking on the FCC's self-imposed deadline for making a decision on the merger. If the FCC approves this deal, it will give Trump TV reach into more than 70% of the local TV market. From the beginning, Chairman Pai has been eager to roll out the red carpet for Sinclair and grease the wheels to enable this merger to happen. So eager, in fact, that we're calling on the Inspector General of the FCC to investigate Chairman Pai for making rule changes specifically to benefit Sinclair........ A horrible blizzard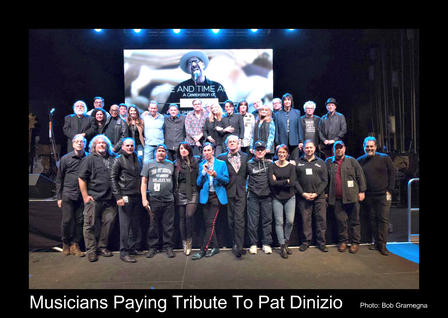 could not stop BEBE BUELL from participating in a tribute of the life of the late PAT DINOZIO she sang a song that DINOZIO had written with The Smithereens — guitarist JIM BABJACK, drummer DENNIS DIKKEN, and bass player MIKE MESARO... They were joined by a rotating roster of vocalists former BONGOS front man RICARD BARONE, DAVE DAVIES of THE KINKS, MARSHALL CRENSHAW, STEVEN VAN ZANDT, GRAHAM MABY of THE JOE JACKSON BAND, LENNY KAYE of PATTI SMITH, THE FLESHTONES own PETER ZEREMBA and KEITH STRANG plus many more...........It was held at COUNT BASIE THEATRE in New Jersey.... JULIA LOUIS DREYFUS did not attend the Screen Actors Guild awards because she is getting treatment for cancer.....Picking up two wins, the "Veep" star became the most decorated actor in the history of the SAG Awards, with nine wins overall.... Three Billboards was also a big winner.. FRANCES MCDORMAND won Best Actress... GARY OLDMAN Best Actor, SAM ROCKWELL Best Supporting Actor, ALLISON JANNEY Best Supporting Actress for I Tonya, WILLIAM MACY won Best Actor in a comedy series for Shameless Here is the list of the winners http://www.cnn.com/2018/01/21/entertainment/sag-awards-winners-list/index.html
Congratulations to RANDY LINARES for working at Ralphs in the evening and weekends and also at Wells Fargo during the week...
Remember the return of THE WHITE TRASH DEBUTANTES show at Los Globos 3040 Sunset Blvd on February 3rd... We have added as Special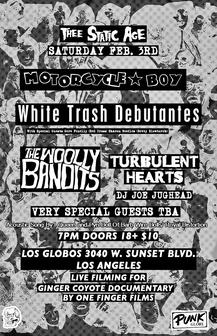 Guests I QUEEN and PYN DOLL of THE BARB WIRE DOLLS and ROYAL DISTORTION doing a special acoustic song for the show... Doors: 8:30
Turbulent Hearts: 8:45-9:15 Woolly Bandits: 9:30-10:00
IQueen Pyn Doll: 10:10-10:25 Motorcycle Boy: 10:40-11:15 White Trash Debutantes: 11:30-Close
Sadly, THE SHOCKER featuring JENNIFER FINCH were going to play but lost their drummer at the last minute..... So they had to bail on the show.... GERE FENNELLY (RED KROSS) will be playing keyboards with WHITE TRASH DEBUTANTES and SHARON NEEDLES and MIA X ROCK n' ROLLA will be joining WTD doing SUCKER.... A big thank you to DONNA DESTRI for the shout out invite... You Rawk Grrl.... Here is the latest Video from ONE FINGER FILMS for the show......
PHIL CAMPBELL AND THE BASTARD SONS have released their debut album 'THE AGE OF ABSURDITY' Worldwide... You can order here in several formats nuclearblast.com/philcampbell-ageofabsurdity EASY' LOU JONES lost about everything he owns in an apartment fire caused by his neighbors... BILLY BONES is looking for bands to play a benefit for him sor a all day Sunday fundraising at Maui Sugar Mill..... Actress/ Activist ROSE MCGOWAN has a new book out called 'Brave'..... BRIAN KROLL of MY SON THE BUM wanted everyone to know that wanted you to know that SYRINGES (Dazed / The Film /Vocal Version) / Unreleased had it's World Radio Premiere on The Lopsided World of L with JONATHAN L, an award winning international D.J. with shows on several stations / FM / around the world..Week of January 17th... http://www.jlradio.com/
JONATHAN L'S LOPSIDED WORLD OF L with Jonathan L, an award winning international D.J. with shows on several stations / FM / around the world.. beginning the week of January 17th...http://www.jlr STEPHEN COLBERT is producing a really funny comedy series on Showtime called Our Cartoon President about the tangerine terrorist in February....... Check it out..
JAYNE COUNTY is having an Art Show at Participants Inc located at 253 East Houston 212- 254- 4334 in New York City beginning February 4th thru March 11th. 2018......
BASEBALL PUNX is a documentary/compilation that explores the link between baseball and punk bands who love the game.
BASEBALL PUNX is a short documentary about DIY Punk and Baseball, backed by an awesome compilation of baseball-inspired punk songs from a whole host of killer bands. With BASEBALL PUNX , production company Shibby Pictures take a detour from producing videos for scene legends such as DAYS N DAZE, LEFTOVER CRACK and MISCHIEF BREW to bring their unique style to a documentary format. Featuring contributions from SCOTT RADISNKY (LA Angels), VINCENT CAFFIERO (Tampa Bay Rays), ROB TAXPAYER, JOHN DEDOMENICI (Bomb The Music Industry/Jeff Rosenstock), STEVE SLADOWSKI (PUP). Written and Directed by JAK KERLEY...
Watch: Baseball Punx (Out 2/16)
Advance promo - Audio edit pending (Please don't share):
Trailer:
Hear: Baseball Punx (Out 1/26)
https://soundcloud.com/shibbypictures/sets/baseball-punx-compilation/s-huz2Q
Hope you are enjoying TIMM CARNEY'S cryptic barbs on Facebook...... THE PRIMA DONNA have a new Cd coming out on LITTLE STEVEN'S label very soon... PINK CIGAR an up and coming Rock 'N' Roll band from London They have a brand new video for their new single GET UP...They played a show at PAPER DRESS VINTAGE in Hackney London to help celebrate....
FORMOSA from Germany
The new music video for the Song "Fuck up your Liver". It is the best evidence that good hard rock music is made with beer and joy. In an old train-garage the video was shoot in November with more than 30 participants. The video has it all: Beer Showering, a cucumber as a drumstick and stage diving deluxe. The song is in answer to a healthy lifestyle canticle and a declaration of love for all what is bad for the body but still a lot of fun! Their new album Sorry For Being Sexy will be released on March 2nd...
The OSCAR nominations are in and here is a list of the nominee's
https://www.cnn.com/2018/01/23/entertainment/oscar-nominees-full-list-by-category/index.html
PERPACITY'S 'Rule the Day' is the first single from their new album release 'The Order Of Now', due out later in 2018, which follows 2016's successful album 'Arise'. The bands members, musician and producer, MARTIN NYRUP and vocalist/guitarist IAN HARLING describe the song as an anthem for those who want to make their own life choices. Neither are strangers to non-conformity and variety in their projects and lives – they´ve also co-written three popular books together on psychological magic, or 'mentalism', which uses hypnosis, NLP, suggestion, and downright deceit, to create effects like those performed by people such as DERREN BROWNE and DAVID BLAINE.
"I think we have a low boredom threshold," says NYRUP. "We want our lives - and music - to continue to change and grow all the time. We try to write in a very natural way, following whatever kind of music that comes out of us rather than staying within one specific genre. This has helped us develop our own style to some extent, and even we find it impossible to know what we might end up doing over the coming years - and nothing could be a more exciting prospect." SPAGHETTY TOWN RECORDS are back with their first release of the year, Italy's FAZ WALTZ! It's a little different from our sleaze rock base, think more foot stomping glam rock i.e. GIUDA, SUEDE RAZORS etc. To make it even more exciting, RODNEY BINGENHEIMER played "Julie" on Sirius XM's "Underground Garage" earlier this month! THE FAZ WALTZ "Julie b/w I'm Bleedin'" single is set to be the first great rock 'n' roll anthem of 2018. "Julie" will be available in the US in February, since they are being shipped from Italy. It will be available in Europe in January on CONTRA RECORDS (Germany) and TONGUE RECORDS (Italy)..... January started out bad for THE FLOYDIAN DEVICE on January 1st he got the flu for ten days... Then when he was feeling better he and MS. LIGAYA went to a Thai Masseuse only to have her crack his neck that caused him all sorts of pain... He went to his own Doctor who x rayed him and he found out that the masseuse had given him whiplash and when he just began feeling better from that, he was rear ended in his car activating the pain...... Ms. Ligaya suffered all sorts of pains from an old injury from this last accident also.. THUMPER PUNK RECORDS is stoked to announce the addition of Houston, Texas, based punk band THE PRETTYBADS to its evolving line-up. THE PRETTYBADS start from a base of RAMONES-esque three chord punk, then layer on top their own unique sci-fi, doowop, surf, horror, and bubble gum pop influences. Fans of Blaster The Rocketman will love THE PRETTYBADS. The band is currently preparing to record their full-length debut album for release in the summer of 2018. Their current demo of "Maybe I'm Not The One You Wanted" is available for streaming and free download hosted by IndieVisionMusic at:
https://www.indievisionmusic.com/news/prettybads-maybe-im-not-one-wanted-punk-rock-demo/
Terror in Perris California.. 13 children aged 10-29 years were held captive in their parents home. Luckily a 17 year old girl escaped and reported the sick ass parents to the police... David and Louise Turpin are charged with torture and child endangerment. Bail was set at $12 million each. Riverside County sheriff's deputies had not had previous contact with the couple. Child protective services had not been called to the home in the past, officials said. But Child Protective Services have taken in all 13 kids now..... The parents have high powered lawyers and are pleading not guilty..... Another movie in the making for sure...Up and coming quarterback TYLER HILINSKI took his own life in Washington. Here is the story https://www.sbnation.com/college-football/2018/1/16/16899872/tyler-hilinski-washington-state-qb-passes-away SONGS FOR SNAKES want all to know that their new album entitled Crystal Vapour Figure which was mixed by J Robbins of Jawbox/Burning Airlines. Check them out here https://songsforsnakes.bandcamp.com/album/crystal-vapour-figure
Wonderful is the fourth studio album from Circle Jerks. Featuring the mid Eighties thru mid Ninties line up of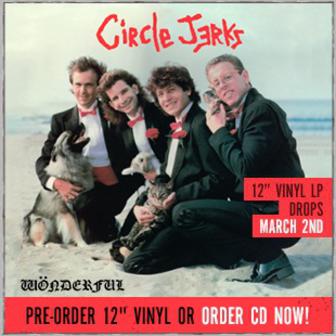 Keith Morris, Greg Hetson, Zander Schloss and Keith Clark the record features more mid tempo numbers and a heavier sound than it's predecesors. "Making the Bombs," "Killing For Jesus," "Wonderful" and "American Heavy Metal Weekend" are all hits and this newly re-mastered pressing brings them up to today's sonic standards. Originally released on Combat Core Records in 1985 Wonderful has always been a fan favorite and it's tunes have been staples in the band's past live performances. The re-issue of this great punk record is long overdue and it's going to connect with Circle Jerks fans both new and old.
Porterhouse Records is pleased to present it's thirteen re-mastered tracks lovingly pressed on shiny black vinyl.... The Bay Area band UNITED DEFIANCE have a brand new 17 track release called Safe At Home out....THE LEMON TWIGS are looking for a new drummer.. ROUND EYE are playing a show in LA on February 16th at The Morracan with THE DICKIES...And Feb 17th in San Pedro at Ress Records.... Who are the celebrities on Big Brother... PAULEY PERRETTE who is the biggest Big Brother fan is not one of them.... I am getting interviewed by the wonderful TANYA PEARSON for the WOMEN OF ROCK ORAL HISTORY. That so many of our Sisters Of Punk Rock have been interviewed for...... SOCIETY OF VOICE AWARDS honored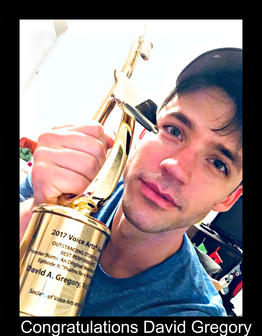 DAVID GREGORY and POWDER BURNS at this years Voice VOICE ARTS AWARDS... Many fine folks said farewell in January: Actor BRADFORD DILLMAN succumbed to pneumonia... THE FALL frontman MARK E. SMITH died at the age of 60... He had been performing in a wheelchair recently and was in poor health...Character Actress CONNIE SAWYER left us at 105 years young..... Actress JESSICA FALKHOLT from Australia was in a fatal car cash... EDWARD HAWKINS who was in THE HAWKINS FAMILY SINGERS left us,,, MARILYN ANKENBAUER suffered a fatal fall... DOLORES RIORDAN of THE CRANBERRIES said farewell.... Latin Actor OSCAR PEREZ perished in a helicopter crash... Teletubbie Tinky Winky SIMON SHELTON left us at 52 years old...... STORM CHASER Star JOEL TAYLOR died aboard a cruise ship from a suspected drug overdose...Groupie BARBARA COPE died in a house fire... Screenwriter HUGH WILSON left the world... Actress JEAN PORTER died... LISA CHEKDEKEL lost her battle with cancer... British Model HARRY UZOKA died from a fatal stabbing at 25 years old.... Actor ROBERT SUTTON died...MOTORHEAD Guitarist FAST EDDIE died from pneumonia.....
IRON MAN guitarist ALFRED MORRIS is gone... DOREEN TRACEY of The Original Mickey Mouse Club died...DONNELLY RHODES who was on Soap died of cancer....Author TRICIA WALKER died of Breast Cancer... Porn Actress OLIVIA NOVA died by herself at 20 years old.. CAROLINE HART who appeared on Sesame Street died from cancer... actor JERRY VAN DYKE brother of DICK VAN DYKE died at 86 years old from heart failure.... HARRY LANDERS who was on the drama Ben Casey died at 96 years old... RAY THOMAS who was in The MOODY BLUES died of cancer.... PAT DINIZIO of THE SMITHEREENS died unexpectedly in New Jersey.... LARI WHITE CANNON vocalist for THE LONG PLAYER passed away in Nashville Tennessee.... MIKE CARROLL who played in the Texas bands POISON 13 and LORD HIGH FIXERS has died ... PUNK GLOBE extends condolences to the families, friends and fans of the aforementioned...
Be sure to check out our sponsors links that have banners on the index page:
ERIK CORE
www.erikcore.com
Syteria
www.syteria.bandcamp.com/track/santas-harley
Dazed and Still Dazed
http://www.amazon.com/Still-Dazed-Through-Grunge-Rockers-ebook/dp/B00YHOVS4W/ref=sr_1_1?ie=UTF8&qid=1445645361&sr=8-1&keywords=Still+Dazed+Nikki+Palomino
MY SON THE BUM
http://www.mysonthebum.com/fr_home.cfm
TICKET TO WRITE
http://www.tickettowritethemovie.com/
THE LAST GENTLEMEN SMUGGLER
https://www.facebook.com/groups/1100845919933061/
DC - JAM RECORDS
http://dcjamrecords.com/
MUSIC LIFE RADIO
http://www.musicliferadio.com/
PUNK GLOBE is jam packed this month....The fabulous PUNK GLOBE cover was done by THE FLOYDIAN DEVICE.... And all the coding and page layouts were done by MATTHEW COLEMAN.... MARIE QUINN interviewed GENNY SCHORR of the old school punk band BACKSTAGE PASS,,,, GINGER COYOTE interviewed MATT ESKEW and CHRISTINA LOPEZ about their ultra hawt bans THE HELLFLOWERS.... She also interviews AGENT ORANGE drummer DAVE KLEIN about his recording studio DAVE KLEIN RECORDING... She gets the latest from JIM JACOBI AND THE CRAP DETECTORS and his forty years in music... She also talks with THE BORDERTOWN DEVILS from Tucson Arizona... She tells us about her I TONYA story when she invited the fallen Ice skater to join THE WHITE TRASH DEBUTANTES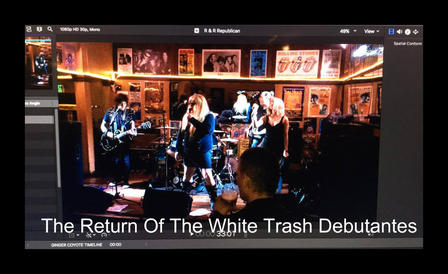 in the mid 90's.... She reviews THE VIBRATORS and ACID TEETH...She also tells you all about MIGNON'S new CD TOYS TANTRUM... .. JAIME PINA reviews the original MISFITS show and CAT o" NINE MVD.... JIMI LALUMIA reviews the new QUEER CORE QUEER PUNK MEDIA book..RICHIE UNTERBERGER does a special review of TICKET TO WRITE.... There issa review of the latest from REPTILIANS FROM ANDROMEDA.... J.S. reviews POCKET FISHRMAN... BILLY JAMES tells us about the latest from EVA O..... JOOLS GREEN reviews the latest from THE GOOD, THE BAD AND THE ZUGLY.... JANET HAMMER reviews PROFESSOR AND THE MADMAN'S new release.. CRIS DELAFE does an article about BANDA EN LINEA.... We have THE LAST GENTLEMAN SMUGGLER, DAZED THE FILM and DAZED and STILL DAZED updates... LACIE GRAYSON is back with ASTROSLUT... THE RETURN OF THE WHITE TRASH DEBUTANTES to play Los Globos February 3, 2018..... Our Webmaster MATTHEW COLEMAN needs your help.... We have a great PUNK OF THE MONTH TOM STEYER and a pretty rad RUNNER UP PUNK OF THE MONTH... PULSE MAGAZINE interviews JOHN NOVAKOVIC of CATS COLLIDE and BEDTIME FOR BONZO... LISA PUNKrPRINCESS interviews EASTER TEETH and STEVE STRAUGHAN of THE HI-FI SPITFIRES and THE U.K. SUBS.. Please remember you are reading this all in HOT GOSSIP.....
HAPPY BIRTHDAYS Early and Late to: DANIELLE BARDAZZI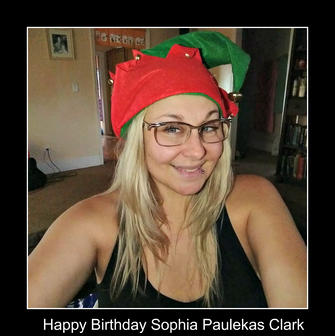 YORK, WENDY LIEBMAN, ERIC ZENTNER,DAVE DAVIES, AMY TALASKA, ANGEL CASSIDY BORTZ,CHOO CHOO DENNY, TIM MITCHELL, CHEETAH CHROME, HOWIE KLEIN, LULA PERLA, HEATHER MCCOLLUM, SOPHIA PAULEKAS CLARK, SLYVAIN SYLVAIN, LYNN GOLDSMITH, CORRINA KARCH, MELISSA PACA, JOANN ROBLE, ERIC HILL, ELKA ZOLOT, LYNN DIALS, MARA HISIGER, MATT DILLON, KIM ZIMMER, DANA FRANK, ROCIO PONCE, JOHNNY SIERRA, CINDY MILLER, ROMAN ESSER, JIM VERRAROS, JIM LUCIO, STEVE LINSLEY, JENNY FIESTA, BILLIE JANE DUFFEY, TONO RODONE, KATHLEEN LEAHY, STEVE AILMENT, GRACE JONES, DANNY RAY, MERI ST. MARY, BILLY MUMMY, DAVID DUET, SEBASTIAN FUCHS, COLIN EGGLESFIELD, DIEGO CARREREA, ERIC ROSE, DENNIS C. LEE, DEBRA WINTER, TINA SLOAN MCPHERSON, MARCO SIMONCELLI, PAULY SHORE, RANDY MESSIER, JUAN CARLOS MARTINEZ, JOHN HUFFMAN, JUSTINE SMILEY, PATTY FEDOKOWICZ, STEVE ABRAMS, SHERRY SELLERS, ROGER CARRINTON, DUFF MCKAGEN, MARK KOVALL, MESSY STENCH, TIM BARRET, DIANE POP, KIRA WHITE, ANGEL BONILLA, TOM O' HARA, MICKEY SKIN, SHAWN EDWARD, MAMIE VAN DOREN, LORI MADDOX, WILL CRAWFORD,TRIXIE JENKINS, MAX WOLF VALERIO, ADAM DODGE, TIMMY REDD, SHIRLEY JONES, CARMEL DELPRAT, JOEL STEIN, BILL REID, TANNER JAY, JANICE DICKINSON, MARK OSBORNE, SHERRY VINE, HENRY ROLLINS, XAN NYFORS, ARI GOLD, CATHERINE HICKLAND, ADAM ELIOT,CARLOS LOPEZ, JAY DECAY, CHRIS ATKINS, DAVE WAKELING,SCOTT CONRAD. JIMI BONES, DAVID LUSK, MICHAEL SANTINA, JOHN HUBER, DONALD PEARL, PAUL WADSWORTH, MICHELLE TEA, BOB STANDER, JOHN HARL, ELLIOT SHANNONHOUSE, GRANT SHOW, JEFF MITCHELL, CHRIS HAUGEN, SUZANNE CARLIN, BARBARA STINSON, PETER FONDA, LIBBY MOLYNEAUX, MARY MORANDIN, GARY MITCHELL, PAULY TANG, DENNIS C. LEE, JOEY PINTER, BRIAN ALBANO, PAM HARRINGTON, HANK KIRTOM, BRUCE FERGUSON, PETE TAYLOR, JENNIFER KAUFF, JOE GIFFORD, CASEY SCHUITZ, STEVEN PRATT, SLAM SUZANNE, JUNE PHILLIPS, ANGELO APRILE, ROGER CORNWALL, PIERCE LAUGHTER, PATRICK ROGERS, BOB ROEHERMAN, MICHELLE BRAMLETT, LEE VALENTINE SMITH, TRINA CARROLL, STEVE BURCKY, CHRIS MCKIM, KATINKA SMIRNOFF, SEAN MCTIERNAN, PAUL GARZA, COOKIE DULUCA, RUSS LIPPETT, PATRICK RING, JOE BABIN, LIZ COOK, REBBECCA BRIDE, FRANK HARRISON, ROGER STRINGER, BILL PESCH, MIKE WORM, CHRIS SCHAFFER, BARRY BRAXTON, DIEGO GARIA, JIMMY CISSON, JC CARROLL, ANYTHONY BUTCHER, TRAVIS BOURRIE, SUSANNE FAVELLA, KELLY KAMPLAIN, STANLEY MASTERS, ANDREA BROWN,ARTHUR GARBER, SHAWN PARKS, DEE DEE O' WILLIAMS, JOHN MILKY, CAS BAILEY, THOMAS ANDERSON, JOHN ARRTALE, GARY FORNEY, CHRIS SWIFT, CHAD COLLINS, DINA WOOD, PAUL LABRECHE, JOHN CAMPBELL, BRANDON HASSER, TONY MARTIN BLANK, JOEL SELVIN, BRETT MOSES, TED FELDMAN, JAMES MORAN, JACKIE SHARP, FREDDY REDY, KEITH RENSHAW, TED FELLMAN, KAREN NEAL, CHRISTINE WILEY, CRAIG KLUCZNIK, CHRIS SWANSON, JAY SELLERS, JC BERDO, COLIN CHRISTOPHER, GEORGIA PEACE, RACHAEL WALSH, DAVY WILLIAMSON, LYNN FLYNN, TONY ROGERS, TRACY DRIVER, SACHA WOLFF, RHODA ROSA, DEANNA HOVEY, RICHARD DEWHURST, EMILY MILLER, BRETT CALLWOOD, BOBBY HALL, JUSTIN CARL, MIKE TURNER, PAT HERNANDEZ, DAVE NORTON, STEVE HUMBLE, GREG WITT, JASON BLACKMORE, CAROL NOTTINGHAM, JACK ADAMS, HARLAN SHORT, CATHERINE ROCK, JASMYN KELLY, CINDY WILSON, KRISTOPHER BOCK, VERONICA FUENTES, JOSEPH AYERS, KEVIN TIMOTHY, HEATHER HELL KITTEN, JAMES ASHTON, FRANK ROCCIO, SIS LIMITZ, TARCY MIRINDA and anyone else we may have overlooked...
We will end this column with these sage words of advice... YOU HAD BETTER BE CAREFUL ABOUT JUST WHOSE TOES YOU STEP ON TODAY........... AS THEY JUST MAY BE ATTACHED TO THE ASS YOU WILL BE KISSING TOMORROW!!!