Interviewed by Ginger Coyote
I recently got a chance to do a one on one with the members of Ghosthookers.
I hope you enjoy the following interview and will check them out .......

Punk Globe: First and foremost I want to thank Ghosthookers
for their support of
Punk Globe
.
Can you tell us some background on the band.
Such as how long you have been together and who plays what?
Mark Bradley - drums
MK Downing - guitar/vocals
Gareth Holder - bass/vocals
MKD: We are based out of
http://www.lennonstudios.com
271 Dore St, between Harrison and Bryant, San Francisco, California.
Ghosthookers formed in September of 2007, and Gareth joined in December of 2007.
Punk Globe: I know that Gareth is English. Are the other two members American?
MB: I was born and raised in San Francisco
MKD: born 3/28/70 in Encino, California, raised in the SF Bay Area.
Punk Globe:
Gareth, You were in England for the very beginning of the punk movement.
What bands did you play with and did you know and play on bills with bands like The Pistols,
The Clash, Johnny Thunders, The Dammed. Jayne County, and X Ray Specs ?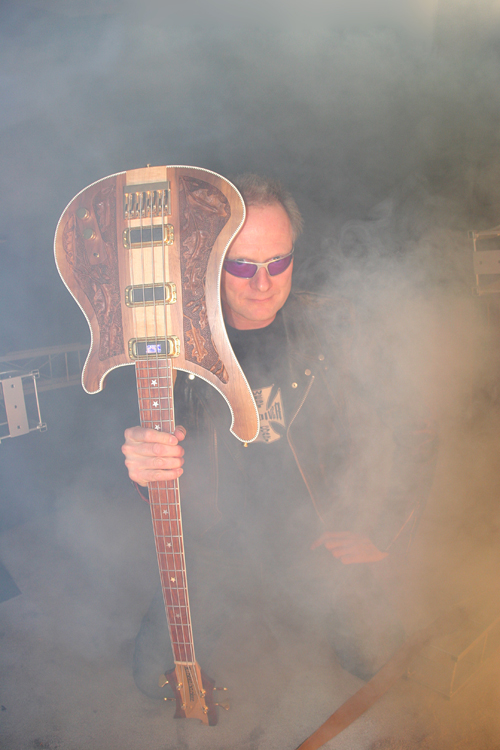 GH: Well, I was certainly there for the start of it for sure. It was purely by chance too.
Myself and the soon-to-be singer of The Shapes went out to a local college one night in the UK in 1976,
because it was a cheap subsidized place to go drinking and see bands for not too much cash.
We were, of course, both broke, so it made perfect sense. We paid 50 pence (about 75 cents) to get in and didn't even bother to look who was playing, and headed off to the bar. The the first of the bands came on. It was the Sex Pistols.
They started to play and the audience just stood there completely aghast. They had never seen anything like it, and neither had I. They would stop and deliberately de-tune their guitars, and then tune
them up agonizingly slowly, while Rotten just started at them. They seemed to thrive on
antagonizing the people that were there.
I loved it instantly. Then the main band came on. It was The Clash. That did it. We hung out in the bar later with the Pistols for a while. Nobody would come near them, but we did. I seem to remember John absent-mindedly burning his arm with a cigarette end deliberately. The next day, I got a haircut
and got my old bass out of storage. The Shapes were formed a month later. I was lucky enough to see the Pistols three times in all. I saw them twice with Glen and once with Sid. Sid was a fucking disaster waiting to happen. That much was obvious right from the second he joined. He couldn't play a note
and he was amazingly self-destructive.
We played with, or saw everybody. The Fall, the Cure, The Models, The Killjoys, Spizz,
The Buzzcocks, The Photos, Rudi, The Saints, The Undertones, Protex
It's easier for me to list the ones we didn't play with to be honest. We played everywhere,
in every gig, club, pub and toilet the length and breadth of the UK, in a time when it was physically
very dangerous to be a punk rocker. The Shapes' singer was nearly beaten to death in the street in our
early days. He took a very long time to fully recover, though he was gigging again as soon as he could
stand and open his mouth. I lost some front teeth in an attack too, and just about all of us carry the
battle scars of the early days, both inside and outside. By the time The Shapes had their first hit record,
the Pistols, X-Ray Spex, and The Heartbreakers were already gone, so we never supported them.
Funnily enough, although we never got to play with The Damned, The Shapes have been asked to reform
this December to play with them in London on December 13th. Better late than never I suppose.
I'll be taking a short sabbatical from the Ghosthookers to fly back to the UK to do that gig and
a short tour with the reformed Shapes. I always said that I didn't want to do that unless it was all of us.
I hate the idea of just one or two original members in a reformed band.
I'm glad to say that it's all the original five members back together for the first time in 28 years.
It's going to be strange. The Shapes' album just got re-released there, and it's coming
out in Japan in a month or so. Not bad for a band that hasn't played in over a quarter of a century.
Punk Globe:
What brought you to the Bay Area?
GH: Well it's a long strange trip as they say. I was in a couple of quite famous NWOBHM bands after The Shapes,
and I was becalmed waiting to go on tour to support an album by one of them. I had nothing to do for a few months,
so I tried skydiving to pass the time. I got hooked on that and slowly drifted away from music to do that.
At least it got me out in the fresh air. I then came over to Florida to run a big skydive center there,
and when I got tired of that, I moved out here to be in the coolest city I could find, that was
most like a big European city.
San Francisco was an easy choice. I've been here since 1995, heavily involved in the skydiving business, but only recently
came back off the bench to pay again as it were. I kept playing all these years by myself, just adding to my collection
of Rickenbackers. I really needed to take a decade off from the grinder of the music business.
Now it's fun again, because I don't feel that I have a thing to prove to myself or anybody else.
I can do the stuff I enjoy for the right reasons.
Punk Globe:
How did the members all come together was it through ads or had you known each other?
MB: Mike posted an add on Myspace , I answered and here we are now.
MKD: We met Gareth through Sothira Pheng of Proudflesh/Crucifix fame. Our bass
player at that time was not working out , and we booted him as soon as Gareth said he was interested.
GH: I met Mike through a long and complicated process. I answered an ad on craigslslist to buy a Rickenbacker bass.
That's how I met Sothira from Proudflesh. I checked out their Myspace page and saw the Ghosthookers there.
I thought it was a cool name, so I listened to them, and friended them up. I liked the stuff, and went to see them
couple of times and got to chatting with Mike. We had the same likes and dislikes for music, so when he needed
a new bass player, he gave me a call. Funny how things turn out.
Punk Globe:
Where did you play your first gig at and how did the show go?
MB: Well I joined the band Sep 07 so the first show I played was Oct 19,07 at Lennon Studios in the big room
MKD: Ghosthookers show #1 was at fantastic Lennon Studios Soundstage, and it went grrrreat, but, it was nothing
compared to our shows once Gareth was in the lineup. Thanks, Gareth.
GH: I don't know, but my first gig with them was at The Stag in Woodland. It was over 20 years since I'd played live,
but it felt as if it was yesterday. I guess you never forget.
Punk Globe:
Tell the readers about your favorite show that you have played thus far?
MB: I have a great time playing with this band , Not easy to pick a favorite
show , I will say that after Gareth joined the band the shows have been pretty kick ass
MKD: I love every Ghosthookers show, we have a great time, and kick ass live, being onstage is great,
whether at The Stag in Woodland, or Annie's here in SF.
GH: I think I liked the Annie's show best. I have no idea of why though.
Punk Globe:
Has the band toured?
MK: No, but we've played Reno/Tahoe/Sacramento a few times.
GH: No, but we'd love to.............
Punk Globe:
I know you have a CD is it an self release or is it with a label?
MKD: Ghosthookers debut CD is Ghosthookers owned and operated, total punk rock DIY.
Punk Globe:
What bands have you been compared with musically?
MB: A friend told me we sound like Raven meets The Buggies ha ha ha
MKD: How funny. I get that all of the time from people.
Punk Globe:
Who or who are some of your influences as a band ?
MB: I'm not sure but as a drummer I try to bring some thing solid and interesting to the music.
MKD: Alienation, depression, recurring thoughts of hopelessness and suicide, alcoholism, and how to play guitar dvds.
GH: For me, The Damned, The Rezillos, The Radio Stars, Motorhead.
Punk Globe:
Tell us about your individual favorites that you have?
MB: favorite what? drink? I'm a vodka man my self.
MKD: My favorite is the Edgewater West Hotel off of Hegenberger back in the 90's. I really miss that place.
GH: My favorite bass player is still William Mysterious from the Rezillos. I learned more from listening to that guy than just
about anyone else. I still find new things he's doing on that one album after 30 years. From him, I learned the importance of tone, transparency, and using the whole neck. Also, he opened me up to the wonderful world of inversions and related fifths.
Here's the weird thing, my personal style is so close to his now, that I have a chance to play for The Rezillos in the US if their
bass player can't make it. How cool would that be ?
Punk Globe:
What venues in the Bay Area do you enjoy playing at?
MB: Any venues that doesn't have stairs , I'll pretty much play anywhere
MK: Annie's Social Club, Rooster's Roadhouse in Alameda, The Stag in Woodland
and the fantastic Pine Street Bar and Grill in Livermore.
GH: Any of them. I just wish there was more, and that they were better supported.
Punk Globe:
Do you have any bands you enjoy playing with?
MKD: Absolutely! From SF: The Yes Go's, Bite, Million Dollar Itch, and Burn Disciple.
From Sacramento: The No-Goodnik's.
GH: I really liked playing with the Yes-Go's from SF and the No-Goodniks from Sacramento.
Cool people with a lot of fresh energy. Makes an old fuck like me raise his game. We've been lucky so far
in that all the bands we have played with (with one notable exception I won't mention) have been really
cool and very good.
Punk Globe:
Any future recording or touring projects in the future?
MKD: There will be another Ghosthookers CD in 2009, we already have it half done, and it's going to be great.
GH: New album, (or radioactive turd as Evan Chase likes to call them) due at the tail end of this year.
We're writing it now, and I'm very happy with the way it's going. I get to put my stamp on it.
I didn't write any of the first one, just helped to arrange it a little.
Punk Globe:
If you could set up your fantasy show. What venue would
you choose and who would be on the bill?
MB: Opening for Green Jello at the Warfield in San Francisco.
MKD: It'd be at your cd reviewer doofus Evan Chase's birthday party, and I'd have a fourway
with his mom and Nina Hartley and Christy Canyon after our set. F**k you Evan, get your ears checked.
GH: This is strange, because I get to play it this December. I would always want to see The Damned,
The Radio Stars and The Rezillos. I get two out of three this December, because as of now,
the Radio Stars are hopefully confirming for the gig too. The Rezillos nearly were going to play.
That would have been the holy trifecta with The Shapes supporting. I guess if I could have those three
bands on the bill with the Ghosthookers at the Warfield that,would make me happy. I like Warfield-sized venues.
I've done the stadiums. They suck. I want to smell the audience, and I want them to smell me!
I want them to be able to buy me drinks after the show.
Punk Globe:
Can you please give the readers your contact information such as
Website Address or My Space?
http://www.myspace.com/ghosthookers
and soon:
http://www.ghosthookers.com
Punk Globe:
Any last words that you may like to add to the interview..
MB: Buy the CD online or come to a show and pick up a copy,
Support local music, get off your butt this Friday night and go see a band
MKD: get off your ass and be somebody, life is short!
GH: Nothing really. Just keep on doing what you're doing,
and don't let other people tell you any differently.
You never know where it might lead you. You may never get rich,
but you'll have more fun on the way....
Punk Globe

would like to thank the Ghosthookers and urges you all to check them out....