Their CD is amazing because I listened to it and these girls deliver an awesome live show, mixed in with great songs and they totally rock the house and they bring it down with the best of them! I'm telling you, if you're looking for a rockin' good time, these are the girls to hang out with! Here they are, the amazing and fabulous Catholic Girls!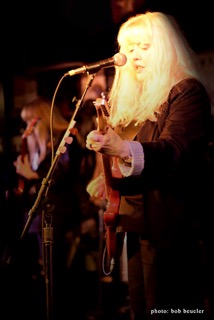 PUNK GLOBE:
Okay, Gail! you are totally hot to trot here! I have to ask, how is the album doing so far?
Gail Petersen:
The album is doing amazingly well. We are totally indie and yet we're able to reach a really broad audience. We have 4 fabulous reviews so far, including Punk Globe, and I certainly hope there are more are to come. The CD is selling well from our website -
www.thecatholicgirls.net
and it's also on Amazon! KISS ME ONE MORE TIME is also available for digital download on ITunes and more! ..
Gail Petersen:
The theme (although the songs are not in a concise order that might suggest this) is the various stages of a relationship. There's the initial sexual attraction with "Kiss Me One More Time", to really feeling that love has saved you, as in "Rock Bottom", then there's the reality of dealing with a relationship that not everyone approves of, and here, the example is a witch in love with a human man. That's her only real flaw; not anything regarding witchcraft - That's the case in "Only Guilty". Then we move to finding out the one you love is cheating (you can't believe it, but it's actually true) in "Where's The Logic". Moving to the deepest grief in "God Made You"... moving to the realization that a particular man is basically flawed and will never have anyone to love in "Shame On You"... to looking for someone new (now that the relationship is over) in "Down at The Shore". The only song not dealing with a guy is "Breaking All The Rules" which is our anthem for girl rockers everywhere who had to make it in what's basically a musical boys club.
PUNK GLOBE:
What was the process like to create the album?
Gail Petersen:
I write the songs-words and music. I usually start with a chorus (the hook) in my head and work from there. Once the song itself is complete, it's worked it's way into my imagination and I basically know very clearly how I want it to sound. I bring the song to the band and they learn it - with this album - they sometimes learned the song in one day. We then took a break and afterwards began recording it with the drums parts and then guitar parts. Our general outlook on this album was to use The Catholic Girls influence which is driving, mesmerizing 8ths on the guitar and also Keith Richard's secret to recording-always have a track of an acoustic guitar on each song no matter how loud or low it is. Once all the music was recorded we then did the vocals. We're very experienced in studio situations, so I got most of the lead vocals in one or two takes. We never use anything more than a little reverb on the vocals and we never use a pitch corrector. Then Roxy does the back-up vocals, also usually in one or two takes. We only put a keyboard on one song "Don't Go Away" because we wanted the sound to be reminiscent of The Beatles' "Yesterday" where they only used one guitar part, a bass and a cello.
PUNK GLOBE:
What do you love best about doing live shows?
Gail Petersen:
Just about everything! We love the energy that we have and that the audience gives back to us. We love feeding off the audience enthusiasm and we love giving back to them. It's a real natural high to be on stage and we look forward to every performance. Recently, we played in Brooklyn to a packed house that was filled with mostly new people, quite a few who were unfamiliar with us, and they loved it. That was very exciting to reach a new audience and have new fans from multiple generations. Just as it's exciting to have fans from the 80s at the shows that feel we're as good, if not better, than we were back then.
"It's a real natural high to be on stage and we look forward to every performance."
PUNK GLOBE:
Here's the GP Mojo Question: Do you enjoy live performing? Or Recording?
Gail Petersen:
Actually, both. They are both very different experiences but they both offer incredible satisfaction! The studio gives us a chance to really focus. It's intense. Live performance has equal intensity, but a different, more electric, explosive focus. It's a moving target. It's mercurial.
PUNK GLOBE:
Do you have an inspiration of a person to one or any of your songs? If so, who is it?
Gail Petersen:
I have had several not so good boyfriends, as have many of my friends, and they figure prominently in my songs. It's a way to tell a story without naming names. And insofar as a song may be inspired by a particular person, I try to state universal truths about people, humanity, nature that many people can relate to. It's not all about me and my relationships.
PUNK GLOBE:
I love your sound as a whole. How did you come together as a group to want to create this band?
Gail Petersen:
Roxy and I were in high school, both playing guitar and finding it very hard to get into a band with guys. Then The Runaways came out and we said to each other - we can do that. Another friend in our school started playing bass and we then found a drummer. Before long we were playing out in clubs at a time when live music was very prominent and interesting. It was never dull, and people like The Sex Pistols, Patti Smith, The Pretenders, and Elvis Costello were happening. At first we wore what all the girls in rock groups were wearing tat the time - spandex. But it wasn't us. So we decided to be what we truly were-we went through Catholic High School. We were The Catholic Girls!
PUNK GLOBE:
What's the most accomplished thing you feel you've done so far as a band?
Gail Petersen:
We had an incredible history-from being the first all girl band in New Jersey signed to a major label, to being on MTV in its heyday, to opening for top acts like The Kinks and The Clash, to touring the country several times. But what is truly amazing is that although we broke up in 1985, we came back together in 2000 and have been going ever since and don't intend to stop. That's IS a real accomplishment - to be rocking forever just like The Rolling Stones - although we're nowhere near as famous or have their money, but on a cult status - we are known. And our musical history is long. Given the massive changes to music, video, radio, audiences - that really is a formidable accomplishment. And just as good, the 20-somethings like our music as much as the who-knows-how-old somethings!
PUNK GLOBE:
Does this exceed your expectations of who you are and what you have done? If so, why?
Gail Petersen:
When Roxy and I first started the band - we fully expected to keep doing if for a long time. Maybe not this long and maybe we had hoped for a major label to be behind us the whole time. But I think musically we've only gotten better, I'm very proud of KISS ME ONE MORE TIME and I hope to keep making music until I have to leave this planet. And sorry, but I do think we're good enough to play a show at the Garden, and carry it off. We would obviously have to open for a major, major act to get that kind of an audience, but... once there, we'd put on a hell of a show and I think, surprise a lot of people in the process. Oh well-we can all have wishes!
PUNK GLOBE:
I find the album an anthem for feminine empowerment. I think your band exemplifies that, as well. Do you feel the same way?
Gail Petersen:
I think by the fact that we are female and we've always had a female band speaks for itself. We didn't start the band because of any political agenda - we just wanted to play music and it was easier to do it with your friends - other girls. But I can't tell you how many women have said we inspired them and I'm very proud to hear that. Women can rock, write great rock songs, and perform on stage just like the guys. The Catholic Girls have proven that this is true. There is "empowerment" in that, and there's also incredible empowerment in plainly and simply going out there, saying to hell with any convention and just being yourself and performing without even thinking about what sex we are. Get out there and do it. People notice (in their gut) and know you're as good or better than anything out there. Compete, perform, be good at it, and throw caution to the winds!
PUNK GLOBE:
Who has been an inspiration to you for creating music?
Gail Petersen:
We started the band when it was an exciting time in music. Punk and new wave were happening and the songs themselves really mattered. People went out to live clubs all the time. We were inspired by a lot of the bands at that time from The Pretenders to Patti Smith. We were also inspired by the resurgence at the time of the 60s British Invasion and that influenced our music. Plus I was personally influenced by classic movies like Citizen Kane, It's A Wonderful Life and Here Comes Mr. Jordan. I always had a story in mind when I wrote a song and I also saw it visually like a film. The films were cinematic and intense. The music is cinematic and intense. All the musicians who inspired me really cared about music and showed it in a ferocious way. And I try to do the same.
PUNK GLOBE:
Gail, you have a past in literature and when I discovered this I was really excited about it. You actually wrote a book a number of years ago about vampires! You want to talk about that?
Gail Petersen:
My book THE MAKING OF A MONSTER was published by Doubleday/Dell in the early 90s. It was about a female vampire (of course) in LA who later on becomes a bass player in a band. Unlike some vampire stories, Kate (my main character) is conflicted about her feelings, about not being human anymore and how to fit into a world that now seems different to her. There's also a love story in here about a right guy and a wrong guy. I was pregnant at the time I wrote half of the book. I had been playing in a band, but found out that (in my case) I had to be in bed for 6 months due to complications. I was so bored and worried, and I had to do something constructive. I decided to write a book. I was given only a 20% chance that my baby would be born at all, and then, she would most likely be premature. But we made it to 8 months and I'm happy to say she was born totally healthy and happy. I finished the book during her first year. Once it was finished, I ended up doing a book signing tour and appeared at The World Horror Convention. I'm currently working on a sequel to this book. So many people have asked me what happened to Kate that I had to do it. I've also been working on three other new novels which are close to completion. When they're done, I'm hoping to get those out there and published as well. I've always loved writing as well as music so I've continued in that vein as well.
"I'm currently working on a sequel to this book."
PUNK GLOBE:
What are some of the other individual accomplishments that each of you have done?
Gail Petersen:
Well, one of Roxy's proudest accomplishments has been to be able to buy a house and move her elderly parents there during some times of real personal need. She's very thankful for being able to contribute so strongly to their well being. Doreen mentioned she always tries to instill confidence, good work ethic and a positive attitude into her nieces, nephews and drum students. She lets them know they are already strong and capable and not to believe it if someone tells them they are not good enough. She tells them to trust themselves and their own intuition. For me, I'd have to say my greatest accomplishment is my daughter. She's beautiful, happy, healthy and successful. I couldn't ask for more and I'm so proud of her and thankful that she is a major part of my life and my best friend.
PUNK GLOBE:
Do you feel that these accomplishments have driven you further into making the band as substantial as it is today?
Gail Petersen:
Well, all of us believe that we have created a certain legacy of music that will continue onwards and help inspire others to create music and perform music. Obviously, we hope some younger female musicians would find our longevity a good example. But, we hope it is a good example to all musicians and artists, male or female, to want to create great music, great songs and great histories of their own. We love live music. Period.
PUNK GLOBE:
What do you want to say to Punk Globe Readers?
Gail Petersen:
Music is music. New, old, whatever. Great words and great music have been my inspiration from the beginning. And I care about that. I create songs that I think have substance, say something to the listener (and the creators) about themselves and the world in general . . . music that may have some universal truth behind it in the sound and the words. I'd also say that beginners should never assume they "can't do it." If you have an inspiration, follow it and figure out a way to get over the obstacles. And that's something we still try to do. I'd also like to thank Punk Globe and you for this interview. Like The Catholic Girls - Punk Globe has been around a long time and has continued to grow while still staying true to rock'n roll. It's an institution and part of the music culture. I admire that along with Ginger Coyote for never giving up and always sticking to her true calling.
PUNK GLOBE:
Thank you, Gail! You gave me so much to be inspired by and to think about! You're awesome! TheCatholicgirls.net