7th Annual Seattle Tattoo Expo/ Nashville Pussy
"End Of The Rainbow" Show
Gig Review by Gerry-Jenn Wilson
Saturday, August 9th/2008
@ The Fisher Pavilion--Seattle Center
The Green Hawk Rules!

Lisafur

and Gerry

Jenn

Wilson

Ryder Rips on Guitar
TATTOOS! BEER! & NASHVILLE PUSSY!..OH MY...!
After getting my ride poked and prodded at The Peace Arch border crossing for 2 hours, I was more than happy to see that beer tent at the end of the rainbow upon arriving at The Seattle Center!!..Corndog, & Lisafur from East Vancouver's Vodka/Hi-Test swilling rock-a-billy band, "The SlickJacks" were my Motel 666 traveling companions.
Lisafur also played bass in my band JP5 for awhile..but that's another story!! Nashville Pussy hit the stage with a Southern fried sonic boom playing the crowd pleasing rock anthem "Come On! Come On! Come On! FUCK YEAH!!" The party was ON!
I kept wondering why the band kept staring up into the sky with awe and amazement. I turned around,and much to my surprise there was the most amazing rainbow above The Seattle Space Needle! It made a killer backdrop for their set!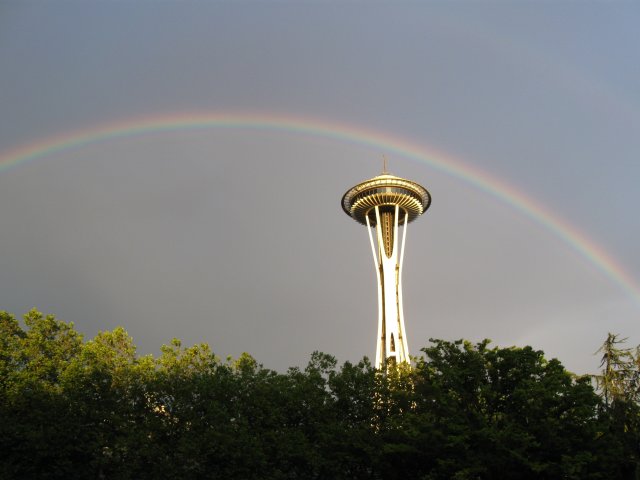 The End of The Rainbow
Nashville Pussy's bad-ass frontman Blaine Cartwright joked that dismantling & fitting the freak of nature
backdrop into the tour bus could prove to be a challenge!
The band played a super tight set. The years on the road and in the studio are fortunately & finally paying off for one of the hardest working bands in the biz!
The Pussies arrived in Seattle hours before hitting the stage from backing up Iron Maiden in Germany the previous evening.
The band conjured up their unique blend of riff rock madness & "PUSSY POWER" tenfold! Twisted "Beer Drinking, Maneating" guitar sister,

RUYTER SUYS (Hailing from Vancouver, B.C.) shredded her Gibson S.G. with a vengeance! Shes a li'l bit Angus Young & a "Whole Lotta Rosie!!
There is no doubt in my mind that this woman and her band will end up in The Rock n' Roll Hall of Fame!! Its only a matter of time.

The last time I saw Nashville Pussy's bassist Karen Cuda, her other band "Hemi Cuda" -- from Denver Colorado -- & my band JP5 played with DOA in Fort Collins, Colorado at The Starlight Theater circa 2002.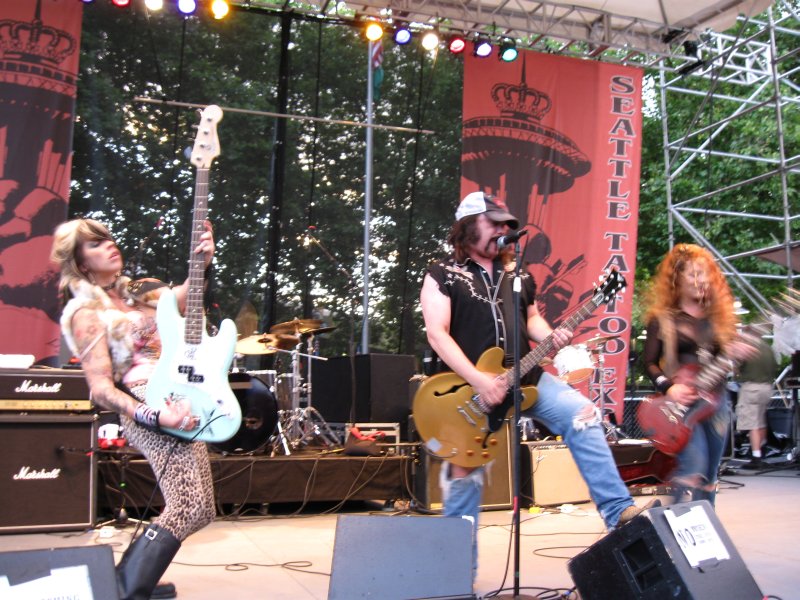 Before that we also played The"Naughty Camp" Festival at an Indian Reservation in Mount Currie, B.C., 2001.
Karen Cuda fits The Nashville Pussy team like a glove! Her & Drummer Jeremy Thompson have the necessary chemistry to keep it real phat & solid!! They hunkered down together nicely during the dynamic ditty "Nutbush City Limits"...
Nashville Pussy Warning: "YOU BETTER WATCH OUT FOR THE POLICE WHEN YOU'RE DRIVING THROUGH NUTBUSH!"
I would be lying if I didn't say I miss ex-Nashville Pussy bassist Corey Parks a twinge, but Killer Karen Cuda fills her Daytons to perfection...& those ain't easy boots to fill!

Nashville Pussy ended their high energy set with an old school drum solo..two encores..and a band introduction/ history told over Ruyter's radical "Wayne Kramer" with MC5 style guitar feedback!...Note: I had no idea bassist Karen Cuda's Pappy was a Preacher!!...It all makes sense now!!!...(Ha! Ha!)...
After the show I worked

my"PUNK

GLOBE" magic at Nashville Pussy merchandise booth & scored a T-Shirt exclaiming "If it

ain't

Nashville Pussy it

ain't

worth a Fuck!" as well as Kentucky's "Nine Pound Hammer's" latest CD, "Sex, Drugs & Bill Monroe" on

Buzzville

/Acetate Records...to be reviewed at a later Punk Globe date!
Ink At The Expo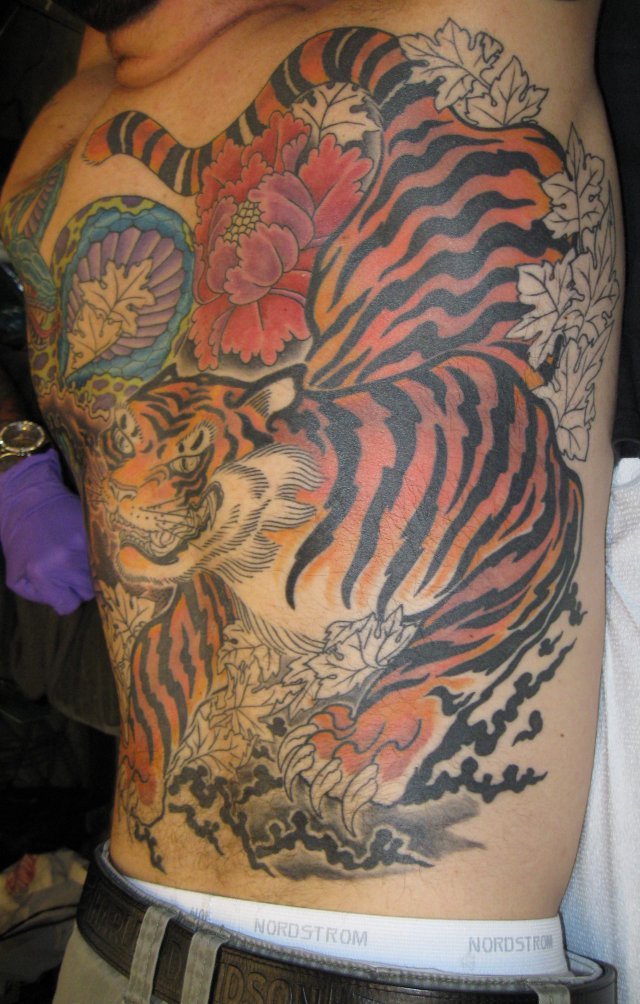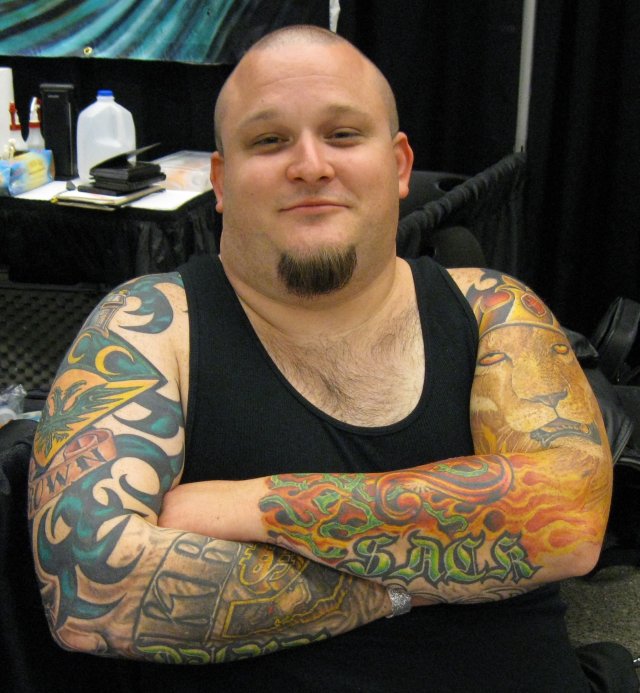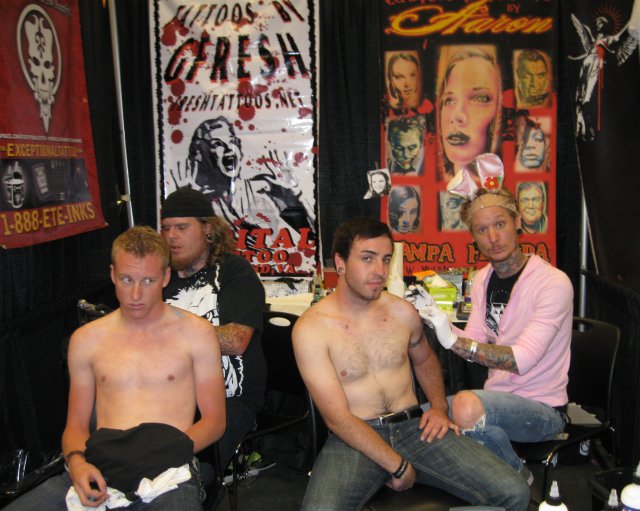 The 7th Annual Seattle Tattoo Expo was booth after booth of some of the finest Ink artists (& the shops they represent) from around the globe!!
I am personally saving my skin for Osborne Village Ink artists Cam & Margo Von Cook, in Winnipeg, Manitoba...Modern Primitives were proudly displaying all sorts of body modifications, from full-on body art, faux headhorns, & piercings galore -- which got me to thinking that I best run back to the beer tent to hook-up with Lisa Fur & Corn Dog to take down some Buds before I start foolishly spending my hard earned dinero on creating another hole in my hide!!!)...So many holes...So little time!...Until next time...Rock with your Boots On!!!....
All Photos Gerry Jenn Wilson