DONITA SPARKS INTERVIEW

by OZGUR COKYUCE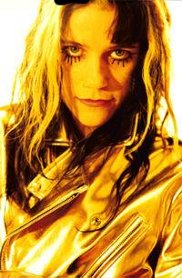 Donita Sparks…….The singer-songwriter, co-founder of L-7 and the punk-rock icon from Los Angeles…..She is in the music scene since the early 80s and with her new band Donita Sparks and The Stellar Moments, her "Legend" status in the music scene is stronger than ever….
It's an honour to do this special interview with one of the most important and one of my favourite musicians of all time…..Donita Sparks.


PUNK GLOBE: Donita, this year you released the album "Transmiticate" with your recent band "Donita Sparks and The Stellar Moments."
How is the feedback you got and what are your plans for 2009?

DONITA: The feedback has been pretty good as far as I know. At our shows people are really digging the new stuff and having a good time.
I've started working on some new music which I will release through CASH Music in 2009. Cash Music is something I'm very busy with
and will continue with. CASH stands for a Coalition of Artists and Stakeholders, something I'm involved in with Kristen Hersh and some other artists.

PUNK GLOBE: When and how did the Donita Sparks and The Stellar Moments form? Where did The Stellar Moments' name come from?

DONITA: I wanted to do a solo record and Dee Plakas of L7 wanted to play drums on it. We were doing most of the recording ourselves,
but then we decided to get some other people to do some live shows. I liked the sound of The Stellar Moments as a name
and it also conjures up a starry visual. I think we put the band together in 2006.

PUNK GLOBE: You began your career as the founder of L-7. Please tell us a bit about the early days of L-7. Would it be different if you had
started five years later?

DONITA: I think if we had been five years later we would have been too late. Our accidental timing was pretty good I guess.
The early days of L7 were very, very difficult. I'm talking about before we had a solid line-up, following, or any recognition. It was difficult just finding
non-crazy people who would play with us. I'm not even sure why Suzi and I stuck with it through all of the trials and tribulations. Then when we got Jennifer
on bass things got a bit better. One of the first things she did was get stickers made for the band. I remember thinking, "Yeah, now we're getting somewhere."
Ha! So naive. When we finally got Dee on drums, that's when we got pretty decent as a band and things
slowly started to happen. She was the link we had been missing.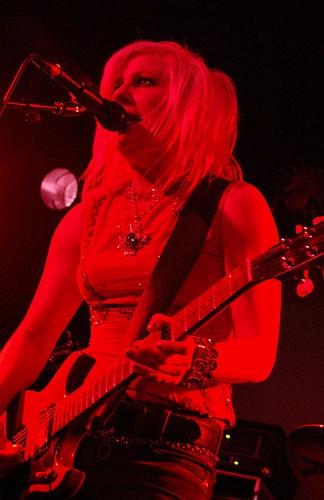 PUNK GLOBE: During your time with L-7, which is around 15 years, were you involved in some side projects, too? Can you give us some information on them?

DONITA: Not too much. I was involved in a performance art group that was pretty fun early on. I did some music for the "New Yorker Out Loud" series
for a little short story called "Brokeback Mountain." And then of course L7 started "Rock For Choice," which was a political side project
that we had supporting women's reproductive rights.

PUNK GLOBE: As L-7, are there any songs that haven't still seen the light of the day yet, and is there a possibility to release or re-record them someday?

DONITA: Yes, I think there are a few songs unreleased and there are also some songs that were only released in Japan on B-sides and limited editions.
I'm sure that some will pop up one of these days. There isn't like a whole album or anything, just a few covers and a few songs that didn't make it on an album.

PUNK GLOBE: The songs of the album "Transmiticate"…were they some old songs that you were planning to record and
release sometime in your career or did they all come up around 2006-2007??

DONITA: Most of the songs were written over the last few years. A couple of them were written when I was in L7. "Creampuff" was written about ten years ago,
but I didn't think it was right for L7 at the time. Some songs just sit on the back burner for a while. I have a lot of songs that are in various stages of completion.

PUNK GLOBE: Which bands or artists -- can we say -- had most influence on the music of Donita Sparks (including L-7) ?

DONITA: There are just too many artists to mention. I like a good tune, or an interesting sound, or a unique approach.
PUNK GLOBE: Donita, you are in the music scene for more than twenty years now, and you fronted one of the most amazing and wonderful bands
of all time. But, if you were to create your all time dream band, who would be the members of this heroic army?

DONITA: Well first off, thank you, that is very nice of you to say. This is a fun but challenging question. The Wrecking Crew would be nice, but that isn't a
difficult enough answer to your question. OK, one of many dream bands: Paul McCartney on bass guitar, Booker T. Jones on organ, Scotty Moore on guitar,
Mitch Mitchell on drums, KC and the Sunshine Band horn section. Warning: this sounds like a clusterfuck!

PUNK GLOBE: Approximately ten years have passed since the events of September 11 in the U.S., and terror is a bigger threat for lots of countries
than ever. What has changed? And when we think about today, doesn't the world need the existence of real and honest bands more than ever?
For telling the youth what's going on, giving them the spirit to not only get angry but to question everything. What do you think?

DONITA: Well, anything that encourages people to question the way things are is a good thing. Some music gives people a lot of strength and hope
that they are not alone in the way that they feel about things. The world always needs real and honest music, whether that is a good drinking song
or political song or silly song or angry song or romantic song. It all has its place if it's good.

PUNK GLOBE: Everybody knows about you being a great guitar player. Do you play any other instrument besides guitar?

DONITA: Bongos, bass guitar, and a little deconstructed piano.

PUNK GLOBE: What were you listening to in late '70s and early '80s?

DONITA: In the late '70's and early '80s I was listening to the Ramones, B-52's, Blondie, Kraftwerk, ABBA, the Specials, Gap Band,
Ohio Players, Elvis Costello, Iggy Pop -- and a lot of funk, disco, British Invasion, Motown, and rockabilly.


PUNK GLOBE: Your music can be described as powerful, energetic, hard but melodic at the same time.When it comes together
with your special and unique vocals it surely makes Donita Sparks one of unforgettable musicians in the music scene. What has been your main inspiration?

DONITA: I'm not sure that I have a main inspiration. I'm inspired by a lot of things. At shows I'm usually inspired (or not) by the crowd. That can be a very powerful, intense connection and experience for me as a performer, as well as when I'm a part of a crowd watching another artist. I also love when I'm working
on a song and parts or lyrics start to come to me.

PUNK GLOBE: Especially with the album "Transmiticate" the sound has changed a little compared to L-7.As you had stated in different interviews
it's something more you can dance to than headbang:) The album is co-produced by you and Ethan Allen (Luscious Jackson, 50 Foot Wave, Daniel Lanois).
Will the Donita Sparks and The Stellar Moments continue with more albums in the future, and what surprises can we expect from you next
in means of collaborations and musical direction?

DONITA: Well, there will be more recordings from us for sure. I have a lot of different kinds of songs. I'm actually pretty schizophrenic with my writting.
My biggest challenge is how to fit the songs together with each other.

PUNK GLOBE: Now,as you are still continuing touring, how do you compare the crowds at shows in late 2000s to the crowds in the late 80's-early 90s?
(Your observations about new generation meeting the old generation in your audience.)

DONITA: Well our crowds were pretty wild back in the day, so there's really no comparison with that now. But it's cool because there are young kids
at our shows now mixed with our older fans.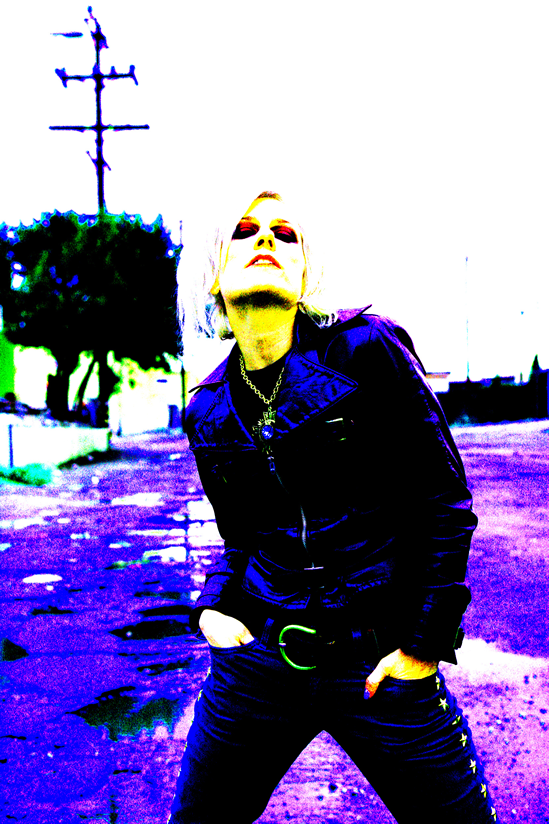 PUNK GLOBE: Do you see a L-7 reunion anytime soon, and what was the main reason to take a break in 2001 for the members of the band?

DONITA: I don't think a reunion will be anytime soon. We all just needed a break from L7. Dee and I wanted to continue to make music
but we didn't really want to do hard rock with this project.

PUNK GLOBE: Last question . . . When you were a kid growing up, who did you imitate when you stood in front of the mirror?

DONITA: Mick Jagger, and sadly it wasn't always in front of a mirror. My poor friends.

PUNK GLOBE: Any last words for Punk Globe readers??

DONITA: Give a shit and have fun doing it.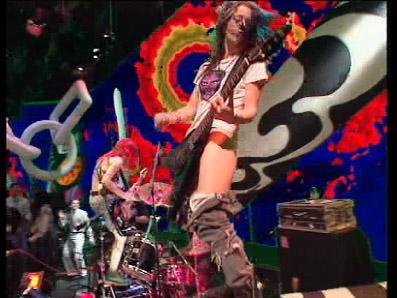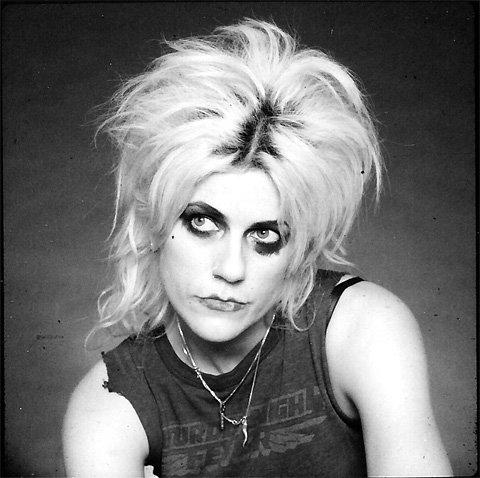 PUNK GLOBE WOULD LIKE TO THANK DONITA SPARKS FOR THIS COOL INTERVIEW.

INTERVIEW BY OZGUR COKYUCE – PUNK GLOBE FEBRUARY 2009