upchuck

. . .



"gone but not forgiven"
A CANDID INTERVIEW WITH DENNIS WHITE
By Ginger Coyote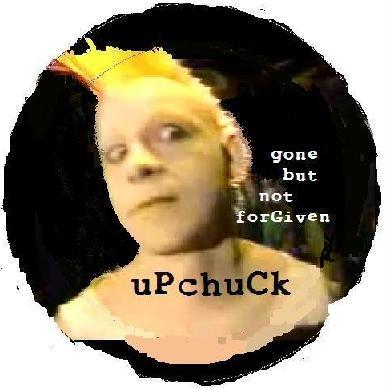 I recently had a chance to ask Dennis White a few questions about the upcoming UPCHUCK CD and the gala event he is throwing in Seattle at The The Little Red Studio located at 750 Harrison Street in Seattle on Saturday, September 27, 2008...Along with some background on himself...I must admit I am amazed with all his adventures in the music business and the scene in general...I think most notable is working with the wonderful Del Rubio Triplets in the 80's...I can't wait to read his book when he decides to write one..

PUNK GLOBE: Thanks so much for the interview Dennis. Can you tell the readers about the special show you are planning in Settle for the UPCHUCK CD Release Party at The Little Red Studio in Seattle, Washington.

DENNIS: On September 27th we're having a party to celebrate the release of UPCHUCK: GONE BUT NOT FORGIVEN. It's a collection of music Chuck recorded with various bands between 1977 and 1990. About half of this album is music that only a few people have ever heard. It's exciting to finally have something on CD and digital, but it's even more exciting that people will hear the direction Chuck's music took in the last couple of years of his life. There's also a brand new track by Chuck's "current" band The Ex-Gay Ministers. It's a bit hard to explain how it is that Chuck is creating music 17 years after his death' but it's happening. The-Ex-Gay Ministers are actually some people that Chuck worked closely with over the years. They've taken vocal tracks that Chuck had recorded and re-wrote and re-arranged music under Chuck's "direction" It sounds kind of hokey, but it's a serious deal and the music is great. Chuck never got stuck in a rut, so it's good to see the probable trajectory his career would have taken. In fact we are looking at it as the trajectory Chuck's career *is* taking. Chuck went from a teen-age runaway punk to a Seattle icon who is still influencing people to make records with him.

PUNK GLOBE: Can you give us some background on yourself and you became involved with the upcoming UPCHUCK CD?

DENNIS: I grew up in a horrible Navy town so I ran away to furthest place I could think of the minute I could get out of the house. That was London. I was so totally in love with the whole Glam scene. Like a lot of other glamsters I ended up being one of the first generation of snotty young London punks. In 1979 my upper-class turned punk boyfriend stole a bunch of money from his mom and we decided to fly to Seattle for a couple of weeks until she got over it. She never did, so I ended up staying. The first night we were in Seattle we went to see The Pointed Sticks at the old Washington Hall. I was sitting outside drinking when I started talking to this guy Upchuck. He was dressed a bit more outrageously than a typical punk and at first I thought he was really full of himself. We got into some kind of argument. I had a pretty straight-jacketed fake Marxist outlook and he thought that was all a load of crap...which of course it was. But within a couple of days we were good friends and I moved into his apartment and started paying his rent. I didn't mind a bit, because I've always been good at scrounging up whatever it takes to survive and I didn't mind sharing everything. He could be manipulative, but there was never any shadiness. His friends were happy to help him out because he was so sincere and motivated about his career. If you loaned him money he paid it back. If he asked you to give him money it wasn't so he could lay around or get drunk. He wasn't a sponge, he was optimistic and fearless. He was also pretty lovable.
I was always great friends with Chuck and we shared a lot of the same crap growing up in backward circumstances. We started being punk DJs and Chuck was really responsible for the first really decent alternative live music bar in Seattle. During the 1990's we spent time living in the same places and were on the same scene. I had gotten Chuck and The Fags to come to New York City. I moved to LA right after Chuck first started getting ill with AIDS, but we talked all the time and I'd fly him down every once in awhile. When he finally got to the point that he needed someone to take care of him he went to live with Annie Mulcahey, who was a pretty well-known figure around Seattle. She deserves more props than she was given for helping Chuck. But her house was too small and it was too much for her to handle. So I moved back to Seattle, rented a house and the three of us moved in together. Annie and I took care of Chuck until he died. He had recorded some incredible tracks at Bearsville Studio with Shlomo Sonnenfeld. I was taking care of all of his business for the last couple of years of his life and we agreed the recordings needed to get shopped around. At any rate, he was just too ill, and I didn't have time to spend time shopping an album make a living and take care of him. But I promised him that I would find a way to get his music out there. It really was his biggest wish. Almost a deathbed wish.
All of my drug and alcohol problems came to a head after Chuck died, and there's no way I could have done a decent job getting his music released at that time. After a few years I finally got cleaned up and started putting my life back together. I always had the promise I made to him in the back of my mind. One day last year I realized I was in the perfect position to make good on my promise. I owned the rights to his Bearsville tapes and his family appointed me to control his "estate" which amounted to nothing more than his intellectual property...music, lyrics, images, art work. As I started putting the CD together I was able to call in some favors and there were other people who approached me to offer whatever they could to help the project along. I had the good fortune to have my friends at Sub Pop Records come on board by helping set me up with amazing digital distribution. Jon Poneman also offered to handle the distribution of the actual CDs.

PUNK GLOBE: Chuck was quite a pioneer in the Seattle punk scene? Was he good friends with Tomato Du Plenty? I know that both The Screamers and The Lewd
originated in Seattle?

DENNIS: Chuck's dad had abandoned his mom, and his mother abandoned him, so he ended up living with his grandfather who hated the fact Chuck was gay from day one and never was closeted. Maybe his grandfather knew Chuck was gay and started in on him even before Chuck got the message to hide being gay so he rebelled. After his family had him locked up for being gay, Chuck began running away from home. Eventually he ended up in Seattle and got involved with Ze Whiz Kidz. They were sort of a Seattle version of The Cockettes, but did mostly street theater, and were a fair bit tamer.. A lot of the early Seattle punk scene developed directly out of Ze Whiz Kidz. Tomata du Plenty and Satz from the Lewd were both in Ze Whiz KIdz. There were a bunch of the people who revolved around that scene went on to help create punk all over the country and in the UK. Chuck's first band was called Clone. It was really just him and a guy named Jeff Gossard. Jeff's a cousin of Stone Gossard. Jeff had been in a band called the Knobs or The Baby Knobs. Satz was in that band too. For some reason the band didn't get along, so they broke up. Jeff Gossard was alot more influenced by Queen and Bowie and early 70's Metal. He ended up working with Chuck and Satz went on to do The Lewd. Of course The Lewd and The Mentors were just as much Seattle bands as San Francisco bands in the earliest days. A lot of the people that had been there at the beginning are still there and fairly involved in the scene. And a few have died. One of the best loved guys was Homer Spence who was older than the rest of us. He'd been a professor at the UW, but they didn't want him because he was too much of a Marxist. So he quit teaching, became a cab driver and got involved with the weirdo fringe of punk rock. Later he was a bartender and everyone knew him and really loved him. He ended up having a massive heart attack. Even though he wasn't really involved in music when he died, he was still an important inspiration as a human. It was a real loss. By 1970 the scene was established enough to support gigs and there were a couple of hang-outs. But it was still small enough that practically everyone on the punk scene knew each other, or at least recognized each other. There was alot of cross-pollination going on and bands that were taking different musical directions still hung out together. Some of the best Seattle bands came out of that period. The Blackouts. Red Dress. The Enemy. Chinas Comidas. None of them got bogged-down in any formula and a lot of them went on to other bigger things. Bill Reiflin and the Barkers went on to be Al Jorgensen's band Ministry. Today Reiflin plays drums for R.EM. Duff McKagen was a kid at the time so he'd end up having to wait outside bars until whichever band he was playing with went on stage. Then the bar would make him leave again once the band was finished. Then there were the Portland and Vancouver BC influences. Particularly Portland people like Chris Newman and Toodie and Fred from Dead Moon. There's no doubt that all of the successful bands that came out of the so-called Seattle "grunge" scene owe a lot to those people. I think for the most part they know that and have never denied it. But there's so many people who think grunge was the peak of Seattle's music scene. It was just part of a tradition that had been in place for years. It was also a lucky break brought about by the hard work of earlier people like Susan Silver, Larry Reid, Mike Vraney, Jim Lightfoot and Susan Silver who had been around the scene and worked their butts off. Especially Susan.

PUNK GLOBE: You eventually also moved to NYC also right?

DENNIS: Yeah. I went to New York for a couple of years in the mid 80's.A lot of Seattle musicians and artists were leaving town because they didn't feel they could get any further in Seattle. LA was closer but NYC was where the real stuff was happening. The Lower East Side was "the" place to be. It was still cheap and hip and dangerous. I lived above the Pyramid Club on Ave. A. Me, The Swedish Housewife who is pretty well-known in Seattle, Tanya Ransom, a drag performer with his own dance troupe, this kid named Boy Adrian who danced with Klaus Nomi, and a bunch of others. Between drugs and AIDS I think only four us who lived there are still alive. It was an old ballroom and people were in and out of there all day and night. I remember Nico and her son coming there and shooting up in the bathroom. They left puke and blood all over the place and then Nico went downstairs to the Pyramid to play her really broken-down harmonium singing "My Funny Valentine" Both her and Chet Baker both did great versions of that song when they were wasted.

PUNK GLOBE: After NYC did you move back to Seattle?

DENNIS: Only for awhile. In 1988 I ended up in Los Angeles working with an indie label. I was also managing The Fibonaccis who still are one of my favorite bands of all time. I worked with The Del Rubio Triplets which was a wild ride! Three old ladies who've each had a mini-bottle of gin calling you in the middle of the night to complain is a bizarre experience. This guy J Randall Johnson made a bunch of money writing a screenplay for a Penelope Spheeris film called "Dudes" He'd also done some Meat Puppets videos and maybe The Minutemen. I don't remember for sure. He took the money he made and started a label and I came to LA to run it. More like run it into the ground. It was a fairly successful project, but our distributor went bankrupt and left us and a lot of other windy labels holding the bag. Of course all of them had to fold. This was at the time of The Cat House and Hair Metal . It was the era of the biggest, most bloated bands the world has ever seen. I got disgusted and when I our label closed down I ended up back in Seattle.

PUNK GLOBE: Did you have a hard time finding the music for the new Upchuck CD?

DENNIS: It was a real archaeological expedition. The masters from Chuck's fist band, CLONE, had been destroyed long ago. Chuck had a sugar-daddy put up the money for the band and the recording. At some point they got into a big argument and the sugar-daddy threw the tapes into the swimming pool. Fortunately the recording was pretty high quality for a little band from Seattle. I knew that if I could find an unplayed, well-kept vinyl single I might be able to re-master it. It took months, but I was able to find a perfect single that one of Chuck's band mates, Jeff Gossard, had given to a relative as a souvenir. We were able to lift both sides of the single, and after Eking and mastering it sounds OK. It's not as dynamic as it could have been, but then recording technology in the 1970's couldn't capture all of what was happening in the first place.
Chuck had done some brilliant stuff in New York with Shlomo Sonnenfeld. Their band SUCH was more pop than Chuck's earlier stuff, but it was totally credible as far as I was concerned. I had mastered some of the tracks to vinyl in the late 1980's with John Golden while he was still in Hollywood. Originally it was to come out on the label I was running, but it never happened. In the ensuing years John had moved his operations to The Valley and the DATs we mastered from were lost. Meanwhile Bearsville Studios in Upstate New York where SUCH had recorded in had closed. The 2" masters of the a lot of the bands that recorded there were either destroyed or were taken home by studio employees. I spent a few very scary weeks trying to find the masters. I was hoping that there would be another set of DATs or at least a safety tape. Finally John Holbrook, who had produced and mixed the tapes found the 2" masters in someone's attic. But the original mixes were lost.. John Holbrook is a legend among the technicians in the music business. When he was barely out of his teens he had mastered some of the classic albums of the 60's. Tommy and Axis Bold as Love come to mind. He kindly offered to completely digitize the tapes and totally re-mix the songs with 21st Century technology. He did an incredible job. Then we went back and replaced some of the 80's sounding drum machines. Michael Cozzi and Ben Ireland of Sky Cries Mary did a great job updating those sounds. Ben was the drummer in The Fags, so we really felt like we were keeping everything "in the family" and being totally respectful of the recordings and what doing what Chuck would have wanted.

PUNK GLOBE: Did you have to transfer any of the music from tape to CD?

DENNIS: Most of what we included in this CD had to be totally updated from other mediums. I mentioned having to get the CLONE songs off of vinyl. The Such tapes had to be baked and transferred to digital files so John could totally re-mix everything on pro-tools. Two songs had to be taken from old cassette recordings. The only Fags track on the CD almost didn't make it. The song "Lock You Up" was recorded live in a studio in New York City in about 1985. It's a killer song and the recording really shows everything that made a live Fags show exciting. Chuck's singing is outrageous. Paul Solger's guitar is muted but it's really eerie and very cool. But I could only find a third generation cassette copy of the song. There was just no way I could include it on the CD. It was practically unlistenable and it almost made me cry. One day a month or so ago I went to see producer Jack Endino at his house. At lunch I told him I was upset that I wouldn't be able to include the only song The Fags had ever recorded in a studio. Jack had never worked with Chuck or with The Fags in the studio, but when we got back to his house he walked upstairs and came back down in about 30 seconds. He handed me a master tape he had put together for a cassette compilation Daniel House at C/Z records had put out years ago. The first track was "Lock You Up" by The Fags. I almost peed myself

PUNK GLOBE: Chuck was so lucky to have had you in his life and all of his fans should be so grateful to you as well.

DENNIS:I think if you were to ask anyone who ever met Chuck they would tell you how lucky *they* were to have met him. At the time Chuck or The Fags were working in Seattle anybody who was a fan was also likely to be a friend. Chuck had an incredibly wide circle of friends and he was always ready to become friendly with anyone who was real. If you weren't a direct friend of Chuck's he made you feel as though it was OK to say hello or talk to him. Most of his fans knew him well enough to say hello and I don't think he really saw any difference between who was a friend and who was a fan. I think I'm much more grateful that I knew him.
Even today I learn lessons from having known him. The only thing his fans should be grateful to me for is that I have the time and the means to finally get these recordings out. The exciting thing about this project is that if this music would have been released a few years ago nobody but his friends would have been interested. But now there's a surge of interest in early American punk in general and in this case a real interest in pre-grunge Seattle artists. The goal in releasing this collection is not only to give Chuck's fans a chance to have a piece of history. It's also about telling a story about a specific time and a path. It's about the way AIDS decimated so much of our lives...even us who are living...as well as the uniquely gifted it took away from us. And happily it's about all of us who are still here and able to look back at all the crazy shit we've been through and celebrate every good and bad part of it. Hopefully we can share all of that with people who weren't even alive when Chuck was singing

PUNK GLOBE: Can you tell us about your involvement with another early Seattle based band the Fags?

DENNIS: Well, there was no Fags without Chuck. The two are intertwined. My friendship with Chuck was my connection with The Fags. I produced a couple of shows with them, but mostly I was a friend. They've always relied on a network of friends rather than any formal relationships. In fact it's only been in the past 6 months that I've ever had any kind of "business" relationship with them. I've just been part of the network of friends that The Fags and a lot of artists and musicians had in those days. That network is still intact. Most of the folks from that network are still friends and still work with each other. The only difference is that now the network is bigger and we all have better toys to play with.
The Fags will be doing a reunion show at the Upchuck CD release party. It will be the first time they have played publicly as The Fags since Chuck died. But they never would have done it if it weren't for the fact that everybody knows that Chuck is going to be there in the spirit and the joy he left in so many people. When about 500 people who's lives were affected by knowing Chuck get together in one place the whole building might lift-off. The Fags are all still working as musicians and artists. Ben Ireland is drumming in Sky Cries Mary. Barb Ireland has worked as a film-maker and doing lots of live and studio work. Right now she's doing a Hank Williams tribute thing with Stone Gossard. Dahny Raphael is raising his kids and still painting. That and poetry have always been his first loves. Of course there's Paul Solger. He has had a few really rough years with cancer. Paul is a legend in his own right. It's ironic that Paul is most well known for his work in Solger, and The Fartz. But he spent much more time working in The Fags. I think he's influenced so
many kids with his hardcore stuff, but there's no doubt that his best work has been with The Fags. I can't say enough about Paul Solger as a musician and as a really good guy.

PUNK GLOBE: Do you have plans to release anything with them as well?

DENNIS: The Fags have been planning to put out a DVD and a CD release for awhile. I'd love to do more stuff with them. When the Upchuck release gets up and running then it's likely that I'll approach them about something. Whether they want to work with me is another matter. I can be a pain in the ass to work!

PUNK GLOBE: Any other special surprises you have in store for the party?

DENNIS: We've got plenty of surprises that I'm not even going to hint at. I can say that a certain icon of the San Francisco and Los Angeles scene will be hosting the party. I can say a lot of celebs are going to be there, not to show off, but to pay their respects and celebrate Chuck's contributions.

PUNK GLOBE: Can you give the readers an web address or My Space address for The UPCHUCK CD, The Fags and your Production Company?

DENNIS: CD's will be available through the cooler retail stores that I hope you're all still buying CD's from. There are so few left, and they are not going to be around much longer. Sub Pop are distributing our CDs so wherever you find their CDs you 'll be able to find ours. Or you can order CDs through our website: www.dadastic.com. We have digital downloads there, but you can also find the release at all the usual online download places. We're available at just about every commercial download site in the world! As a last resort go ahead and order it through Amazon. If you want to learn more about Upchuck or The Fags you can check out their pages at www.myspace.com/charlesgarish for Upchuck and www.myspace.com/upchuckandthefags for The Fags.

PUNK GLOBE: For the upcoming UPCHUCK CD Release Party show in September is there anyway fans can get advance tickets...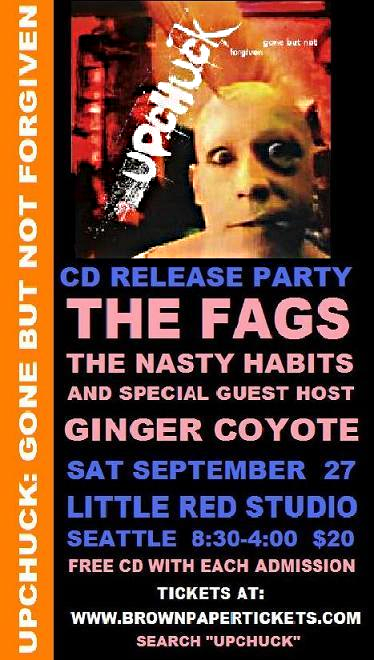 DENNIS: Yes. Advance tickets will be available online through Brown Bag Tickets at: http://www.brownpapertickets.com/event/42599. Advance tickets are $20, all paid admissions get a free free CD. BTW, I want to add that Brown Bag Tickets are really a great outlet. They don't charge outrageous, phony "convenience fees." They're perfect for band and clubs to sell their tickets to the fans.

PUNK GLOBE: Thanks so much for the interview Dennis! Do you have any parting words that you may have for our readers?

DENNIS: I should say that Chuck's royalties are being put into a trust to be distributed to AIDS charities. Chuck and alot of other folks who suffered from AIDS in the 1980's couldn't have gotten by without the hard work and dedication of people who went out of the way to fill the gap the government left in caring for people living with AIDS. Things are so incredibly better now....at least in the United States. It's still no fun living with AIDS, but medication and attitudes are much better nowadays. But people living with AIDS in the Third Word are in desperate shape. They don't have access to the same kind of meds that allow people with AIDS in the west to live for decades. Many are still neglected and left in poverty and horrible conditions. We've gotten pretty good at caring for Americans. Chuck's royalties will go to '46664' the organization Nelson Mandela set up to help relieve the suffering of Africans living with AIDS.

Thanks so much for the great interview Dennis. Hey all you Readers in the Seattle area come to the party on September 27 at The Little Red Studio located at 750 Harrison Street... I'll see you there!