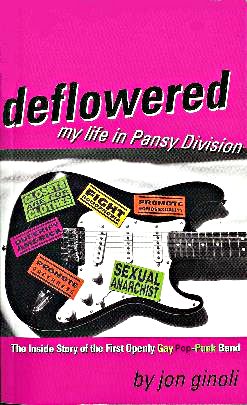 Deflowered : My Life In Pansy Division
by Jon Ginoli
The Inside Story of the First Openly Gay Pop-Punk Bank
Cleis Press, 2009 $1895 paperbound 275pp.



Reviewed by Carl Macki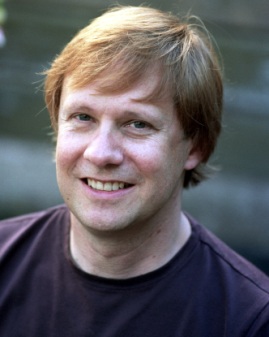 Jon Ginoli's journey from the hometown of Peoria to Champaign-Urbana, Ilinois;
and to the West Coast and to the genesis of the
first major all gay pop-punk band in the United States,

in which he played lead guitar;
and which formed out of the matrix of punk rock revolt revolt
and dissatisfaction due to the initial apathetic response in American
to the AIDS epidemic, is affectionately recounted in this autobiography.



Pansy Division eventually toured with many punk and alternative rock bands. Perhaps their heyday was opening for Green Day.




Nevertheless, trying to cope with issues raised by homophobic rock fans and apathetic support from its two major




alternative music record labels, led to a general dispiriting amongst its members and the band in the 21st Century seemed to decline in activity.





On a positive level, hopever, the DVD, "Pansy Division: Life in a Gay Rock Band," directed by Michael Car,mona --


recently 'came out,' to pardon the pun, amidst generally favorable reviews.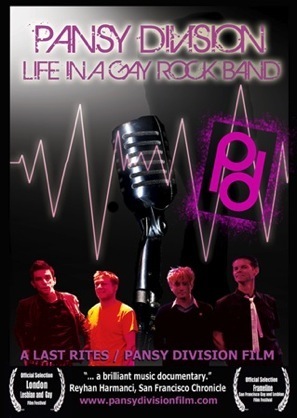 In addition to the DVD. "That's So Gay," an album, was released on Alternative Tentacles, in 2009. The tremendous
acclaim the book is receiving cannot but help to revive the prospects for Pansy Division. They have also announce a summer tour.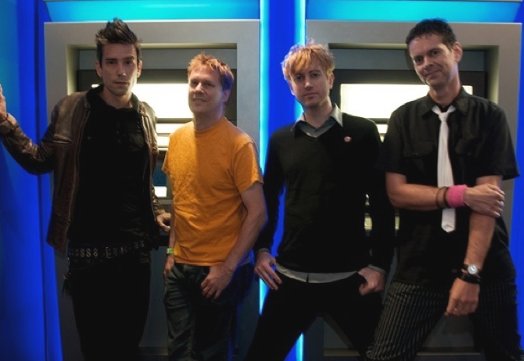 Pansy Division (from left): Luis Illades, Jon Ginoli, Joel Reader, Chris Freeman.

Photograph by Lauren Bilanko.

Jon Ginoli is maintaining a rock tour like schedule of appearances in support of the book--
Here is a listing for the next two months.



7:00 PM MAY 05/01/2009

- Sam Weller's Zion Bookstore, Salt Lake City, UT 254 S. Main St.



6:30 PM 05/02/2009

- R5 Records, Sacramento, CA (reading + acoustic set)
2500 16th St. Sacto Downtown, near 16th & Broadway, 916-441-2500,



7:00 pm
05/04/2009

- A Different Light Bookstore, San Francisco, CA 489 Castro St.




05/07/2009

- Under One Roof, San Francisco 2278 Market St.



05/08/2009

- Skylight Books, Los Angeles, CA 1818 N Vermont Ave (Los Feliz/Silverlake)



05/09/2009

- The Loft Cinema, Tucson, AZ 3233 E. Speedway (film screening + acoustic set + book signing)



05/10/2009

- Borders Books, Phoenix, AZ 2402 E Camelback Rd 1:00 PM




05/11/2009

- Albuquerque or Santa Fe, NM - TBA 05/13/2009 - Dallas, TX - TBA



05/14/2009

- Borders Books, Houston, TX 570 Meyerland Plaza 6:00 PM



05/15/2009

- BookPeople, Austin, TX 603 N. Lamar Blvd. 7:00 PM



05/16/2009

- Full Circle Books Oklahomo City, OK Located in 50 Penn Plzce, 1900 NW Expressway,405-842-2900 2pm




05/17/2009

- Kirby's Beer Store, Wichita, KS 3227 E 17th St N (reading + acoustic set) (316) 685-7013, 21+



6:00 PM 05/18/2009

- Barnes & Noble, Kansas City, MO 420 W. 47th St., in Country Club Plaza



6:00 PM 05/19/2009

(early) - Euclid Records, St. Louis, MO (5:30 PM) 601 E Lockwood Ave (acoustic set)

7:00 PM
05/19/2009

(later) - Left Bank Books St. Louis, MO, 399 N. Euclid (reading)
7:00 PM
05/20/2009

(early)- Carmichael's Bookstore, Louisville, KY, 2720 Frankfort Ave. (reading)
9:00 PM
05/20/2009

(later)- Fuzion Nightclub, Louisville, KY (acoustic set), 1335 Story St. 502-588-8861
6:30 PM
05/21/2009

- Barnes & Noble, Royal Oak, MI 500 Main Street (suburban Detroit)
6:30 PM
05/22/2009

- Aroma Cafe, Champaign, IL 118 N Neil St (217) 356-3200 




05/24/2009

- Champaign, IL: Jon's former band The Outnumbered, which existed from 1982-87,
play a one-off reunion gig! At the Highdive, 51 E. Main St, in downtown Champaign



05/26/2009

- The Tool Shed, Milwaukee, WI 2427 N Murray Ave.



05/27/2009

- Iowa City, IA - TBA



05/28/2009

- Barnes & Noble, Omaha, NE 3333 Oakview, south of the Oakview Mall. 402-691-4557



7:00 pm 05/30-31/2009

- Queer Documentary Film Festival, Portland, OR (film screening)



JUNE 06/05/09

- Rebel Reading Series @ The Knockout, San Francisco, CA 3223 Mission St.

More appearances are also being scheduled.

Please check the band's website at
--
http://pansydivision.com