THE NOTORIOUS
COLLEEN CAFFEINE
of
CHOKING SUSAN
By Ginger Coyote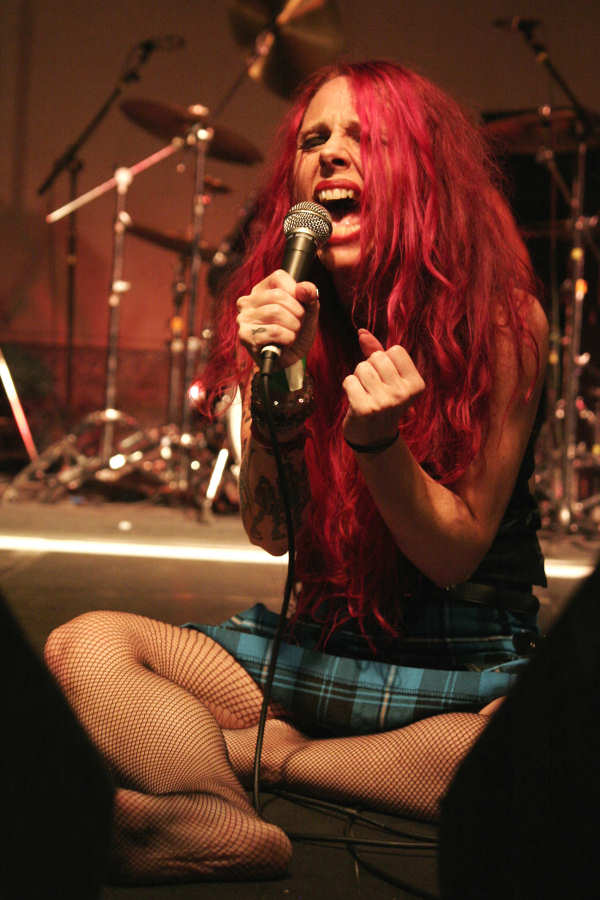 Photo by Grilly X taken at Rebellion
I absolutely adore Colleen Caffeine of the Detroit based band Choking Susan.. I was so happy to be able to ask her a few questions about herself and the band... I first became aware of the band Choking Susan from a Triple X Compilation called "Stranglehold: Punk Rock Across America" that both Choking Susan and The White Trash Debutantes were on. . .I hope you enjoy the interview.
Punk Globe: Thanks so much for taking the time to do this interview Colleen. You have been doing a lot of shows in the USA as well as abroad... Tell the readers about your tour over sea's and playing The Rebellion Festival in England?
Colleen: Thanks so much for the interview! the Rebellionfest was incredible! pure punk rocketry! 3 stages with bands playing all day and night...drunk people everywhere...people camping outside, people selling their stuff at tables, people soliciting sex . . . oh wait, that was just my bass player....if anyone says Punks dead they've never been to Rebellion...I wish we had something in the States like that. . .I guess we're only cool enough for the Warped tour or Cochella fest.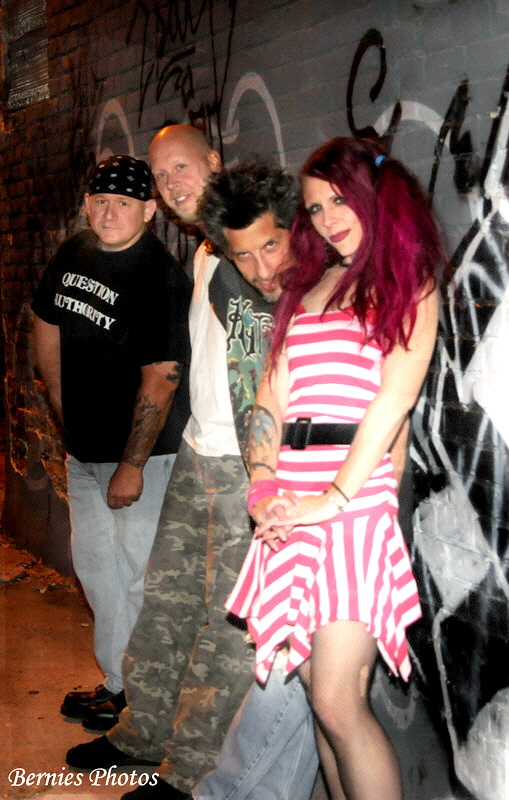 Punk Globe: Did you use a Booking Agency to book the tour?
Colleen: We tour totally DIY thanks to the lovely people we've met from myspace ... we might not make any money doing it this way ,we don't lose any either, but we sure have a lot of fun and know our success or lack there of is solely based on us :)
Punk Globe: Tell us about some of the other talent that played The Rebellion Festival?
Colleen: Here's some of the names for this year...COCKSPARRER, STIFF LITTLE FINGERS, 4-SKINS, THE COCKNEY REJECTS, THE REZILLOS, THE DICKIES, BAD MANNERS, BOOMTOWN RATS, THE SWEET, AGNOSTIC FRONT, CONFLICT, THE BUSINESS, SUBHUMANS, ANTI NOWHERE LEAGUE, UK SUBS, VICE SQUAD, DISCHARGE, 999
Punk Globe: I noticed on your My Space profile you met a lot of cool folks? Who was the most exciting to share the stage with?
Colleen: Martin Jones...is he Mick Jones brother? or Davey Jones? Martin, you promised me a date with Davey Jones! Screw that Marsha Brady! She gets all the groovy guys!
Punk Globe: Our pal Martin Jones told me that you were shocked to see Peter from Peter and The Test Tube Babies working as the Stage Manager? I also heard that you met my pal Tara Rez from the band Duel...
Colleen: I got a little star struck seeing some of the rockers I grew up listening to. . . Tara was really coool! we shared some Vodka. . .always a good thing to bond over :) No one wears green hair as brilliantly as Tara :)
Punk Globe: Where else did you play on the tour was in mainly the UK?
Colleen: We played London, Glasgow and Rebellion in Blackpool...this year when we go back to play Rebellion we are also playing France and a yet unconfirmed date in Spain, spreading the stink of Detroit all over the world.
Punk Globe: Tell about Choking Susan releases? Are you signed with any Label at the moment?
Colleen: No labels...no one wants us....I think we all need better haircuts...we've recorded two CDs, available on our myspace site
myspace.com/chokingsusan
Punk Globe: Have you recorded for any labels from England or Europe?
Colleen: I personally have recorded with others from around the world . . . I've recorded an EP with Wayne Zenith from England, Rocket to Uranus, and also with the Spanish Band, the Safety Pins and another song with the French band Crazy Fucking Losers.
Punk Globe: You recently made your first trip to the West Coast. Tell us how you enjoyed California?
Colleen: Who wouldn't love Cali? Sun ,fun, water, blond rich people!
Punk Globe: What club did you enjoy playing at the best?
Colleen: I think Alex's Bar was the best. . .I was able to meet one of my all time heroes...Falling James from the Leaving Trains.
Punk Globe: How was the audience response?
Colleen: Choking Susan audiences are the coolest people in all the land...sometimes there's only one of them but the one of them rocks! most of the time they keep their clothes on...oh and there was that one guy that tried to smuggle Jaeger into the bar using his butt.
Punk Globe: Can you give the readers your My Space profile addresses?
Colleen: My personal one is myspace.com/colleencaffeine. My band one is myspace.com/chokingsusan
Punk Globe: Thank you so much for the interview Colleen! Do you have any last words for our readers...
Colleen: Yes I have a few of my own questions for myself --
Colleen, why is your hair so fizzy?
Are those A-cups boobs of yours natural or Silicone Implants?
If you were a steak would you want to be rare or well done?
Is it true your dad is Bill Cosby?
Are you going to appear on the next "Survivor?"
This is the only question I'll answer...Mark Burnett, I know you read Punk Globe...who doesn't? you should put me on "Survivor!" I love coconut! Bug bites! Growing my arm pit hairs and not brushing my teeth for days! Stabbing everyone in the back! Pick me! Pick me!
Thanks a lot Ginger!! You know how much we love you!