By: Ginger Coyote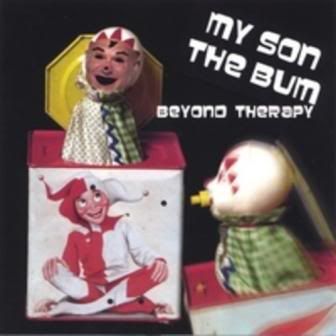 Punk Globe: How did you come up with "My Son the Bum"
for the name of the band?
Brian Kroll: While searching for music to take out of the library, I did a search under Rhino Records and stumbled on a collection called Allan Sherman - My Son, The Box It had album titles such as "My Son, The Nut" and "My Son, The Folk Singer," so I took it out...lol While listening to one of the albums, I asked myself what I would name an album if I did an electric Allan Sherman album...I started laughing and said out loud,
"I know... My Son The Bum"....
Punk Globe: Tell us who is in the band and who plays what?
Brian Kroll: I play most of the guitars. Ronnie Dee does all the vocals and an occasional sax/keyboard part. John O'Reilly plays drums and Bob Stander plays bass and
additional guitars.
Punk Globe: Tell us where the band is centered
and how long you have been together?
Brian Kroll: Long Island is where we put it all together. The name My Son the Bum came about in 2006 although we'd been working together before that.
Punk Globe: Are the members of the band all original members or have you changed personnel?
Brian Kroll: All original members so far.
Punk Globe: I really enjoy the music it has a lot of good pop hooks, Who writes the material?
Brian Kroll: I write the material.
Punk Globe: Who does the band count as influences?
Brian Kroll: The Ramones, Sex Pistols, The Offspring, Led Zeppelin, Alice In Chains, T-Rex, Frank Zappa - the list is too long to print here...lol.
Punk Globe: How many recordings have you released and are they on a label?
Brian Kroll: Two albums 'Beyond Therapy' and
'Are We There Yet?' are both on Wig City Records.
Punk Globe: Has the band toured?
Brian Kroll: Not yet. We've been trying to record as many albums
as we can at the moment.
Punk Globe: Can you give the readers your Website address and My Space address ?
Punk Globe: Do you have a Facebook page or any other special sites that you would like the readers to know about?
Punk Globe: Any touring or recording updates for the future?
Brian Kroll: We just finished mastering our new album on June 17th in N.Y.C. and it will be out by the beginning of September.
Punk Globe: Now a real serious question!! If you could be one of the girls on "The Facts Of Life"
for a day who would you be?
Brian Kroll: I'd be Blair Warner because I've been the male counterpart of all the others
at different times already...lol.
Punk Globe: Any last words for our readers?
Punk Globe: Thanks so much for the interview. You guys Rawk!!