Punk Globe: Thanks so much for the Interview. Can you tell me the names of the current line up and what they play?
Brandon Cruz: There is me, Ismael Hernandez on Bass, Stevil on guitar, and Destroyer Rick on drums.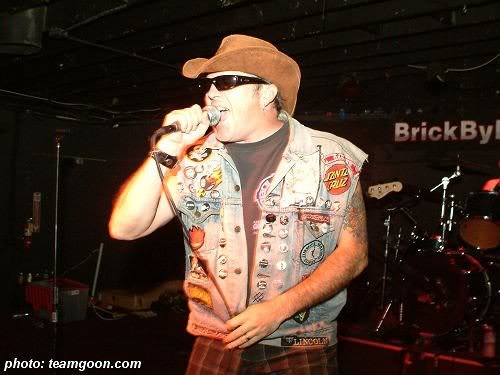 Punk Globe: What year did Dr. Know form and who exactly started the band?
Brandon: Dr. Know started in 1981 and was formed by Kyle Toucher, Ismael Hernandez, and Robin Cartwright.
Punk Globe: What is the story behind the bands name Dr.Know?
Brandon: Dr. Know is a play on the James Bond film title, Dr. No. It was spelled differently because Ian Fleming's people like to sue people. The first name that the band had was The Accused. One day the guys were hanging out, thinking of changing the name. A few other people were there, too. Once it was decided that Dr. Know was the new name, Tom Neidermier asked if he could use the old one. He moved to Seattle and The Accused was born.
Punk Globe: How many singers did the band audition before they decided on you as the lead singer, Brandon?
Brandon Cruz: The first guy who sang was a punk from Ventura named Joey Pina. He had all of the parties and everyone hung out at the place he and his brother Art shared on the beach. He didn't last long, so they tried Ron Baird from Hueneme, but Ron was into different stuff, and so they tried Rik Heller, who would become the second drummer, but Rik got headaches from yelling, so they asked me to try it. I did a couple of rehearsals and then we did a gig.
Punk Globe: Dr. Know is credited as a founding figure in the "Nardcore" movement from Oxnard.. Were Agression also involved?
Brandon Cruz: Agression, Ill Repute, and a bunch of other people were all there at a party one night when Ismael heard the D.O.A. record, "Hardcore '81." Ismael remarked that if they were Hardcore, then we were Nardcore. Simple as that. Tony From Ill Repute took that joke and ran with it. It turned up in grafitti all over town, on surfboards and skateboards, and pretty soon, we had a scene. Agression was the original band from the beach, and they had the Secret Symbol, which was the rectangle, the S, and the square. At first it was N.A.S.H., for Northern Area Skin Heads, but no one wanted to be known as a skinhead. We had all just shaved our heads at one point. In Oxnard there was no racist thing going on. The members of the early punk scene were Japanese, Flipino, Black, Mexican, White, and everything else. It was a year of the N.A.S.H., then Ismael coined the term nardcore, and it was on.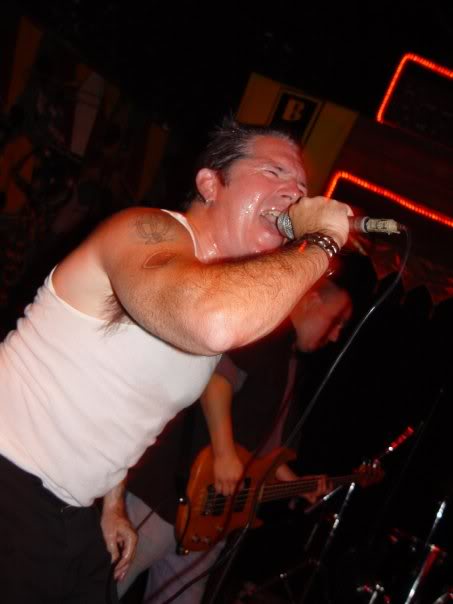 Punk Globe: Any other bands that were part of "Nardcore" scene ?
BrandonCruz: Well, Agression, Dr. Know, Ill Repute, and Stalag 13 were the first four, followed by a ton of bands like False Confession, Habeus Corpus, M.I.A. from Ventura, A.F.U., Beergutz, R.K.L. from Santa Barbara and Rat Pack from up there, too; Ground Zero, the first punk band from the 805,
The Rotters; and a few others.
Punk Globe: What was the name of the beach in Oxnard where it all began?
Brandon Cruz: Silver Strand Beach, aka Hollywood by the Sea. It all started on Cahuenga Street.
Punk Globe: Brandon, prior to Dr. Know had you been doing mainly acting or were you involved in any other bands?
Brandon Cruz: I had been in a band before Dr. Know with a bunch of older surfers, but we did a lot of covers. I did manage to write some originals. Agression covered "Body Count," which I had written in 1978. I hadn't acted since "Bad News Bears" in '75. I was too busy surfing and skating, and seeing bands play.
Punk Globe: Did Hollywood or the Industry give you a lot of flack for being in a hardcore band? You were definitely a trailblazer for actors starting bands.. And unlike the majority of the actors with the exception of Shane West are doing pretty tame music..
Brandon Cruz: No one knew I was in a band for a while. I was trying to stay away from being Eddie. I was sick of it. I still had an agent and I got a few interviews, but I would show up high on coke and wearing a leather jacket with blue hair, so word got around that I was pretty much over it.
Punk Globe: Did being in the Industry also have advantages for the band?
Brandon Cruz: Like I said, for a while I was pretty undercover. Black Randy had tried to ask me my name a long time ago at a gig, but he was wasted and couldn't hear me. He thought I said my name was Random. I liked that. Black Randy named me Random. The industry really did nothing for punk but give it a worse reputation than we already had, and a lot of people believed the publicity. That's why so many jocks got into new wave, and then the next thing you know, the guys who used to try to beat you up were standing next to you saying, "Yeah dude, U2 kicks ass!" They never understood. I did find a way for TV to give the band a boost, though.
Punk Globe: I do remember hearing "Pieces Of Meat" on "South Park," which was years after.. but nonetheless really cool. How do feel about it?
Brandon Cruz: Yeah, the guys at "South Park" put a little bit of that song on there. Kyle and I got paid for that. Not a lot, but it was being paid for punk rock, which was strange for us.
Punk Globe: I remember once seeing you on a TV Reunion show where you were walking with Bill Bixby with a huge Red Mohawk.. That was such a great moment. Do you remember what I am talking about?
Brandon Cruz: I realized that the media could help us. By the way, I only had green hair in it. Anyways, it was a Dick Clark special called "Whatever Happened To?" I decided to show them what happened. I got money from the producer to record one song, but we did fourteen in one afternoon. They sent a film crew, and we did a bit of one song for them, lip syncing to our just completed track of "What To Do." That got the band a bit of attention. We did the "We Got Power" comp for Mystic, then Doug Moody kept the master tape and released "Dr. Know, The Original Band" in 1988, five years after I had quit Dr. Know. He wrote some crap on the back saying that I had produced the record at ABC Studios, which was all fucking bullshit. Kyle produced it in Ventura at Goldmine Studios in late 1981. Moody was a bit off.
Punk Globe: I read you left the band in 1983: is that when you formed Harmful If Swallowed? How long did Harmful If Swallowed stay together?
Brandon Cruz: I didn't form Harmful If Swallowed. They were a band looking for a singer, and I didn't join them until 1989 or so. I quit singing for them around 1992.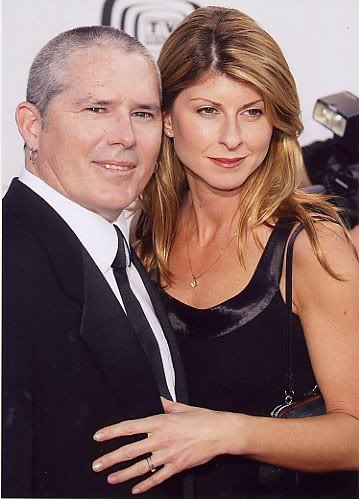 Punk Globe: You also married and started a family. What does Liz do?
Brandon Cruz: I got married in 1994. My wife Liz is a nurse.
Punk Globe: You named your first child in honor of the late Bill Bixby right?
Brandon: Yeah, his name is Lincoln Bixby Cruz. He's thirteen now.
Punk Globe: Are you still involved with that group that Paul Peterson started helping Child Actors?
Brandon Cruz: No, I haven't been active in A Minor Consideration in quite a while, but if Paul needs me, he knows where I am.
Punk Globe: Anything else that you were involved with during your hiatus from Dr.Know? You were singing with Flipper, right?
Brandon Cruz: I got to sing for Flipper in 1995, doing three gigs in L.A. to help them finish a tour after Bruce hurt his back. I was really wasted then, and it was fun pissing off all of the punks with Flipper. We would just play slower and slower and when we were at The Whiskey, playing between The Adolescents and D.I., it made the crowd just fucking hostile. Flipper are great. I ended up in a purple sequined jockstrap and nothing else at The Viper Room gig, and Julia Bell and Jennifer Finch stuffed dollar bills into my jockstrap. We destroyed the bathroom with grafitti at The Dragonfly so badly that Cliff made me come back the next morning and paint it. I was spretty out of control back then.
Punk Globe: According to Wikepedia, Dr. Know officially broke up in 1991? Who decided to reform the band and when?
Brandon Cruz: Ismael and i decided to try it again. Kyle didn't want to, so we went off on our own. Kyle is a great writer and guitarist, he was way ahead of his time, but he said he wasn't an angry
nineteen year old anymore. That's cool, I'm still angry at 46, so i don't know what age has to do with it. It would be nice to have Kyle's writing and sound now. He was so brilliant in his wording and language. He wrote a song that mentioned AIDS way before most people knew what that was. He was a computer genius. Although his dark lyrics and metal style were what contributed to me quitting
Dr. Know, I look back at those songs now and think wow, that guy wrote some great music. Maturuty and time can really change a person.
Punk Globe: Do you have the same band members currently that you reformed the band with?
Brandon: No, we have different people, but it's always been me and Ismael. Two original people are the minimum. If he quit, Dr. Know would be over for good. Hell, he was a founding member.
Punk Globe: What year did Slayer do a cover of a Dr. Know song?
Brandon Cruz: Slayer covered "Mr. Freeze" in 1996.
Punk Globe: You also were the first choice to replace Jello Biafra with the Dead Kennedys. Did this cause any problems with your schedule with Dr. Know?
Brandon Cruz: Not at all. I did the tours with Dead Kennedys, and when i got home, Dr. Know would do our gigs. We even toured with Ill Repute and Stalag 13.
Punk Globe: What prompted you leaving the DKs? Was it a friendly parting of the ways?
Brandon Cruz: I will always remember the good times I had all over the world with Klaus and D.H. Ray and I didn't agree on some things, and I basically quit because of the disagreements, also because I needed to rest. I broke my shoulder in Birmingham, England in April of 2003; and I finished the tour, but I was battered.
Punk Globe: That is a very good way to live by. I remember you telling me at The Punk Globe 30th Anniversary party that you and Biafra were friendly again.. That night you also met Pauley Perrette from "NCIS" who knew a co-star of yours from "The Bad News Bears." Did you talk about your latest CD, "Killing For God," LOL?
Brandon Cruz: Biafra and I started talking again right after I quit Dead Kennedys. We had known each other since way back in the day from gigs and when we opened for them a few times. I can understand his being upset about what I did to a certain degree, but it was all way over the top most of the time and it took away the real message of Dead Kennedys. We all make mistakes, you know? Whatever, I was in the band, and now I will always be an ex-member of the band. That's pretty cool for a punk kid from Oxnard. I was lucky to get to go to Russia, Tokyo, Rio de Jainero, and sing punk rock to fans of the band. It was really fucking amazing. Pauley is a sweetheart, and she does know a guy from "Bad News Bears," David Stambaugh, who is an assistant pastor at a church in Hollywood. We didn't talk about "Killing For God."
Punk Globe: Can you remember your best gig with Dr. Know?
Brandon Cruz: This might sound stupid, but almost all of the gigs are the best. In the early days, playing with The Misfits in Watts, Circle One in a sketchy part of L.A., and some of the Santa Barbara gigs with Fear, Flipper, D.O.A., and Dead Kennedys are standouts, as well as some of the house parties with Agression, Ill Repute, Stalag 13, and R.K.L. After we got back together, there have been a lot, too. With Poison Idea in San Diego, Fang and Union 13 in San Francisco, with Stalag 13 at The Troubador, playing with Dead Kennedys again, where I had to sing two gigs in one night during a benefit for my mom, so many great times. Playing with Pig Destroyer and Brutal Truth at the L.A. Murderfest was an all time gig, too. It's damn fun to still be doing this at 46, and there is no reason why we can't do this for a long time.
Punk Globe: What are some of your favorite tours?
Brandon Cruz: With Dr. Know, I had a blast touring with Dayglo Abortions. We went from L.A. to Vancouver with them and every single night was fucking nuts. We hit every punk dive and skatepark all the way up the coast, and pretty much destroyed everything. The East Coast was a great time when we did CBGB's. We also hit a few spots with Municpal Waste. With Dead Kennedys, South America was incredible, as well as Russia, Japan, and our first trip to Europe. We played with Slayer in Germany to so many people. They stretched across a field as far as you could see. I don't know how many people were there, but it was easliy over 100,000, and probaly more. I love to tour.
Punk Globe: Can you give the readers your website, Facebook and MySpace addresses so they can contact you?
Brandon Cruz:
www.myspace.com/thisisdrknow
http://www.reverbnation.com/drknow
http://www.last.fm/music/Dr.+Know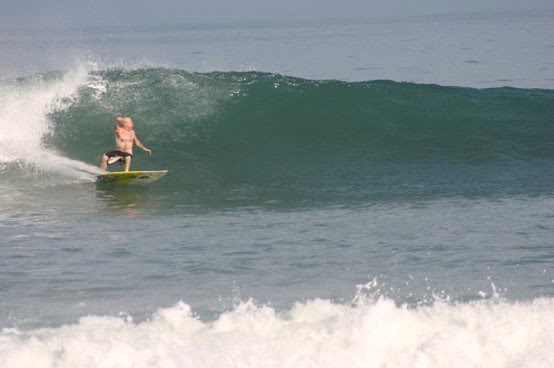 Punk Globe: What is in store for Dr. Know -- any recoring or tours planned.. Anything you may want the readers to know about?
Brandon Cruz: We leave soon on a West Coast tour, then into Canada and all across that country, with stops in Chicago, Detroit, and New York City. A summer tour of Europe for squats, clubs and festivals is in the works, and our new album should be available now from Unrest Records. It's called "Killing For God" and has seventeen all new songs. We are always looking for local and weekend trips, so contact us and be sure to get your merch from us at a gig, or throough Unrest. The rest are bootlegs, and those people suck hippie cock in hell.
Punk Globe: I would like to thank you so much for the interview. Do you have any parting words of wisdom for the readers?
Brandon Cruz: Wisdom, from me? Ha! Just do what's right. Quit surfing now.