BLAKE LEWIS
Runner Up On
"AMERICAN IDOL"
2007
By Kim Acrylic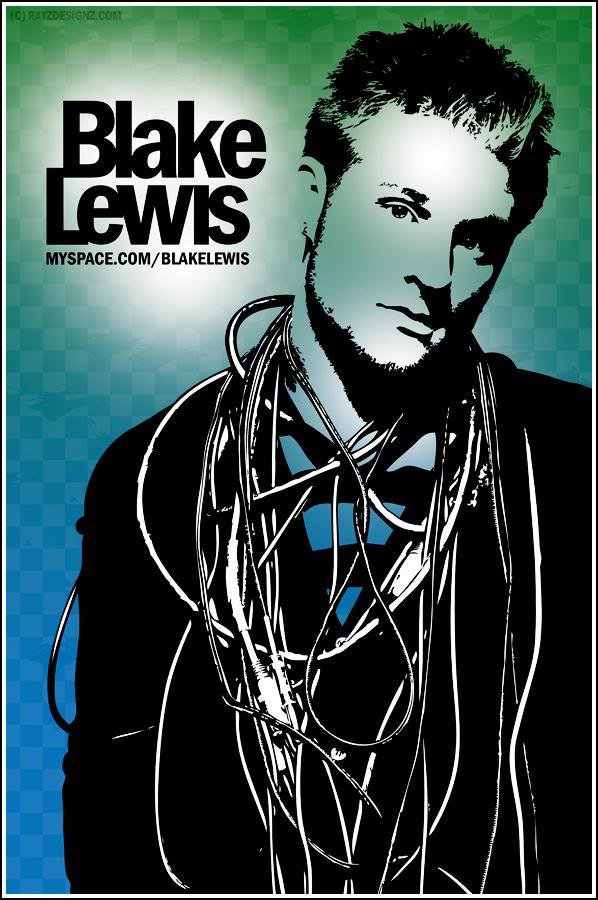 Punk Globe: Greetings Mr Blake Lewis! This shouldn't be painful I promise! So as everyone and their ant collection knows you were runner up on American Idol in 07?

BL ~ Kind of crazy!! OK really weird.

Punk Globe: I know you never even watched the show but to be runner up, what was that like, man?

BL ~ It was very surreal in the beginning. I had only seen about 30 seconds of the show and had to turn it off, the first season it was on, because some one singing off key to me is like Superman holding onto kryptonite. But after the first week of being in Hollywood and being around people that are into what I do and vice versa. I was comfortable. Getting to the finale... I just don't know what was going on. I was forced out of my comfort zone and had to sing a cheesy ass song for America. I kind of got screwed, but wasn't bitter, because of such an amazing opportunity. But I'm not one to bite my tongue and I did so for National TV.

Punk Globe: And come on this is Punk Globe for Christ sakes are you and Jordan Sparks dating?

BL ~ hahah. She wishes... haaaahahah I'm kidding. But, no we are not and have never dated.

Punk Globe: We don't lie here for the pop mainstream we get RAW!

Punk Globe: So I actually went to the home coming here in Seattle with my niece Taylor, you put on a GREAT show for someone who I truly didn't think I'd dig.

BL ~ Well thank you very much. That was the craziest day of my life. In 48 hours I played like 6 shows. after you saw me. I went to The Blue Scholars cd release and got on stage with my friends and actually was in front of a true Seattle crowd. Amazing day. later that night I played an after hours till about 5 am with friends downtown. Good times.

Punk Globe: So there is really no one right now like you, Blake...who are your influences?

BL ~ Man... this question is complicated, because I can find inspiring things in all areas of music. but since I was a kid, its always been. Duran Duran, Depeche Mode, Michael Jackson, Prince, U2, The Police, 311, Incubus. Then I got into dance/electronica and my life has never been the same. BT, DJ Dan, Hybrid, Prodigy, Orbital, New Order, Underworld, Diesilboy, LTJ Bukem, The Glitch Mob (edIT). Anything I can lose my inhibition too, I'm all about. Nothing like getting high off of music. As of right now, my favorite artists are. Adele, Jamie Lidell, Sam Sparro, Kenna, and edIT And The Glitch Mob. I've been really inspired lately






Punk Globe: And how in the hell do you do that with your mouth??!? I wanna learn!

BL ~ I started doing impersonations of people and cartoons, when I was little. Then in High School I got into a Capella, and hip hop and in 98 I found that sub conscientiously I was already beat boxing and I went from there.

Punk Globe: Your album Audio Daydream, How did you come up with the title?

BL ~ It was actually a name for my due project with my drummer/producer KJ Sawka, which is now called Orchestral Drive-By A.D.D. everyone thought I had it and Kevin (KJ) does. It was a great acronym and worked perfect for me and my band.

Punk Globe: Where has been the best place you have toured?

BL ~ New York! I always feel so at home and the crowds there really no how to give the energy right back to the stage.

Punk Globe: Most insane fan moment?...got any?

BL ~ haha. When I was on the show. I went to the cheesecake factory with a bunch of friends and this one girl, who was my age freaked. I couldn't believe it. I was looking around and pointing to my self saying "me?.... really??" Television is a funny thing.

Punk Globe: So a ton of people fell in love with you when they heard you could ALSO sing not just beatbox(when you sang the infamous Keane song) How did you pick that song?

BL ~ They are one of my favorite bands and I new that it would be the perfect song coming out of the gates. The producers always kept giving me shit since day one, telling me what to do and I told them to piss off. I sing music that inspires me, not music that some t.v. producer wants me to fit in a box. They put pigeon hold on me as soon as I beat boxed and to them it was a gimic for the show and I wasn't having that. Its an Art form!

Punk Globe: So how do you stay true to your roots when you have all this fanfare?

BL ~ I live about three miles on the same road as my parents and I stayed in Seattle. Its peaceful here. There is no facade about it. Hollywood is filled with fake. Everyone here is pretty well grounded and my friends keep me humble.

Punk Globe: Who's your favorite rock band or Punk band?

BL ~ 311 has always been my favorite band, ever since I can remember. They really know how to put on a live show and engage the audience. As far as punk. I would have to say NOFX. Killer! and hilarious.

Punk Globe: I ask you to hang out, what do you say? and what do we do if anything?

BL ~ Depends on what your into. I love going out to see comedy, cause that's what really got me into beatboxing and the one man show. I love Comedy. If you were in town. I would take you to some dive bars, that have amazing musicians playing.

Punk Globe: So is Simon REALLY THAT annoying and rude? or is it an act?

BL ~ He and I got along great. He loved the fact that I didn't listen to the producers and did my own thing. Lucky for me, It worked out. I guess you could say I was kind of a Punk... haha. but in the nicest way possible. I'm not a fan of burning bridges.

Punk Globe: You were such a good sport when you lost, I admired that so much..what was going on in your head that very moment?

BL ~ Well I kind of new that week I was getting second, so It was bitter sweet really. You spend about 5 months getting to know people and then bam.. Back to reality. I really didn't lose.. the way I see it. I gained.

Punk Globe: Recommend a CD for me to download!

BL ~ Party CD. Sam Sparro. Mix 90's with the 80's. front to back this album is fun.






Punk Globe: I dig your sense of style, who influenced your threads?

BL ~ I really don't know. I just see what I like and match it with something else. I really dig 70's style pants and 80's colors. I have never really worn Jeans. I have one pair.

Punk Globe: Did you vote this year?

BL ~ I did.

Punk Globe: How important was that to you?

BL ~ This year it was very important. The fact that it was the highest voting year in history, speaks for it self.

Punk Globe: Any up and coming videos or CDs in the near future?

BL ~ YES!! I'm currently working on my record and my side project Orchestral Drive-By is really coming together. We got about five songs done. Its very Zero 7 meets Massive Attack, with a hip-hop drumnbass undertone. Stoked!

Punk Globe: Describe you as a child?

BL ~ Hyper. I've never in my life had a cup of coffee, cause I have so much energy. I never sleep.

Punk Globe: Now what are your days like?

BL ~ get up. do some emails. then start working on a track. Right now I'm trying to write and produce a song almost everyday. five a week.

Punk Globe: How do you feel on stage?

BL ~ I can't get enough of it. Its so addictive. Even when I go out to a show. I still want to join anyone who will let me.

Punk Globe: What goes through your mind when girls are screaming for you?

BL ~ I'm flattered really. I was such a nerd in junior high and high school. So, its a little different now.

Punk Globe: And do you still hang with the other contestants like the amazing Sanjaya?

BL ~ haha. Not as much as I'd like. I'm here in Washington and everyone is somewhere else. I see them, when I'm on the road.

Punk Globe: Do you ever wish you got known in a different way other than Idol?

BL ~ Yes, There is a certain respect that comes from working your way through the industry and American Idol is a double edged sword. But, I got to experience music in a different ray of light and I will never take that for granted.

Punk Globe: Have you ever thought about doing other stuff such as acting, writing etc...?

BL ~ Yes actually. I do voice over work and would love to have a character voice in a Pixar or Dreamworks movie. I acted for 3 years and music made its way as my path.

Punk Globe: If you weren't doing this what would you be doing?

BL ~ Acting. or Digital Design/photography its my hobby.

Punk Globe: Does failure frighten you?

BL ~ yes and no. I try never to thing negative and always press forward. Failure is only a speed bump

Punk Globe: Tell us something random about your career!

BL ~ I was on American Idol. hahaha seriously though. If you asked any of my friends, they had know clue about this show, like me. so I think that's the most random.






Punk Globe: When did you stop believing in the Easter bunny?

BL ~ Maybe 8?

Punk Globe: Last question. Since we are local will you go on a date with me(out to coffee) and teach me how to beatbox?

BL ~ Are you hitting on me, via email? just messin. Yes I will. As long as your not a crazy fan. hahah.

Punk Globe: Anything you'd like to say to the thousands of devoted Punk Globe readers and writers. Your on the soap box, Doll

BL ~ Thanks to all of you who believe in a band and who has ever helped them along there way. Support your local artist and go to there shows.

Punk Globe: Thanks for chatting Blake I really adore who you are:)

BL ~ Thanks for the chat.

Punk Globe: Would like to thank Blake for the fun Interview. If you see him playing in your area please go check him out!!





back to homepage