By Kim Friederich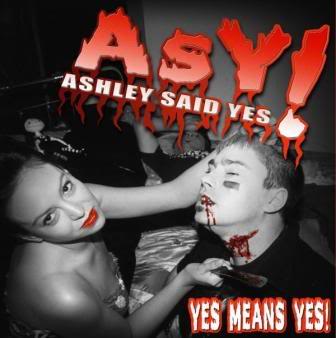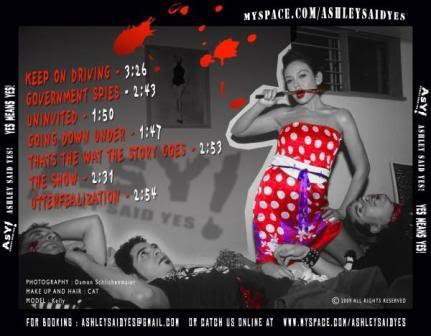 Coming to you from Denver, Colorado Ashley said Yes! are a punk / surf / hardcore band worth checking out. If you haven't heard this band yet stop everything you are doing and go get their CD! You wont be disappointed. This group is a true gem and a genuine Punk band. The song "The Hand" is comparable to the sounds of the Germs and the song "Uninvited" is a cross between the Exploited and NOFX. The CD is definitely worth your money.

I spoke to Vocalist /Guitarist Frog Lysol about the band and its music -- and
as I found out, he's a real character.

Frog Lysol - Vox and Guitar
Drew Chaos- Bass Guitar
Denny Crash- Drums
---
Punk Globe: Where did you get the name "Ashley Said Yes!."
FROG Lysol: Ahhh. a question many have asked let's clear it it up. We came up with the name based upon a real life person who said yes to marriage, having multiple children, religion, big SUVs, and above all Conformity. We were thinking that she chose to be boring, getting hitched at only 19. When it roles off your tongue, it's a very memorable thing to say and hear, very catchy, and hard to forget. I remember thinking that it was great, because Ashley is both a boy's name or a girls name. So you can make up whatever you want it to mean, in both genders. That's what I want everyone to do is find a meaning that fits your state of mind at the time you listen to us. It could be some girl that punched you in the eye at the bar for getting too fresh, or it could be Ashley Wilkes the man whom Scarlet O'Hara is most fascinated with in "Gone With the Wind."
Punk Globe: Whats the saga with Twofister Promotions?
FROG Lysol: We did a show to get in good with that crazy idiot, and she became Two faced promotions. Crystal basically went crazy cause she wanted us to do her job, cause she got too drunk. She was too wasted to iron out the details with us after the 10 shots of rum she had and the beers. At the same time she got greedy and wanted to keep a considerable share of the door off the top. That's how all the bands got paid that night, we split the door. She tried to say WE stole the money. We will not stand for something like that, and those people must be exposed. So that was us, she threatened to ruin us, but she didn't realize we have such a huge music network going on, so she got punked by us. By trying to ruin us she just gave us more publicity, in turn ruining herself. So if you are a traveling musician don't work with her promotion company, she is truly a cheat. One last thing that everyone needs to know is currently the subject of a lawsuit, after falsely accused another musician that same night of attempted rape, we hung out that whole night and he left before the time she said this actually happened. That should be enough to tell you she is no good.
Punk Globe: Whats coming up for Ashley Said Yes!?
FROG Lysol: We are gonna play at the Warped Tour, I stress AT the Warped Tour, because they didn't even give us a look when we submitted, even though we paid a fee to do it. We monitor our booking site very well and know there was no activity at all on the day they said they reviewed it. They lied too, didn't even look. So just for that, we are setting up in the parking lot before it starts and exposing them for doing it. That tour used to be the place to see the greatest signed, and unsigned punk bands, now it's a corporate machine. I will say one good thing about it, it is still a very good place to network for people and unsigned bands. I go every year and meet like 20 bands I never heard of, and they all are usually good and in my play rotation. Take a chance on the dirty weirdos who are D.I.Y. punk bands selling cds/mp3s, you never know when you are gonna be that person who first discovered a generation changer like Black Flag.
Punk Globe: How did you all meet?
FROG Lysol: Mostly work orientated, strangely enough, I meant Andrew at work, he had a hardcore band called Corrupted Morals, and I was like: "I got to get a 12 pack a check this out!." I went to their practice two times, both times it was the drummer, or guitar player who didn't show. The 2nd time when the guitar player didn't show, I just happened to be rolling with my gear, and came in and jammed. We clicked and I gave him the opportunity to fill the revolving door at bass we had suffered since the loss of the founding player Leya left. I meant Denny of a whim, my girlfriend worked with his at a hospital, and he just wanted to play some more intense music. At the time it was really hard for me to replace Steve, the current drummer, but he lost his focus. I knew it was inevitable, that he was going to leave. I gave Denny the unmixed version of the new album, and a month to learn it, he went full force and learned it. He is truly a madman. Steve ended up going to California, so my sixth sense actually worked in my favor.
Punk Globe: Tell me about the punk scene in Denver.
FROG Lysol: It is a flowing, diverse, river here. I have had dreams that manifest it as a river of liquid quicksilver, with all different colors of earthly tone in it, a river of Van Gogh brightness. We are a tight knit group here. Not so much like the huge scenes of New York, or San Francisco, they are more tightly networked, we have an unspoken friendliness, a real network of rogues trying to play crazy strange music. We run into each other at places like Famous Pizza, and don't just say hi, we sit down and have some pizza, and spread the word about what is going on in our scene. Then we might head down to a dive and have a beer. It helps weed out the anti-musician friendly people and clubs in this town. Secondly, I want to warn all musicians before they come and play here they research where they are playing, and make sure they get a quote on what they are gonna get paid, sometimes we have to pay those bands our money, because the promoter/or venue tells them something dumb like: "Nobody at the door came said they were here to see you." There are a lot of places that play dumb when it comes down to settling up at the end of the night. Remember that just an e-mail from them is a binding contract, they have to uphold. So save it when you get it, and hold them to it.
Punk Globe: Your fan base- What is the furthest you have sent a CD?
FROG Lysol: We have now sent CDs to Japan, Russia, Italy, and Brazil. It seems like we are the biggest in Mexico, Italy, and Japan. Those countries have CRAZY PUNKS! Their scenes there are not backward, but going though a period of punk revival similar to what we went though in the 80's. So always befriend those punks on places like MySpace, because they will take the time to forward you to like 10 of their friends. They really believe in the scene and the music.
Punk Globe: Your Cd "The Real Deal" was ready to sell at your April 24th show. Tell me about recording the album? Please also share how you go about selling them? (lol opening for U2)
FROG Lysol: We went though hell to record "Yes Means Yes!", we practiced those same songs for 5 days a week for a month and a half, no matter how much we wanted to play any of the others, we didn't. We went in there for an all-day session, and then two 4-5 hours sessions. It was getting back to do the last couple of sessions, that was hard. Money was tight, for me the current line-up at the time was slowly falling apart. I ended up paying for 75% of it out of my own pocket, and the last two sessions playing everything but the drums on all the extra parts. I only had nine hours left of money to do, both guitar parts, background vocals, and just basic fixes to those parts, and minor fixes to the bass.

As far as selling them, get some kind of gimmick. A hot person selling them can increase sales at your show, by 100%. Alternate both genders, doing it, this gets your music out to a more broad based audience. We also hit the used CD store garbage bins, and get their old jewel cases for CDs that they throw away. We found a bunch of them that said "On tour with U2" (P.J. Harvey), and Includes the hit single!: "What I Like About You" (Romantics). Those little, weird things blow people's minds. Makes them feel like they are buying something unique, because they really are. Also sell Mp3's, I don't just mean on the your computer, but carry copies of your Cd converted to Mp3, the less work people have to do to listen to your music the better.

One more thing. Know that the album is essentially dead. Don't waste your time recording an album with twelve plus songs on it, that lasts over 45 minutes. We live too fast of lives and are attentions spans are lower than they used to be. So make an album around 20 minutes with seven to ten songs on it, and put one out every year. You have more time to perfect the songs you want on it, and people tend to forget you exist, after a year and a half. Ours is seven songs at 18.5 minutes, but there is a hell of a lot of greatly recorded, bad ass, punk music in that event. I know they used to call these EPs, but it's time to look to the future. The EP is the new LP, remember I said that.
Punk Globe: Tell us about your album, "Yes Means Yes." Where can we buy it?
FROG Lysol: You can always come to our show and buy it, sometimes we just give it away. Mp3's will be available sometime June/July through our MySpace.
www.myspace.com/ashleysaidyes
.
For a copy by mail send your address and seven bucks to:
Ashley Said Yes!
8481 W Union Ave #5-204
Littleton Co 80123
Punk Globe: So you do some covers tell me about some of your favorite songs to cover?
FROG Lysol: Well P.J. Harvey is my favorite musician and I love covering her, she reaches out to almost every genre, is fun to play, hardly anyone knows it, cause when we play songs like "This Is Love" it's so damn fast. I am really interested in playing covers of women artists, bands like Bratmobile, The Raincoats, and Girl School, cause I believe they still get somewhat overlooked, especially because they are not some super-hot pop sensation. They have great songs such as "Fuck Your Fans", "Panic", and "Emergency." Look em up, just Google it. Also I love covering old school Punk bands like "Iggy and the Stooges, Sex Pistols, Bad Religion, and Black Flag. We do those jams when it close to the end of the night, when people wanna hear something that makes them reminisce.
Punk Globe: What song do you warm up to?
FROG Lysol: It's a trade off between our new song "Birds in Barbwire", or Social Distortion's "Story of My Life."
Punk Globe: Who writes the music for the band?
FROG Lysol: I do for the most part. I usually come up with them and bring the riffs to practice with me. Andrew writes a couple of the new ones, and I can't play the drums to save my life, so I guess that's all up to Mr. Denny Crash...
Punk Globe: What song most represents the band?
FROG Lysol: That one is hard, but I would have to say "Keep on Driving." That's just a cause it's a musician's tribute, the song is about a bizarre murder suicide plot, but it has the undertones of of what it is like to be a musician, and how you got to keep going and keep believing even if it kills you. I find myself relating a lot to "Utterfealization." It's just a catchy rock song and it's what I believe about the world.
Punk Globe: If you could share a stage with any punk legend who would it be and why?
FROG Lysol: I'm gonna say Johnny Thunders, I consider him the Jimi Hendrix of Punk Rock and Roll. I don't think Punks realize enough how much he did for the genre, and to dress like a girl in 1971 was quite a crazy thing to do. I can only imagine how much that whole band got ridiculed and how many times they got their asses kicked for masquerading around New York, like that. I'm sure a lot of people reading this have been oppressed, and hated on. Just imagine going through any of that, and having to build a scene of people, or friends to support you, in a time where you were not appreciated.
Punk Globe: Where can we find more about Ashley Said Yes!?
FROG Lysol:
www.myspace.com/ashleysaidyes
Come to our shows, read our blogs, visit our MySpace. For now that is the way to go. We are organizing a tour to head out to Arizona, California, Illinois, and Hawaii. This Fall, we will record a new album, and in the Spring head over to the U.K.