Adrian contacted me in doing research about his upcoming book about Faith No More. I thought it may be a good idea to do an interview with him to help make more people aware of his book about Faith No More. If you have any photo's, articles or interviews please send them his way...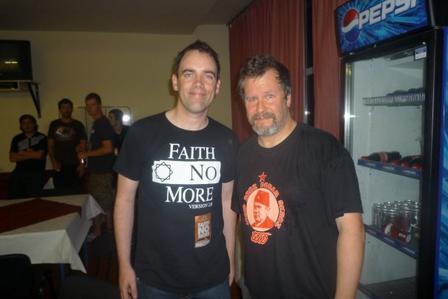 Punk Globe: Thank you for the interview. Can you tell us a bit about yourself?
AH: Thanks for the invite. Most pressingly I'm the founder and editor of the Faith No More 2.0 website (newfaithnomore.com) and I am currently working on a new book about the San Francisco band. I'm a long-time fan of the band and my research has led to me learning a lot about the San Francisco music scene and especially the early 1980s music scene in the city.
Punk Globe: Tell us about living in Switzerland. You are originally from Ireland right?
AH: Yes. I moved to Switzerland in 1997 in my early 20s and am now married to my wonderful wife (who puts up with my Faith No More fandom with amazing forbearance) with two young kids (Elliott and Eloise) here and love it. It's a great place to work and live. It's modern and connected and not too far away from anywhere in Europe (can hop on a train and be in Paris or Milan in 3 hours) but also has quiet and solitude and the great outdoors. It can seem a little conservative and well-to-do (it is very expensive for tourists) for visitors but if you delve deeper there is much more to see and feel and hear.
Yes, I'm originally from Ireland and, as with many of my compatriots, I love my country so much that I haven't lived there in two decades. I do miss it but I get back a few times a year and modern communications narrows the distance too.
Punk Globe: What prompted you to move to Switzerland to live?
AH: I was working as a journalist and was offered the chance to write and edit the very early website for UEFA, which is the European football (soccer) organisation so would be like working for the NFL or MLB over there. We don't really have the jock versus sports guy cultural divide over here that you seem to have there so it's not unusual to be passionate about both sports and music And except for a brief 18 months spell in London where I worked for the BBC and The Guardian I've been here ever since and still work for UEFA. UEFA organizes competitions such as the UEFA Champions League (the final of which is the most-watched sports event in the world) and the European Championship.
Punk Globe: is there a healthy music scene in Switzerland?
AH: There is but you have to look for it. Switzerland is a musical importer, primarily because of the fact that it is split into linguistic regions. Where I live between Geneva and Lausanne is French-speaking so we get a lot of overspill from France with the radio waves dominated by largely dull French music in the chansons style (France is the only major western country not have had a popular rock music revolution). So these French, Swiss-German, and Italian-speaking parts of the country are microcosms with their own distinct linguistic and cultural identity. And the music market is split into these three regions - markets which are too small for musicians really thrive and live on their music. Maybe the Swiss-German market is big enough for artists to sustain themselves but it is impossible for French-speaking artists to really have impact there.And even the German-speaking acts actually sing in Swiss-German dialect so make no impact in Germany either.
Throw in the fact that there is very low unemployment and a brilliant educational and vocational education system here so there is very little incentive for anyone to devote themselves fully to music as a profession.

But a few Swiss bands have made some impact. There was a quite a vibrant punk scene here in the 1970s, primarily in Zurich and Geneva and the all-female Kleenex (also known as Lilliput) got quite a bit of exposure in the UK and US.

Then in the 1980s Krokus made it pretty big in the US with their pure heavy metal (albums Headhunter and The Blitz went platinum in the US). Probably more influential have been Young Gods and I know Faith No More are big fans (Roli Mossiman who produced their debut also produced FNM's Album of the Year), with David Bowie and U2 also fans. They were only of the first bands to blend electronic and rock music and probably invented industrial music. Extreme metallers Celtic Frost were also successful in the 1980s and their so-called avant garde style influenced a lot of European metal before they sold out somewhat in the mid-1980s by going full on hair metal.

But despite these notable exceptions, Switzerland is a music importer. Again the live scene is there if you look hard enough. In Geneva, the Usine is a former gold refinery and has a real dingy underground cramped vibe totally at odds with the rest of the city's riches and sanitized clubs. Have seen Melvins, Mastodon and even Mike Patton there. The Romandie is similar is Lausanne and gets US and U.K bands on the up. Beach Slang are there next month. These visiting acts often have local acts in support. The best of these I've seen are Zayk, an all-female post-rock outfit from Zurich.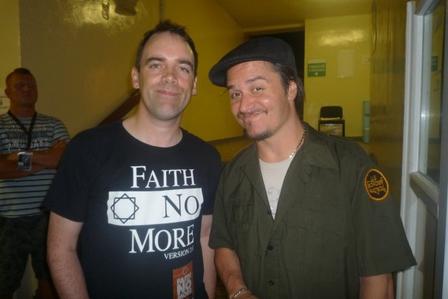 Punk Globe: Tell us about your affiliation with Faith No More?
AH: I've been a fan since my teens. Ireland in the 80s was pretty repressed still and metal provided a form of rebellion for me and my mates in the tiny town of Ballybay. I think I first heard of FNM through them or in a Kerrang furtively read in the local newsagent around 1989. For us then they were metal because Kerrang covered them and they were played on the BBC rock show. I devoured The Real Thing and first saw them live when they supported Guns N'Roses at Slane Castle in 1992.
Punk Globe: You told me that you run a fansite for Faith No More? It is a great looking fan page.
AH: Thanks. It's Faith No More 2.0 (newfaithnomore.com) and has been very popular with the very vibrant Faith No More online army.
Punk Globe: How many years have you been involved with the fansite?
AH: Just since their reunion in 2009.
Punk Globe: Did you have it up during their hiatus?
AH: No. I was interested then but not tech savvy enough. FNM were actually internet pioneers and had a mailing list up and running already in the mid-90s. Bill was probably the first "rock star" to actually read out a band mailing list address on MTV in about '95. There have also been some great fan sites before mine such as Caca Volante and Stubbadub and the Negele gig database. They kept active during the break-up.
Punk Globe: What was it that got you involved with the band then?
AH: When they got back together I was eager to find out as much as I could and there wasn't one easy place to go so I set up my own site. Soon it became very popular especially during their first comeback gig at the Brixton Academy in June 2009. I did a live text report from the show - writing on my work Blackberry in between moshes - and in those pre-live stream and Twitter days people could not get enough. There were about 20,000 fans on the site during that show eager to know what they played and how they looked.
Punk Globe: Have you met Faith No More and how many times have you seen them live?
AH: Yes. I've been lucky enough to meet all the guys and no illusions were shattered. Down-to-earth, engaging and very appreciative of their fans. I first met them at a gig in Prague and have been privileged to have been able to watch from the stage during shows in Lisbon and Belgrade. I've pretty much lost count of the number of gigs but I did see them 3 times in 5 days once in three different countries. But I know a lot of fans who have seen them more and travelled further to see them. They inspire a rare but not rabid devotion.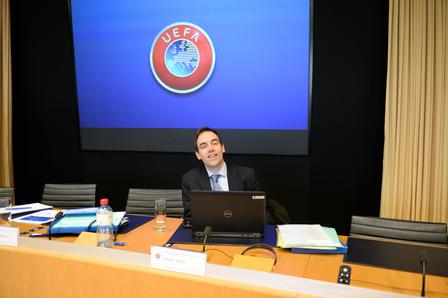 Punk Globe: Very cool Adrian! How far along have you gotten with writing your book about them?
AH: I'm in the early stages but I know what I want to do and have quite a bit of research and interviews done.
Punk Globe: Will this be an biography?
AH: Pretty much. it will be the story of the band so a biography of sorts. I've allowed myself plenty of room for interpretation and critical theory. I very much hope it will be the definitive book about the band, written with the passion of a fan and the precision of a journalist.
Punk Globe: Have you written any other books?
AH: No but a lot of articles for various publications.
Punk Globe: I hope that you enjoyed the article that Marilyn Joyce McIntosh did on Faith No More for Punk Globe from 1983.
AH: Thanks so much for that Ginger. Another fascinating artifact.
Punk Globe: Have you gotten alot of great stories about the band's beginnings in San Francisco?
AH: Yes, as well as speaking to yourself, I've interviewed the band members, Matt Wallace, Joe Pop O Pies etc. Learning about the band's early days in SF has been particularly interesting.
Punk Globe: Do you have a publisher for the book?
AH: Not yet but have spoken to a few publishers and literary agents.
Punk Globe: Will it be a hardback, paperback or both?
AH: Hopefully both and an ebook too.
Punk Globe: Do you have a projected release date?
AH: Early 2018.
Punk Globe: Are you looking for photo's of the band from their early days?
AH: Yes. As many as I can get. If anyone has any from 1983-86 especially I'd love to get my hands on them. And gig posters from that SF early days and gig listings, zine interviews and reviews too.
Punk Globe: Do you have any Internet addresses or email addresses that you would like to share with Punk Globe readers?
AH: The site is newfaithnomore.com and you can email me for info and with info at newfaithnomoreATgmail.com
Punk Globe: What is your very favorite Faith No More song and video?
AH: It has always been Midlife Crisis for song though working on this book has given me a real appreciation of the band's earliest work. So my favourtie video at the minute is Anne's Song because it shows them at their fresh-faced best especially Chuck Mosley. And it loosely connects James Hetfield and Hanson's MMMBop.
Punk Globe: Any last words for Punk Globe readers?
AH: Keep up the punk spirit. The US and the world has never needed it more. And where the US goes culturally and especially musically the rest of the world follows..