Interview With SIN
By: Rotten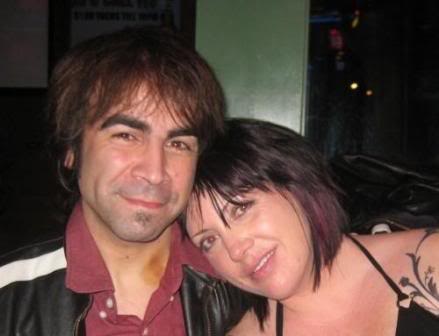 Punk Globe: So, Tell me a little on how the band formed and where the name PRIMASONIC comes from.
Billboard
, too. And on the Madison Square Garden marquee!!!!
Punk Globe: Your influences come from many UK and USA punk bands of long ago, What initially attracted you to Punk Rock?
Sin: Probably the attitude behind it. The fact that you didn't have to be a freaking guitar virtuosos in order to write a great song. That you didn't have to go through ten years of voice lessons in order to get your message out there. Plus...punk chicks are cool! Haha. But it's also not just punk bands that have inspired us. We have been influenced just as much by bands like AC/DC, The Who and countless 60s garage rock bands. Not to mention The Pixies, Joy Division, Gang of Four, Nick Cave, Leonard Cohen
...and maybe even some classic Metal ('cause that's
what Clyde listened to on the farm in Kansas).
Punk Globe: Songs like ESCAPE FROM THE SUBURBS are pretty empowering anthems, What do you think makes a good song, and Where do your influences for lyrics come from?
Punk Globe: You have shared stage with the likes of The Vibrators, is there anyone you would like to play with live or in
a studio from the punk world?
Sin: Man, it can never happen now but playing with The Clash would have been amazing. The Stooges, perhaps, but doubtful if that can ever happen now as well, since the passing of Ron Asheton. Personally, I would love to open for The Who, AC/DC, Pixies, TSOL, Foo Fighters...or Social Distortion, a Big Black reunion, The Dictators, MC5....hell,
I'll play with anyone at any time. And chances are we'd
give them a run for their money. Haha.
Punk Globe: Your new album, UNADORNED is due for release on JULY 7th, and features the hidden cover of CCR's Have you ever seen the rain.......How did this cover come about?
Sin: Thanks for blowing the surprise, Jonny! Haha. Not very hidden now, is it? But you're forgiven... It mainly came about after hearing The Ramones' version on the Acid Eaters album and thinking we could do it some justice. Plus we're fans of Credence...so it was a pretty easy choice.
The cougars also seem to dig it. Haha.
Punk Globe: Where can people see you live?
Sin: Well, we play all the typical clubs and dives in Denver pretty regularly so, if you're in town we're easy enough to catch. We're also considering doing some sort of out of town tour or other but that's all dependent on a few factors including getting time off from work (most of us have "real" jobs) and families...as well as the money thing. How economically feasible is it? Remember, none of us are trust fund punks! But if anyone out there wants to bring us to their town, get in touch. We'll see what we can do. And we are also seriously considering a
short European tour later this year.
Punk Globe: Where can people find out more about PRIMASONIC and where can they purchase the album from?
Sin: The best place to get the latest skinny on us all the time is our MySpace page,
www.myspace.com/primasonic
, and we're also on Facebook, etc. You can sign up for our mailing list and we promise not to harass you too much. The album will be available just about everywhere - Interpunk, all your fave record shops, iTunes, at shows...etc. We made a deal with the Devil...
Punk Globe: What's next for you guys?
Sin: Is world domination too much to ask for? Seriously, we're not getting any younger so support us now...before the Alzheimers kicks in and we think we're a Scottish bagpipe ensemble. We're Primasonic and we're gonna rock your socks off!